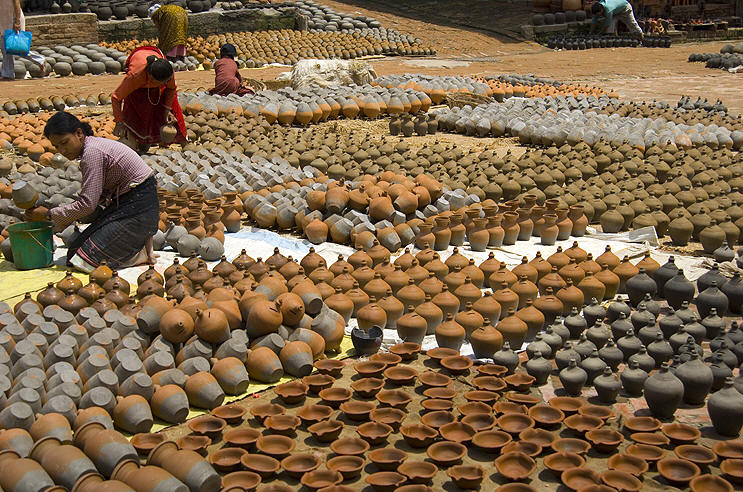 Bhaktapur, Nepal. August 2008
January 2008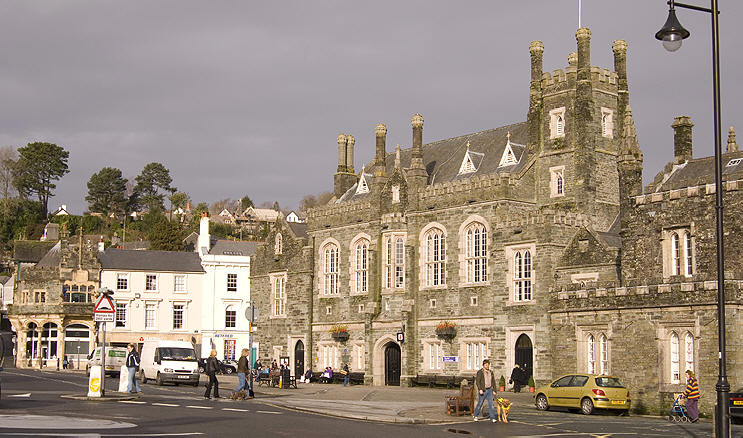 Tavistock, Devon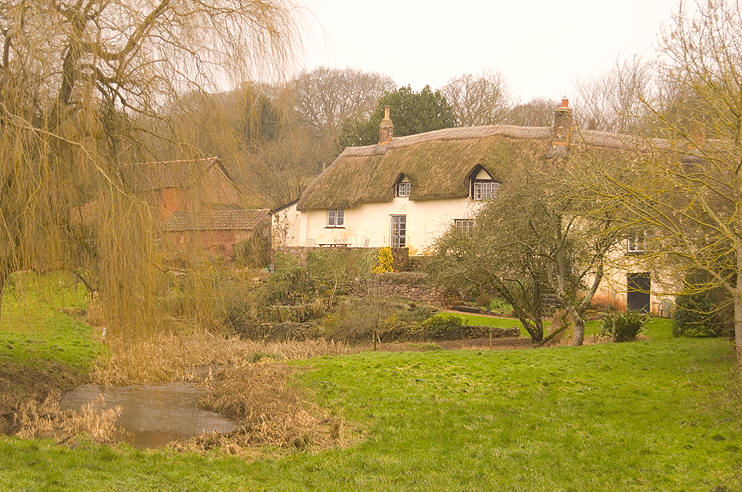 Devon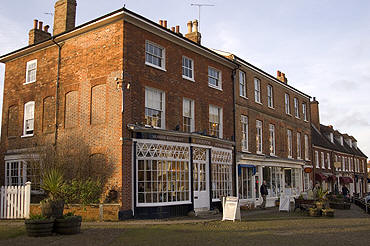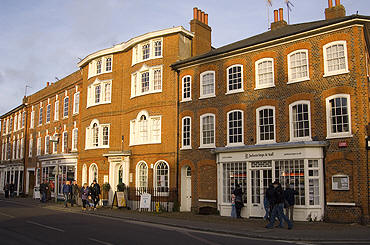 Woburn.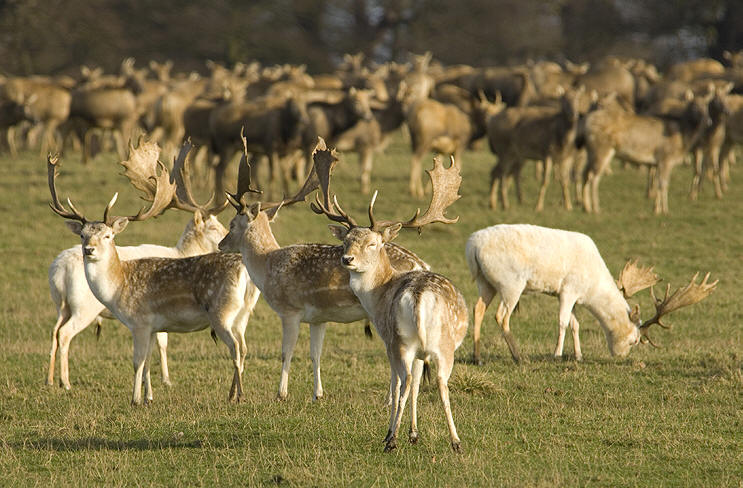 The Duke of Bedford's Deer Herd, Woburn.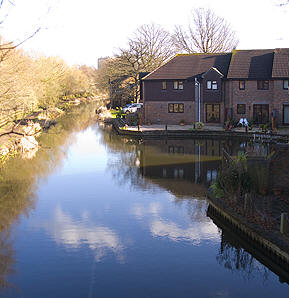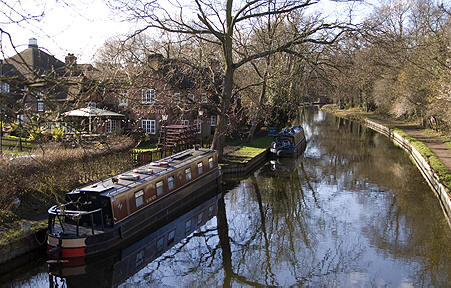 Woking Canal
February 2008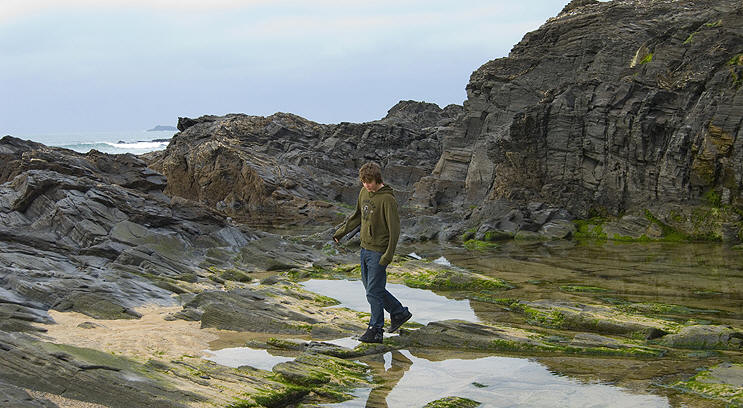 Rock Pool at Treyarnon Bay, Cornwall - February 2008
New York, New York - February 2008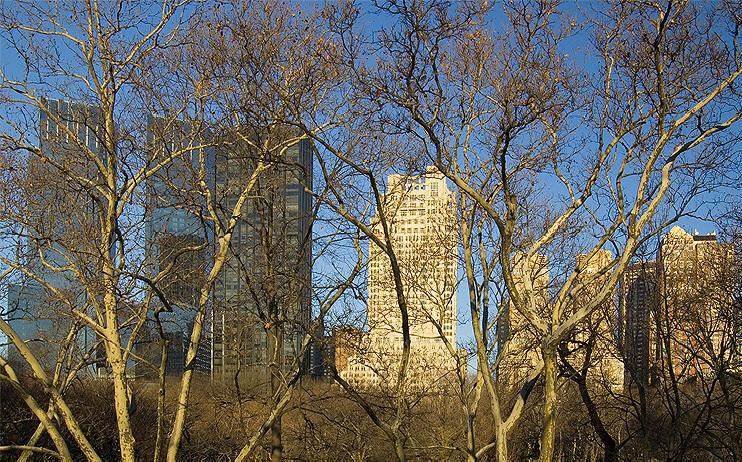 Central Park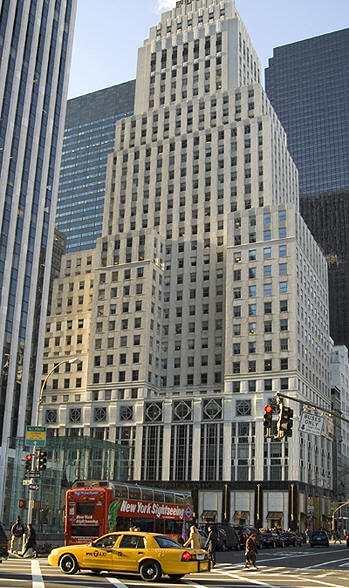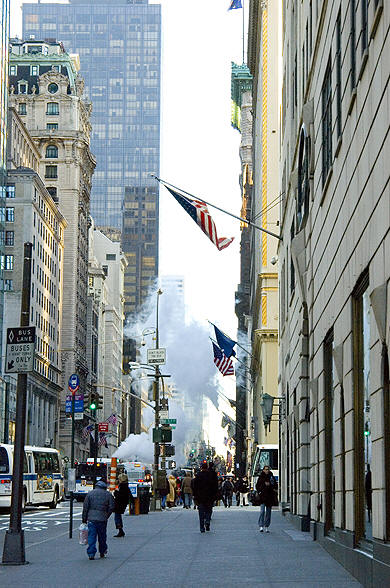 New York - February 2008
Paris - March 2008
I've recently had multiple trips to Paris, London, Amsterdam and New York for interviews so the travel is relentless even when I'm not working! Clair and I were in London to see a fabulous ballet at Covent Garden - Sleeping Beauty by the Royal Ballet at the Royal Opera House. We've taken in three ballets this year, plus Billy Elliot (musical show), Led Zeppelin (hard rock), numerous trips to Wembley (to see our National football team not qualify for the European Cup finals this summer), Lords (cricket), the Oval (cricket) and Stamford Bridge (the home of Chelsea therefore arguably football). I think we've made the most of living near London for now. Time to move on.

We've had a hectic March which culminated in me turning down a great offer for a job based in Paris in favour of an even better (tax free) one in Dubai. Paris had a lot going for it but in the end the cost of rent (€3800 per month for a flat Clair turned her nose up at) and French tax (43%) put paid to my romantic visions of an apartment in Paris and a house in Devon. I just couldn't afford it. On the plus side we had a very pleasant trip to Paris as a family (primarily to look at housing but managed to take in a few sights) before turning down the job offer. I think we'll continue to visit Paris as tourists in any case.

Both children have settled into their respective boarding schools and have refused to leave, despite our offers of an excellent (and much cheaper) British school in Dubai. This is much as I predicted but hopefully no reflection on our parenting skills!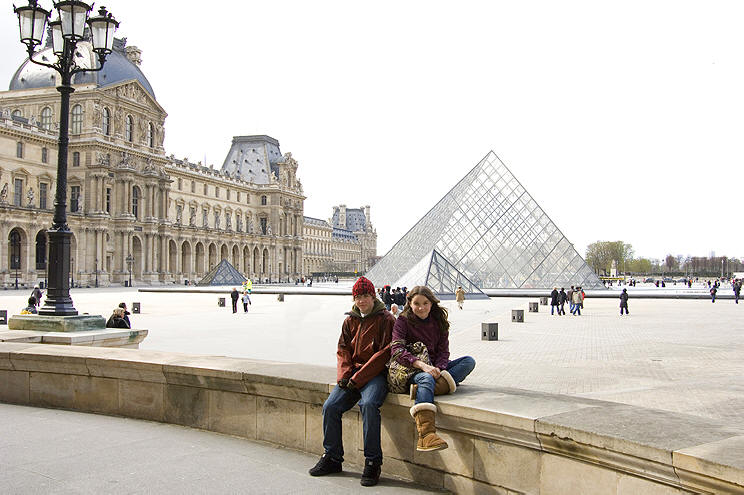 Louvre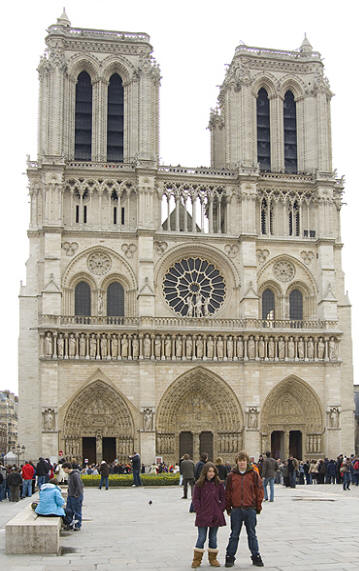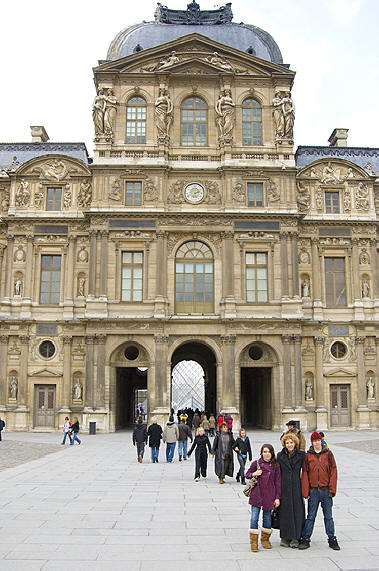 Notre Dame Louvre
Windsor - April 2008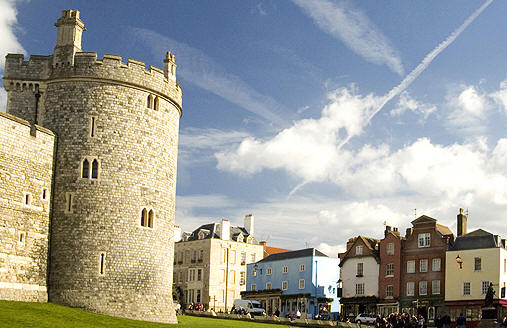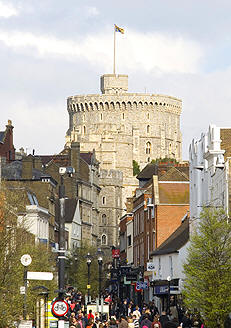 Windsor Castle - April 2008
Moving to Dubai, United Arab Emirates - April 2008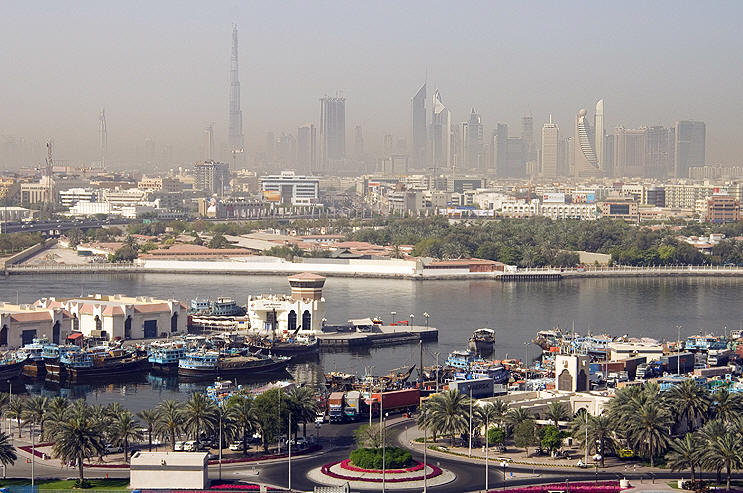 Dubai Creek with the future world's tallest building in the background
Perhaps the world's most happening city at present. A blizzard of high tech construction has given the desert super-luxury hotels, indoor ski domes, opulent shopping malls, world-class sports facilities and state-of-the-art business premises. It is reputed to contain 30% of the world's construction cranes and continues to develop at a breathtaking rate. The view from our temporary apartment shows Dubai old and new: the creek with traditional Dhows in the foreground; and an example of bold modern construction, which now defines the city, emerging out of the dust in the background.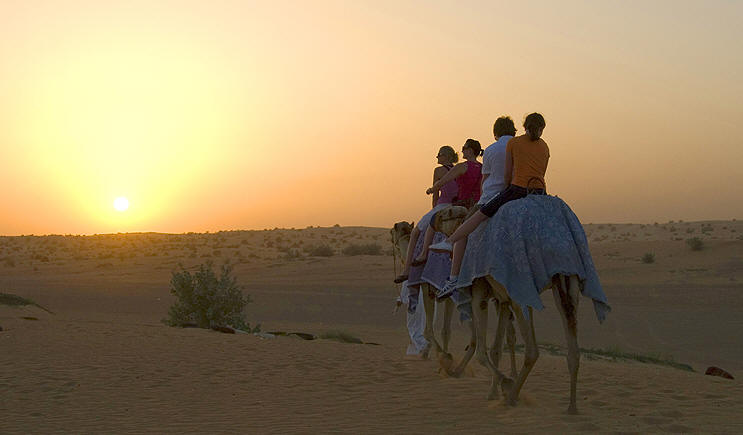 Edward and Verity take a dusk camel ride - May 2008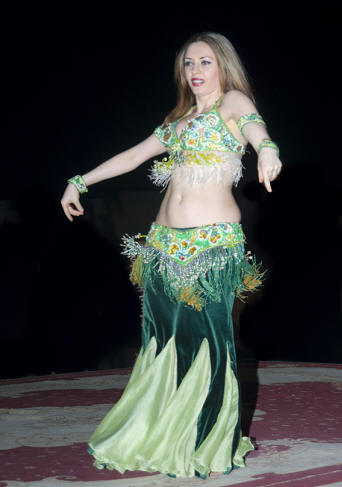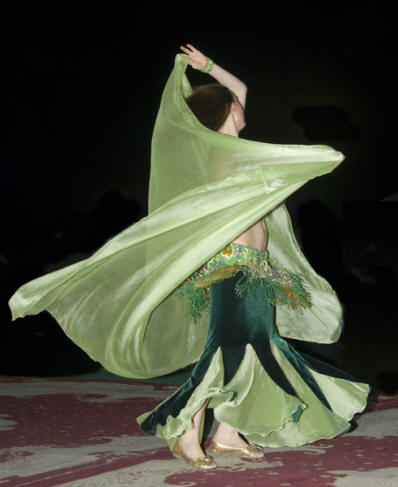 Belly Dancer

Dubai Creek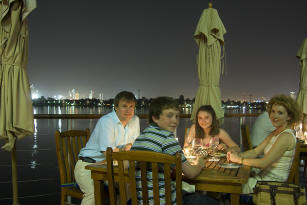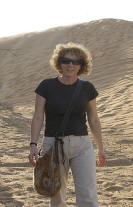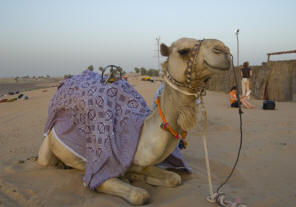 Dubai Creek Desert Trip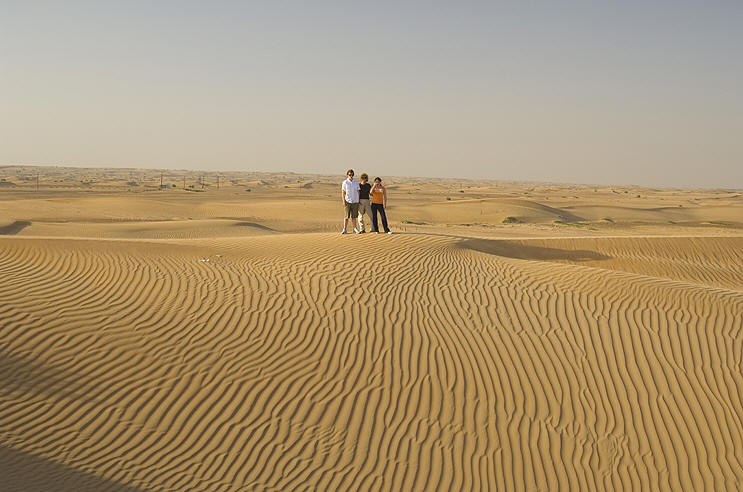 Dubai Dunes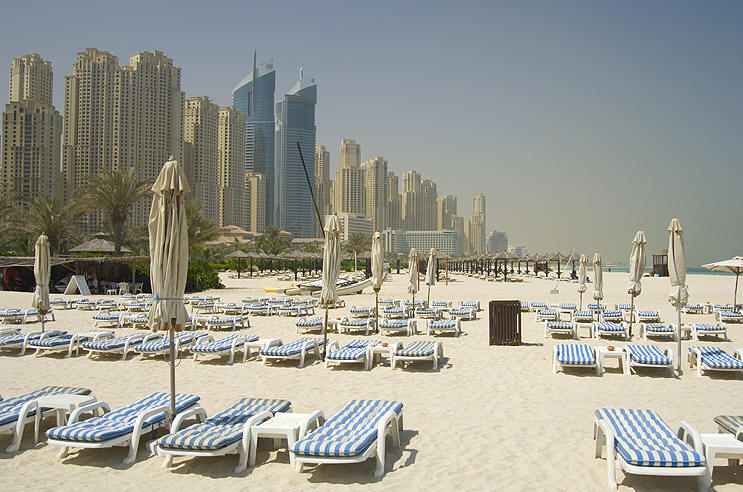 Dubai Beach - May 2008
Nepal - August 2008
Clair and I were reading lazily in bed one Saturday morning in August, contemplating another ferociously hot and humid summer's day in Dubai. Clair expressed an interest to go walking in some cool mountain air and thought the Pyrenees sounded nice. I absent-mindedly commented that the Himalayas were nearer. Within 24 hours we had flights and accommodation confirmed in Nepal and we arrived in Kathmandu the following Thursday. I was pleasantly surprised to find there are cheap, direct, four and a half hour flights from Abu Dhabi to Kathmandu. Nepal is very cheap once you get there so this could be a regular, inexpensive break.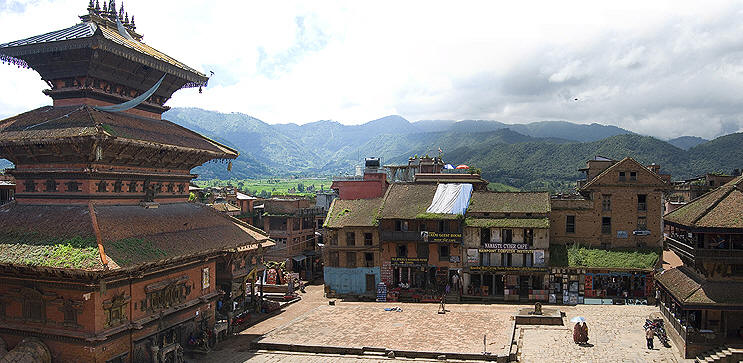 Bhaktapur (City of Devotees) old capital of Nepal - mostly built in 16th century.
Nepal is recovering from 10 years of civil war and has recently dumped it's discredited monarchy in favour of a Maoist dominated Federal Republic. The civil unrest has taken it's toll on the economy as mountain trekking tourism was always its top earner. Backpackers will stand for a lot of discomfort - heat, sweat, basic sanitary arrangements and the odd bout of food poisoning; however they generally draw the line at armed conflict. Over the last decade they have defected to Northern India and Bhutan. The effect on the economy was obvious as the hotels and general infrastructure looked worn and out-dated, but there was an air of optimism that things would now settle down and improve.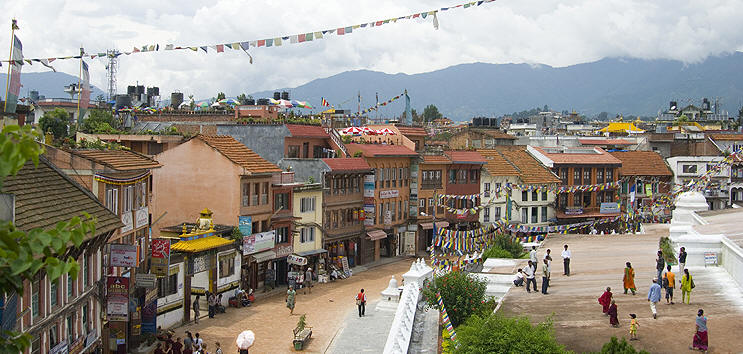 Bouddhanath. Nepal
On the journey between the airport and our hotel in Kathmandu I was immediately struck by the massive queues for petrol. As Nepal is landlocked they get their fuel from India and there was a shortage. Our driver had apparently spent the entire previous day queuing to fill his tank. Now they have a communist Government The People may as well get accustomed to long queues I thought sardonically. I was also vividly reminded of my visit to India. People here also seemed to live their lives, in public, on the busy streets. There were people cooking, sleeping, eating, washing their hair, brushing their teeth, mending their motorbikes and selling their wares, all clearly in view on the crowded pavements. Death is also a very public event here. The local crematorium is a major tourist attraction.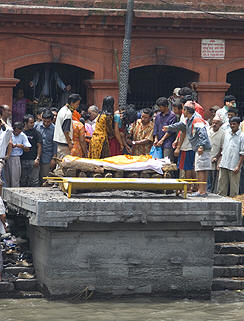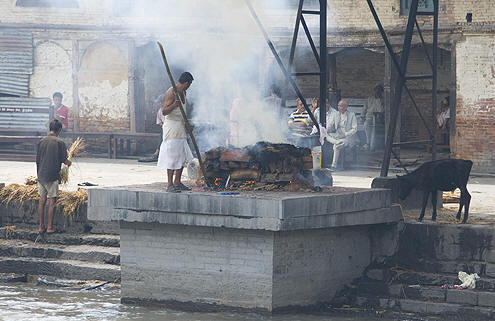 Hindu Cremation, Pashupati, Nepal August 2008
Here the Hindus wrap their dead in orange robes and clean the body's feet in the river before publically cremating it on a large pile of local wood.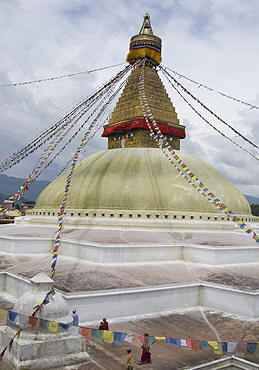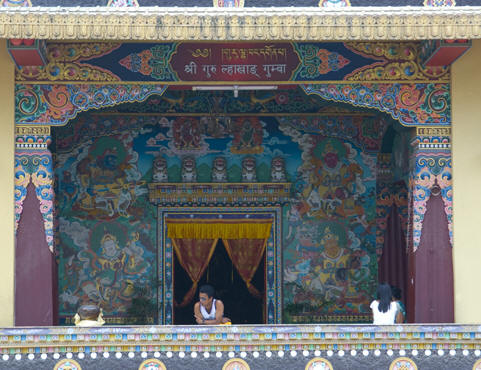 Buddist Stupa, Bouddhanath, Nepal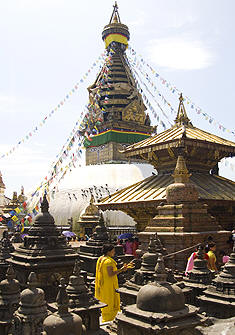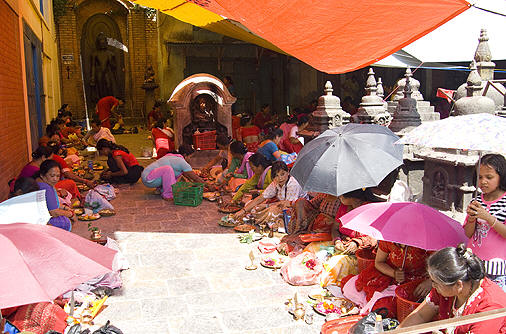 Swayambhunath - the "Monkey Temple", claimed as the oldest shrine in the world as it was established more that 2500 years ago
Two things struck me about the Buddhist and Hindu temples that we visited. Firstly how tolerant these two religions are of each other. They often cheerfully share their temples and religious festivals with each other, a lesson a few other more dogmatic religions could doubtless learn. Secondly all these temples were in constant use. Not as tourist attractions but as a vital and vibrant part of the local community. There were hordes of brightly dressed locals paying their respects, leaving offerings, meditating, praying and lighting incense.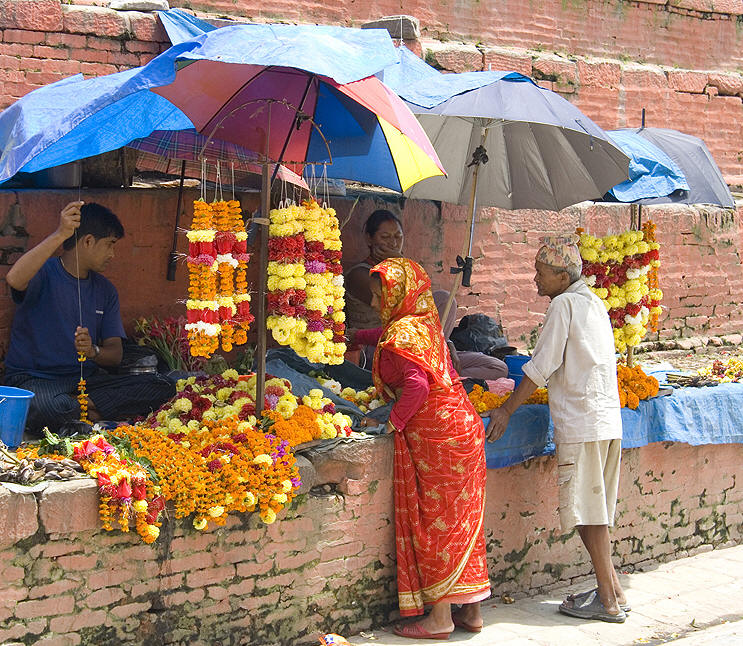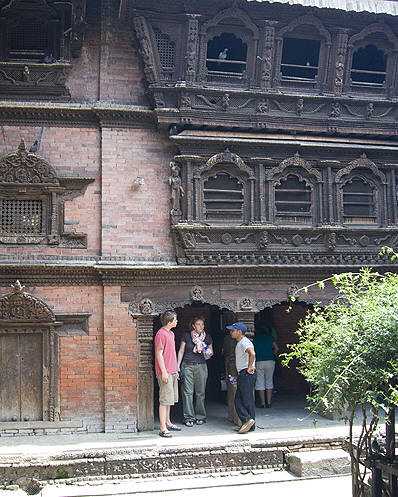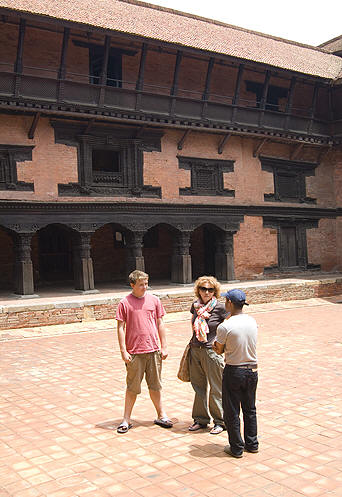 Durbur Square, Kathmandu Patan, Nepal
In one Hindu shrine Edward and I were lucky enough to witness a real living goddess. She was persuaded to briefly show herself on the balcony in return for a small donation to the temple. She looked like a sulky teenager to me, but had apparently been selected for the job, at a very young age, on account of her clear complexion, straight white teeth, beautiful dark eyes and long, silky black hair. She spent her days in relative isolation: mediating; studying and preening, accompanied by some learned priests, which probably explained her sulkiness. Apparently she will be retired on the occasion of her first menstruation and will receive a small pension. The priests then search for a replacement with similar attributes. No photographs of her were allowed but inexplicably you can buy a postcard.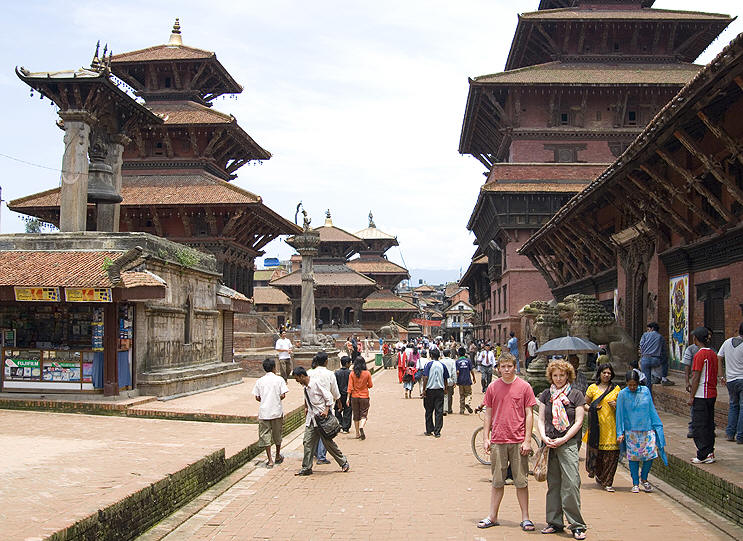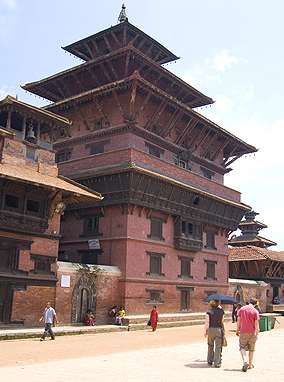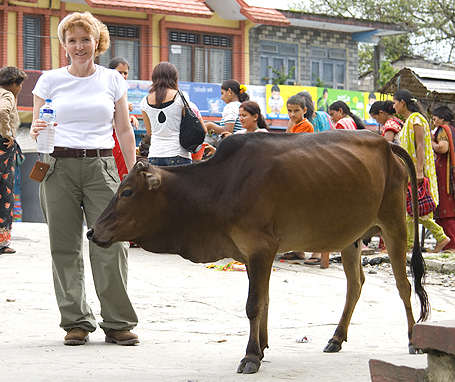 Patan, Nepal - August 2008 Holy Cow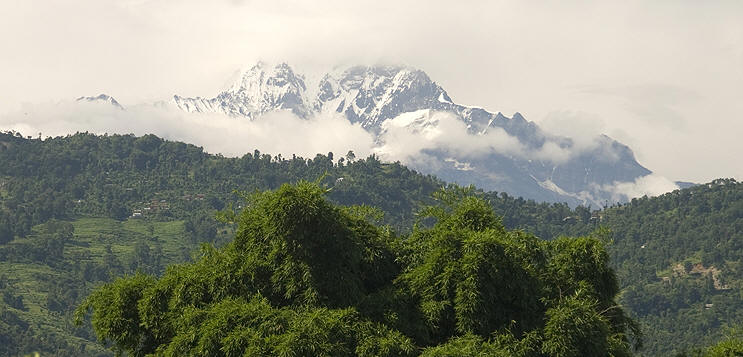 Annapurna Range, Himalayas.
As we were holidaying in the monsoon season we rarely got a view of the high Himalayan mountains through the clouds. Apparently the best time of year for that is October. However August is a good time if you want to enjoy the relative quiet and cheapness (it is off-season) and it is a good time of year to see Buddhist and Hindu festivals. It did indeed rain a lot but mercifully mostly at night. The days were hot and humid in the valleys and we nearly drowned in sweat when we exerted ourselves. Clair continually marvelled at how beautiful the local women were, dark skinned, khol eyed, beautifully made up and cool in their brightly coloured saris. Their makeup didn't run in the midday heat!
Road to Pokhara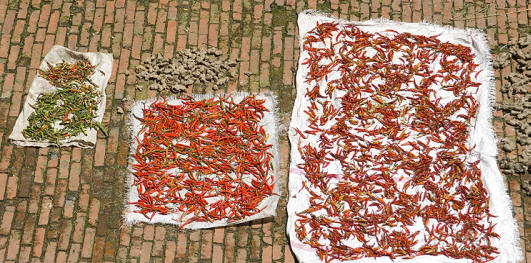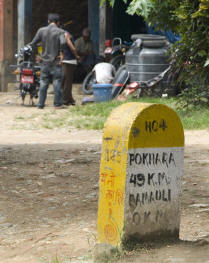 Chillies and ginger drying in the sun Road to Pokhara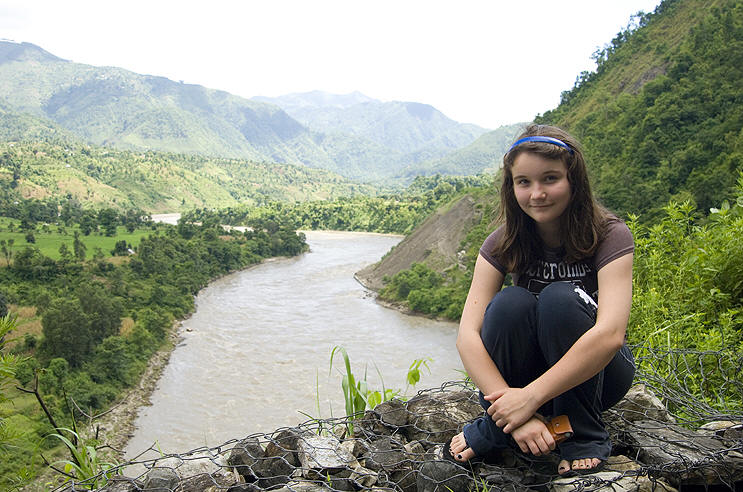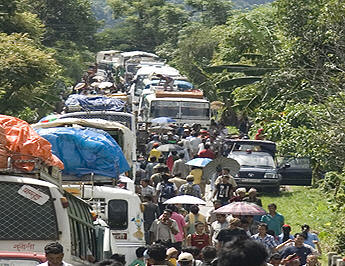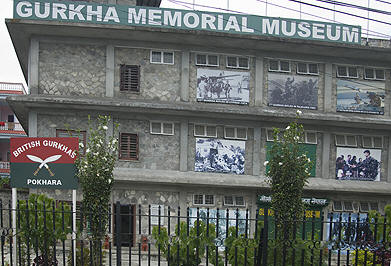 Blood money dispute on the road to Pokhara. British Gurka Museum, Pokhara
On our scenic drive from Kathmandu to Pokhara we admired the spectacular valley views, the abundance of waterfalls and the deep fertile green of the rice growing on the steeply terraced valley walls. We stopped for a leisurely lunch in a restaurant that served set local meals to passing travellers. Small metal bowls of lentil and bean soup; chicken, vegetable and mutton curry; potatoes and rice. All served on a large metal plate and eaten, by the locals at least, with their hands and a few chapatis. We shared our communal table with a large group of trainee Buddhist Monks, who looked smart in their orange robes as they chatted on their mobile phones and listened to their iPods. A little further up the road we came to a stop behind a long line of vehicles. At first sight it looked like the usual queue for petrol. I hiked off to the front of the queue to see what the trouble was. On closer inspection it seemed that the road had been blocked in both directions by some local villagers with some tree trunks and large stones. Apparently one of their members had been killed in a road accident a little time before we arrived. A large pool of blood was encircled by smaller branches and stones in the middle of the road about 10 yards from the road block. So there we stayed for over 4 hours, in the sweltering heat, with no air conditioning as the engines were all switched off to save fuel. The huge queue of traffic waited patiently until an official negotiated with the local villagers who wanted some Government insurance to compensate their loss, as well as blood money from the person who had killed their neighbour. Apparently it is normal practice for the Nepalese to block the only road between two major towns until they get what they want. Local police and soldiers stood idly by claiming it was none of their business. I was reminded of a holiday we once had in France.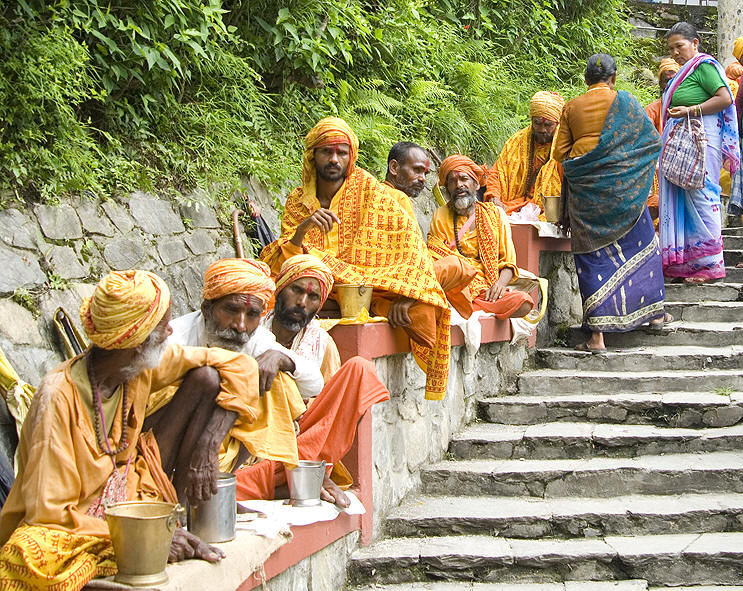 Bindabasisni Temple, Pokhara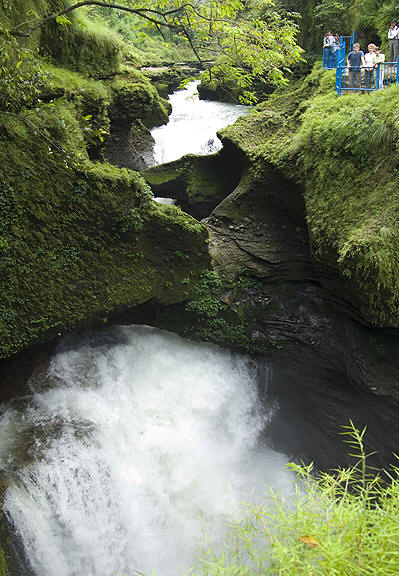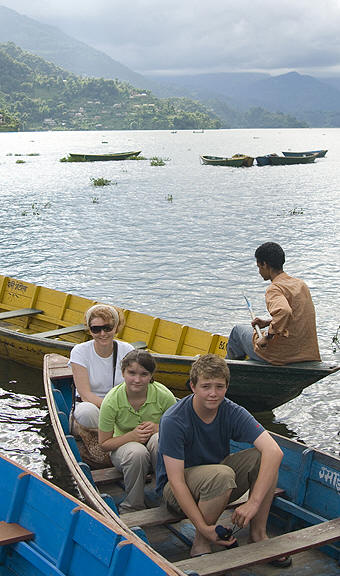 Devis Fall Phewa Lake, Pokhara
According to our guide Devis Falls is named after an unfortunate Swiss lady who was swimming in the river when the floodgates of the dam were opened. She was killed after being swept into an underground passage beneath the fall. There is an underground cavern which the river has carved out of the soft limestone. This has taken on great religious significance as a stalagmite found there bears a resemblance to one of the local gods. When we arrived we were greeted by large queues of locals with religious offerings and monks in bright yellow robes begging for food and money.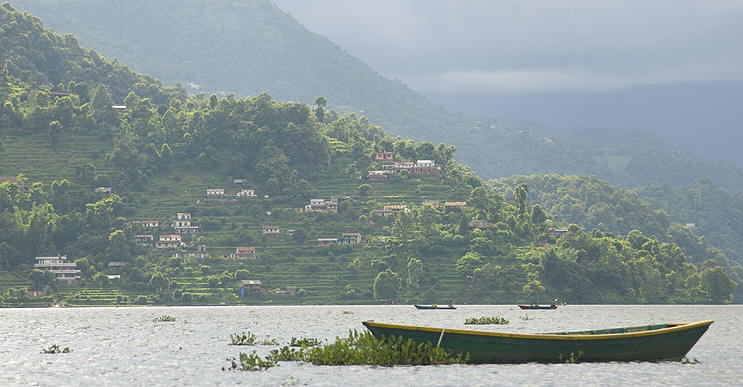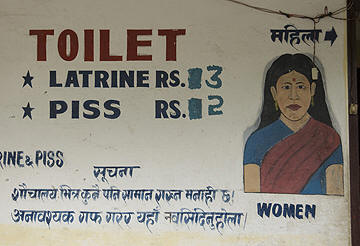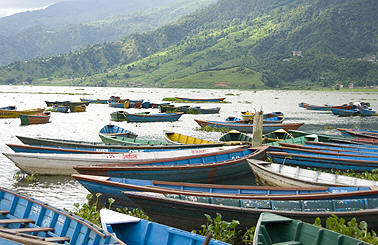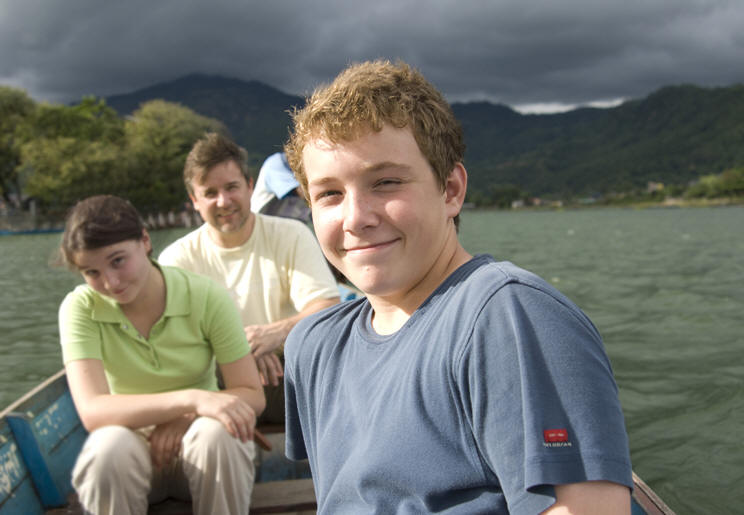 Phewa Lake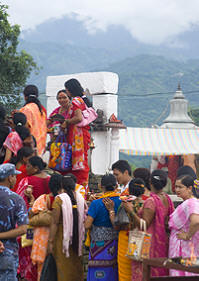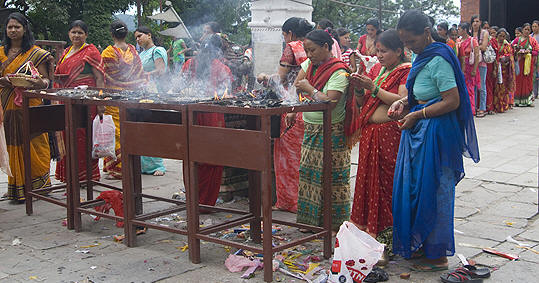 Another Hindu Temple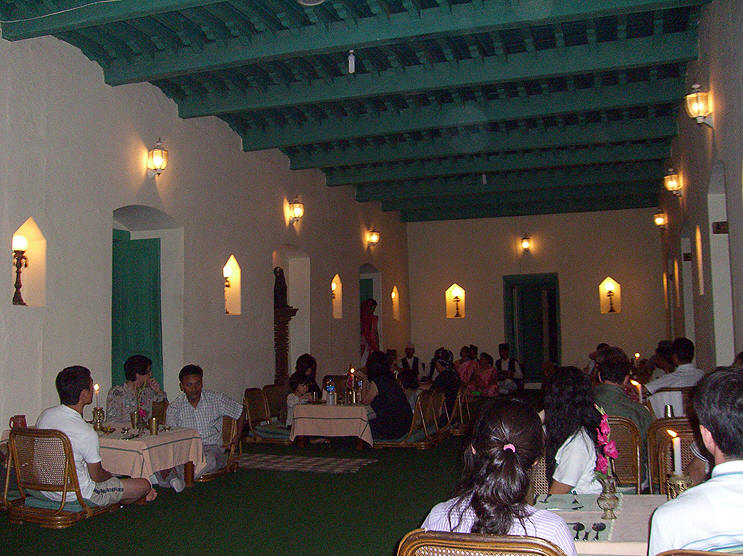 Nepalese Restaurant
Nepal has taken in a great many refugees who fled from the Chinese occupation of Tibet. Some have been here for most of their lives. Many have settled and prospered in Nepal, but all would wish to return home and regret the devastation of their culture since the Chinese invasion in 1951.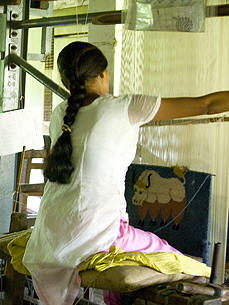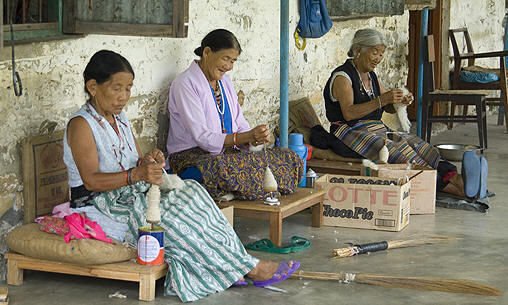 Tashiling Handicraft Centre- Tibetan Refugee Camp
Himalayan Mountain Trek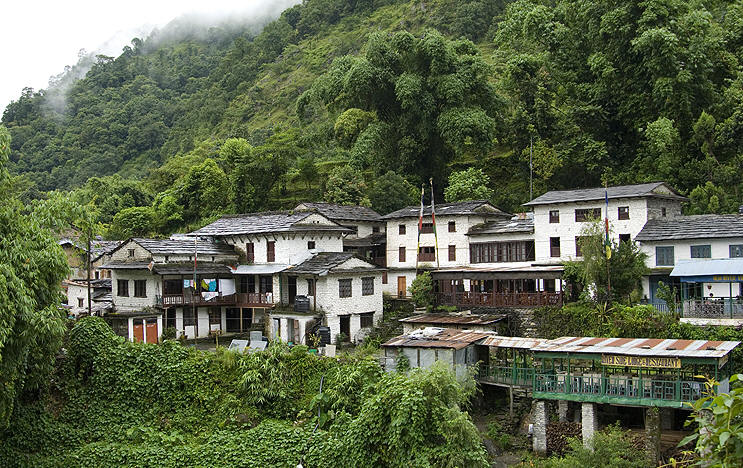 Mountain Village
We had originally planned to fly from Pokhara to Jomson, which is in a rain shadow formed by a horseshoe of high mountains. Theoretically this would allow us a low level, flat trek, in cool and dry conditions, amongst spectacular mountain scenery. Unfortunately the monsoon weather held our flight from Pokhara to Jomsom for two days and in the end we settled for a trek near the Annapurna Range around Pokhara.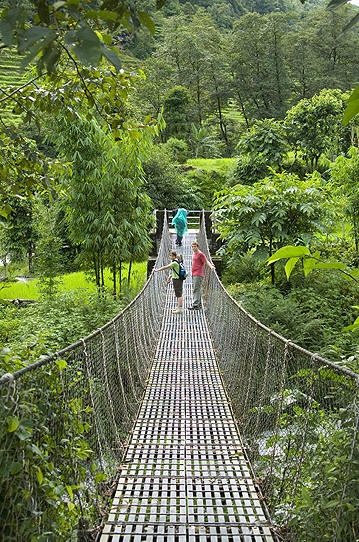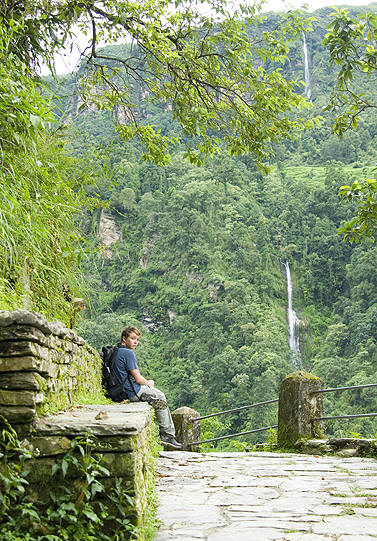 Himalayan Trek
We effectively had been forced to swap our cool, dry, flat trek, for a steep, hot, humid one - interspersed with light rain and the occasional monsoon downpour. The going was tough, although we heard not a murmur of complaint from either children despite Edward doing most of the trek with a tummy upset and slight fever. Verity happily chatted for the entire journey, even during the steepest ascents that left both her parents breathless and drenched in sweat. She thought camping out in primitive conditions was great fun. Her highlight was sitting in our bedroom one evening as we munched a packet of crisps by candlelight. I ruefully reflected that we could do that far more cheaply (and comfortably) at home. Edward meanwhile was being sick in the next room.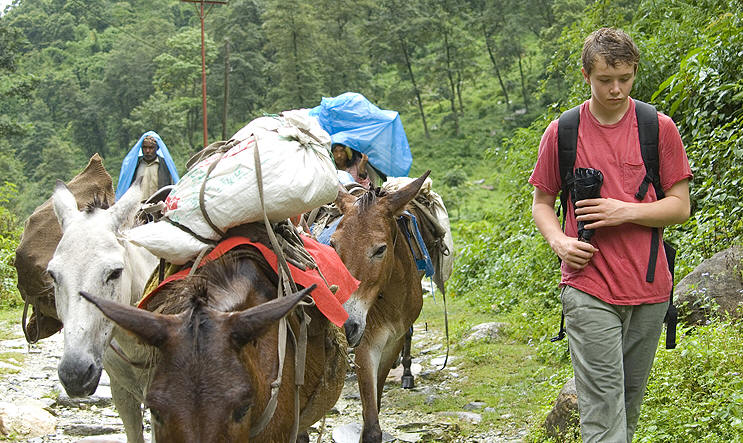 Pack Mules
Despite the physical hardships the scenery was truly spectacular. The mountains are very young in geological terms and growing steadily as India continues to collide with Asia. The water still cascades down from high up the valley walls in hundreds of spectacular waterfalls. The footpath is well paved with easy steps spiralling up into the clouds - a stone stairway to heaven. This is a major route for the locals as they navigate themselves and their wares between the mountain villages. Motorised transport is impossible, and we saw the odd mule train. However most of the produce was carried on the backs of the locals. We passed many gangs of cheerful children, neatly dressed in their school uniforms, on their way to and from class. Some of them had an hour's walk down the mountain (and presumably an hour and a half back).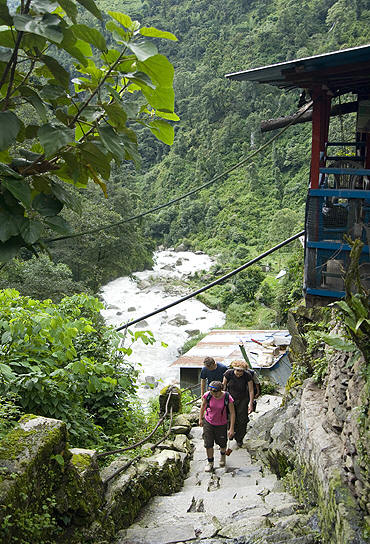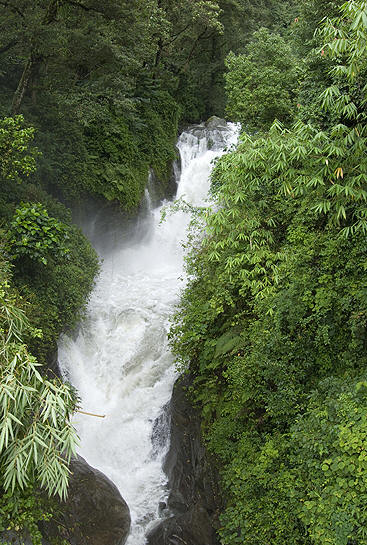 Himalayan Trek
The route is dotted with many Tea House Lodges where you can buy simple food, drinks and a bed for the night. These are described as having "basic comforts" in the tourist guides and many have no electricity. Certainly they are plentiful, allowing the causal backpacker to be very flexible regarding where and when to stop for tea, meals or a night's rest. They are also very cheap although I noticed the price of beer increased as our journey progressed away from the road, reflecting the extra effort of carrying it there. I did wonder how they got other things so high into the mountains - beds, tables, building materials - which all must be carried on mules or the backs of natives up the steep narrow pathway.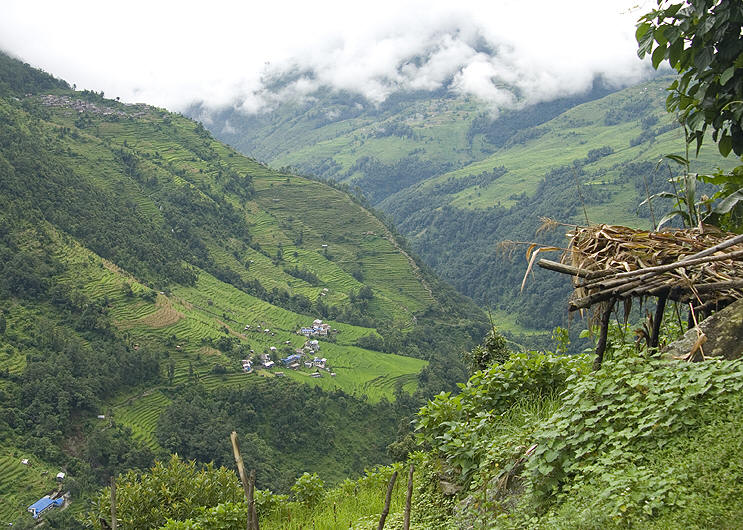 View of Hile Village
As we sat down one evening to an excellent meal of chicken curry, rice, vegetables, corn bread and masala tea, I absent-mindedly cast my eye over the surrounding terraced farmland. I could see chickens pecking at the ground by the pavement, rice growing in the terraces, corn and millet were growing further up the hillside and corn cobs were drying along the roofline of the building. A cow munched quietly on corn stems under a rush shelter. Bananas, chillies and marijuana could be clearly seen growing against the walls of the guest house. I was told they also grow potatoes, onions and ginger here. Clearly everything didn't need to be carried here on the backs of local porters. Everything on my plate, and more, was on clear view growing around me. The rest of the evening, as many others on this trip, was pleasantly wiled away with some family games of Black Maria and reading a collection of Somerset Maugham's short stories which seemed to nicely complement the tropical evening air.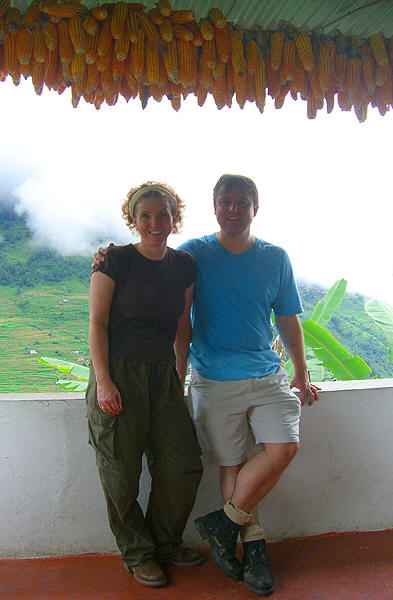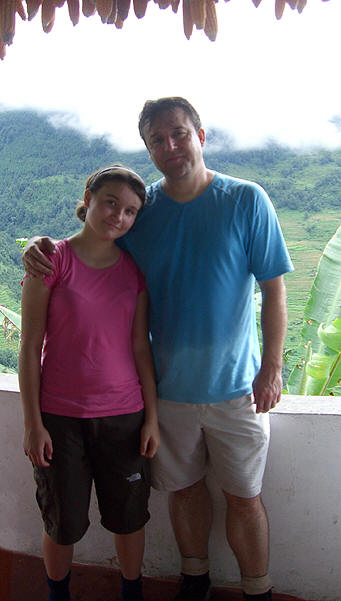 Break at a tea house lodge.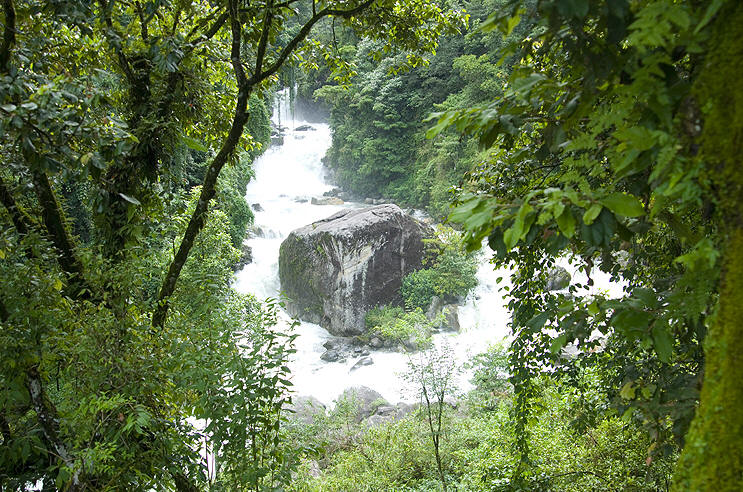 Himalayan Waterfall
The air cooled as we walked higher and the monsoon clouds kept most of the sun off our skin, but obscured the higher peaks for most of our walk. We saw huge brightly coloured butterflies and tiny black frogs, no bigger than my thumbnail hopping along the path. Pigs, cows, chickens, geese, ducks and dogs littered the paths around the surrounding farms and brightly coloured birds chattered and fluttered amongst the trees. One dog, which Verity named Fred, followed us for two days from the road. He fought with every dog we met on our travels and was found sleeping outside our room in the morning. The insects made a similar deafening racket to the cicada that is so familiar to me. Unfortunately this was not the only wildlife in the mountains. Now I can tolerate some discomfort cheerfully - heat, sweat, thirst, aching muscles and unhygienic, hole-in-the-ground toilets for example. I endured all of these during our trek. I didn't even mind the occasional leach which tried to ambush me when I sat down briefly for a water break. However one thing that can completely ruin a night's sleep for me is mosquitoes. As we were planning a trek in relatively dry Jomson we had no mosquito repellent. There is no malaria in Nepal and the locals don't react to their bites so they are very complacent and don't provide the mosquito nets which I am accustomed to in other tropical climates. Nepalese mosquitoes seem every bit as sturdy as the Nepalese mountain people (i.e. bionic) and a plague of them seemed to descend on our bedroom during the night. Verity later counted 32 bites on just one of her arms. These are mosquitoes that seem to sting rather than bite. The sting turns into a steady, painful burning sensation and then torments you by itching intensely for days. I ended up scratching them during the little sleep that I got and ran the risk of making them bleed and picking up a subsequent infection. The local Buddhists are reluctant to kill any living thing in case it is their ancestor. I wonder if they would be so charitable towards mosquitoes if they had to live in my delicate, white, western skin. I'd have happily nuked the entire world's population of the evil little pests without a shred of conscience towards my, or anybody else's, ancestors.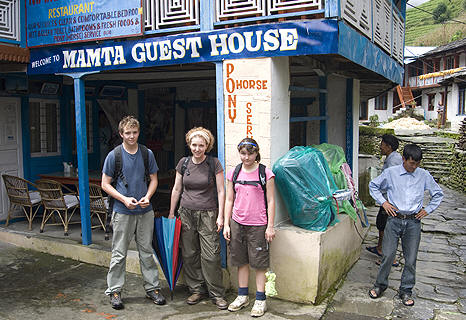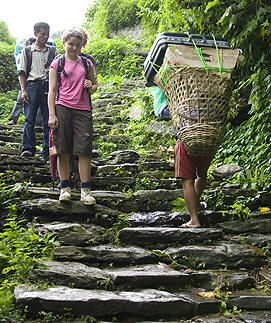 Tea House Lodge - "basic comforts" with hot and cold running mosquitoes Passing Traffic
As usual the last two hours of the trek were the hardest. We were tired, itchy and thirsty and the valley floor was much hotter and more humid than the high hills, making the return journey seemingly twice as long as the outward one. We caught a taxi when we finally reached the roadside. We all crammed into a Toyota Corolla "Deluxe", which the driver proudly told us was 35 years old (being a 1973-74 model). The 1970's were not a vintage decade for Japanese cars and the tropical climate had not been kind to this one. It continually stalled going up steep hills but the driver had perfected a technique of re-starting the engine while we were still moving. The "Deluxe" meant it had wing mirrors and a heater, which didn't work, as we soon discovered when we were hit by a monsoon rainstorm early in our journey. Our driver produced a ball of newspaper from the glove box whose sole purpose was to ineffectively wipe the condensation from the inside of the windscreen. Remarkably the windscreen wipers did work but seemed to have no impact on the amount of water bouncing off the windscreen. Consequently we spent the hour long drive around treacherous mountain terrain in complete ignorance of what was happening on the road, and loudly sounding our horn to ensure we didn't hit anything significant. The age of this car precluded it from compulsory seat belts so the journey was adrenaline charged and "invigorating". In retrospect I'm very pleased I didn't notice the condition of the tyres before we got in otherwise I may have embarrassed myself by screaming loudly as we aquaplaned close to the sheer drops. Finally, as the rainstorm reached a deafening crescendo, the driver solved the visibility problem by leaning out of the side window as we drove. I firmly believe that the final pleasure of travel is coming home. In this case, despite enjoying the trek, it was just as pleasurable to get safely back to our basic hotel in Pokhara and have a hot shower and cold beer followed by an air conditioned and insect free sleep.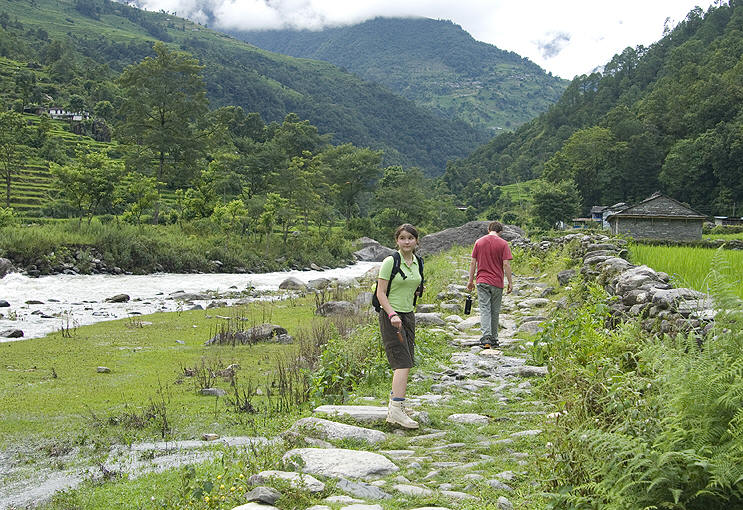 Himalayan Trek
Dubai - November 2008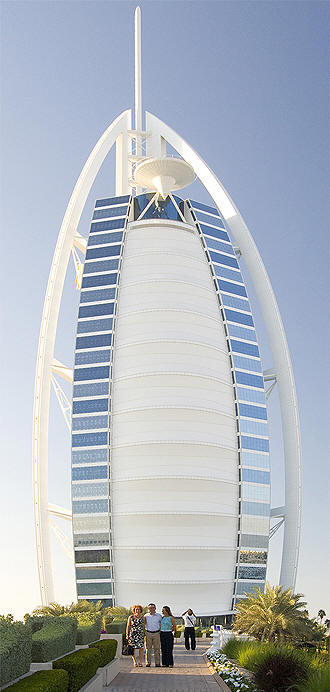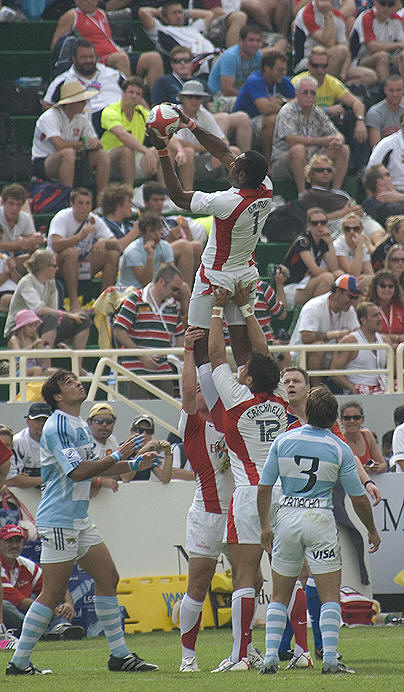 Burj Al Arab Dubai Rugby 7s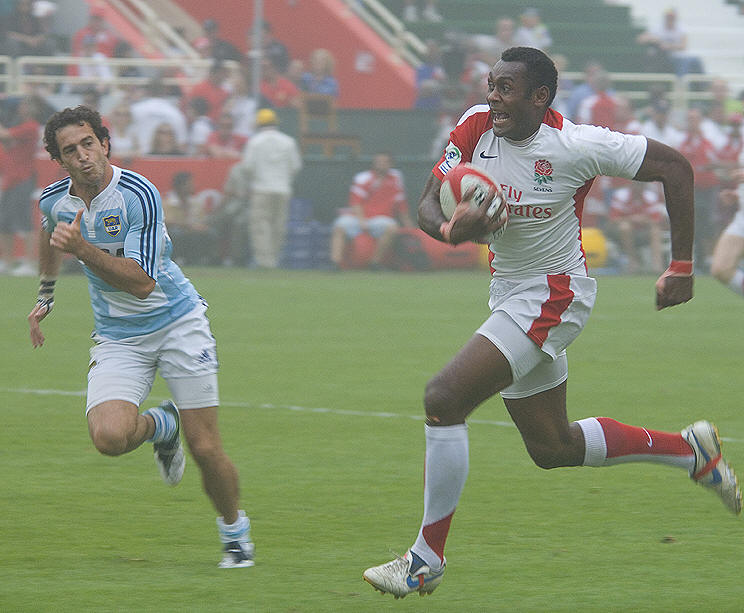 Dubai Rugby 7s - action during a brief sand storm.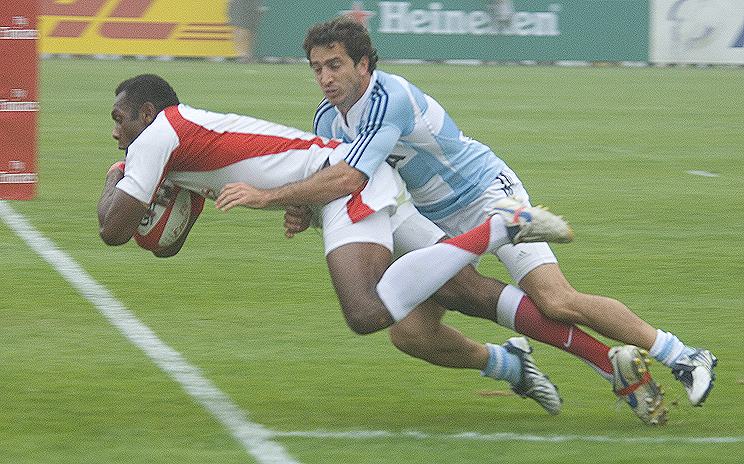 Dubai Rugby 7s - Isoa Damu scores in a victory vs. Argentina, but England lose in the last second of the final to South Africa.
Christmas 2008 - Dubai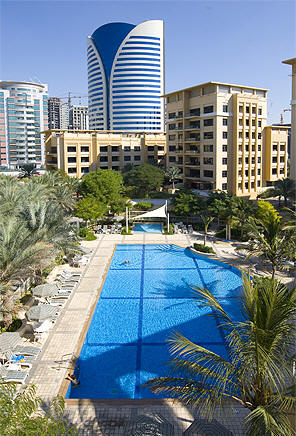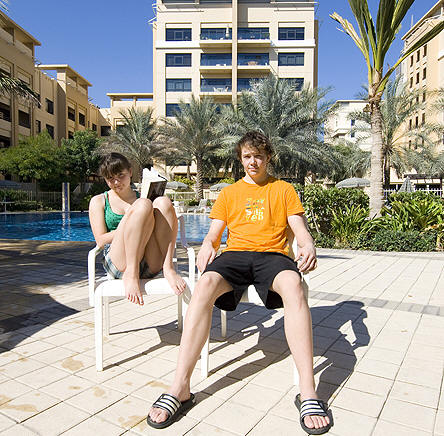 Christmas at our Dubai apartment - 2008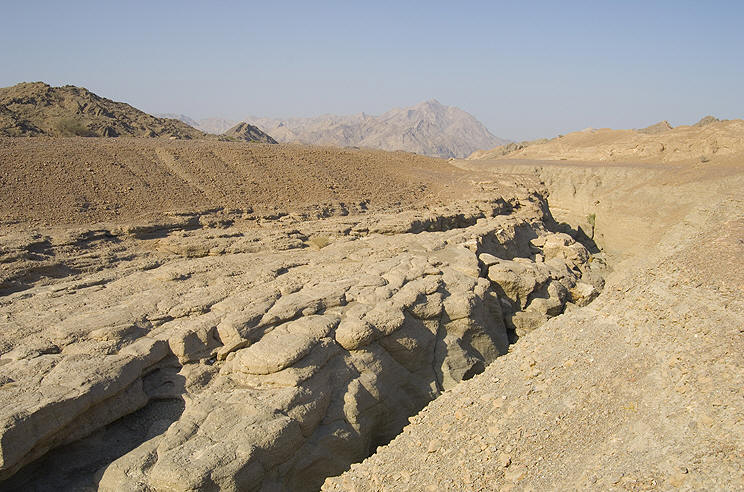 Hatta - Christmas 2008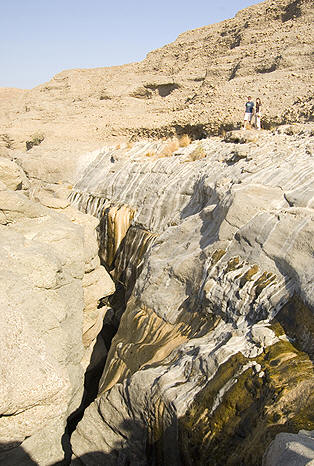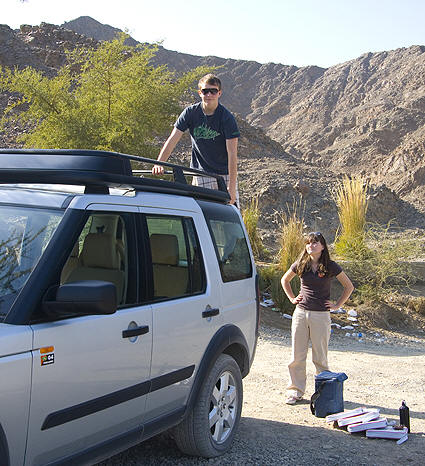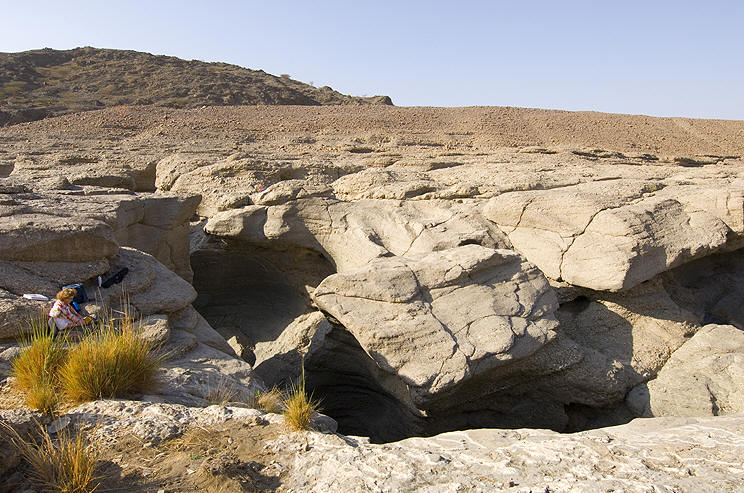 Hatta Picnic- Christmas 2008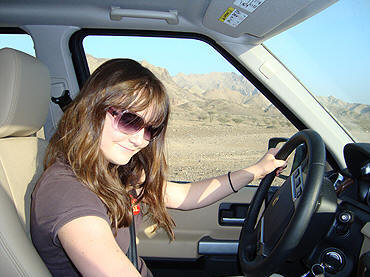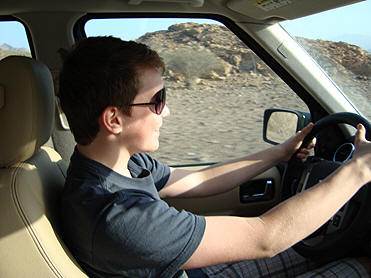 Children driving in the desert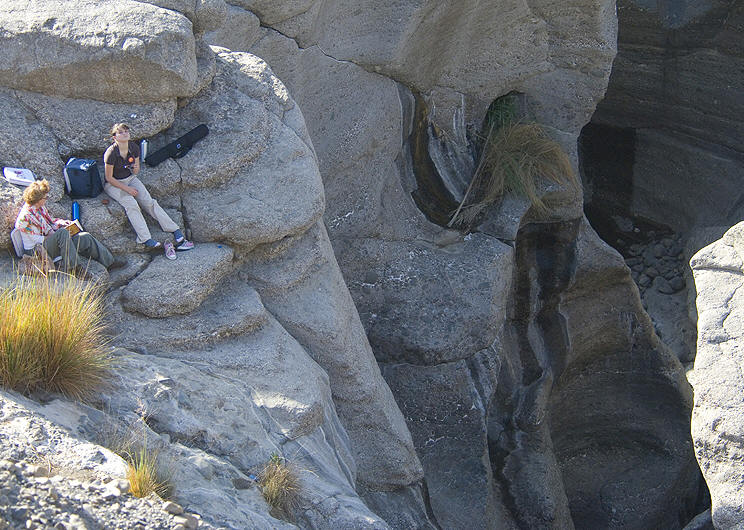 Picnic at Hatta Pools - Christmas 2008
New Years' Eve - Oman / Dubai Picnic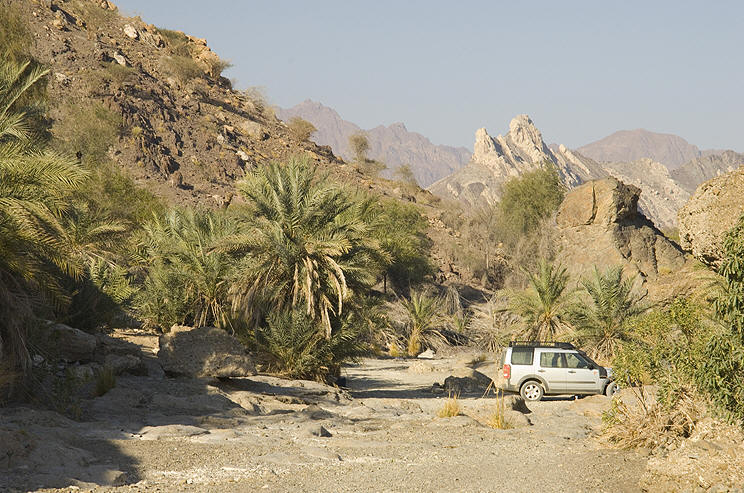 Picnic in Wadi, Oman - December 2008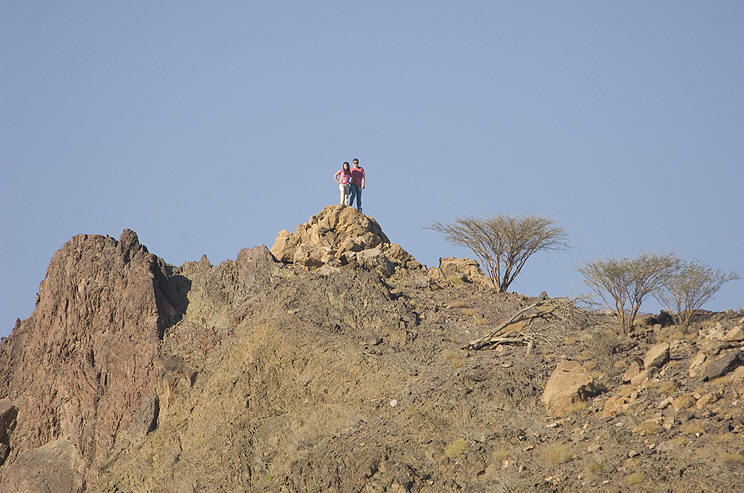 Oman 2008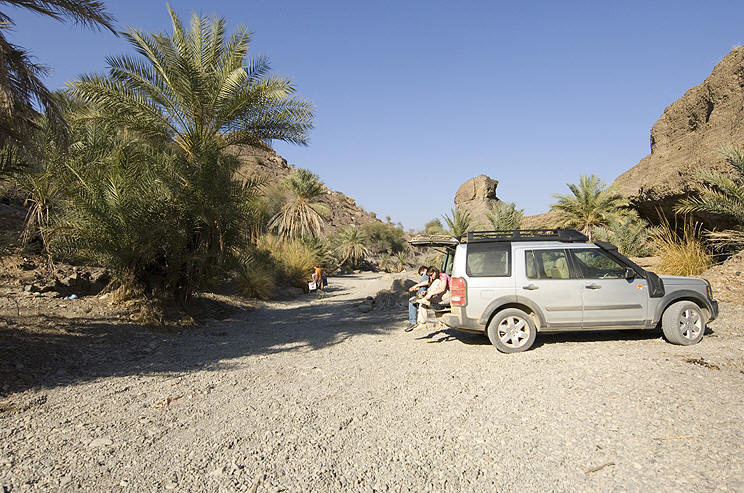 Oman - 2008