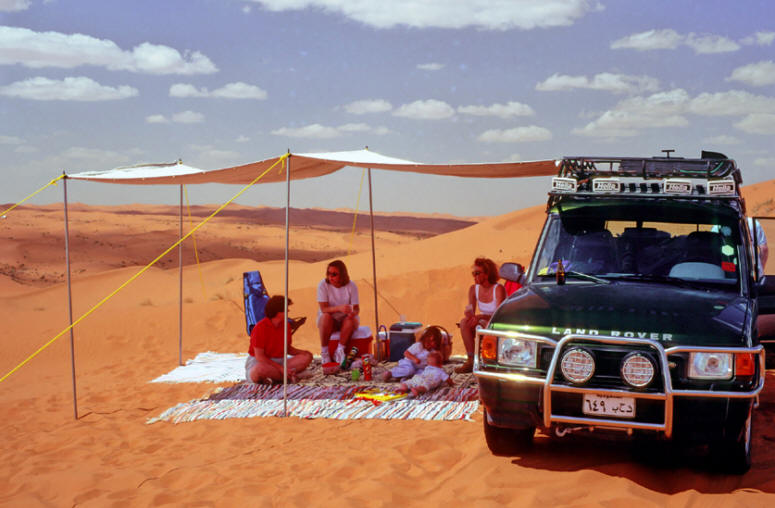 Desert Picnic
Spring 2000- Ancient Coral Reefs, Petrified Forests and Sharks Teeth
The relatively quiet start to the year so far as travel is concerned (a few routine trips to Chicago, Jeddah, Bahrain and Al Khobar) has allowed us to explore some more of Saudi. This includes hammering four wheel drive vehicles up and down bright orange sand dunes the size of mountains near Riyadh and a picnicking near a spectacular petrified forest. Here we can see pre-historic tree trunks and even leaves which are littered over a wide patch of desert. Other interesting desert areas include ancient coral beds and areas where you can pick up sharks' teeth from the desert floor. Both these areas are now hundreds of miles from the nearest ocean. It struck me that the ecology of the planet has changed much in the last few thousand years without any help from mankind. This shouldn't surprise us, as Saudi Arabia, which is nearly all desert now, is literally floating on oil - the remnants of ancient tropical forests. It was clearly once very wet and fertile here.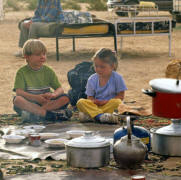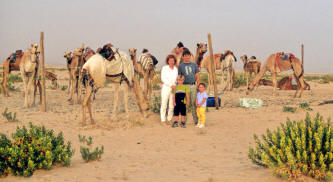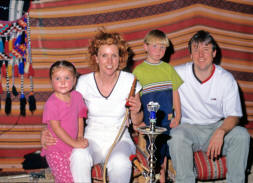 Bedu Camp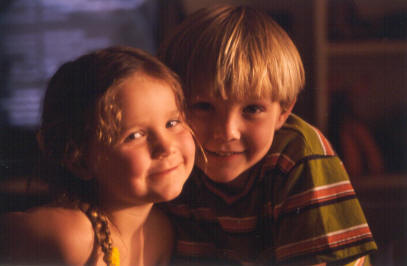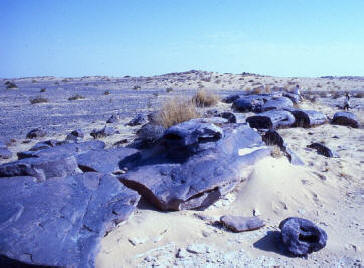 Edward and Verity - 2000 Ancient Tree Trunks of a Petrified Forest near Riyadh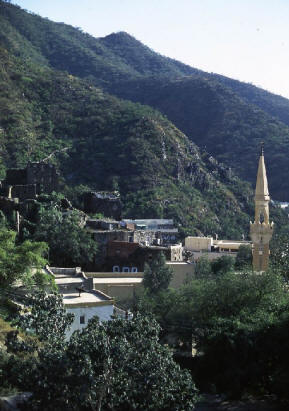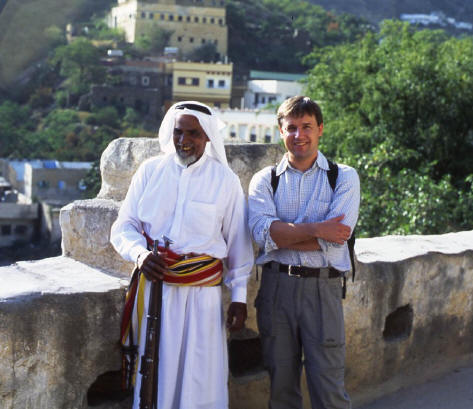 Abha, South West Saudi Arabia Friendly Abha local.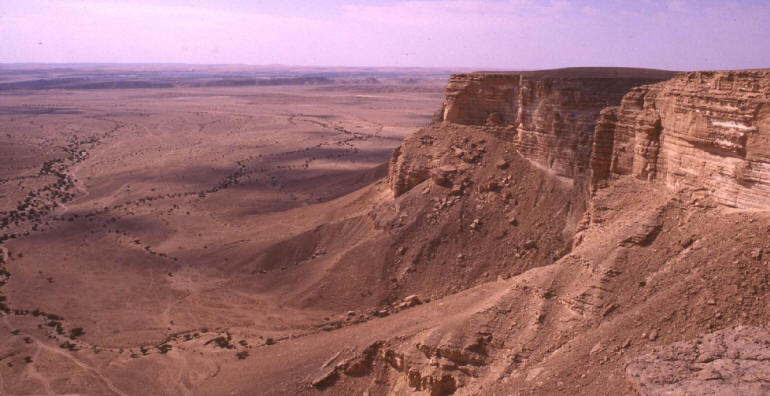 Riyadh Escarpment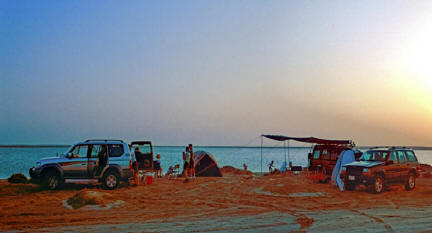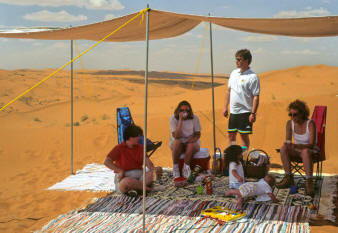 Camping on the Arabian Gulf Desert Picnic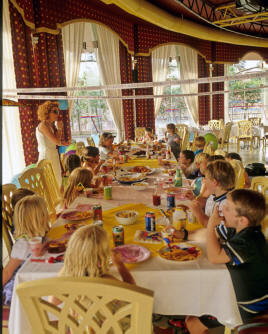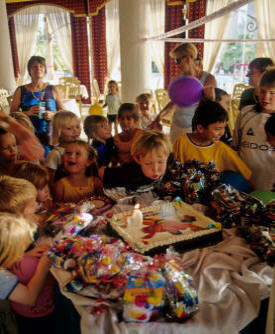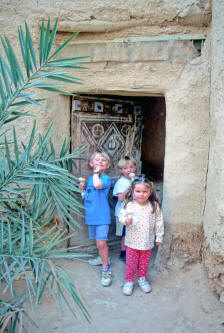 Edward's birthday Party Mud Hut Village
Summer 2000 - Paris
Summer has finally started with the temperatures hitting 40°C (104 °F). They will now rise inexorably towards 50°C (122°F) . It is a very dry heat and not so much uncomfortable as dangerous. Desert trips are conducted early in the morning with swimming the only outside option during the middle of the day. Clair and the children will return to the UK from the end of July to early September to avoid the worst of the fierce heat.

It was therefore a relief to have a business trip to Paris in June to cool off. As usual none of my colleagues wanted to join me in Le Louvre, during a rare break, as they were very settled drinking beer at a pavement cafe. They were however still there when I returned from my two hour museum visit so I managed to rejoin them but failed to catch up with their beer drinking before dinner. I returned to Riyadh via London and spent a weekend visiting friends and family.
Everyday Life - Saudi 2000

Al Hamra - Our residential compound pool area. Tent in the background is the sports centre.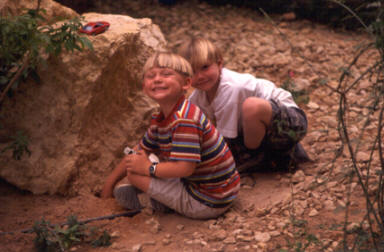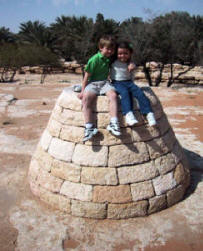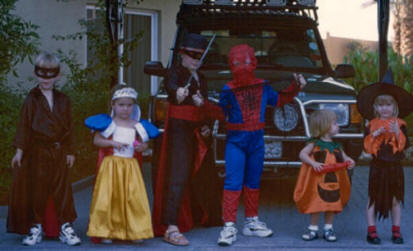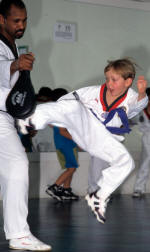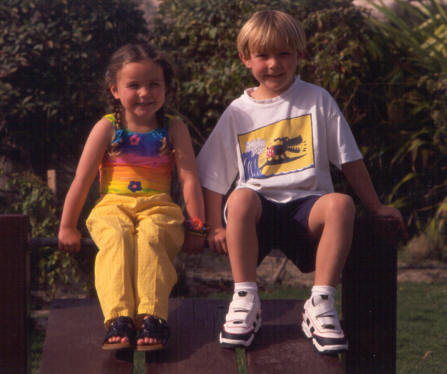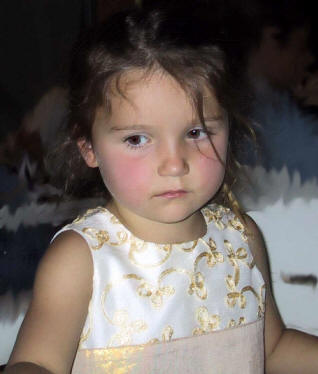 Children's Life, Saudi Arabia
View of Riyadh from my office window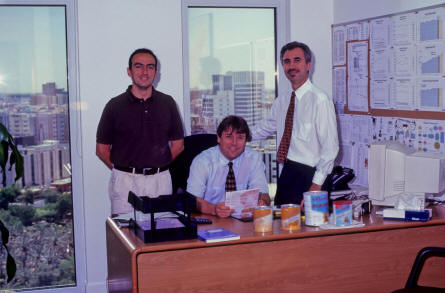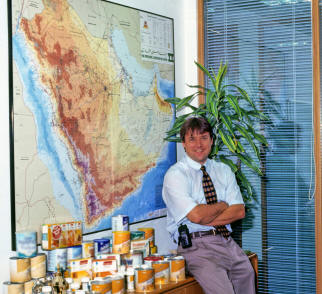 My Office
July 2000 - Business Trip to South Africa
I had to accompany my sales team on an incentive trip to South Africa. I had such a good time I forgot to take many photos. However the itinerary included Sun City, Cape Town, Table Mountain, a helicopter ride over Robben Island, a dawn balloon trip over the bush and some fabulous vineyards in the Stellenbosch.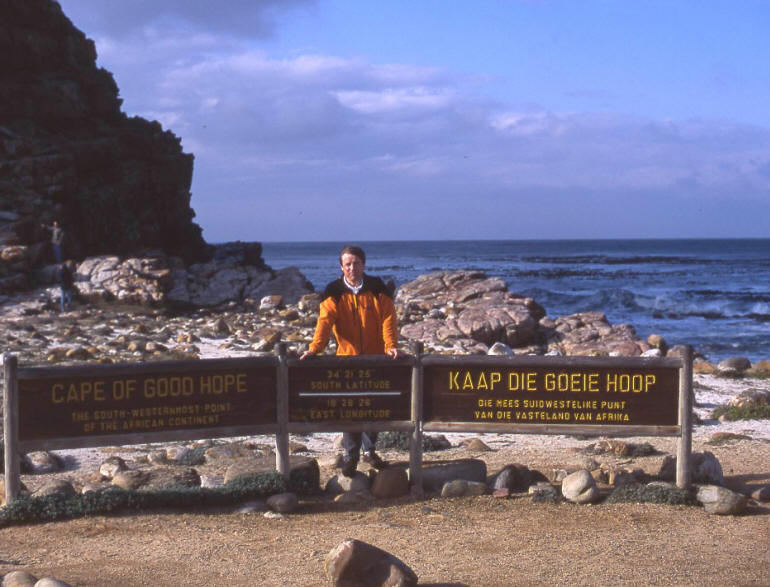 Sign says it all...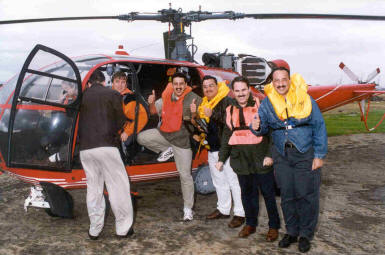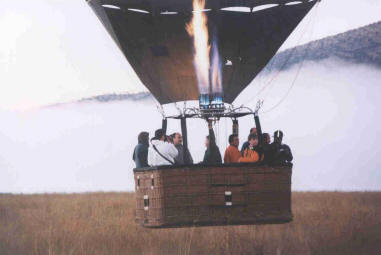 Helicopter to Robben Island Dawn balloon trip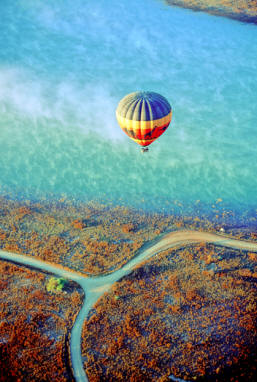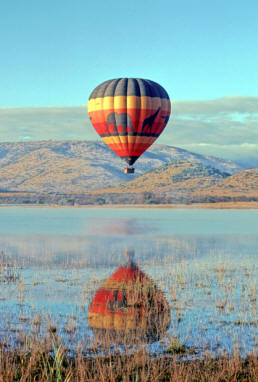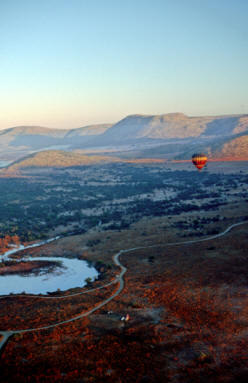 Dawn balloon trip
We rented two hot air balloons for a fabulous dawn trip - dawn because the bush air is too warm for a hot air balloon to rise in the heat of the day. It gave us some truly spectacular views of the South African bush. The photos of the second balloon I took from our own gives an idea of the vastness of the landscape we sailed over. For this it was well worth getting out of bed at 4.30am.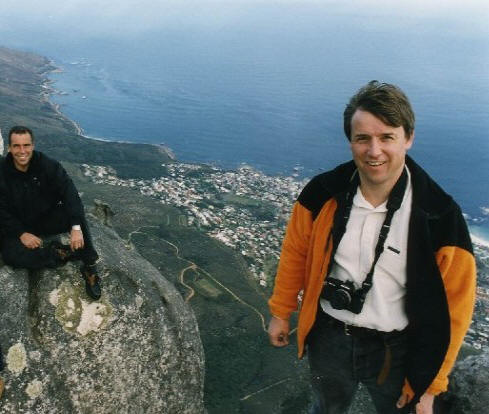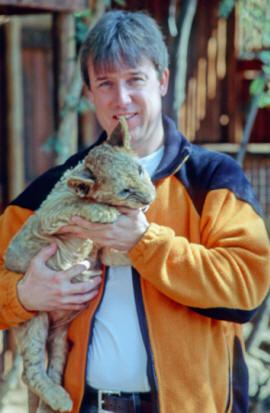 Table Mountain, Cape Town Now I can claim to have been bitten by a lion.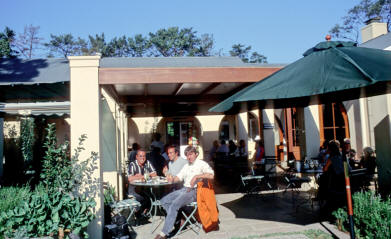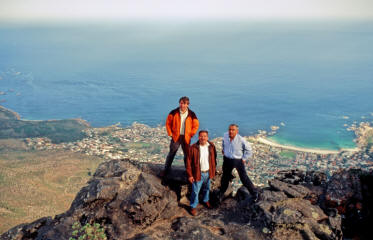 Stellenbosch vineyard (hic*) Table Mountain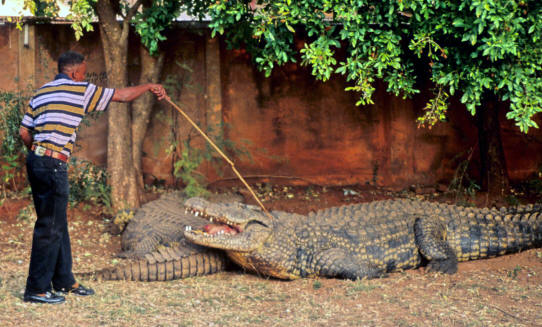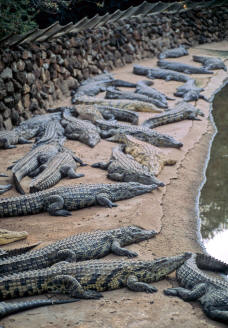 Crocodile Farm
South Africa is a beautiful and varied country with western-world infrastructure, fabulous weather and the right sports. If the various social tensions can resolve themselves over the coming years this will potentially give all South Africans one of the best quality's of life in the world.
Autumn 2000
We still take regular breaks to Bahrain. I have hired an excellent PR agency (MICE Management) who are based there and this gives me excellent reasons to visit every six weeks or so. Bahrain is only a five hour drive from Riyadh so this is well within the range of a long weekend. The family usually join me and Clair can catch up on shopping (there's even a Marks and Spencer) and we can do things we cannot in Saudi Arabia - eat pork, drink "real alcohol", try on clothes and go to the cinema. The Meridien Hotel (later renamed Ritz Carlton) is our favourite haunt, which has its own beach, excellent choice of restaurants, live music and an excellent champagne brunch on a Friday morning.

Le Meridien Hotel, Bahrain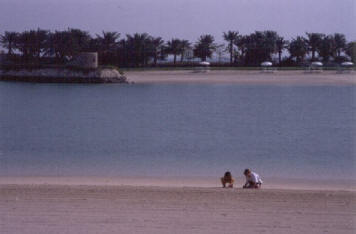 Le Meridien Hotel, Bahrain Edward and Verity on the beach at Le Meridien Hotel, Bahrain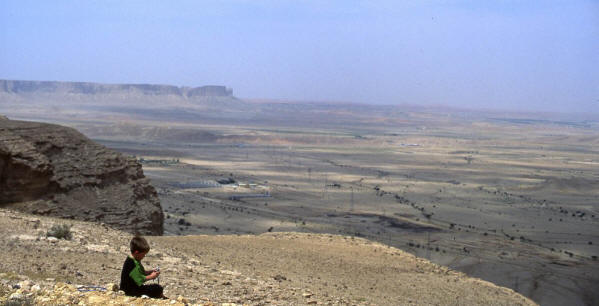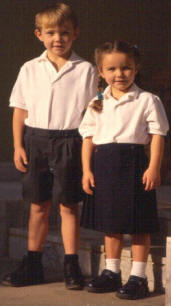 Edward enjoys the view Verity's First Day at School
Verity turned four in August and joined Edward and about 700 other pupils for full time education at the British School in Riyadh in September. They are both very happy here and have friends from over 10 different countries. They can ride their bikes to school, despite being only 4 and 6, because the school compound is adjoining our own.
Holiday in Thailand - December 2000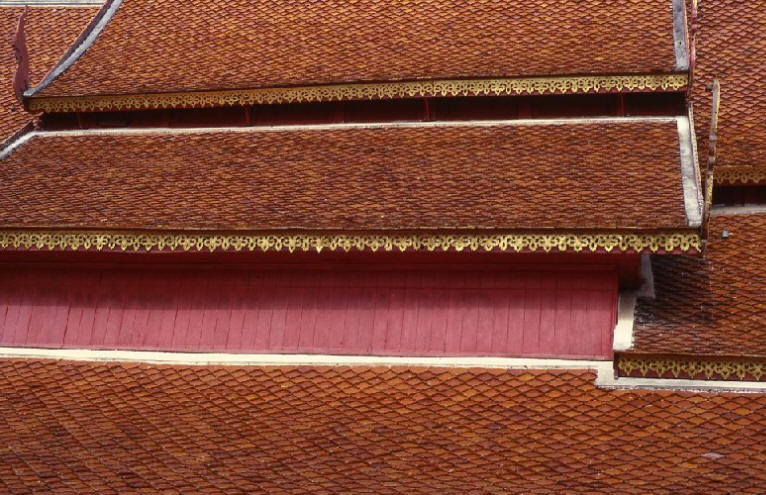 Thai Style roofs at Royal Palace, Bangkok
December 2000 and we decided to have a break in Thailand on the way back to the UK for my mother's 60th birthday celebrations.
First stop was the gorgeous Four Seasons Resort in Chiang Mai. Here we were lucky enough to have a private pagoda type suite with our own secluded balcony where we had breakfast and most evening meals. The resort is so large that room service is delivered on golf carts.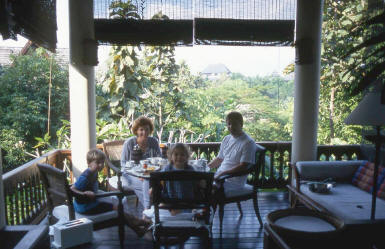 Our Villa at Four Seasons Resort in Chiang Mai
This was far from the coast but we had great access to local amusements such a elephant parks, orchid farms and local cultural events and restaurants. This is a very safe area and we were able to get to many of these events and attractions by bicycle.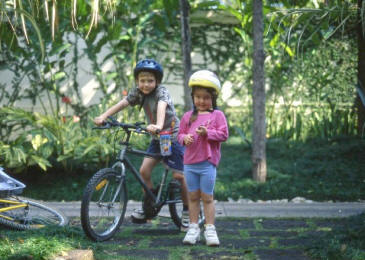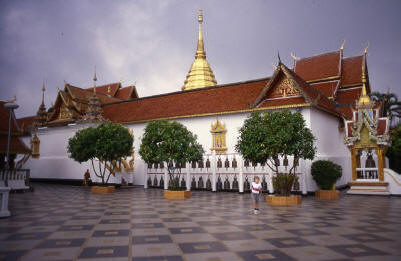 Bike rides... Temples...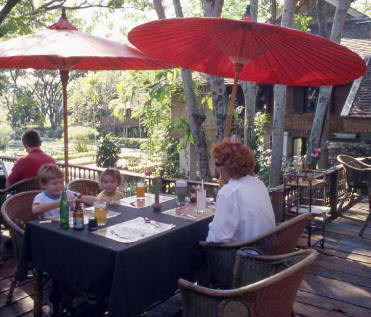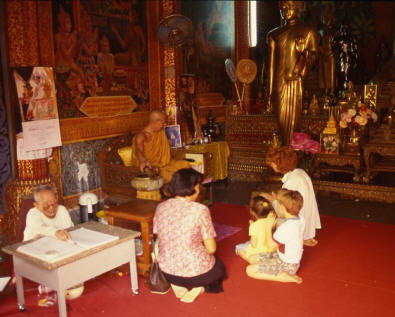 Lunch at a Spice Garden Buddhist Temple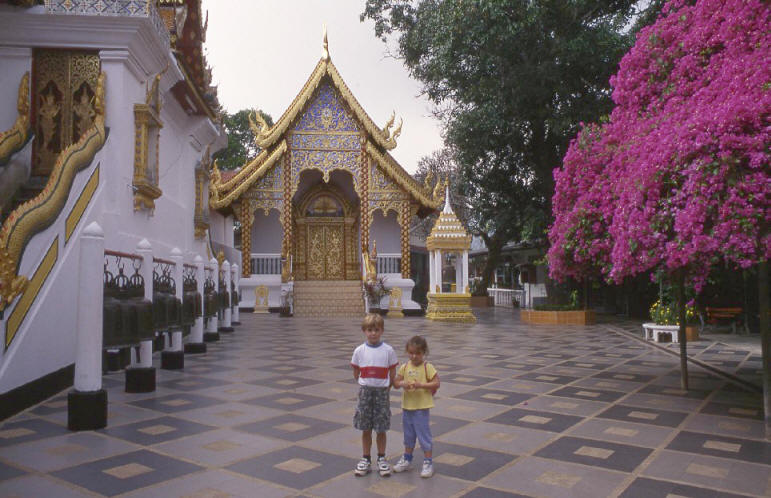 Another temple...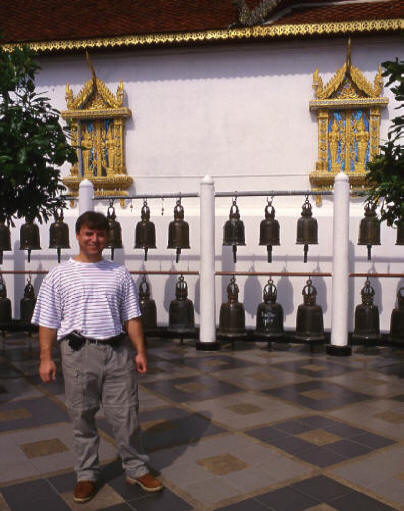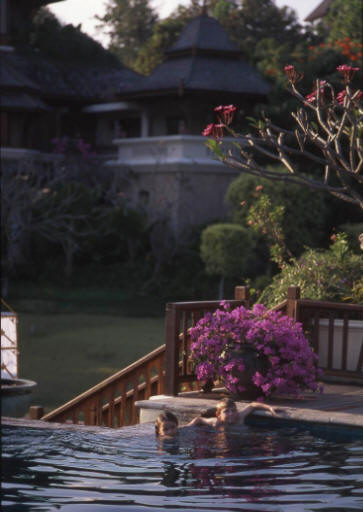 Me Children relax at Hotel Pool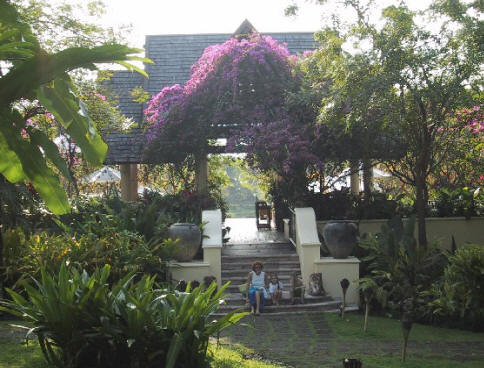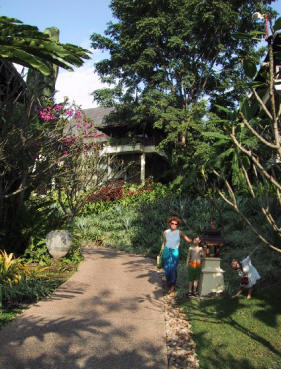 Four Seasons Entrance to the Swimming Pool Four Seasons Resort in Chiang Mai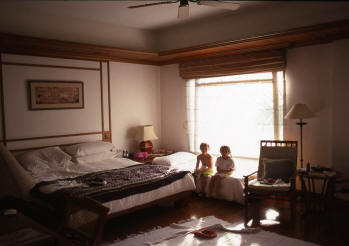 Hotel Room The Hotel Paddy field was lit by flaming torches for dinner
Local Thai School Hotel Paddy Field
We then moved to the Meridien Hotel at the seaside resort of Phuket. It was lovely but in all honesty we could have been anywhere with a warm climate. It did however give me the chance to take Edward snorkelling for the first time.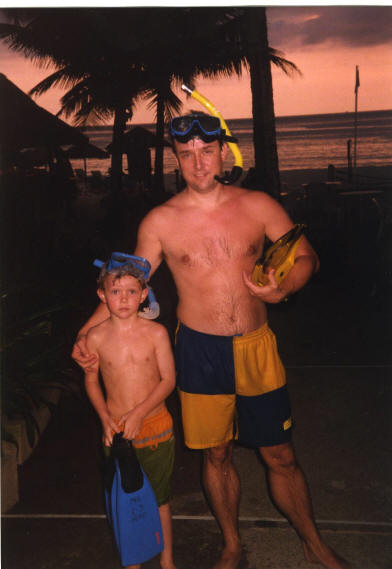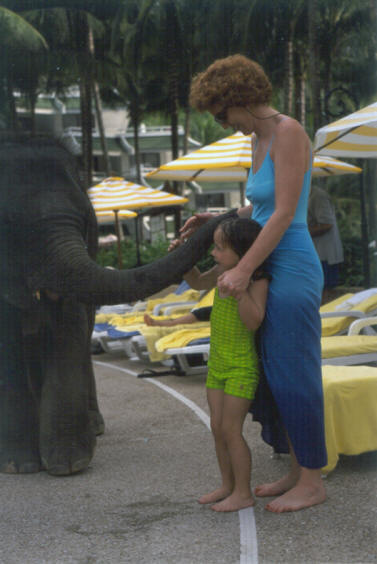 Snorkelling in the Indian ocean Baby elephant visits the Meridien Pool...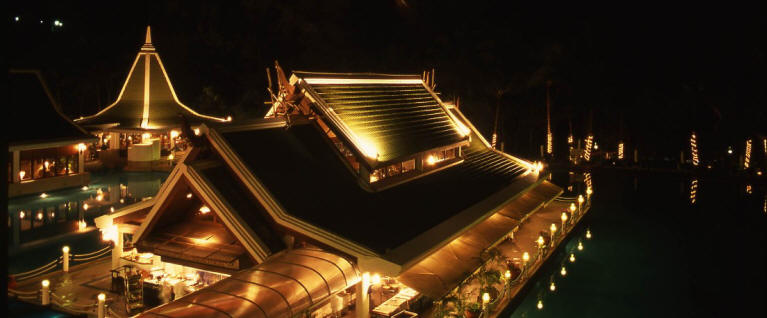 Meridien Hotel by Night
Finally we managed a brief stay in Bangkok before catching the flight back to London for my mothers 60th birthday celebrations and then Christmas....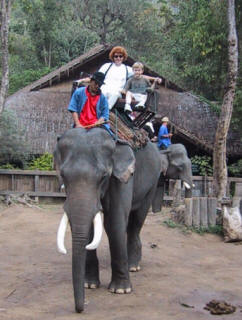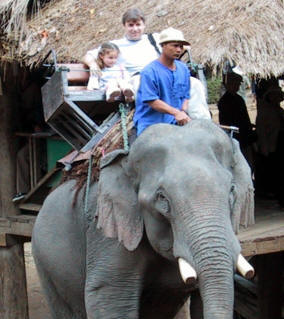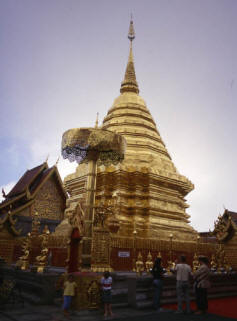 Another elephant ride.... Royal Palace, Bangkok
.
....and some rare snowfalls in England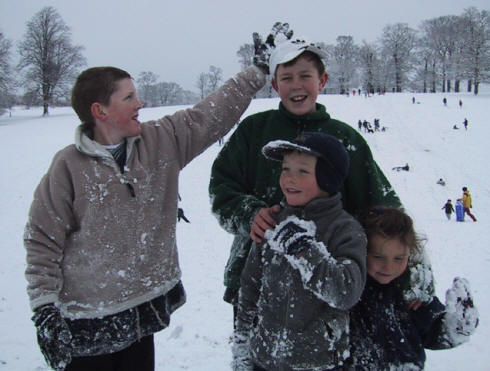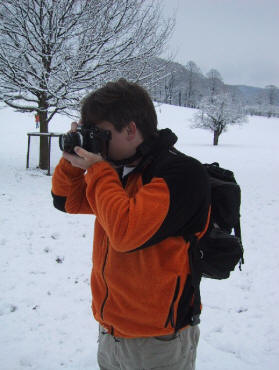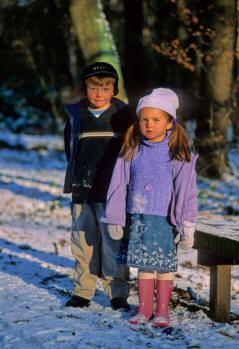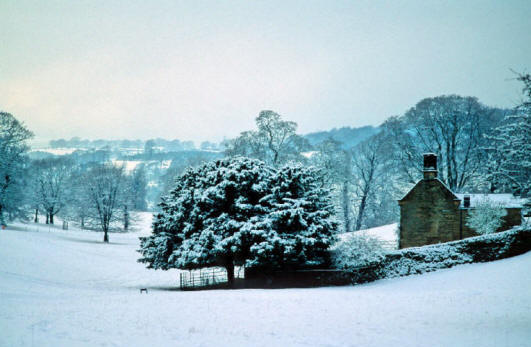 England, Winter 2000