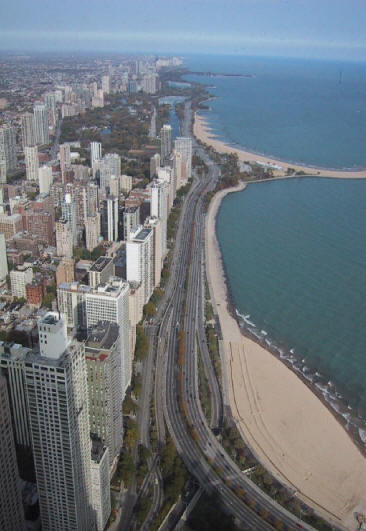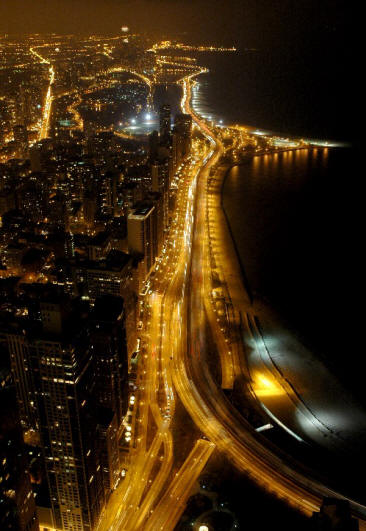 View of Lakeshore Drive, Chicago from John Hancock Tower.
Discussions have begun about my next move and a job covering our Pacific, Africa and Asia region has been suggested. This would be based at corporate HQ in Illinois, USA. I flew from Saudi to Chicago for the interviews in February and stayed one night before returning to Saudi the next day. The interviews started at 9.00am in Chicago (6.00pm Saudi time) and continued until 6.00pm (3.00am Saudi time). Despite the inevitable jet lag during the final interviews (when I was talking in derogatory terms about the company's financial bias to an accountant who I was convinced was in marketing) they wanted to make me an offer. Offers in my company take a long time to get approval.
Business Meeting in Victoria Falls, Zimbabwe February 2001

During this process we had our regular financial review meeting in Zimbabwe. This was a week's team building jolly at Victoria Falls in the British colonial style Victoria Falls Hotel. We spent a day white water rafting on the Zambezi. This was the "team building exercise" which worked nicely apart from the fact that two members of the team nearly drowned when our raft overturned on rapid 18, ominously nicknamed "Terminator Two". Being in Africa we had a "comprehensive" safety briefing which involved the staff telling us to "hold onto the boat if it turned over - and it will turn over" they said. If you can't hold on they suggested "putting your feet downstream" as we rush through the rapids (prevents fractured skulls) and wait until you get to a calm pool of water at the other side. We were then urged to swim immediately to the edge as the crocodiles which infest the Zambezi like to wait in the pools. I had this image of large crocodiles waiting at the end of each rapid with their mouths wide open waiting for a hapless victim to be propelled right in. Anyone surviving the rapids still had a chance of perishing dramatically from a coronary on the long climb out of the gorge. This was a near vertical climb in hot tropical weather and many of my colleagues only exercise by walking from their front door to their car. All in all it was a great day amongst some of the worlds most spectacular scenery.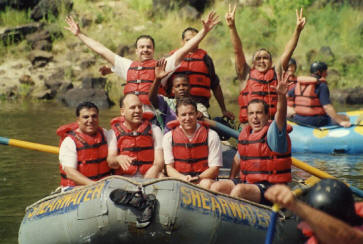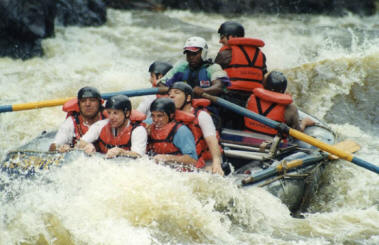 White Water Rafting on the Zambezi...... ....Saudi team looks confident....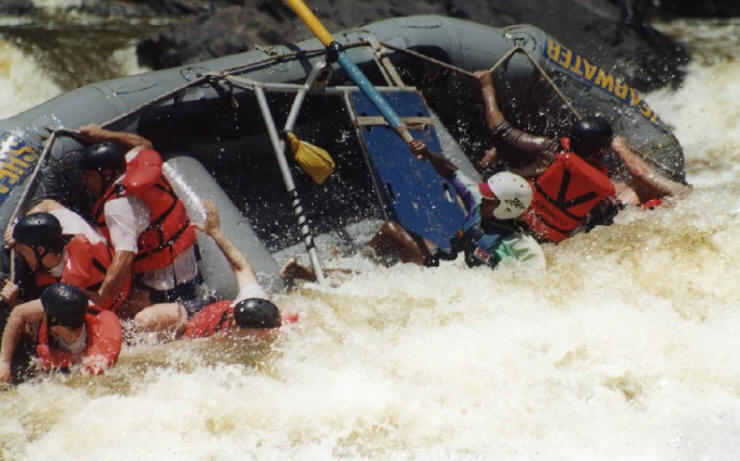 .....with the inevitable result
See a video of our wipe-out: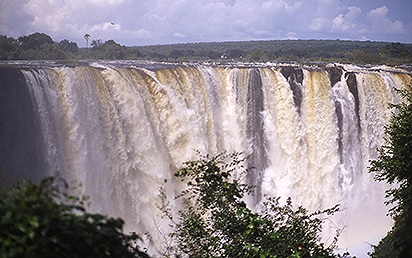 Video of our wipe-out Victoria Falls, Zimbabwe
We had a helicopter ride over the Falls themselves which was the only way of really seeing the scale of the area. This is well worth doing - especially at somebody else's expense. Victoria Falls in really in the middle of nowhere.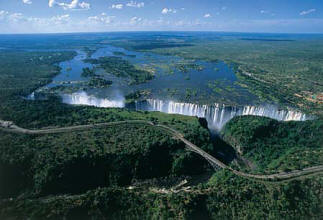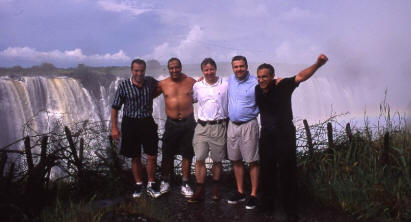 Victoria Falls Victoria Falls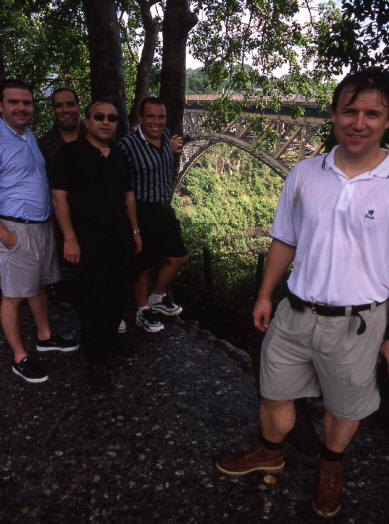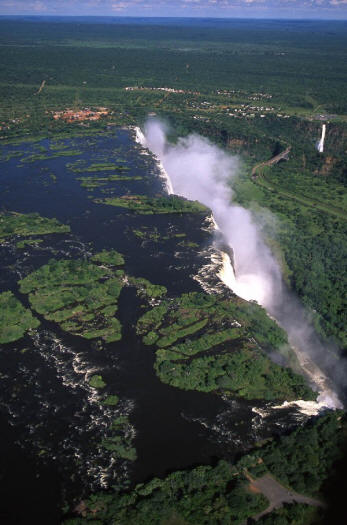 Victoria Falls Bridge Victoria Falls
The following day we drove to Botswana's Chobe Reserve. I was accompanied by some South African colleagues who are veterans of Safari and game parks. They assure me that this park has one of the highest concentrations of game in the world. Couple this with the fact that Botswana is one of the few reasonably well run countries in Africa and relatively affluent (diamond mining) and you have a good cheap family holiday destination. The game was dramatic. The morning was spent drinking beer on a boat floating serenely down the Chobe river as we watched hippos and crocodiles. The Zimbabian guide showed a sense of humour when he informed us that a group of Hippos (we were viewing 16 at the time) is called a "Pod" or in American English - "Gee, a whole bunch of 'em". Our American boss didn't see the funny side and our South African colleagues blighted their careers by failing to control themselves adequately.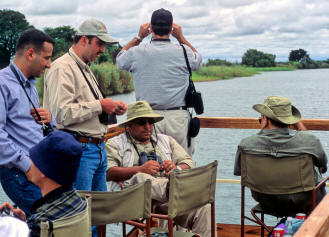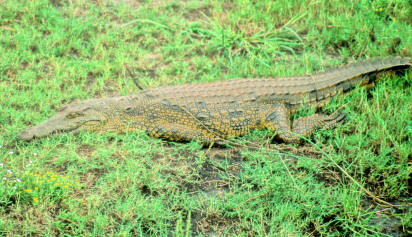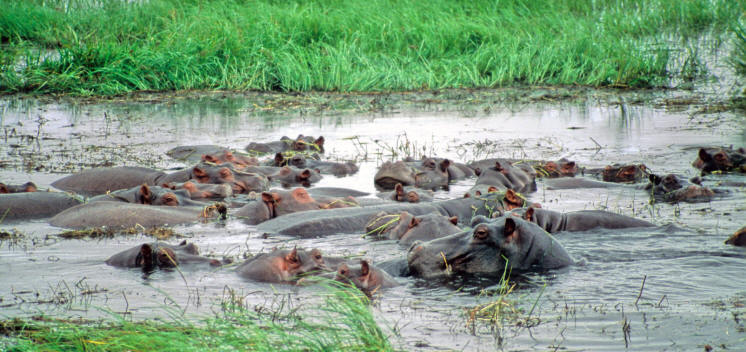 Hippos on The Chobe River - These herbivores kills more people than any other animal in Africa
We got in Land Rovers for the afternoon and explored the game park. There were animals everywhere and within two hours we saw hippos, crocodiles, antelope, lions (from a distance of two yards), hundreds of elephants, buffalo......Yes it was like Woburn safari park in England.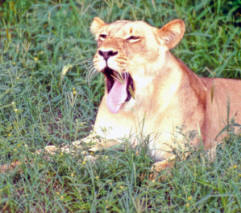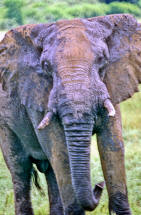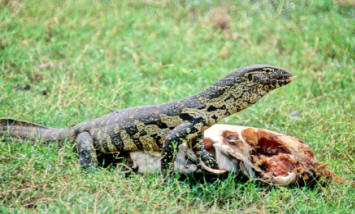 Botswana Safari
The Victoria Falls Hotel is magnificent and build by the British in about 1905. As a British expatriate myself I understand the motivation behind building it. As we move around the world we come across three types of foreigner - the "tourist" who is on holiday, never goes anywhere adventurous, likes "the weather" and beaches and stays in Western hotels, eats western food and collects souvenirs and may just as well be anywhere. This individual is always looked down on by the "traveler" who is seen complete with backpack and a Lonely Planet guide of the remote area where they are found. They like to be absorbed into the local culture in gritty, and often grubby detail, sleeping rough and eating rough. The only things they collect are local diseases such as hook worm and cholera. No - for me the British "expatriate" way was much better. Pitch up in the middle of nowhere, steal the country, build a railway rapidly followed by a luxury Hotel and a British Club and then sit on the verandah and admire the view whilst playing Mahjong and drinking ice cold gin and tonics. The Victoria Falls Hotel falls spectacularly into this category. It is a gentle walk to view one of the seven natural wonders of the world before returning for afternoon tea complete with scones and clotted cream on the well manicured lawn. After this, a few pink gins and campari and sodas, then elegant dining under flaming lanterns with Mozart playing delicately in the background - and somebody else running around and doing all the work. Oh yes and make them learn English to save us the effort of learning Bantu.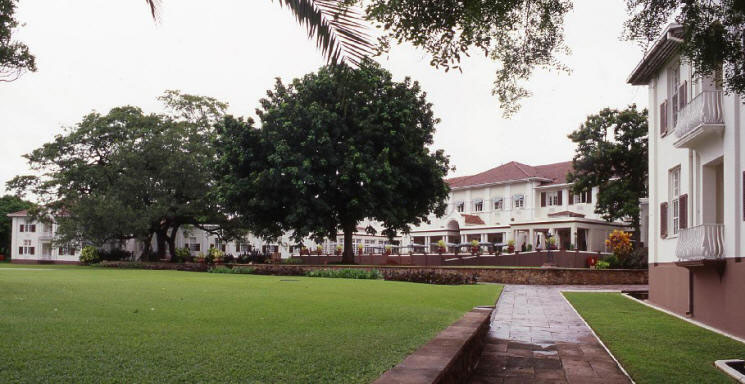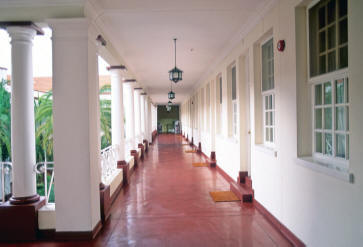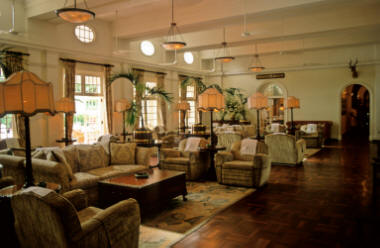 Victoria Falls Hotel
Actually the President, Robert Mugabe was also there for the weekend to celebrate his birthday. As you know he is a little anti-British at the moment (some grumble over white farmers) so it surprised me to learn that this Hotel is his preferred retreat. The original decorations are still there complete with huge maps of Africa, which was mostly coloured pink and showing names such as Rhodesia, British South Africa, British Matabeleland, British Somaliland...as well as large oil paintings of King George V and Queen Mary. The furniture and decor reminded me of my Grandmother's old house near Windsor.
Bungi Jump
The verandah and lawns overlook the spectacular Victoria Falls Bridge, built as a railway bridge by the British in about 1900 to span the Zambezi River and join what is now Zimbabwe to Zambia. It also hosts the worlds highest natural bungi jump dramatically advertised as "111 metres of pure adrenaline and mind smacking rush". The heart stopping 111 metre drop ends in a seething cauldron of rapids and (apparently) more crocodiles. Who could resist? Well apparently everybody in my party except for me. After a fruitless week spent trying to convince somebody to come with me I eventually persuaded one lone Australian colleague to come and watch. The bridge is between the Zimbabwe and Zambian border so there is a walk from the hotel followed by Zimbabwe immigration. I paid a deposit at the hotel and booked a jump for 11.28 in the morning. This is such an precise time that I was surprised to be the only one there - no queues - in fact nobody else had made a booking all day. It was also raining which, I was informed by the bungi staff, meant we could not jump. "Why?" I asked innocently, "does it make the bridge slippery?". "No" they said - "when the bungi cord gets wet it is inclined to snap". By this time I'd already paid the balance of the $US90.00 fee so I watched a few videos of previous jumps and tried to reassure myself that there were, so far, no fatalities (at least not ones they were prepared to show on video). Soon the rain stopped and they started preparing me for what they called the "flight". My Australian colleague was trying to reassure me about the bungi cord snapping whilst he took photos. He reasoned that if it did snap it would already have broken the fall and I would be near the water so the fall wouldn't kill me. "Of course you'd be in the rapids", he said, "with your feet tied together with no life jacket and there are crocodiles"........ I've often wondered if Australians are really on our side.....The rest is a blur (in fact 111m of pure adrenaline and mind smacking rush blur) and I've got the video to prove I did it. Now I know how it feels to gracefully swallow dive to your death - but in perfect safety. Interestingly I had sciatica in the months before this jump and haven't had a twinge since. Obviously the stretching of my spine popped out a nerve.
To see a video of the bungi jump click here: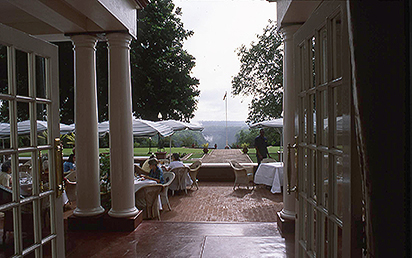 Bungi Jump Video Victoria Falls hotel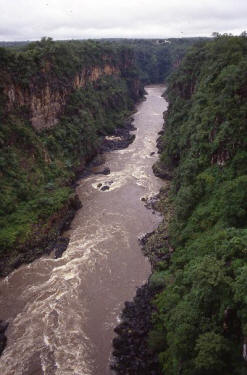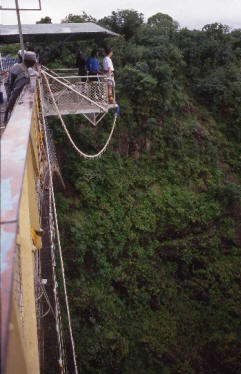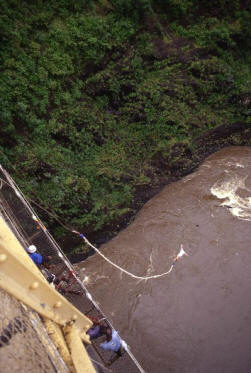 Bungi Jump
Illinois, USA.
I went back to London to meet Clair and then we both went to Chicago to negotiate the package for our move and to find a house. My company don't offer expatriate benefits to ex-pats in the USA and try to compensate you with money (this is a novelty for an expat). Actually this works well medium term because when you become and expat again you get the benefits back and keep the salary. However it does mean for the first time in my entire life I will have to own a car.
The area around my company HQ is an area called the North Shore and is one of the more exclusive areas in the USA. Basically from the northern Chicago suburbs, all along the shore of Lake Michigan for about 40 miles, is one exclusive, mansion ridden county after another. The property prices match this and are comparable to south east England. We were shown around by a relocation expert (Donna) and a Realtor (Lisa). Both very American, female, married, mid-thirties, slim, perfect teeth, perfect hair, perfect children, driving Mercedes....."The Stepford Wives" sprang immediately to mind. Clair was furious when I mentioned the similarity to both of them but neither of them seem to have read it. Also Lisa had never heard of cricket, which is a bit odd.
We stayed in the Deer Path Inn, in Lake Forest. I was impressed with the Union Flag flying next to the Stars and Stripes outside but was assured that it was not there for us but because the hotel design is based on an English country mansion. It is one of the "Historic Hotels of America". I thought I'd misheard when they said it was 71 years old. I think Clair's brother has a car older than that.
We basically spent the week waking at 2.30am (jet lag again) and visiting houses and schools. There were few rental properties available and even fewer at less than $8,000 per month. The schools are good and well equipped and apparently amongst the best in America. They start a little later than UK children so Verity (who is four) will go from full time school to nothing when we arrive in May and will then qualify for two and a half hours of Kindergarten three days a week from September. Clair plans to make up for the shortfall with the many "child enrichment" activities in the area. I'm not sure if they mean intellectually or financially enriching - you can never tell in America. I have visions of our four year old daughter attending day-trading classes.
We only found one house which we liked and it would be perfect in terms of location and space - with enough room for visitors. It was under offer as a sale at the time so we signed a rental contract just before leaving for the airport on the off chance. The purchasers failed to find the capital at the last minute so when we phoned from the British Airways lounge we discovered that we can rent it. The house was built before 1860 and was the original school house in Lake Forest . Like many houses in the area it is of wooden structure and has lots of character (i.e. its starting to creak in places) but it has two new bathrooms and a new kitchen. The house is situated near a Metra station which is a light railway that gets you into Downtown Chicago in 60 minutes. It is also walking distance to a very exclusive small shopping centre - you know the type - hand painted wooden toys, Marshall Fields, Art Galleries - there's even a shop specialising in luxury doll's houses. Would you spend $70 on a 2 inch high miniature Louis XIVth dining chair? Lake Forest even boasts a car dealership - specialising in Ferraris and Aston Martins. It's also walking distance from Lake Forest Beach which has just had a $6 million face lift. There a lots of woods for the children to explore and beautiful cycle tracks on the lakeshore. In fact think of Alderley Edge with a lake and you'd be close. We'll be the poor neighbours in the rickety house near the railway line but we're not proud. Finding this house is a major relief as it saved an additional visit.
(These images are taken from another website)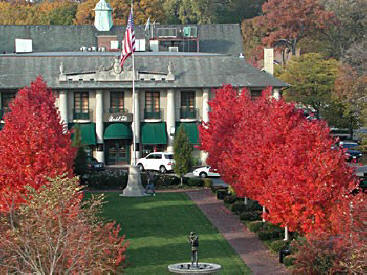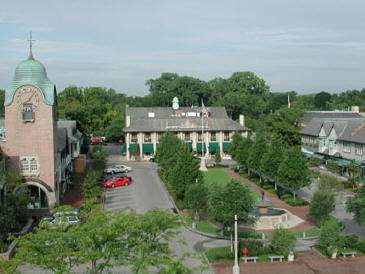 Lake Forest, Illinois Lake Forest, Illinois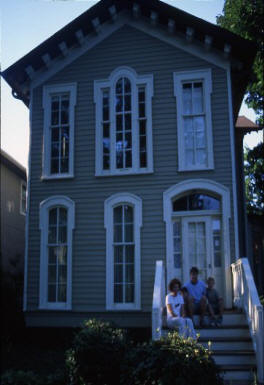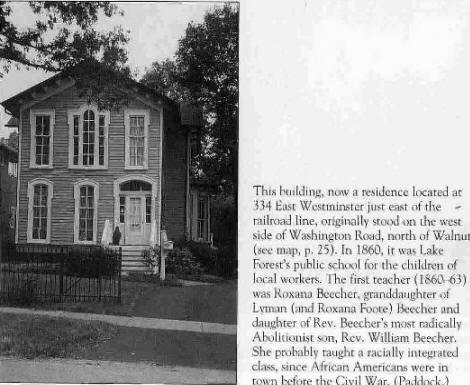 It turns out our house is historic.....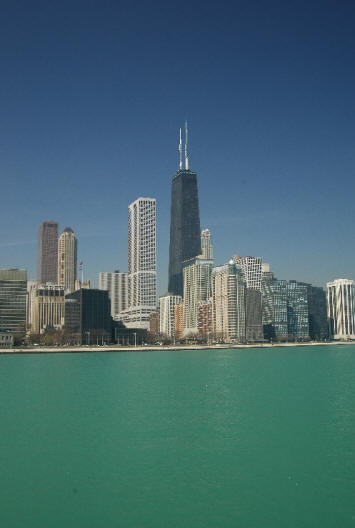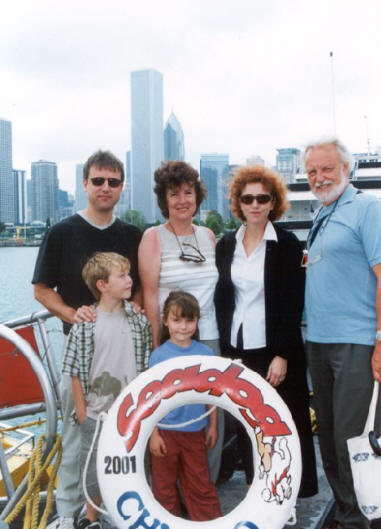 John Hancock Tower, Chicago Navy Pier, Chicago
Winter in Illinois, USA.
Our first Christmas and winter in the United States. We do not have the negative Fahrenheit, nasal hair freezing temperatures, we were promised. This is good for the winter heating bill but will apparently result in swarms of mosquitoes the size of Messerschmitts next spring. A good long cold winter keeps their numbers (and dimensions) to a minimum. So far a light dusting of snow and temperatures no lower than -2 C. Just as well. My 4.2L, Mustang GT Convertible seemed a great idea last May but I've noticed its road holding is pathetic, even in the summer. Hopefully with a long Christmas break and heavy southern hemisphere and tropical travel in January and February I won't have to drive it to work in snow and ice.
So what of the US? This is an easy comparison with Saudi Arabia. Very friendly natives, women are allowed to drive, we have freedom to celebrate Christmas, drink decent wine and eat ham. Lake Forest looks beautiful this time of year, with all the trees on the main street brightly lit with billions of tasteful pinpricks of white light. The children are very happy in their school and their teachers are lovely. The recent school Christmas sing-along was interesting. I remember my own boarding school, Bedford School, hosting such events. Candles shone over the immaculate linen clad choristers and dramatically reflected off the silver ornaments and stained glass windows. Angelic notes of "Silent Night" would float serenely through the ancient chapel air, mingling gently with the intoxicating aroma of freshly baked mince pies and fine cream sherry. The performance would be fully appreciated by the assembled, formally attired, audience who sat comfortably on expensively cushioned pews. Here in the US we all sat on the floor under the florescent lights of the gymnasium with our jeans and tee shirt clad offspring (and fellow parents) whist communally struggling with the words of "Jingle Bell Rock", accompanied by a single out of tune piano.
Both children love school, and look very cute each morning as they toddle onto their yellow school bus. Edward started off trying to fit in but has since settled on the strategy of being different. He has taken to liking football (soccer), rugby and everything British. His friends at school have kindly and inexplicably allowed him to name their classroom table "The British Dudes". Verity is cute, five and very bossy. Both are learning to ice skate with Clair. Verity is learning figure skating and Edward is learning Hockey Skating (which the figure skaters mockingly refer to as "duck" skating).
We attended the British Women of Lake Forest Christmas bash. This was very successful and finished at (very late in a nation that lunches at 11.30, dines at and is tucked up in bed by ). There was also a good turnout. There were at least 50 British couples there and it was a black tie affair. We took the children to see the Harry Potter film, which we all enjoyed. To put it in perspective, Verity at five years old, sat through two and a half hours of it, enjoyed every minute and was able to answer questions afterwards. That's a good film for a child. I've read the first book to both children which probably helped. I think the American audience may have had problems with some of the accents. We found we were the only ones laughing on certain occasions. The film was followed by dinner at Bob Chin's crab house. Great crab. This single restaurant turns over $28,000,000 per year. Its worth going to witness the logistics first hand, which serves over a million people annually.
Some aspects of Saudi are still missed - especially the reliable and cheap domestic help, friends and the significant lack of expenses (particularly those associated with cars, income taxes and housing). We are happy to be here - despite the surprisingly dire customer service. This came as a great disappointment as the USA is hailed as a world leader in "the customer comes first" philosophy. Here it is usual to wait 30 minutes on a help line whilst a recorded message desperately urges you to visit their web site, which is presumably much cheaper for them. After 25 minutes of tedious waiting, visiting the web site starts to become very tempting. Don't do it. You will spend hours surfing around trying to find the section with the help you need. On the way pop up screens assault you with every mouse click, where scantily clad models advertise low-priced discreet security cameras, cheap car insurance and on-line casinos. Finally, after many detours, which inadvertently take you to completely unrelated web sites, if you remain totally focused and remember what you started out doing, you may find the section you want - only to find you don't understand the answer. You then reluctantly phone the help centre (again) wait another eon whilst listening to cheap music, further urgings to visit them on-line and advertisements for the product you either cannot buy, cannot get to work or want to return. You finally get to speak to a real person, who invariably cannot understand your accent and when they do don't know how to get you what you want. Under no circumstances should you return anything you have bought. Much better for your mental health to throw it away and buy a new one. Perhaps this phenomenon is a reason for the US consumer boom. You cannot return anything to the local store where you bought it but must ship it back to the manufacturer who is invariably on the other side of the country and argues over whether it is their responsibility - especially if you didn't register the purchase on their own impenetrable web site within a nano-second of taking delivery. I had a $6000, 80-pound plasma TV that nobody would touch, despite it failing completely three weeks after delivery. Not only could I not find someone who would repair it, even if I shipped it to them myself, but I couldn't even get it off the wall.
The Americans also manage to make the Saudi's look complete amateurs when it comes to rampant bureaucracy. Despite being the self-proclaimed leader of "high tech" and home of the NASDAQ, paper based form filling is a tedious daily occurrence. Every transactions requires your name, address, social security number, photo ID and happens in quadruplicate every time you have medical or dental work. Medical or dental work also require the extra inconvenience of an insurance card and number and, of course, a credit card. Another minor annoyance is the amount of telephone sales calls. These inevitably occur during dinner and usually start by joyously informing you that you are the lucky winner of something or other, which of course eventually turns out to be not free at all. On one occasion I was well into a conversation about how awful drunk driving is and how we should put a stop to this dangerous and anti social behaviour before realizing my discourser wanted sell me a TV magazine subscription. The particularly irritating ones are from the credit card companies who want to send you the free "pre-approved" card they refused you when you first arrived in the country because your 25 years of blemish free UK credit history did not count in the USA. We were too English and polite at first and ended up with the magazine subscription and plenty of other junk we didn't want and couldn't cancel without phoning an impenetrable customer care line. Now we just breezily tell them we don't have any money and hang up.
Australia and New Zealand; Egypt and Hawaii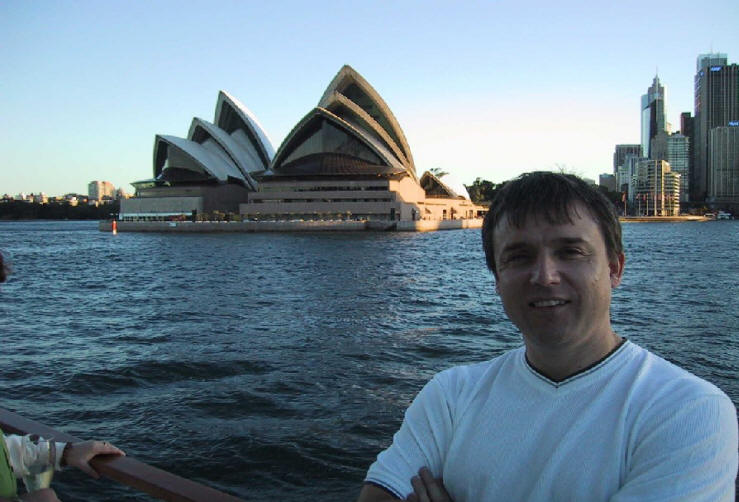 Sydney Opera house - October 2001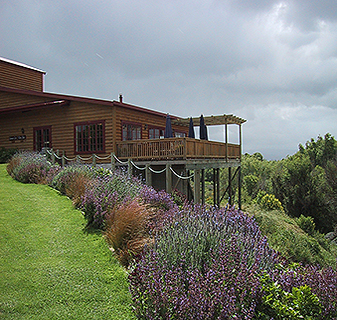 Wellington Harbour. Drag your cursor across the image to view 360° movie Martinborough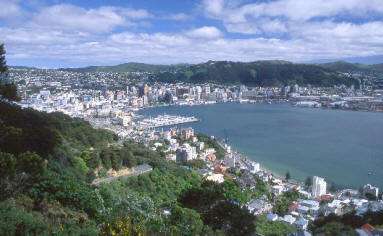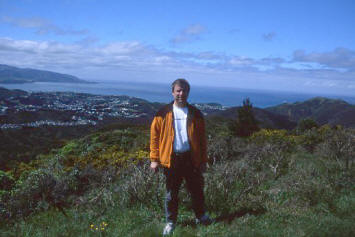 Wellington Harbour, New Zealand - November 2001
Travel is as hectic as ever. I had business trips to Hawaii, Dubai (twice) Istanbul (again) and Cairo (again), where I accompanied some colleagues to the Great Pyramids at Giza - my third such visit. In October I had the opportunity to visit some new countries with a great trip to Australia and New Zealand. I was particularly impressed with the food and wine in both countries. A memorable meal in Sydney was at the MG Garage , which is what it sounds - an MG Garage. Sports cars are actually on the menu and the tables are strategically placed between gleaming showroom models. We ate next to a brand new $375,000, British racing green, Aston Martin DB7 Volante. It's a good sales ploy. After gazing admiringly at it for all of three hours I nearly bought it. Fortunately, despite the excellent wine, I was still sober enough at the end of the evening to realise that my company would probably notice it on my dinner bill. We had a cruise around Sydney Harbour, which reinforced what I'd heard many times before - that the quality of life in Australia is second to none. Great weather, high quality living, good education, good arts, the right sports, as well as being relatively crime (and terrorism) free. New Zealand is beautiful if a little remote. I had a weekend there and visited some of their excellent vineyards, tasted the produce and enjoyed the remarkably clean air. We also visited some film sets of the soon to be released film "Lord of the Rings". I also managed a visit to my fourth cousin, twice removed, who lives in Wellington. I met her on a genealogy web site some months before. Actually I was online trying to work out how to subscribe to AT&T's digital phone service and ended up at the genealogy site by mistake. She was very hospitable and gave me a tour of Wellington and took me home to meet her husband and cook some local delicacies of Whitebait followed by a Kiwi fruit Pavlova. The Kiwis themselves were wonderful and all apologized for being so provincial and parochial despite all having traveled extensively in Europe, Asia and in many cases China. I contrast this with Illinois. When visiting CompUSA to buy a network card a local who thought I was an Australian accosted me. I apologised and said I was English to which he looked very confused. "You're British", he said, "we speak English, you speak British!"
I had my second trip to Hawaii this year in November. Like the last one it seemed to be mostly about eating, drinking and scuba diving. The weather was glorious, the water crystal clear and the hotel Four Seasons. This was the annual global General Managers "thank you for making this company so great" beano. The gala dinner was on a Saturday night, which made the company less guilty about making it so much fun, but this was little consolation to Clair, who wasn't invited.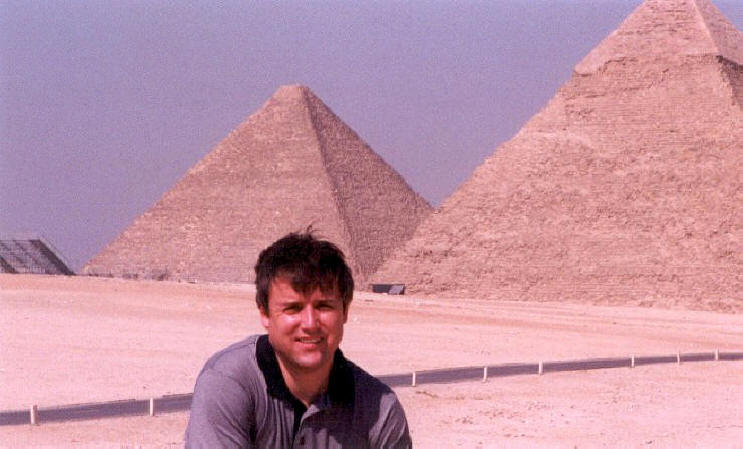 Great Pyramids, Giza - June 2001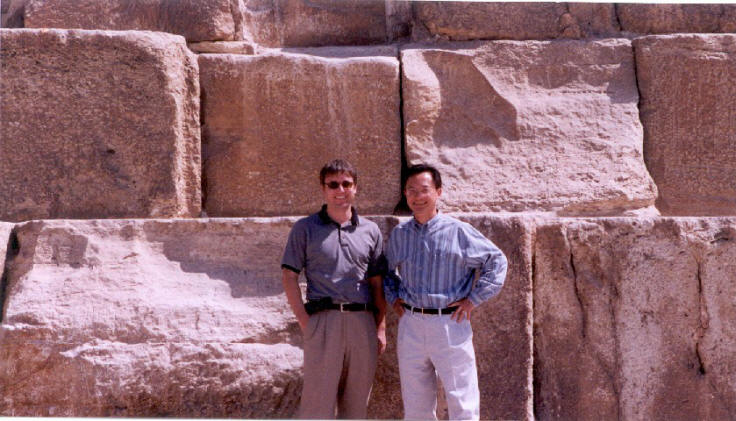 Great Pyramids, Giza - June 2001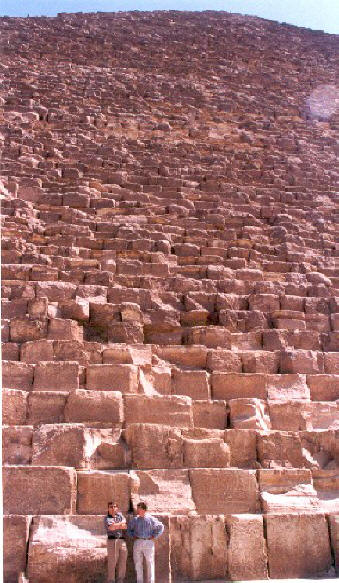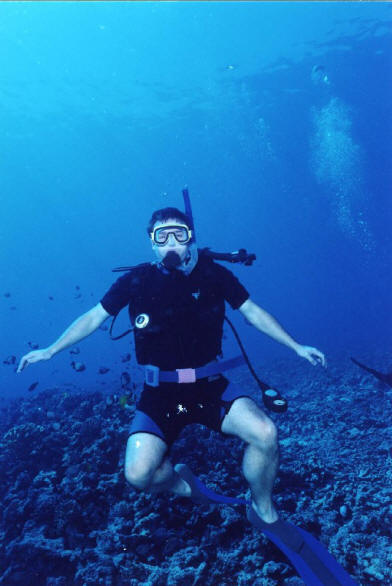 Great Pyramids, Giza - June 2001 Scuba Diving, Hawaii - November 2001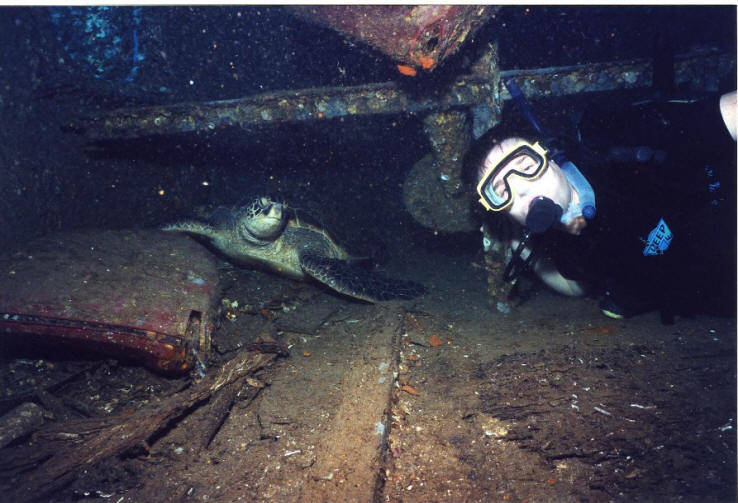 Wreck Dive, Hawaii - November 2001