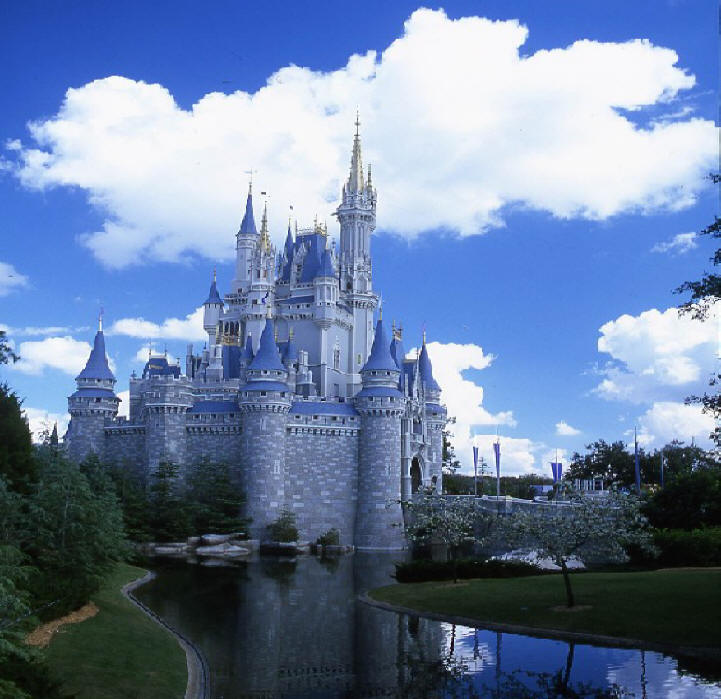 Walt Disney World - Florida February 2002
I was barely home in January with trips to Taipei, Seoul, Hong Kong and Saudi Arabia. It was my first trip to Taiwan and despite it's brevity I had some interesting meals. I shall never forget (or repeat) the local wine with salted plums or the duck beak and oesophagus appetisers. Seoul is vast, sprawling and very developed. Infrastructure seemed very new and state-of-the art and it was surprisingly cold.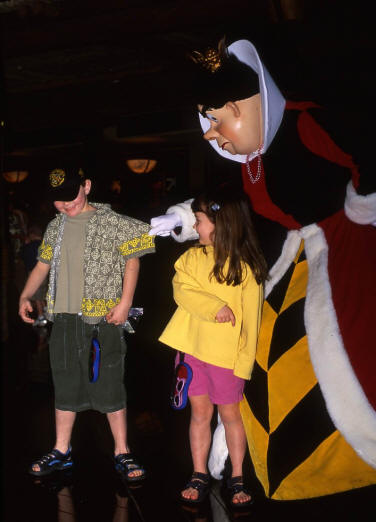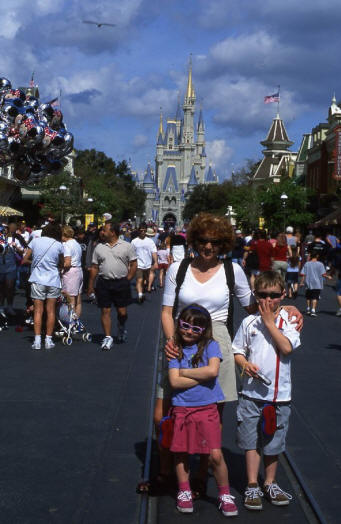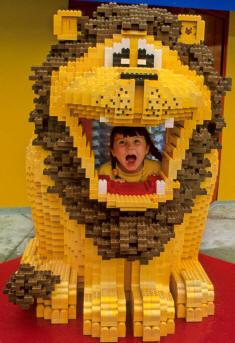 Walt Disney World - Florida February 2002
We promised to take the children to Walt Disney World and ticked this off in February before I headed back to Egypt for a business trip. I had time to visit Istanbul and Egypt again in March before heading to Vancouver for a financial planning review.
Canada - March 2002
I had a business meeting in Canada in March which allowed Clair and the children to join me from Chicago for a winter holiday. Vancouver is wonderful and even in the depths of winter doesn't get much below freezing. This was my first trip to Canada and I must make a sincere and public apology, here and now, to all Canadians. Before I visited your country I lumped you in as another part of North America but I realise that I was wrong. The accents, humour, culture and general demeanor are much more European than the USA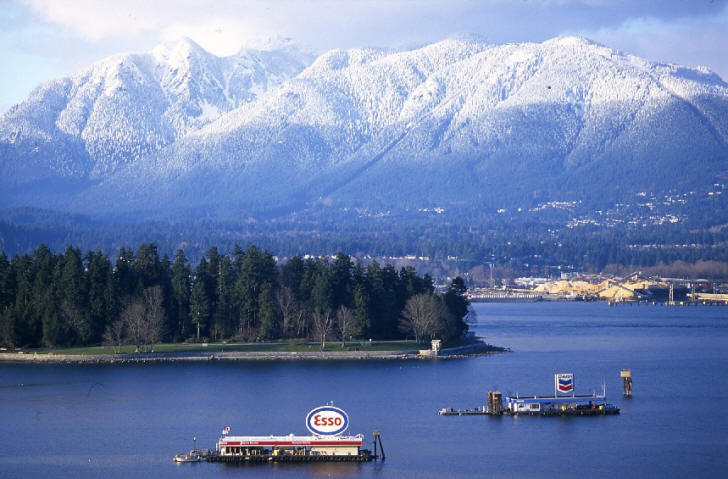 Vancouver Harbour - view from our Hotel. Petrol stations for sea planes.
We started in Vancouver where we visited the sites, naval museums, restaurants and even a children's theatre. We also managed to find a real curry house which was a great relief. The USA is strangely bereft of decent Indian restaurants. On one day we took a boat trip over mirrored water to Vancouver Island. We were hoping to see the island in a day but actually it's bigger than England. There we visited the impressive botanical gardens and had high tea at the Empress Hotel. Victoria, the capital of Vancouver Island (and British Columbia), is more English than England, complete with statues of Queen Victoria, English architecture and a familiar sense of humour . This is a beautiful town and well worth the effort.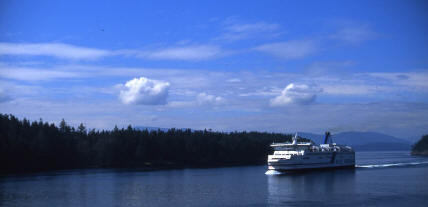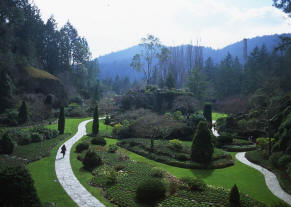 Boat Trip to Vancouver Island Botanical Gardens
We had a day trip by train to Whistler where we all had our first ever snowboarding lessons - ironically from a guy called Steve from Doncaster. From here we moved to Banff and the spectacular Banff Springs Hotel. Here I spent my 40th birthday snowboarding with the children and the next day dog sledding on a frozen lake. Each day was rounded off by consuming large amounts of hot chocolate laced with rum.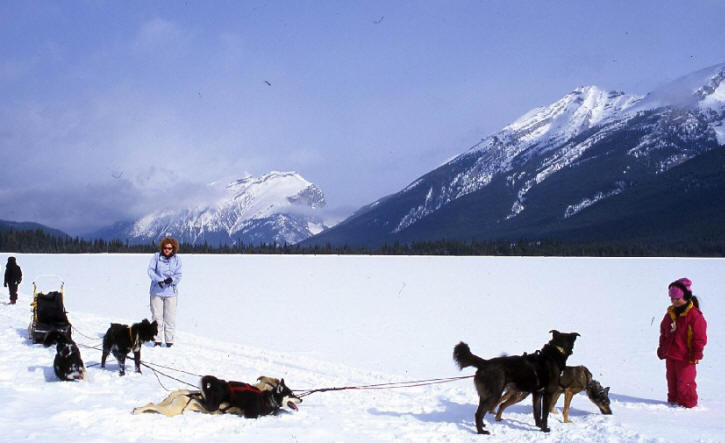 Dog sledding on a frozen lake, Banff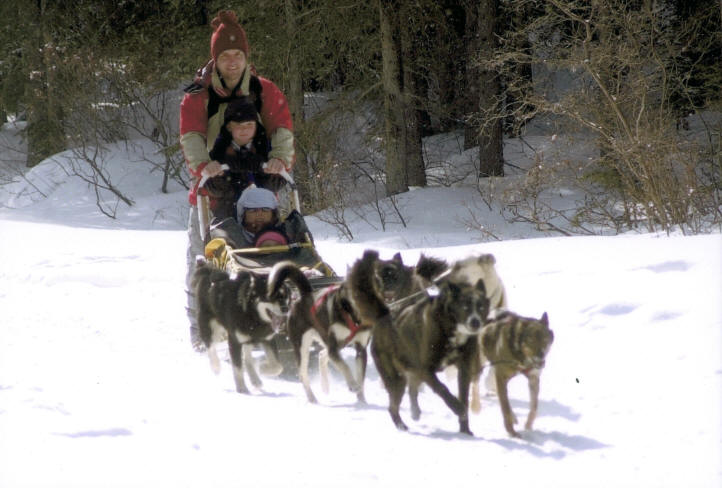 Dog sledding, Banff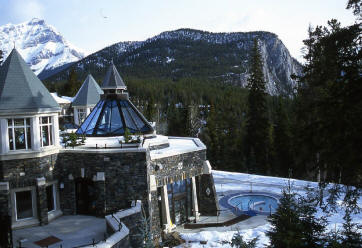 Banff Springs Hotel Lake Louise
The Banff springs hotel is quite stunning and deserves 6 stars. To add great pleasure to the holiday the Canadian Dollar was very weak. A full buffet dinner (with a choice of almost everything you could imagine) was little more than £7.00.
I was home for most of April and spent May visiting Hong Kong and Saudi and June in Saudi and Prague
Chicago - Summer 2002
Land of the automobile.....
The weather has warmed up at last and we are thoroughly enjoying the experience here. The children are very busy learning piano, skating, ice hockey, horse riding, soccer, baseball…..whilst we learn to be professional taxi drivers to ferry them about. I've attached some photos of us at a recent Cubs game at Wrigley Field .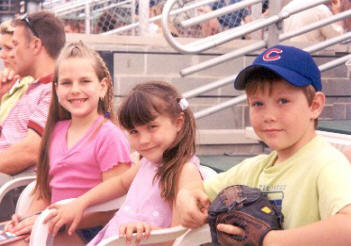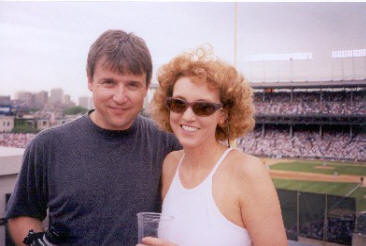 Wrigley Field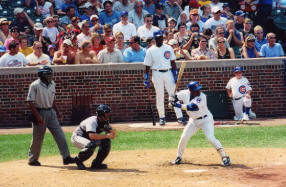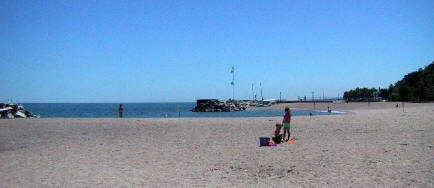 Sammy Sosa Lake Forest Beach on the shores of Lake Michigan.....5' drive from home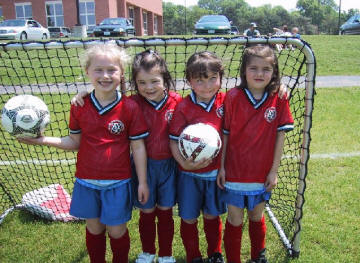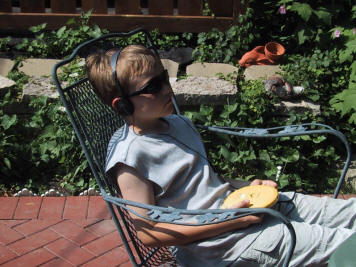 American Life - Soccer Girls.. ....chilled out boys...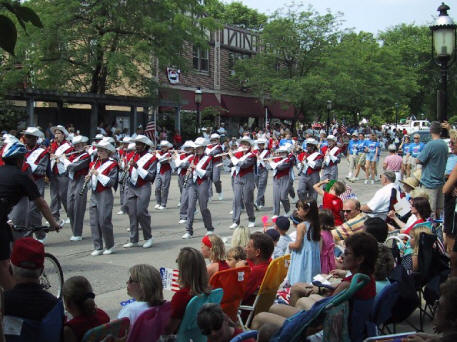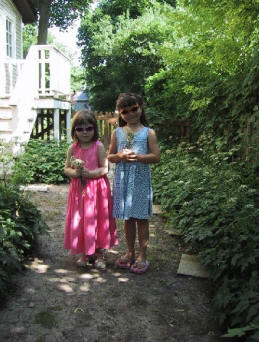 ......4th July
We often stay at the Marriott Residence Inn near Michigan Avenue and next to John Hancock Tower in Downtown Chicago. From here we can visit John Hancock tower which also has a nice history of Chicago and the Science Museum, which is always excellent. The Titanic exhibition was great, complete with replicas of parts of the ship, real debris recovered from the bottom of the ocean and an ice-berg which the children could touch to experience how cold the water was. As we entered the exhibition we were given a boarding card with the name of a real passenger, with some background to who they were and what class they traveled in. At the end of the exhibition there was a big display of all the passengers' names, by class, and their fate, so you could establish whether your passenger lived or died. The children loved this bit and took it quite personally if they had "died". Contrary to popular belief it did seem that a lot of first class passengers perished, although not quite in the same proportion as those in steerage. Try a walk along Navy Pier where there are nice restaurants, a spectacular view of the city and a very interesting architectural boat tour.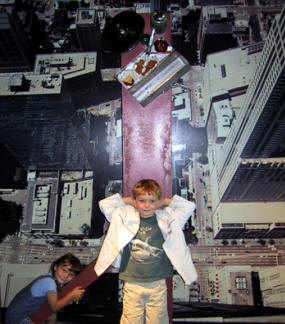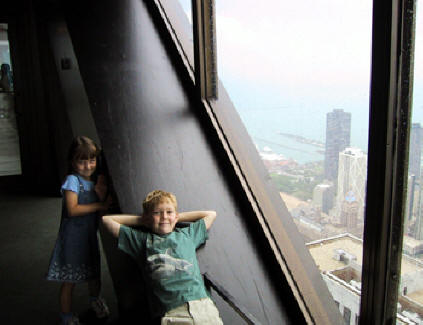 John Hancock Tower John Hancock Tower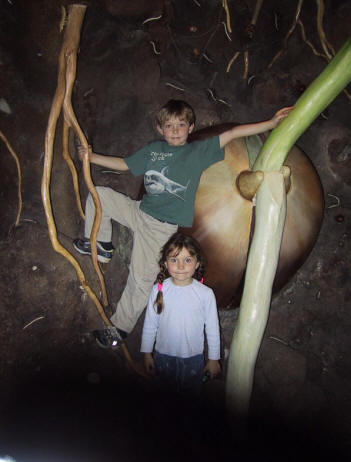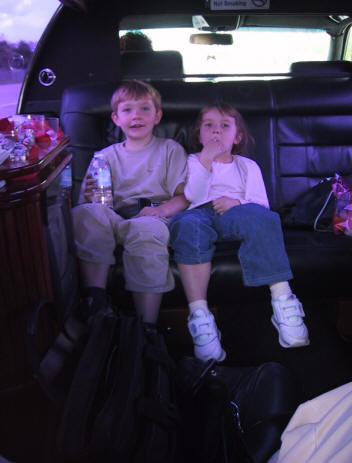 Science Museum Limo ride....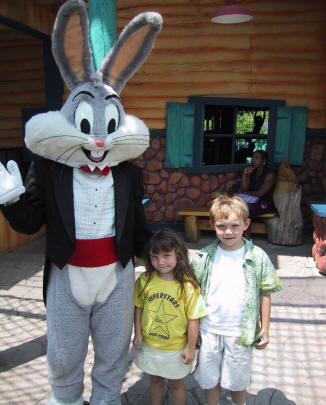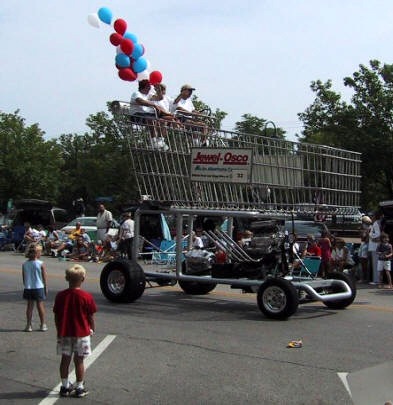 Six Flags Great America For those that like to shop...Lake Forest Day
This is a good country for a complete glutton, and a visit to the Chicago Chop House for dinner goes down very well - they serve 64 oz steaks (yes - that's 4 pounds!) and mountains of mashed potato, gravy, corn and monster desserts. The restaurant also had real photographs of Chicago gangsters on the wall, including Al Capone, and we got the usual excellent service and great hunks of meat you could cut with a spoon.
Business Trip to Istanbul - July 2002
It's not often you stay in a century old neoclassical Turkish prison - even if it has been converted into a luxury hotel by Four Seasons - Four Seasons Hotel, Istanbul

Four Seasons Hotel, Istanbul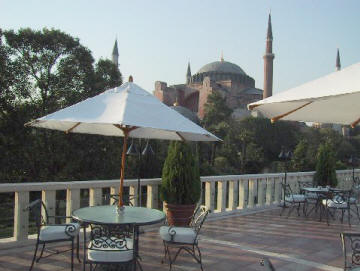 Aya Sophia (537 AD) from Hotel Aya Sophia (537 AD)
The usual hard work was made up for by a fabulous hotel a stone's throw from the famous Blue Mosque and Aya Sophia and a boat trip on the Bosphorus.
I also managed a trip to South Africa in July. This is a favourite trip of mine, partly because I love the country, but also because I connect through London. There is a very civilised 10 hour overnight flight from London to Johannesburg in one of British Airways business class flat beds which saves travel time and allows me to visit family in England at both ends of the trip. This time I saw my family in London on the way out and met Clair in Stoke-on-Trent to attend her brother's Wedding on the way back.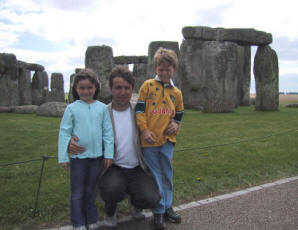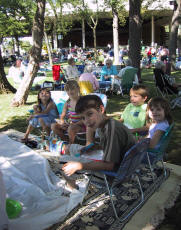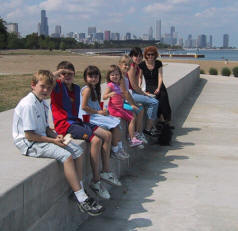 Stonehenge, England - July 2002 Ravinia Festival, Illinois Chicago Skyline - August 2002
Chicago - Autumn 2002
September (Cairo) and then a very pleasant trip to my University Town of Manchester in September. I managed to get some tickets for a Manchester United game which was very popular with some Middle Eastern colleagues who I was meeting with. As usual I couldn't find a taxi within 5 miles of the ground after the final whistle and spent hours trying to get back us back to the hotel in the inevitable rain. Manchester was the world's first industrialised city and home to many great innovations during the industrial revolution and more recently, such as the first computer to run a program. The city looked rejuvenated compared to my University days with some very impressive dock side developments, museums and hotels. The Lowry Hotel is particularly impressive, but was full, so we stayed at the Marriot. It seems that the food had not improved. It was universally poor except for the highly acclaimed Chinese restaurant Yang Sing - which served its usual fantastic, genuinely-world-class fare. As usual the English cities looked a little grubby compared to international competition, there was nearly a punch up in one of my favourite old pubs, where I then had to get re-used to queuing at the bar for an (excellent) pint of bitter. I noticed again the poor NHS dentistry compared to the Americans and that the English are catching the USA up in the obesity race. However it was nice to be home, albeit briefly.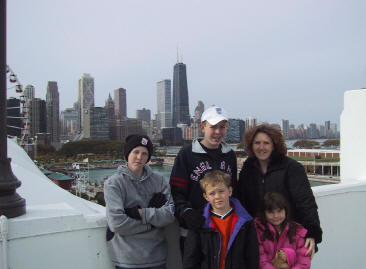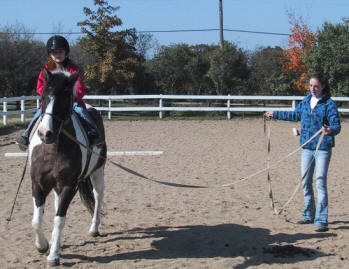 Aunt and Cousins Learning to ride
We've had Clair's mum, sister and two nephews to stay. They had a great time, doing lots of shopping and the usual sight-seeing. I had hoped to take them all to a Chicago Bears (American Football) game, but Soldier Field is being redeveloped and they are playing their home games some distance away in Champagne (southern Illinois). Apparently the local University in Chicago had a more than an adequate alternative but they wouldn't allow the sale of alcohol in their stadium. Evidently the Bears felt there would be less rioting by making their fans travel an extra 180 miles than risk denying them a beer during crucial moments in the game. Instead we went to see the Chicago Blackhawks play Ice Hockey. It was quite enjoyable but having watched so much English football I couldn't understand the open brawling which went on (some of it quite prolonged) simply so that the player would be sin-binned and ensuring their team was disadvantaged by one player. As they only seemed to have 6 players per side this was quite a handicap and I couldn't help thinking that scoring the most goals wasn't quite their top priority - or even the sole purpose of the game. Two fights were all Verity (now six) could remember before she fell asleep. I glanced over at her wide eyed expression when it was going on - I suppose two brawling adults must look scary, in a ridiculous sort of way, to a 6 year old. It ended well, as Chicago were behind twice and were drawing 2 - 2 for the last 20 minutes before scoring the winner 6 seconds from the final hooter. The atmosphere was quite good but I couldn't help noticing that all the hooter honking, floor stamping, chanting and cheering had to be carefully choreographed by the announcer (no spontaneity as in English football) but the language was much more restrained. I'm not sure which would be a worse example for our impressionable children - bad language or open brawling.
Hallowe'en was a great success with Edward, Verity and their cousins managing to extort several buckets of free booty from our neighbours. They also spent hours recounting, with total amazement, the completely over-the-top decorations on the local mansions. I saw a mansion completely covered in cob webs, witches and ghosts and a black spider the size of an SUV in one garden - as you know SUVs in the US are very big. It does surprise me how serious Hallowe'en is taken here - especially for such a Christian country. One of my passionately atheist friends is constantly bemoaning the fact that it used to be a perfectly good Pagan festival until the Americans trivialised it. There are many opportunities to spend money here on a "Hallmark" (as in the greetings cards) moment. Our secretaries came in with some food recently in celebration of "Boss's Day". I even got a card. Then I realised, with some horror, that if there was a boss's day then there must be a "secretary's day" and that having been here 18 months I must have forgotten it. The next holiday is Thanksgiving, which will ensure we get a Thursday and Friday off in November and much practice eating hideous amounts of Turkey in preparation for Christmas.
Taking Clair's mother back to the airport was an interesting experience. Having parked outside the international terminal building (as usual) I carried her bags inside with the expressed intention of returning to the car before it was noticed by an official. Unfortunately Edward decided he needed a drink and disappeared in search of a water fountain. Having finally located him I went back to the car to find a very polite policeman writing out a $50 ticket for a parking violation. I commented that if it was costing me $50 I may as well leave the car where it was. He responded that I could leave it there if I wanted to so I went back inside. You can imagine my irritation at returning 10 minutes later, after waving off Clair's family, to find that they'd towed our car away! Another 30 minutes and $160 later I was left reflecting that Clair's mother's return ticket to Manchester was only $300 (courtesy of Air Lingus) and my 45 minute "valet parking" had cost $210.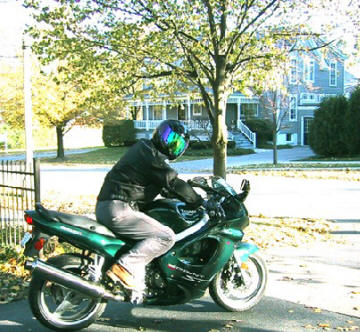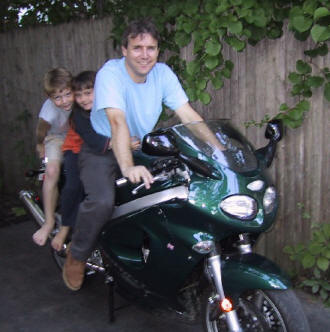 Boys Toys....
As part of my forty years mid-life crisis I've added a new motorbike to my toy box. See attachment photo. The bike is gorgeous but has made Clair a bit jealous. She insists that only she can be gorgeous and resents the attention it receives. I have reminded her that the bike is not asleep when I want to ride it at midnight, doesn't talk back and doesn't ask for help with the washing up, but it has made little difference. Clair is far more important to me of course, but it doesn't change the fact that she can't do 0 - 60 in less than three seconds. The mid-life crisis has been great - wonderful toys so far. I intend to let it last at least ten years and would wholeheartedly recommend one to anybody. A quick survey of a few similarly aged male friends reveals an intriguing pattern - a Jaguar XK8 and an assortment of other unnecessarily fast convertibles, a Yamaha Jet Ski (with the phenomenally powerful R1 engine), a handful of Harleys, a ridiculously expensive hi-fi and a couple of meaningless relationships with women half their age (lets face it girls - much safer to let him have the bike). Only one of our number has let the side down by sacrificing a new toy in order to have a new rockery and the front garden landscaped. He has clearly missed the mid-life crisis and prematurely entered his dotage.
Chicago - Winter 2002
I had a very pleasant trip to Paris in November to try to persuade a French company to licence us one of their products. I was accompanied by an American colleague who is very knowledgeable on art and we spent an absorbing evening in Le Louvre before getting soaked in the rain trying to get a taxi back to the hotel. Nothing that a few large Cognacs couldn't remedy, however.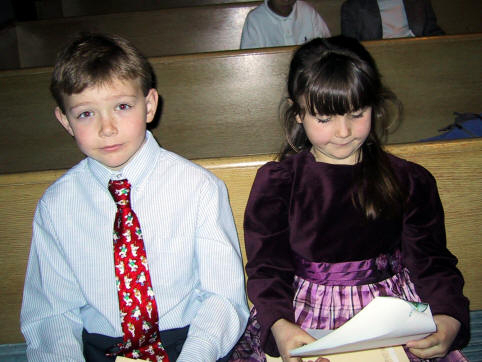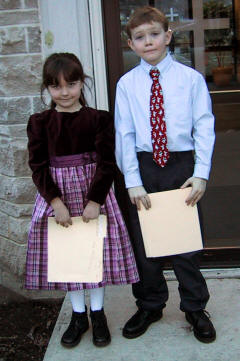 Piano Recital - December 2002
Edward and Verity started piano lessons in late September and did their first recital at a local church in December. As parents we were proud of their achievements in three months but you can judge for yourself:
Verity Edward
Christmas was spent in the USA. We stayed in Chicago the weekend before Christmas for the customary Nutcracker on 21st December. I booked Brunch at a restaurant on the 95th floor of John Hancock Tower on 22nd and there were all the usual extravagant Christmas displays on Michigan Avenue, the Winter Wonderland exhibition at Navy Pier and lots of cold, windy weather and hot roasting chestnuts. We had a great snowboarding holiday Wisconsin for the New Year at a place called Granite Peak which had more than adequate snow slopes for small children. It may not be up to the standard of Banff in Canada, but it is only a 5 hour drive from here and at $80 per night you can't go far wrong.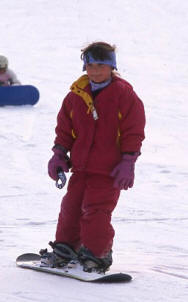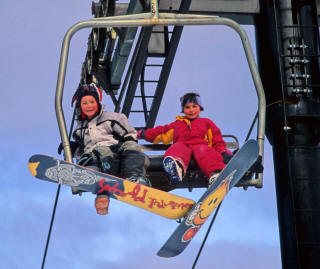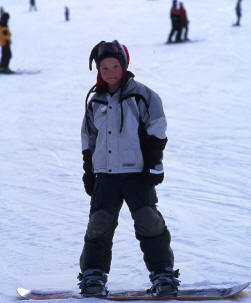 Snowboarding, Granite Peak, Wisconsin.