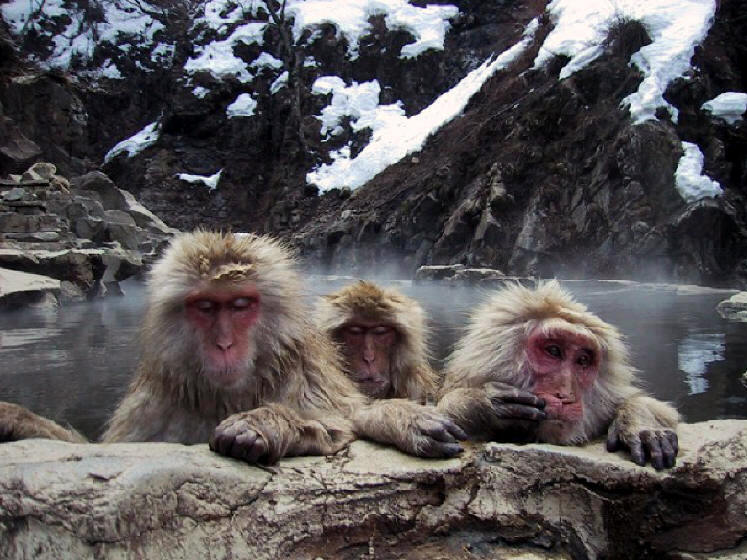 Onsen Monkeys , Nagano, Japan
February 2004 - Culture Shock
There comes a time in every expatriate's life when the full force of the local culture where you reside hits you so suddenly and unintelligibly that you are left in no doubt that, despite your cosy expatriate bubble, you are after all immersed in a very foreign country. In my experience this often happens when you have some contact with local law enforcement services. What follows is a good example of how willful ignorance and insensitivity of local cultural values and norms can seriously enrage the natives and give foreigners a bad name.

Riding home from work recently I was planning to drop off a motorbike loaned by a local workshop, and collect my own machine, which they were servicing. Whilst fighting my way between stationary traffic at some traffic lights I accidentally caught my leather clad elbow on the wing mirror of a car waiting in the queue - probably owing to the fact that the loan bike was a little wider than my own. Whilst I was barely moving at the time I did hit it with enough force to push it back on its springs. As I was almost at a standstill I was able to stop, check the wing mirror for damage and push it back into position. There was no damage to the mirror or my elbow so I apologised to the driver and gave an OK signal with my hand to let him know there was no damage to his mirror, and rode off.

It was a balmy February evening with thick rush hour traffic. It is a pleasure to ride a bike in these conditions, skipping past long queues of commuters, being first away at the lights and listening to my favourite music on earphones whilst negotiating the traffic. I got to the tollbooth leading to the freeway and was handing over a ¥700 ticket when a car pushed past me and blocked my access onto the road. Somewhat surprised I noticed it was the car whose wing mirror I had nudged. To catch a bike in thick traffic must have been quite a feat. The thirty-something-year-old driver got out looking absolutely furious and started getting aggressive. As all I could hear at the time was Cold Play's "Parachutes" playing on my Walkman his verbal remonstrations were totally in vain. However it did occur to me that he was truly upset about something as he was aggressively confronting me in his tee-shirt and sandals while I stood there in full winter leathers, reinforced boots, full face crash helmet and motorbike gloves with armoured knuckles. Perhaps there was more damage to his car that I thought? I walked round to his wing mirror and looked again - nothing. Not a scratch or a mark on the mirror or elsewhere. I pointed this out to him but he just got more animated. Finally I took off my gloves, so I could remove my helmet and remove the earplugs to hear what he was saying. I needn't have bothered, as he only seemed to be able to rant in Japanese.

Meanwhile a huge queue had built up behind us trying to get onto the freeway. It is rare for Japanese to display impatience but soon horns started honking and Japanese motorists were demanding my new acquaintance to move his car so they could continue their journey. He refused, and realising he was not getting anything from me (I was by now feeling a little bewildered) he phoned the police.

Within minutes a van appeared with 5 traffic police officers who immediately coned off the whole area, lit red flares and starting talking in an excited and animated fashion into their police radios. A few minutes later a truck turned up with a huge flashing placard on the back, which seemed to announce that the road was now closed. Notebooks at the ready they all started taking statements from my now even more irate motorist who started showing them a map of Osaka - presumably to show the police where the heinous crime had been committed. I then had to provide driving licence, insurance, name, address, age, and occupation etc. to three separate police officers. I also rather incredulously found myself demonstrating how my elbow had caught his mirror whilst they all made frantic notes. Whilst still being able to reassure myself that nothing serious could come of this I decided to survey the scene in detail as it was bound to make an excellent after-dinner anecdote (probably better than my various brushes with the religious police in Saudi Arabia or armed rebels in the Philippines). I am not exaggerating when I say there were four police vehicles (including a van), two motorbikes and 9 (yes nine) police officers there at one stage; all making notes, examining both vehicles and talking excitedly into their radios. Other officers were arriving, consulting earnestly with their colleagues whilst others made preparations to leave. The many red and yellow flashing lights from the numerous police cars and motorbikes, the smoke and deep crimson glow from the flares, the newly placed traffic cones and the brightly lit truck all added to my growing sense of unreality. I glanced back at the now immense queue of traffic, which had built up behind us, and wondered how many hours it would take to clear. Finally the Monty Python "Dirty Fork" sketch sprang inexplicably to mind, which completed what was now a very surreal, almost out-of-body experience.

I eventually phoned my secretary, who speaks excellent English, to see if I could get a handle on what was happening. She very helpfully explained via cell phone to the nearest police officer that I had brushed the motorists mirror with my elbow and there was no damage. What was the problem?

Some 30 minutes later they handed me a cell phone where there was what I believed to be an English-speaking policeman on the other end, who was insisting that I should go to hospital. As I hadn't even felt the collision, let alone expected to be so much as a bruised I explained that this would be a ridiculous waste of time. He then started talking about the "traffic accident" and I kept correcting him - there was no accident, at least not between two vehicles (my elbow didn't count did it?) and neither vehicle was damaged. Finally he explained - in Japan this counts as a traffic accident.

After watching with incredulity as the events unfolded for the previous 90 minutes, for the first time I felt a pang of concern - whilst the event was trivial maybe I had left the scene of an accident? Perhaps this was more serious than I had thought. This sudden realisation was reinforced when it was explained that I had to accompany them to a local police station. Damn. I was being arrested!

I followed a police car to the nearest police station and as I parked the bike outside was met by a further 6 police officers, all who wanted the same information I had already provided. I also noticed that my new acquaintance had arrived in his (still immaculate) Subaru. I wondered if at this stage he had regretted calling the police as it had also, so far, taken two hours of his evening. However he still looked angry and unrepentant and had apparently called a friend of his who had arrived to give him moral support.

Police photographers then appeared and started taking photographs of his (pristine) wing mirror and the handlebar of my bike. They even asked me to mount the bike and demonstrate how my elbow had made contact. They took another photo of me on the bike and then proceeded to measure the heights of my handlebars and his wing mirror from the ground. Monty Python again sprang to mind, which must have caused an amused expression to cross my face because I succeeded in enraging my motorist even further. He clearly (and accurately) believed that I was not taking all this quite seriously enough.

More note taking and questions followed. At one stage a photographer came in with a camera and a board. I had the idea for a minute or two that they would be asking me to hold up a board in front of me for a mug shot. I imagined my photo appearing on prime time television, like Hugh Grant's after he got arrested, but the photographer left it both camera and board on the table, where they remained.

One policeman who spoke reasonable English was able to explain to me what I should have done after the "accident." I should have pulled over (on a busy duel carriageway) taken off my helmet, bowed deeply to the victim and said with real sincerity "Dozo sumimasen, deshita" (i.e. I'm really sorry). I explained that I had apologised in the only way I knew at the time, but as his window was closed, and I was wearing a helmet, it was unlikely he had heard me over the noise of my engine and the traffic in general.

Now it finally it dawned on me that the frantic and doubtless dangerous driving to catch my bike; the illegal blocking of a major highway; the hours of pointless bureaucracy; the massive abuse of police resources; the waste of my time, my secretary's time and the motorists time (as well as his friend's) plus the abject misery inflicted on hundreds of evening commuters was all about my motorist's desire for a "proper" apology for my touching his mirror. If all that was necessary was an apology I was happy to give one (anything to get home as I was now thirsty, hungry and tired). I offered and the police kindly coached me in what to say and how to bow etc. and they then brought in my "victim" for his apology. Well, I tried, but being English, having Monty Python still in mind and feeling a little foolish I blew it by laughing half way though my bow. My victim was now apoplectic with rage and pointed angrily at me whilst shouting, "he laughed! He laughed!" The six police officers all sighed and looked at their feet and seemed to concur that I had indeed laughed. This apparently made the apology null and void. I tried a second time but had the same problem so this solution was eventually abandoned.

I was by now getting a little tired and bored with the situation and was seriously considering whether it was worth bothering the local British Consulate when my secretary arrived. The police had phoned her hoping she could arrange for a Japanese person, preferably rather old and dignified, to issue an apology on my behalf. Apparently this was better than an apology from a Gaijin ("foreigner") in any case. She had not managed to find anybody at short notice (they were all probably stuck in a huge traffic jam) but offered to apologise herself to save time. She also explained to me that I had committed no crime but would stay there until the motorist felt he had a proper apology from a qualified Japanese person. My secretary is young and female and there was much debate amongst the crowd of onlookers as to whether her apology was valuable enough. Finally it was concluded that it was not.

Four hours after the "accident" the police finally persuaded the motorist to "give up" as they were all getting tired and now believed I had apologised at the time, but not in a way that he understood. They did however detain me a few minutes after the motorist left in case he waited outside for me. My secretary explained the Police's frustration with the motorist to me the next day. She said they feel they are "baby sitters" rather than real policeman. As for my enraged motorist; he doubtless is still fuming about the arrogant, uneducated, barbarian "gaijin" that hasn't bothered to learn the local customs of his very apologetic society. For my part nobody can explain the gulf in culture that occurred that night, but it is why I live in countries like this. The fascinating and unexpected contrasts in cultural values are so compelling they make these assignments worthwhile. I shall dine out on this one for years.
March 2004 - Hong Kong and Hakuba

Hong Kong
My little sister is marrying her best friend's brother from school in July which necessitates a trip home in the summer. According to Clair this also means she absolutely must have a new outfit to wear and as none of the clothes in the shops in Japan fit a western figure this apparently meant a shopping trip to Hong Kong. I was still trying to decipher this logic when I fortunately had a business trip there. Clair was able to join me for the weekend, having successfully negotiated a weekend sleep-over for both children with very understanding (and gullible) friends. It was nice to finish a few conversations with my wife without constant interruptions for demands for food, drinks, snacks, help with homework and arbitration over disputes about territory, possessions and which TV channel to watch. I dare say we'd have missed them eventually but we were only there for a weekend.

If shopping trips are measured by the amount of money spent then this was an outstanding success. Having been starved of brands we know for years this turned into a shopping frenzy (I was reminded of sharks being fed) plus the added benefit of some excellent bespoke tailors recommended by my company's local General Manager. I am now the proud owner of a dinner suit that actually fits. We stayed at the Ritz Carlton which was very central for shops and restaurants and had sufficient pampering to keep Clair amused. How many hotels do you know have a bath menu? Actually, what is a bath menu? This was particularly enjoyable for me having Clair there and this was my first trip to Hong Kong without being terminally jet lagged. Food was great too.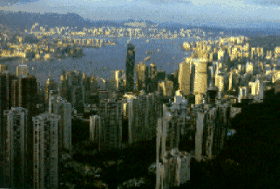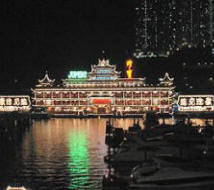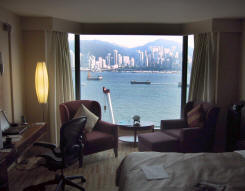 Hong Kong: View from Café Deco, Victoria Peak Jumbo floating restaurant Shangri-La Hotel Room
After Hong Kong I had a week in Tokyo on business before heading back up to Hakuba to catch the last of the snow for some snowboarding. On the first day we inadvertently lost Verity; I thought she was with Clair and Clair thought she was with me. I was therefore very surprised when some hours later she overtook me on black run on the top of Mount Happo-One in the middle of a white-out. She's only 7 and continues to show no fear and even got nicknamed Very-Air-ty by our snowboard instructor on account of the amount of "air" (i.e. height) she got off the ski jumps. The Guys at Evergreen did their usual outstanding job of English language ski and snowboard lessons and we are seriously considering enrolling in some of their summer activities - mountain biking, white water rafting, canoeing, climbing etc.
This time we managed to visit the snow monkeyswhich are apparently the only monkeys to live in hot spring baths to keep warm. This seems reasonably sensible considering the bitter weather conditions, but it must be freezing when they get out. We had a hot spring bath ("Onsen") after each day on the snow slopes but got out into a centrally heated changing room and then sat in the restaurant drinking hot sake. I guess this makes us more intelligent than monkeys. This trip to Monkey Onsen is a worthwhile diversion so long as you can block out Edward's constant complaints about losing valuable snowboard time.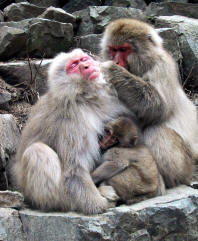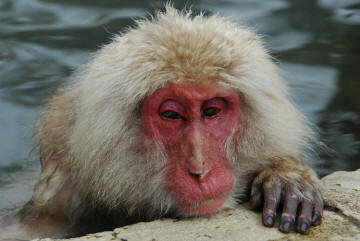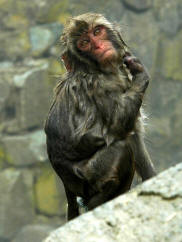 Onsen Monkeys
Edward is justifiably very pleased with himself as he has just passed the entrance exams for his new school in England where he will start as a boarder in September 2005 at age 11. He is negotiating to go sooner, having read about the facilities in the school magazines (not to mention all the Harry Potter books), and is particularly vociferous if Verity is annoying him. He saw the school last summer and was very excited but he did express some small disappointments at the lack of turrets and four poster beds. I hope he's not also expecting to play Quiddich and study Transfiguration.
Spring 2004 - Cherry Blossom
April has seen the usual riot of colour from the cherry blossom. This is particularly spectacular around Osaka Castle, which can be seen from my office window.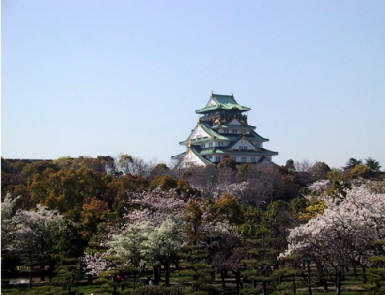 Osaka Castle, April 2004.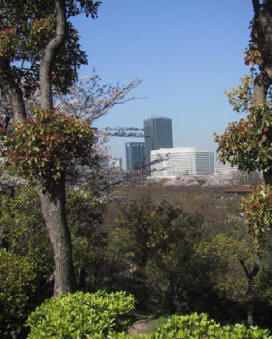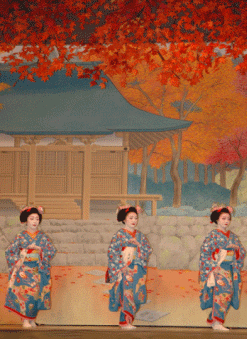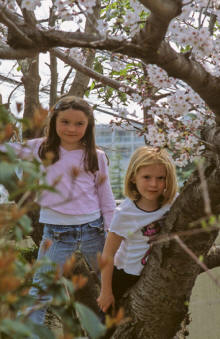 My office building in Osaka Miyako Odori (Cherry Blossom Dance) Our own blossoms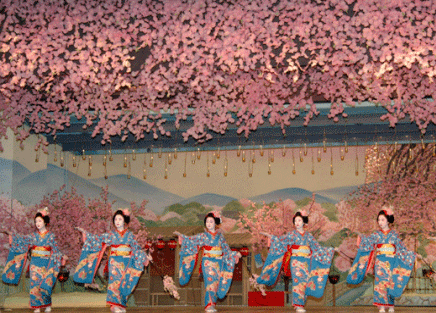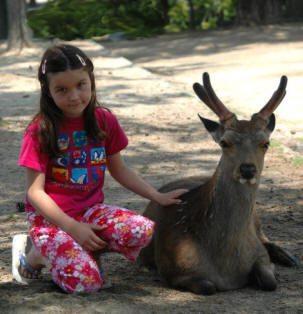 Miyako Odori performed by Maiko and Geisha of Gion, Kyoto. Verity at Nara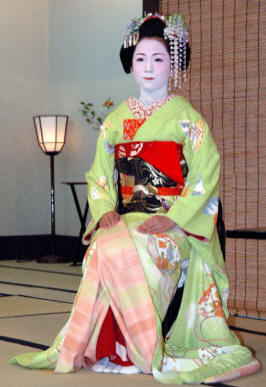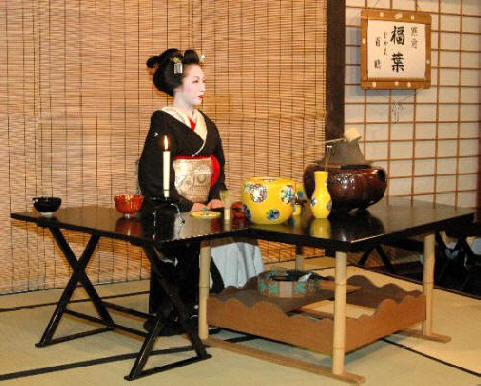 Geisha Tea Ceremony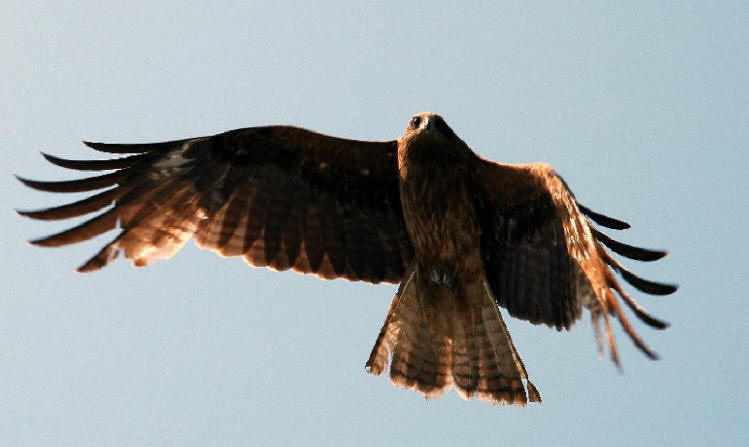 Photo of a sea hawk I took at Amanohashidate on Honshu's north coast.
May 2004
Golden week had my parents here on a very successful visit to Japan. Fabulous weather and a great chance for us to explore the country. Visits to local shrines, temples at Nara, the beaches at Amanohashidate, ornamental gardens and castles in Himeiji plus the usual great food.
Nara
The Todai-ji temple complex at Nara is a fascinating day trip. The Great Buddha hall was rebuilt several times and the current structure completed in 1709. It is only two thirds of the original size but is still apparently the largest wooden structure in the world. The seated figure inside was completed in 752 and is the world's largest bronze image of Buddha. It took hundreds of tons of molten bronze, mercury and vegetable wax. Fires and earthquakes dislodged the head many times; the current one dates from 1692.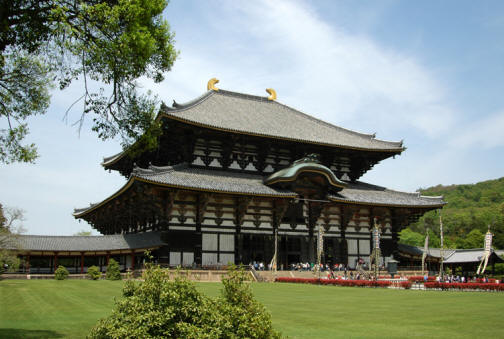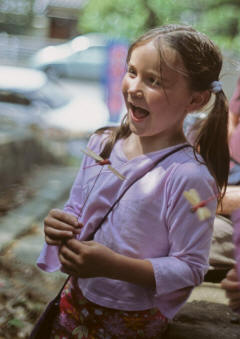 Great Buddha Hall (part of Todai-ji Temple complex) at Nara Verity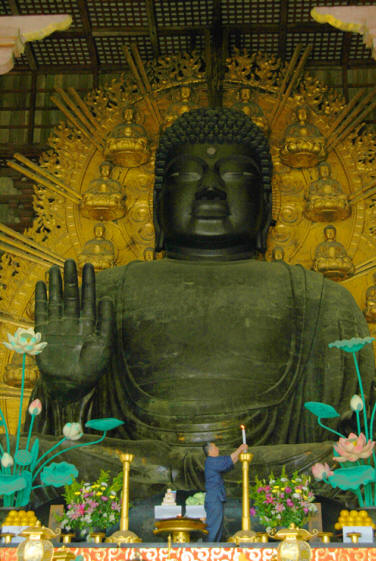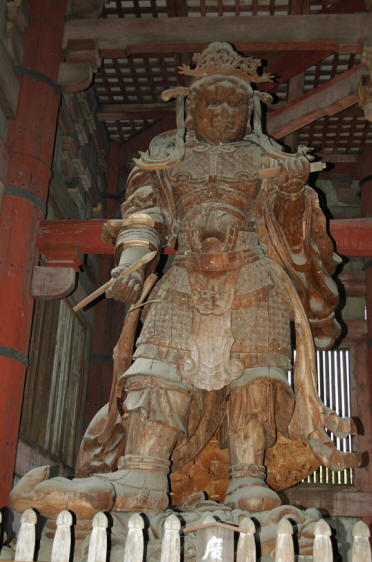 Great Buddha Statue - completed in 752 AD Tamonten - a heavenly guardian
Amanohashidate
One of the highlights of Miyatsu Bay on Honshu's north Coast is Amanohashidate ("bridge of heaven"). It is a 4 km long pine-studded sand bar. According to mythology this is the spot where the gods conceived the Japanese islands. There is a pretty reasonable beach nearby and there are plenty of boat trips as well as cable car rides to the tops of nearby hills to get a good view of the bay.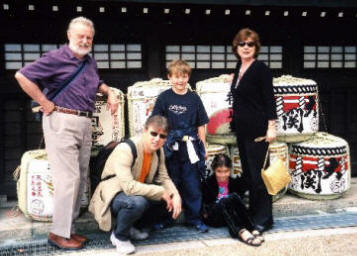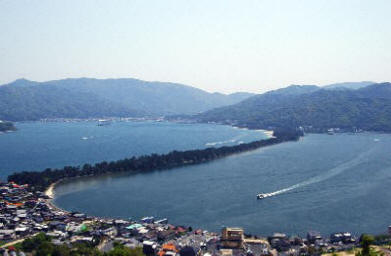 Sake barrels outside a local shrine Amanohashidate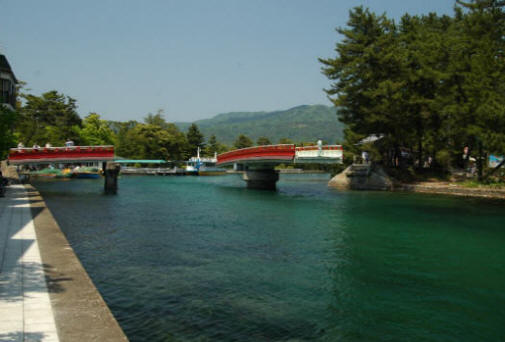 Nara Swing Bridge, Amanohashidate
Himeji Castle
Himeji Castle is truly spectacular. The current 5 story main tower was developed in 1609 and qualifies as the ultimate samurai castle. There were huge queues to see inside, which turned out to be disappointing as the interior seemed to be a series of identical empty wooden rooms. There was no furniture on view, probably because there was none originally in the castle. We've come to learn that the Japanese have very little furniture compared to the west - particularly such comfortable things as beds, chairs and settees! There was also none of the armour and weapons often seen inside old English castles, so it was best viewed outside from the beautiful ornamental gardens.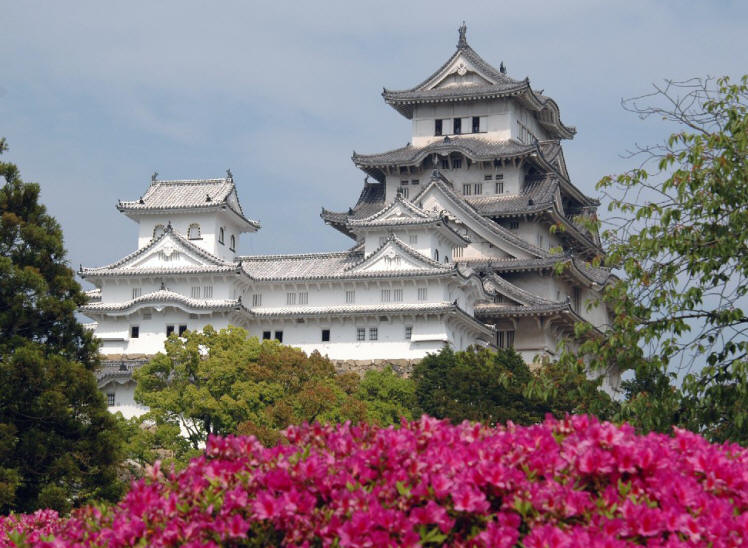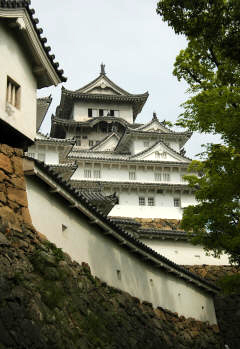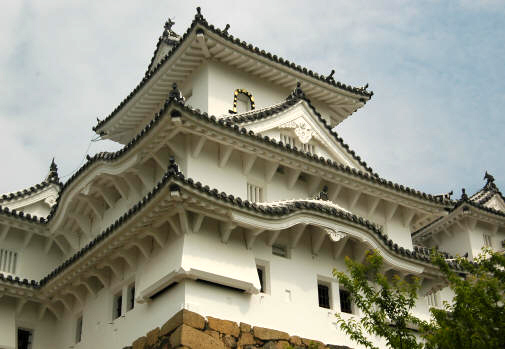 Himeji Castle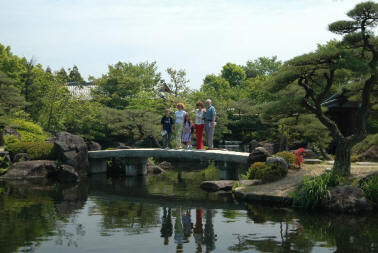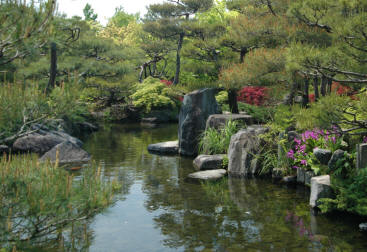 Ornamental Garden, Himeji Castle
Summer 2004 - Amsterdam, Dublin and England
Early in the summer found me in Dublin for a leadership course. Fantastic venue, lots of Guinness, Irish jigs etc. but all I can remember now is sitting in an Irish pub and watching with despair as England were knocked out of the European Cup on penalties (yet again). Strangely I got no sympathy from the locals either. On the way to Dublin I had to change planes in Amsterdam which gave me an opportunity for a reunion with some close school friends. They selflessly decided to leave their wives in England and "pop over" to Amsterdam for the weekend to take me out for a beer or two... A great night was had by all - the details of which are still rather obscure but we all agree that we must have had a good time. In case any of you are feeling sympathy for Clair at this point I should clearly explain that she took the children to the opulent Grand Hyatt resort in Bali, Indonesia for a short tropical-paradise pre-home-leave break whilst I was away. This is a super-luxury resort and like the rest of Bali sold for an absurdly low price; however the recent bombing of the Australian Embassy in Jakarta may explain some of their pricing strategy. That being said they had a wonderful time and we are all going back there in October.
Sister #4/4 Gets Married - July 2004
Home leave this year was a family orientated affair in England with the wedding of the littlest of my four sisters at Hanbury Manor in Hertfordshire. You get the idea: beautiful historic venue, free flowing champagne and fine wine, phenomenal flowers, fabulous food, over-indulgence, family photos, tearful reunions, incompetent dancing, excited children, great speeches and a beautiful bride....it was a truly great wedding.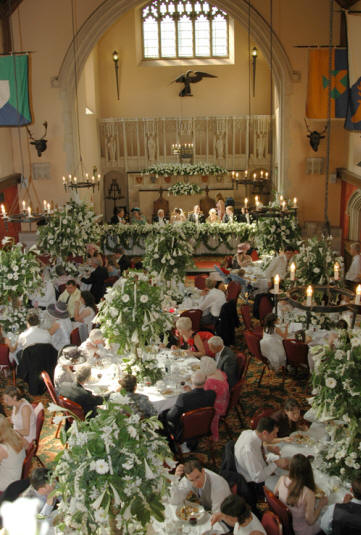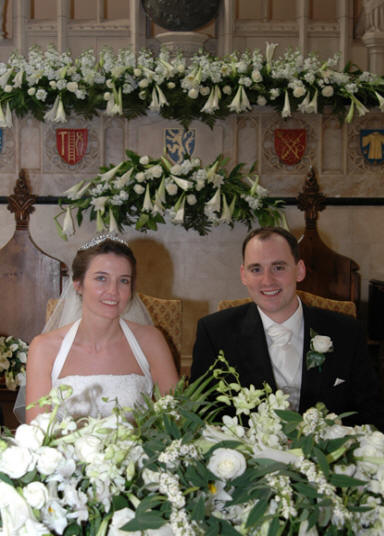 Wedding reception Bride and Groom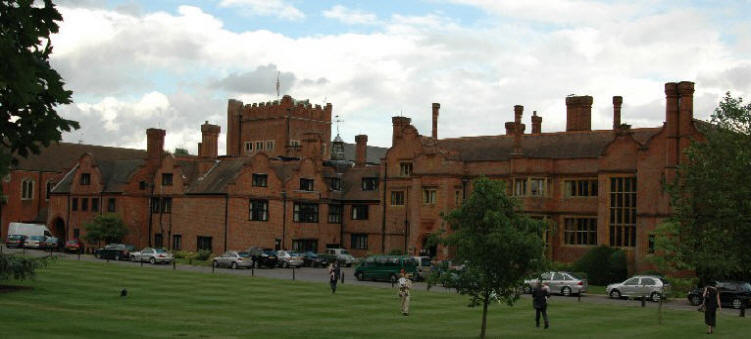 Hanbury Manor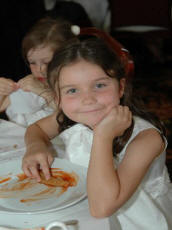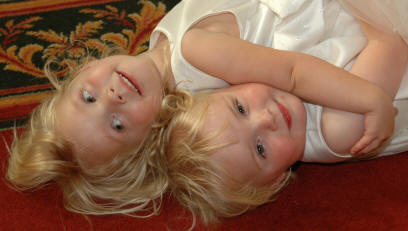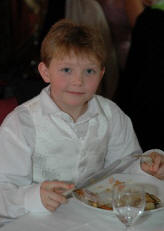 Wedding Reception
Annual leave continued with numerous visits to impossibly pretty English pubs....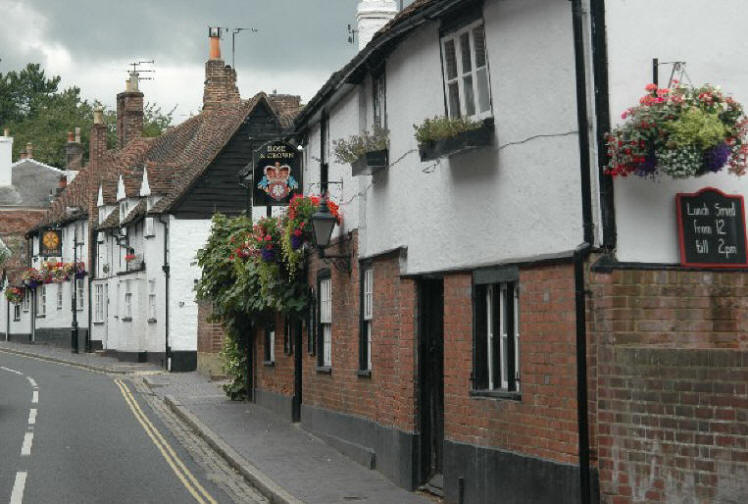 St. Albans
....ancient cathedrals and Roman baths..... ...........pig roasts........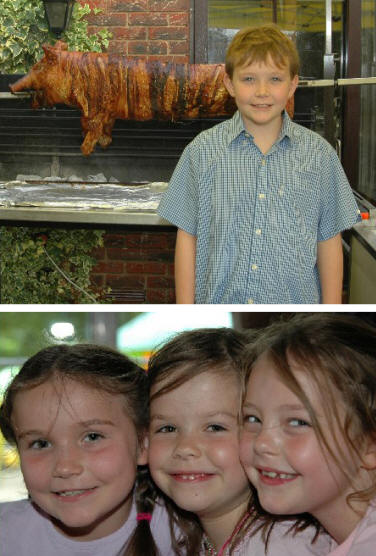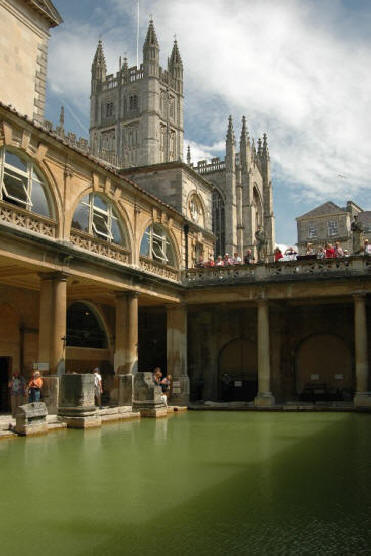 Cousins Bath
.....visits to close relatives and strolls through stunning English countryside...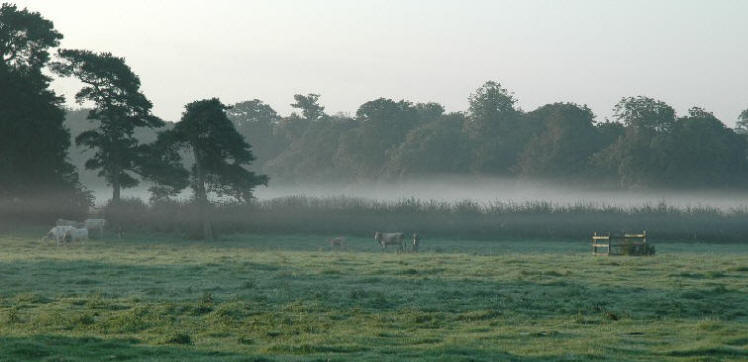 Near Wolverhampton
....a truly great holiday which made me a little homesick - at least for England during the summer. Doubtless a few days stuck in a traffic jam on the M6 in November would bring me back to my senses.
Japan - Autumn 2004 - Typhoons and earthquakes
We were welcomed back to Japan with three earthquakes and a couple of typhoons. A gentle rocking earthquake caused excitement in our household at about 7.00pm on 5th September but another larger, louder one at midnight woke me up. Clair snoozed on despite it registering 7.4 on the Richter scale. The Great Hanshin earthquake of 1995 which devastated Kobe, killing 6,000 people registered less at "only" 7.3. As the epicentre of this latest one was some miles offshore and at a depth of 44 kilometres it merely caused some cracking in my Osaka office walls (which is worryingly located on the 15th floor) and loosened some ceiling tiles. However the resulting tsunami (tidal wave) overturned 22 ships moored in harbours in Owase and Toba. Actually there have been 7 earthquakes and tremors recently leading to speculation that there will soon be a "big one". Apparently Tokyo is long overdue.

Typhoon "number 18" hit us on 7th September and marked the largest number of typhoons to make landfall on the Japanese archipelago in one year since records began. This one registered wind speeds of 216.72 kph (120 mph) in Hiroshima, the highest ever recorded there. Japan is so used to these that it caused little disruption (the bullet trains didn't run for example) and caused only a handful of injuries. The children were delighted to get an unexpected day off school.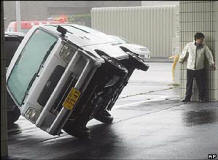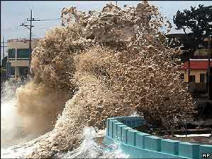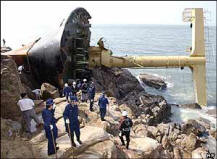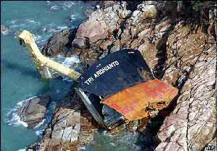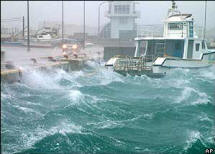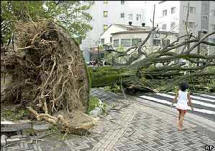 Another Typhoon Hits Japan (Photos above are borrowed from the BBC News website).
Yes...well... it seems the Japanese traffic incident earlier this year hasn't stopped me adding to my toy box......a shiny new 2004 Yamaha YZF R1 was added to the stable in June. Japanese motorcycle genius. To quote an enthusiastic and slightly poetic editorial in Bike magazine (July 2004):

Striking a wonderful balance between sharp creases and shapely curves...where the [Ducati] 999's surfaces seem mechanically hewn.. the R1 is organic and more classically beautiful...and has curves that are so natural they could rise any minute as the bike breathes in. The headlight lenses are jewelry in the most literal sense; glossy glass and hemispherical, liked chopped snow globes. As with people, a bike's eyes are its focal point - and the R1's have a perfect feline menace. Compare this with the cycloptic gaze of the 999's stacked headlights.

The swingarm, so substantial and yet apparently so delicate, is a complex shape a world away from the box-section extrusions of workaday Fazers - this is die cast sculpture. And, repeated here and there, the tuning forks logo is gorgeously understated.

I guess it's a guy thing.....

Actually I have faithfully ridden either this or my Triumph to work since August 2003 and throughout the (relatively mild) Japanese winter. A commute which was 1 hour 27 minutes packed like a sardine on a train, or an hour or more queuing on the freeway in a car nervously anticipating a ¥4000 (£20) per day parking fee at the other end, shrinks to an exhilarating 40 minutes by bike and free parking on the pavement outside the office. "Motorbikes are so practical" I said to Clair, "and it saves us the cost of owning a second car".

"True" she said, "but why do you need two"? Answers on a post card please.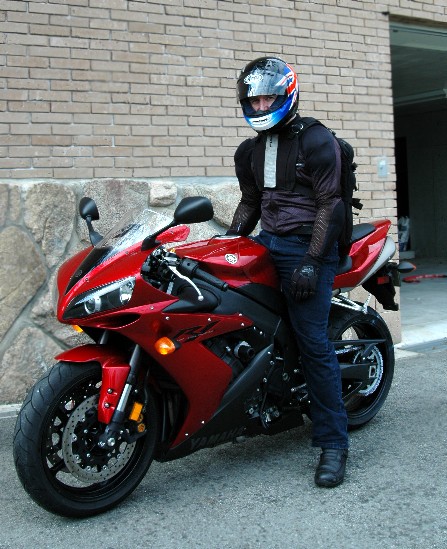 Feline menace? Or art?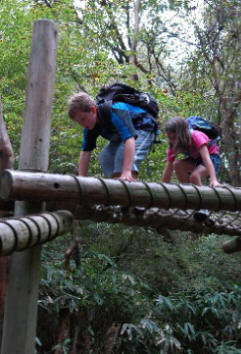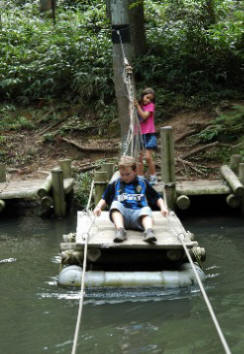 Assault Course - Mount Rokko
Warm late September weather allowed us to spend some time exploring the many adventure activities on Mount Rokko, which is about 10 minutes from our house. This includes mini-golf, fishing, go-carting, artificial skiing (in the winter), arboretum, botanical gardens and a small fun fair. The army style assault course was very popular with Japanese children and adults who queue patiently to tackle some forty-something gruesome looking hurdles and dutifully tick off each on the specially provided score sheet.

Another great way to drain excess energy from over-active children is to try some sea kayaking on Honshu's north coast, just a couple of hours from Kobe. This was great fun and done under the expert and enthusiastic guidance of a fully qualified Kiwi "kayaker" from Japan-Kayaking.com.

Kayaking in the sea of Japan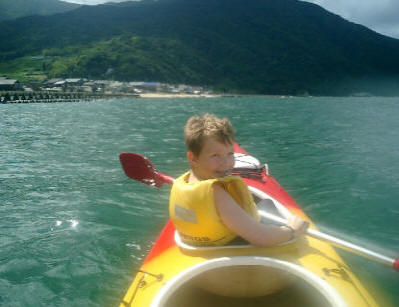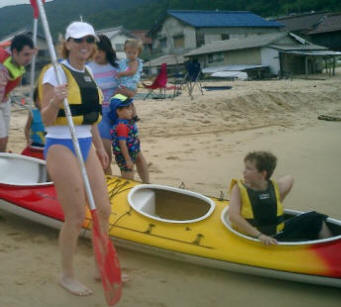 Kayaking in the sea of Japan
October: The Japanese Grand Prix at Suzuka narrowly missed another typhoon but got off on schedule despite having to have the only Sunday qualification in history. No points for guessing who won (his brother came second). A friend and I squeezed into a crowd of well over 100,000 all of whom were cheering for local hero BAR Honda driver Takuma Sato (who finished 4th). As his team mate is Britain's Jenson Button (3rd) we felt we were in good company. Getting to and from the circuit was a breeze thanks to a combination of my administrative assistant's phenomenal organisation skills and superb Japanese logistics on the day. Silverstone take note. Next year we will have to take the children, having discovered the excellent facilities at the circuit, which includes a fun fair, resort, natural hot springs and a well equipped camp site. The commentary over the loudspeaker was in Japanese and was instantly drowned out by the earsplitting whine of the engines when the race started. Consequently, as cars lapped each other and made their pit stops, we were completely clueless as to who was who, let alone who was winning. We finally got the race positions through the live race coverage on the BBC News web site via my cell phone. Fortunately we were able to recognise Jenson Button but only because he was in the BAR Honda car that the crowd weren't cheering as he went past.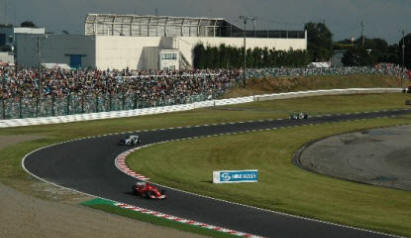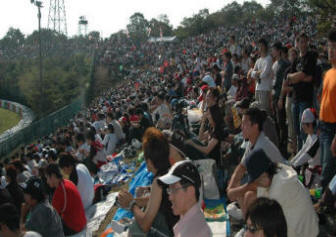 Formula 1 Grand Prix - Suzuka

Dawn over Kobe Harbour - October 2004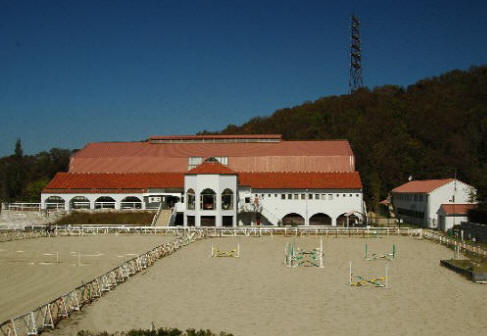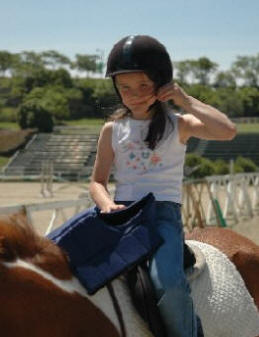 Kobe Riding Club at Shiawasenomura
Holiday in Bali, Indonesia, October 2004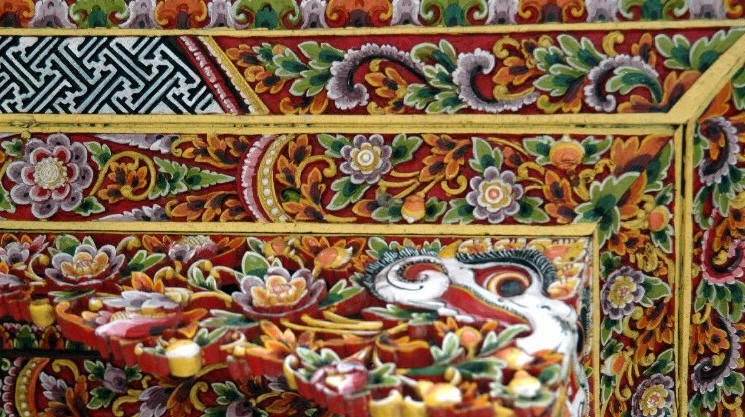 Detail on roof of Balinese Hindu Temple
We've always known that Bali is a beautiful holiday location and ludicrously cheap once you get there. The cost of flights has always put us off going when based in the UK and Middle East, not to mention the jet lag. However from Japan the flights are cheap and the time difference a mere two hours. Clair had wanted to go for some time and had a short break there earlier this year, however I have always been sceptical of holidaying in Bali. Not so much because of the risk of terrorist attack. The US Department of State continues to recommend that all Americans defer non-essential travel to Indonesia. Even the less sensational British Foreign and Commonwealth Office advises against travel to certain parts of Indonesia (but does not include Bali on their list). Terrorism is a calculated risk and has to be seen in context with the other types of risk we take (the ten typhoons and four earthquakes that hit Japan this year or riding to work by motorbike for example). No, my chief concern with Bali is that it is Australia's "Costa del Sol" and I would get swamped by hoards of overweight, undereducated, blue collar Aussies all intent on reminding me of the latest England vs. Australia Rugby or cricket result. In the end the price was so ridiculously cheap I decided to risk it and I'm very glad I did.

To say the hotel is beautiful would be an understatement. We stayed at the Grand Hyatt but saw others during our stay and the top end hotels are all lovely and very cheap at present. The occupancy rate of our hotel was 31% so we had plenty of space to spread out and enjoy the facilities. However there was more to do in Bali than laze around the swimming pool, private beach and massage parlours in the Hotel (although we did plenty of that as well).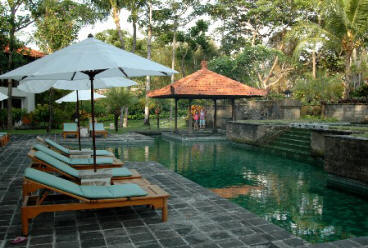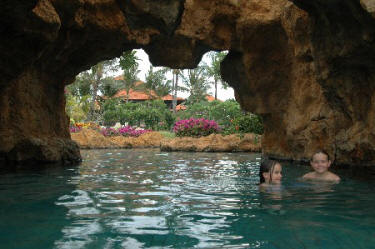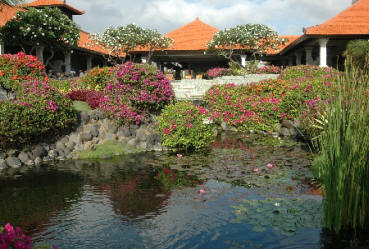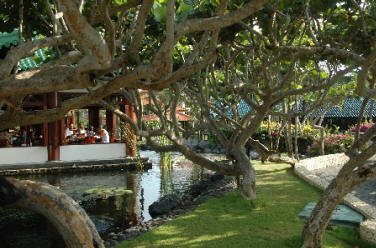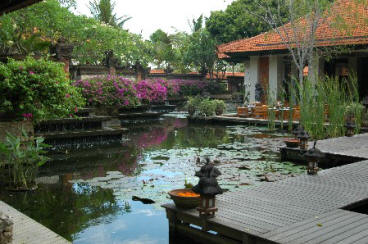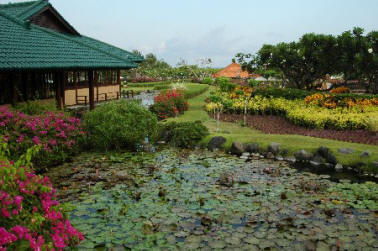 Grand Hyatt, Bali
Bali is a small island but has some beautiful scenery, adventurous rivers and distinct local culture.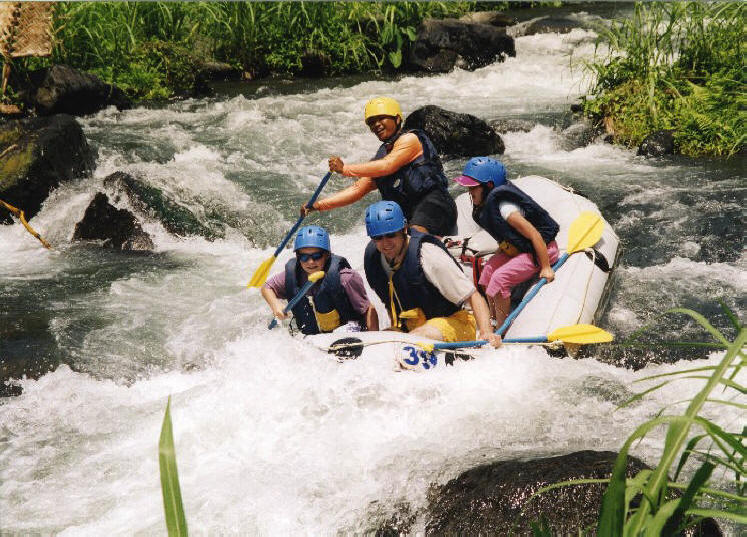 White Water Rafting. Clair hasn't fallen in; she's back at the hotel having pedicures, manicures and doing some shopping.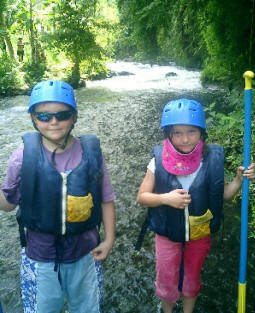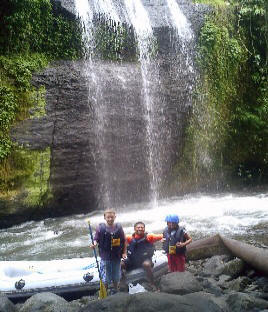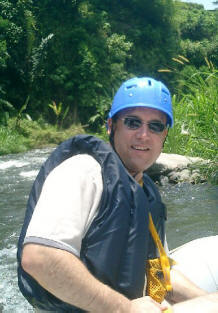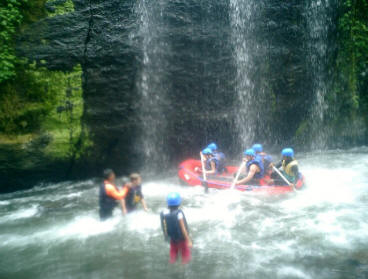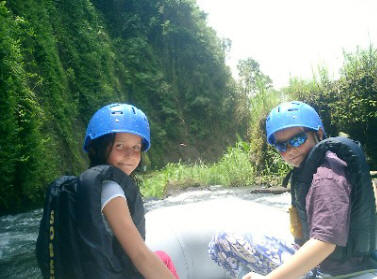 White Water Rafting on Telaga Waja
White Water Rafting arranged by Sobek was a thrilling day which both children thoroughly enjoyed. This was not the adrenaline steeped hit of the Zambezi (see 2001 on this web site) but a great family day all the same. This two hour rafting trip was finished with a shower and buffet lunch with a fabulous view over the Telaga Waja valley. It is a great way to see the Balinese countryside. Farmers here can gather three rice crops per year but as food is so abundant they usually only bother to grow two.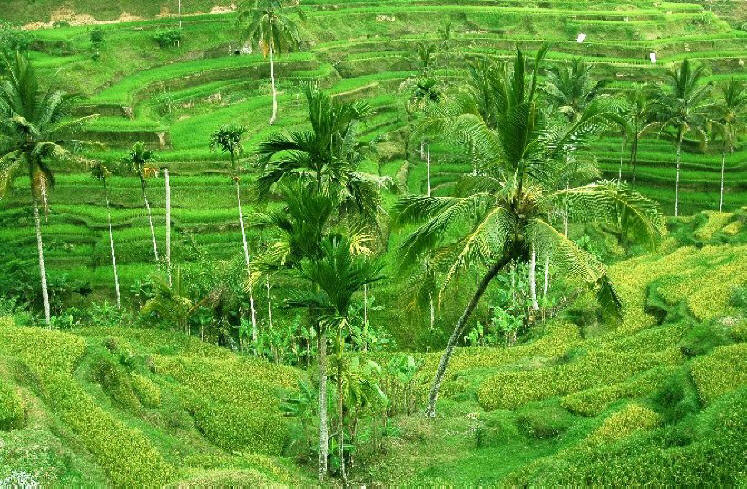 Rice Terraces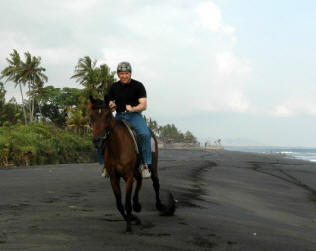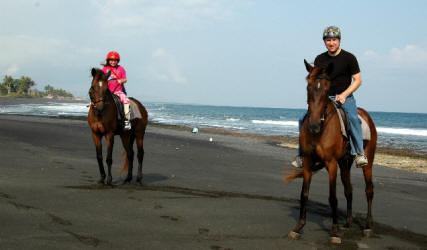 Horse riding on Bali's equivalent of Cocoa Beach. The volcanic lava has eroded to make a fine black sand.
Verity took me horse riding along a remote stretch of beach. We shared the whole afternoon's experience with a few locals who were collecting shell fish along the shore line. I learned to ride when I was six but have studiously avoided it lately due to the pain I know it inflicts to those out of practice. The last time I rode a horse was about two years ago around the Great Pyramids at Giza. This was at dusk with a spectacular sunset and the call to prayer echoing over the ancient ruins from the surrounding Mosques. That was an evocative experience which would take some beating. In Bali we were given two well groomed, but rather badly behaved horses, who didn't like being told where to go or when to stop; but the deserted beach, tropical paradise setting and Verity's excellent company made this great fun.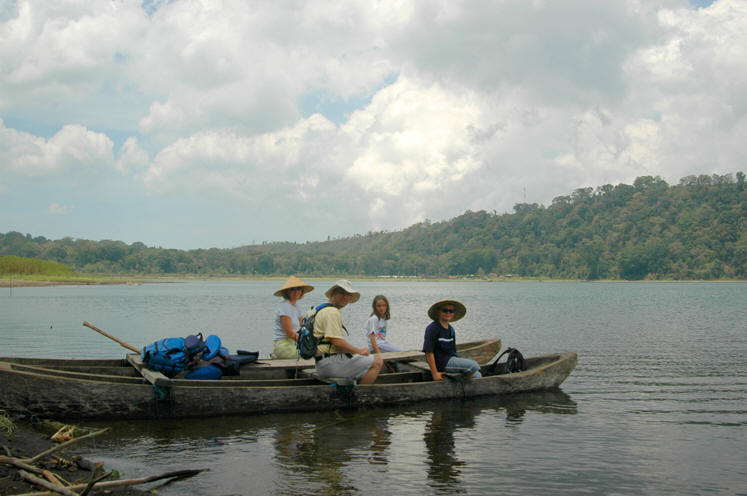 Traversing Lake Tamglingan
A jungle trek organised by Sobek was a surprisingly relaxing way of seeing the island. Numerous breaks for photographs, inspection of local flora and fauna and local snacks (including an excellent sticky rice, coconut and banana steamed in banana leaves) broke up the journey, as did as traversing Lake Tamglingan in a traditional dugout canoe.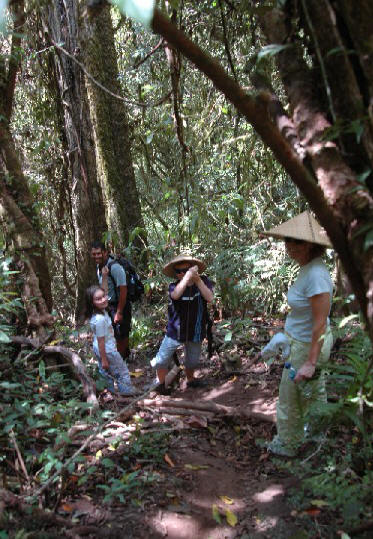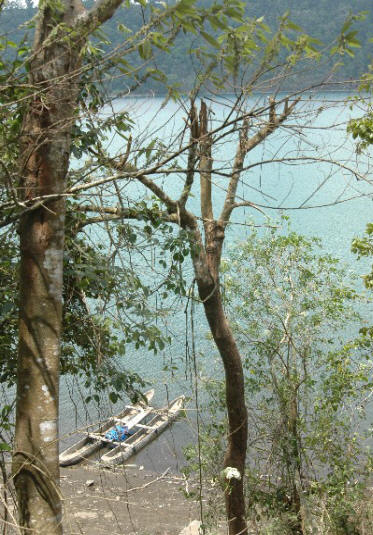 Swinging on jungle creepers Dugout Canoe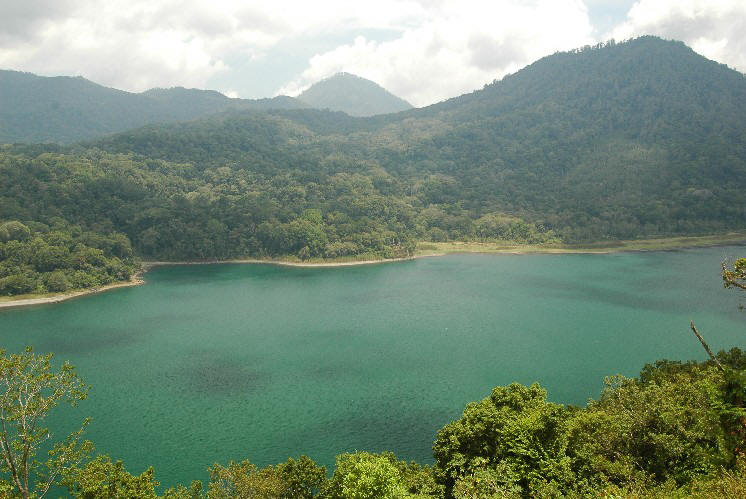 Lake Tamglingan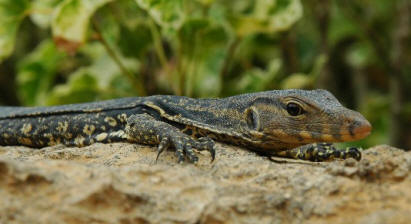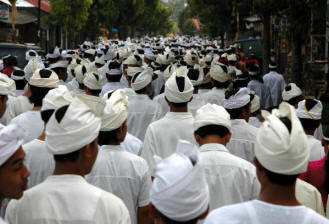 Lizard Hindu Temple Ceremony
90% of Indonesia is Moslem (although according to The Economist most are not practicing Moslems), but 90% of Bali is Hindu, which makes the atrocity of the 2002 Bali bombing by Moslem fanatics all the more poignant. Our guide on the jungle trek tells us that the economy has not recovered from the economic fallout due the sharp downturn in tourism after the bombing. His wife recently lost her job in a garment factory as a direct result of this. Their unique interpretation of Hinduism mixed with a very friendly and distinct local culture adds a lot of colour and interest. The Balinese also have a huge number of holidays for their many temple ceremonies. The above ceremony completely blocked our route home for over an hour.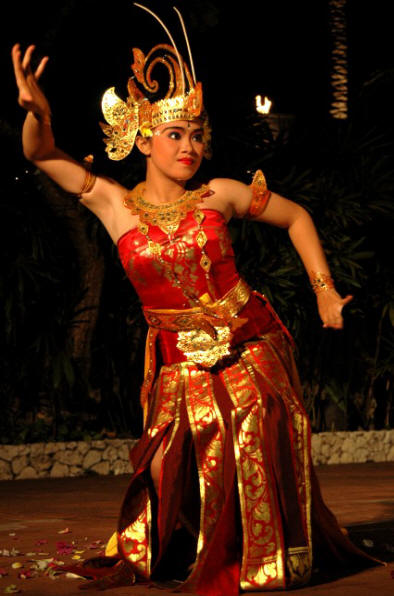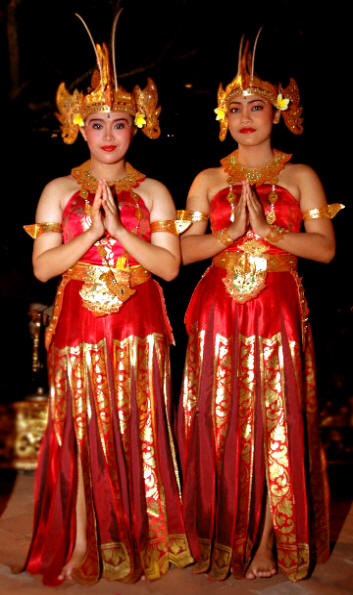 Balinese Dancing
The white water rafting, horse riding and jungle treks were all over an hour from the hotel but well worth the effort, especially as you know you will return to virtual paradise after a hot and sweaty day in the bush. Another great thing about Bali is that despite the tropical climate and thick rainforest there seemed to be mercifully few mosquitoes.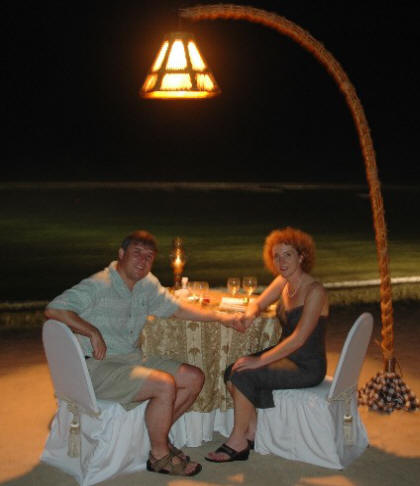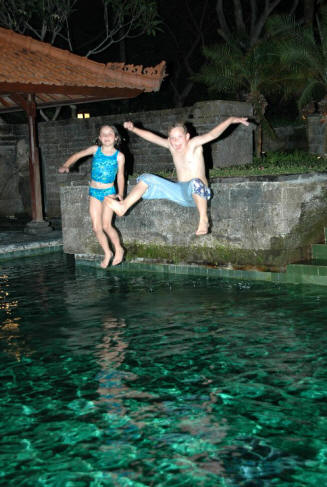 Romantic Dinner on the Beach..... .....and peace away from the noise of these two...
Karaoke [kar­i­o'kê], (Japanese, literally empty orchestra)
It started innocently enough. We sat in Ryan's Bar on a Friday night, three male Brits contemplating a boys night out in Kobe. Drinking? Certainly. Live music? Dancing girls? Arcades? Suddenly the conversation took a discomforting turn. Karaoke was mentioned. I knew one of my companions enjoyed the odd Karaoke session and we had recently had a relatively harmless experience in a bar in Tokyo. It was a typical Japanese bar - beers, nibbles, a couple of hostess girls to entertain us and a Karaoke machine tucked quietly away in a dark corner. I watched as my companion belted out a few Tom Jones songs and then we moved on to enjoy the evening. Not so bad really. But Karaoke twice in a month let alone twice in a life time? I know this can become a dangerous and demeaning addiction to many, and I didn't want to become a victim. My discomfort increased markedly when my other companion also admitted to having tried Karaoke a few times and "quite liked it". As they were apparently reaching a conclusion on the night's entertainment I thought I'd better make my feelings known on the subject. "Actually, I'd rather stick needles in my eyes" I said. I got blank stares in return and a nostalgic anecdote of their most recent Karaoke experience. "It gives a great sense of release" they said. So does heroin I thought. At this point a short, fat, bandana toting American from Alaska helped himself to the only remaining seat on our table and eased himself into the conversation. I saw salvation. My hopes soared when the conversation wandered on to more interesting matters (the US Presidential election, the charms of Japanese girls, the population of Anchorage etc.) only to to have them cruelly dashed with an eventual return, like an unflushable turd, to the subject of Karaoke. Our new Alaskan acquaintance had tried Karaoke since arriving in Japan and liked it too! It was clearly an epidemic. Sensing that I may not have made my aversion to this dangerous and degrading practice quite forcefully enough I tried again. "Guys, I'd rather poke out both my eyeballs and fry them than go to Karaoke" I said. "That could be arranged" was the only audible reply. I now realised that my "friends" were in desperate need of a quick fix and their evening would be ruined without it. What harm could a quick session do? Get it out of the way and we can go on and enjoy the rest of the evening.
What harm indeed. As we entered the Karaoke building I realised, with growing horror, that this was not the expected bar with a Karaoke machine lurking inconspicuously in the background. This vast building looked like a cheap love hotel and was entirely devoted to the practice of Karaoke! This was hard core Karaoke where you booked a room by the hour and Karaoke was the only entertainment. But the true enormity of my mistake in agreeing to this hideous entertainment was still to unfold in my Guinness soaked brain. My unease quickly turned to a queasy mixture of disbelief and impending doom when one of my "friends" booked a two hour session. Two hours! What had I let myself in for? My mind raced frantically for an escape route, but it was too late. Like a condemned man I followed the usher to room 212 where I expected to spend the next two hours of my life in purgatory. But it got worse. Much worse. The room was about 6 foot square with a bench around two walls and a small Formica table in the centre. Four intimidating looking microphones hung off a metal bracket on the wall like implements of torture. An enormous hulk of a Karaoke machine dominated the other wall, looming threateningly over us like a demented Cyclops. By this point I was fighting for breath, barely able to take in the cheap mock padded wallpaper, garish fluorescent lighting and the encyclopaedic index of Karaoke songs. This final terrifying scene was completed only when I glanced at my friends hands and noticed, with a sickening, gut wrenching jolt, that they had rented two tambourines.
How I survived this gruesome experience I will never know. I'm a passionate atheist but I thank god that I was heavily anaesthetised with beer. I watched incredulously as an otherwise respectable and responsible finance professional sang Cat Steven's "Morning has Broken" accompanied by two supposedly sane colleagues with their tambourines. They even closed their eyes in order to intensify the full impact of their fix. The true extent of my fellow inmates' humiliating dependency on this depraved and anti-social habit became clearer when they begged the establishment's owners to extend their session not once but twice. I tried on a number of occasions to wake myself from this dreadful nightmare by violently banging my head against the wall. But it was to no avail. It was all too real. At one stage I vaguely remember contemplating suicide. I had noticed that the usher had not removed our shoe laces or belts before locking us up and it was comforting to know there was at least one way out. Eventually the hideousness of my situation numbed me to the extent that I must have fallen into a catatonic daze. I am told that hell lasts for ever, but mercifully this was only a taster, as the management politely but forcefully ejected us from the premises long after it was meant to close at 1.30am.
Looking back I can now rationalise my participation in this terrible, sordid event and put it down to experience - another episode in in the rich tapestry of expatriate life - but the feeling of shame will haunt me forever.
November 2004
We are enjoying the balmy late November weather- dry with highs in the mid-60's - warm enough to eat breakfast outside when the sun is shining, which is often. Not the most colourful time of year to visit the gardens on Awaji Island. Nevertheless they were very impressive and a brave departure from the traditional style of Japanese garden.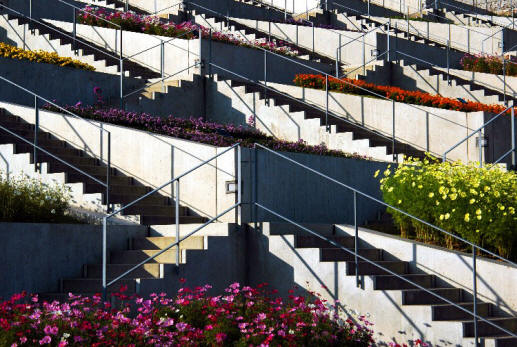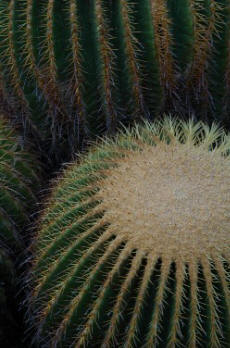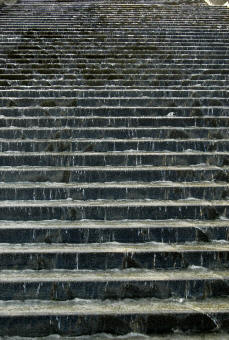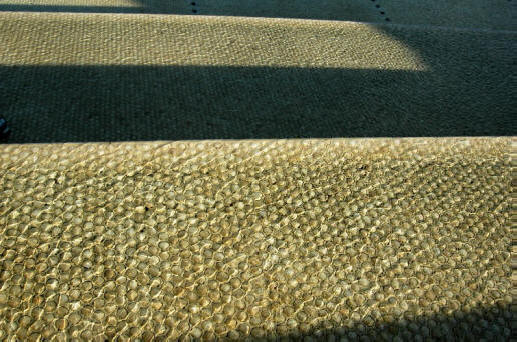 Modern Ornamental Gardens, Awaji Island, Japan.
Compare with......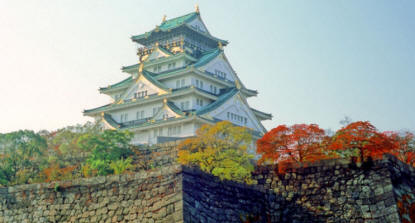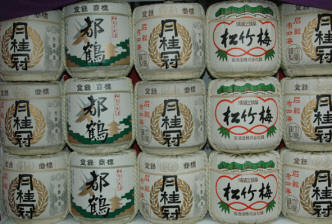 Osaka Castle, Autumn 2004 Temple Sake Barrels
Business Trip to Chicago - December 2004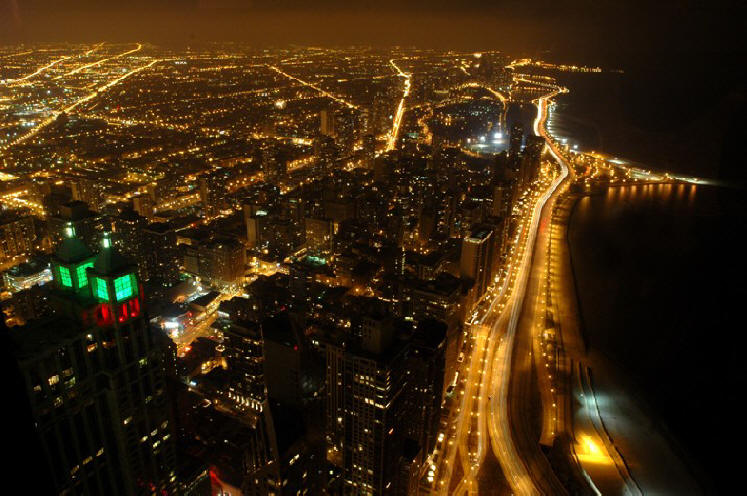 Lakeshore Drive from John Hancock Tower, December 2004
In early December I found myself on a superb leadership course in Chicago with a very talented group of international colleagues. I was also able to take advantage of a very weak dollar by doing some Christmas shopping on Michigan Avenue. We had a fine reception on top of John Hancock Tower and still had time to take in a couple of Blues Clubs during the week despite a gruelling work schedule. On the final Friday night I left Kingston Mines blues club at 4.00am in time to return to the hotel, pack and get a taxi to the airport for a morning flight to London. I slept across the Atlantic and was able to spend an enjoyable Sunday with my parents and sisters before catching a Monday flight to Tokyo for a meeting on Tuesday. The round-the-world ticket is cheaper than a return flight to Chicago so I will do this again in future. However it did mean me struggling around Tokyo, perhaps the world's busiest city, with about a ton of Christmas presents for the family. I was finally grateful to stagger ungracefully onto the Bullet Train, fully laden, for a three and a half hour journey back home to Kobe. My arms have yet to recover.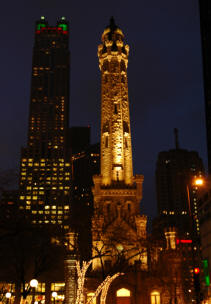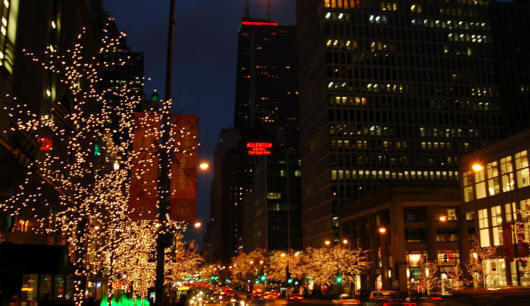 Michigan Avenue, December 2004