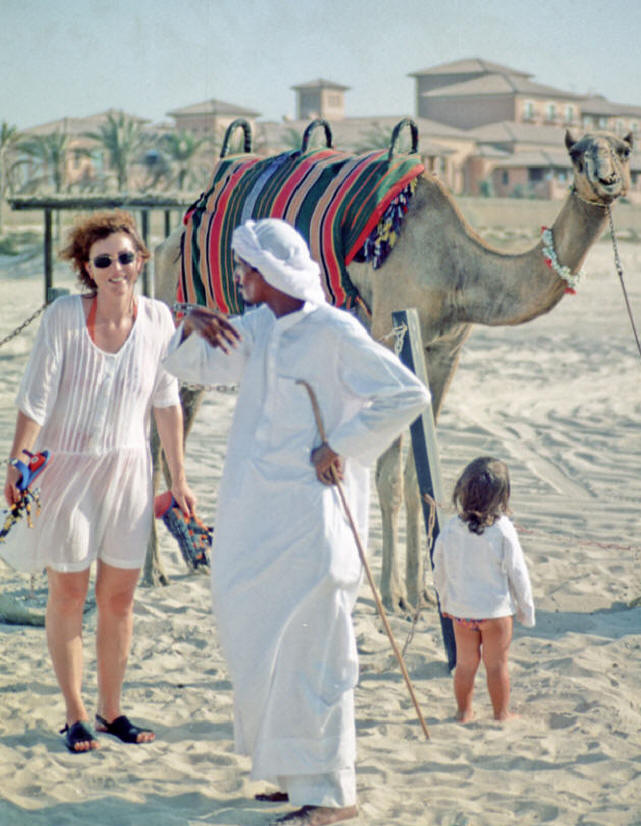 Beach on Arabian Gulf, Dubai
January 1998 - Business Trip to the French Alps
January and a retreat style business trip to a remote part of the French Alps with a talented team of international colleagues for a week's "product development". Some clever soul had chosen a small family run hotel in the middle of nowhere which reminded me of the film Local Hero. The hotel owner checked me in, was seen tending the bar and later in an enormous chef's hat cooking fabulous local cuisine for us all. Being France the excellent food was not only limited to three main meals but during the numerous coffee and tea breaks during the day. Local specialties included whole locally cured hams and a strange dish which had a mini-grill on each table and a hunk of local cheese to melt under it. Various breads were used to soak up the melted cheese and gallons of wine to wash it all down. Great food is one of the perks of working for a French company - lunch in particular is taken very seriously. I am working with a wonderful group of very imaginative and creative people so I shall truly miss working for this company. Despite having had interesting projects in London, Amsterdam and Paris an expatriate life beckons again and I feel I must move on.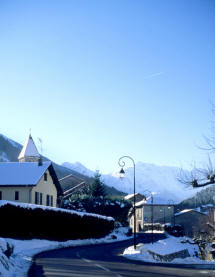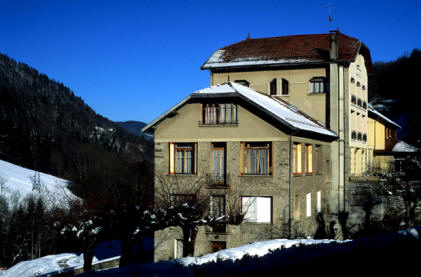 Hotel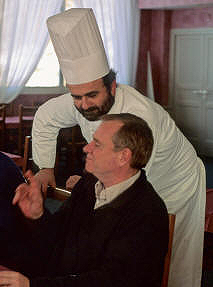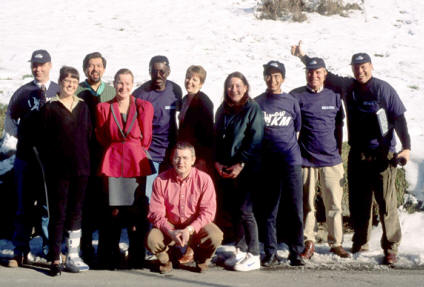 Superb Cuisine, merci Team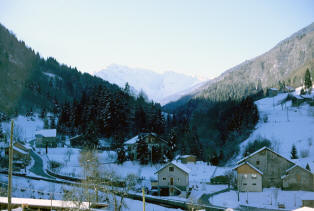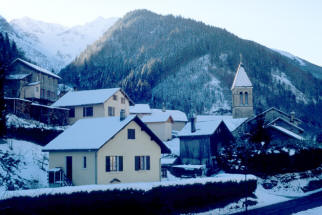 French Alps
Stag Party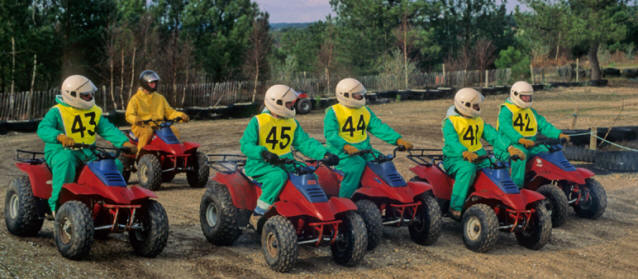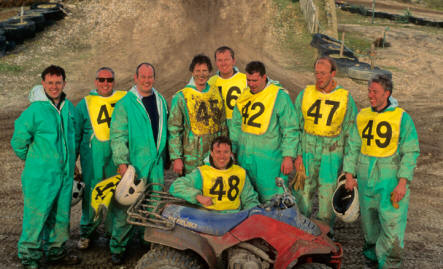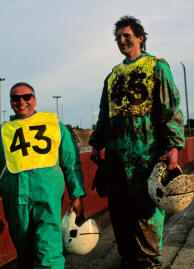 I had the privilege of organising a stag party for a close buddy: Manchester United Vs. Chelsea, beer, lunch, quad biking and a private dinner function with two rather attractive "cultural dancers" (not shown to protect the guilty).
March 1998- Business Trip to Kuala Lumpur
March 1998: I started my new job in Riyadh, Saudi Arabia so I left the UK and flew to…..Kuala Lumpur (KL) for a week. This seemed a little strange as my new outfit is based near Chicago, USA. However they were having a bi-annual training meeting for the Pacific, Africa, Asia Region and it seemed a good opportunity to give me an induction.
We stayed and the Sunway Lagoon Resort which was spectacular in its own way, being a man-made holiday resort, complete with artificial beach and wave pool built in the middle of a large city. But I have to ask "why?" Malaysia has some stunning holiday resorts in very natural locations so this seemed a little pointless. In any case it gave me the chance to see some of the city and was struck by the amount of infrastructure left from the British colonial era - particularly the court house and railway station. The UK influence still exists, as became clear when I discovered, to my dismay, an enormous Manchester United hypermarket in the adjoining shopping mall. KL is still clearly a city in a developing country, the surrounding areas are still quite poor, so the priorities of the Government to buy first world status with extravagant projects, such as the world's tallest building, seemed a little pretentious.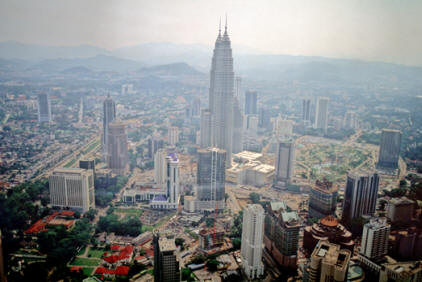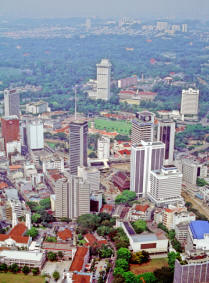 Twin Towers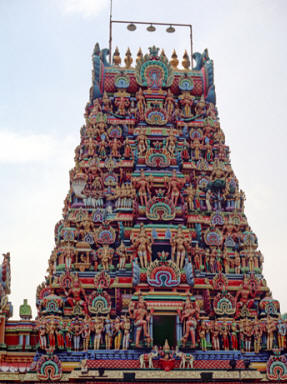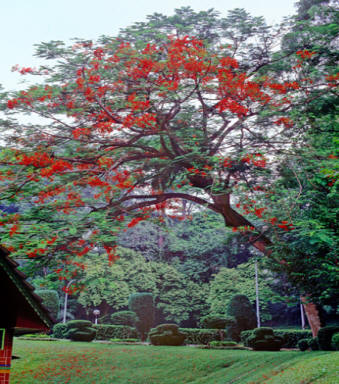 Kuala Lumpur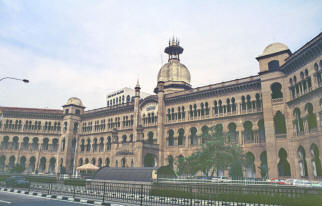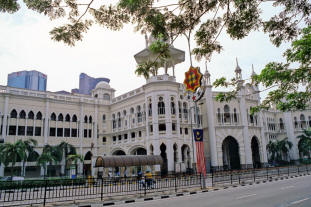 Train Station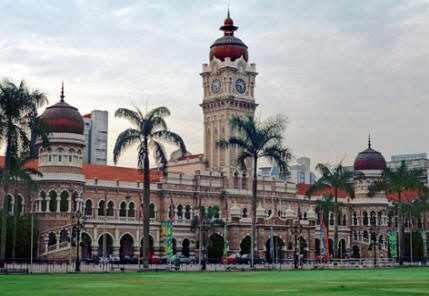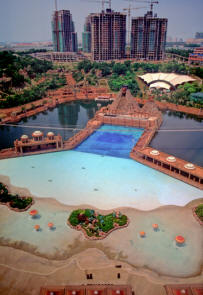 British Colonial Court House, Kuala Lumpur Sunway Lagoon Resort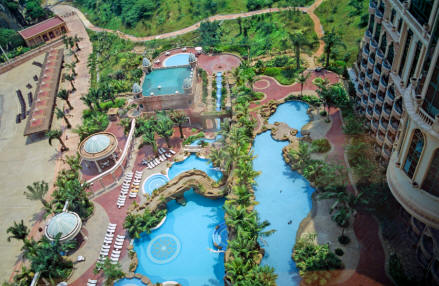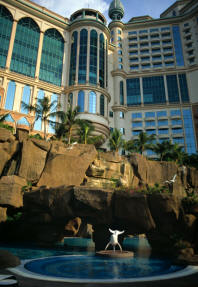 Moving to Riyadh, Saudi Arabia
From KL I flew to Riyadh to start my new position. Clair and the children are not able to join me immediately as we are still trying to get them visas. I went straight to the office (on my birthday as it happens) and was efficiently welcomed with my new job description, goals for the year etc. and a note informing me that the office would be closed for the following week for the Eid holidays!
This gave me a chance to get settled into our new home on Al Hamra compound, relax by the pool, meet a few people and read some marketing books. However I'd rather have been with my family and wished I had been informed of the holiday before arriving in Saudi.
The compound is beautifully landscaped and has fantastic facilities including a restaurant (which delivers to the villas), glass backed squash courts, tennis courts, well equipped gym, running track, some 13 swimming pools (including a wave pool) indoor basketball / five-a-side football area and a six lane bowling alley – most of which are rarely used. There is also a small supermarket, hairdresser / beauty salon, photographic shop and a video rental shop. This all seemed too good to be true but I do wonder whether in time it will seem like a gilded cage. Riyadh is so restrictive outside the compounds.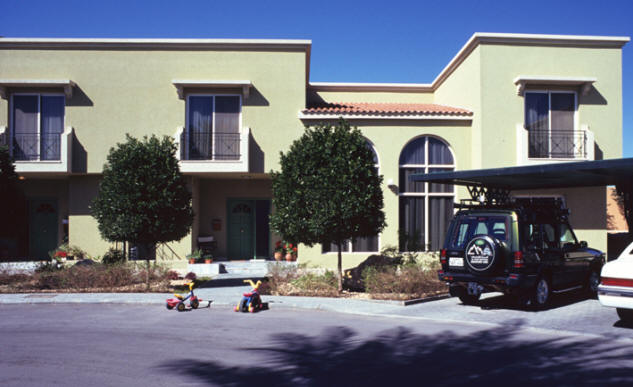 Our House - Al Hamra, Compound, Riyadh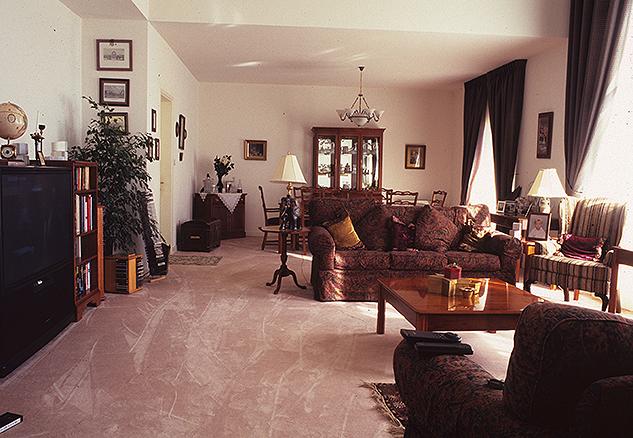 Our lounge in Riyadh.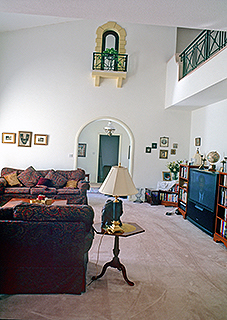 This is a 360° movie. Drag your cursor across the image to view.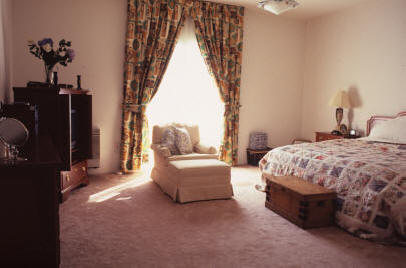 Our House - Al Hamra, Compound, Riyadh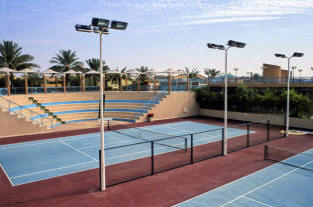 View of the Wave Pool at Al Hamra. Tennis Courts

Main Pool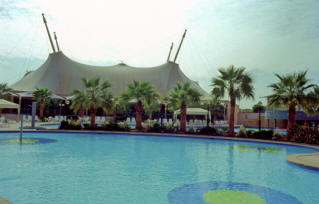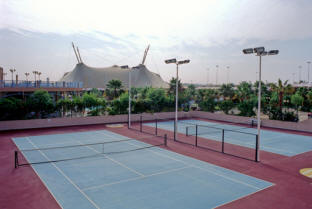 Children's Pool and Sports Centre Tennis Courts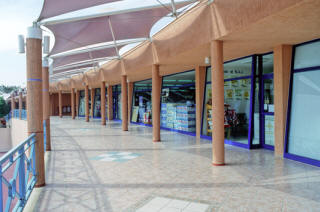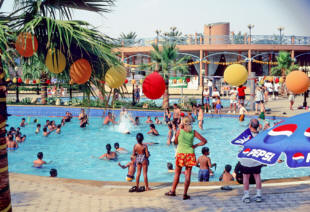 Compound Shops Fun Day, Restaurant in background
Riyadh has changed markedly since I lived here with my parents in the 1970's. In those days our villa was on the edge of the city and surrounded by desert. That area is now virtually in the centre of the city and a 20-minute fast drive to the suburbs. Also Saudi is stricter in its adherence to Islamic culture than it used to be. Now western women must wear an abaya and cover their hair or risk being harassed by the local religious police. My mother and sisters never wore these garments in the 1970s and merely covered their body with long sleeves and loose fitting trousers. Alcohol, cinema, theatre, live music, dating, nightclubs, pork and having fun in general are all still banned in Saudi. Also women are not allowed to drive. All our personal items are checked by customs officials for alcohol, pornography and non-Muslim religious artifacts. Our Christmas decorations were confiscated and some Christmas cards showing the nativity were torn up and thrown back in the box. Crucifixes are banned and all books, photographs, CDs, computer software and videos are sent to the Ministry of Interior where they are each individually checked for content. This obviously takes months. Travel brochures are amusing as all the photographs of women in bikinis have to be blacked over so that they all look as if they are wearing wet suits. I wondered why a panoramic photograph of Venice had many black rectangles superimposed on it until I realised they had censored the crosses on top of all the churches! My copy of The Economist regularly arrived very late with pages missing. In one copy I noticed a very small black rectangle on page 81 and couldn't imagine what they had censored. A trip to Dubai allowed me to buy an uncensored copy and I realised with some amusement that the censors had blacked out a marble statue of The Three Graces.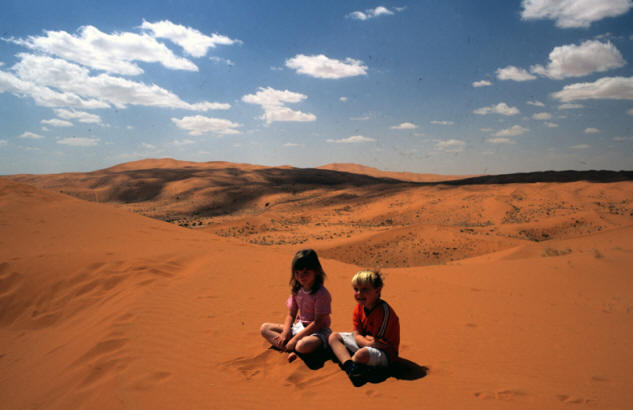 Desert Trip
My first task on arriving was to get my visit visa converted to a work visa, then get the work visa transferred to an Igama (residence visa). Then the gates of heaven open and I can apply for my family to join me, buy a car, open a bank account, have a credit card, and get a driving licence – after of course getting previous permission from our Saudi sponsors, in writing. Bureaucracy in Saudi is not only long and tedious it is also highly incompetent and quite possibly corrupt. Take getting a driving licence for example. It should be a simple process to convert my UK licence to a Saudi one, right? In the UK you fill in a simple form and pop it in the post. Not here.
I personally queued for an hour and a half with an Arabic interpreter in a hot, crowded and dusty Government building just to get the required application forms and book my place in the process. I needed the usual four passport photographs but for some inexplicable reason these had to be in black and white. This was annoying because every other registration process in Saudi had so far required at least four colour passport photos and I had cleverly come with a dozen already completed. As it turned out there was only one shop in Riyadh that took black and white passport photos and it was conveniently located just outside the driver-licensing centre (and presumably owned by the Chief of Police). Another queue, another fee, another wait, another waste of time. We also had to attach our application form, certified translation of UK licence, copy of Igama, passport, etc. to a specifically defined green hanging file (only available from the certain stationary shop conveniently located by the driver-licensing centre and also presumably owned by the chief of police's brother). I then had an eye test, blood group test (where they pricked my finger and rubbed it onto a dusty glass slide), gave half a litre of blood and generally got very hot and bad tempered. Having filled in the required forms, queued (again) to pay the fees I lodged my application with another needless bureaucrat and was told to come back "ba'ad bukera" i.e. the day after tomorrow. This process had taken a whole day so I was totally bemused when I returned "ba'ad bukera" queued for another 90 minutes in sweltering heat and was given my green hanging file back - with no licence inside. I asked what I was meant to do with the file and was told to queue up again and hand it to the pointless bureaucrat in the next booth! They explained that they had carefully checked my application and that it was correctly completed so I could pay another fee (600 riyals) and would be given my drivers licence "ba'ad bukera" i.e. the day after tomorrow. This turned out to be a Friday (the Muslim holy day) so I retuned on Saturday, queued for another two hours and was finally given my licence. What a pitiful waste of human existence. DVLA all is forgiven. Actually I was lucky being British. A South African colleague additionally had to take an actual driving test, which he failed. This meant he had to attend 6 hours of lectures on driving safety, all in Arabic (which he doesn't understand) before they would let him retake it!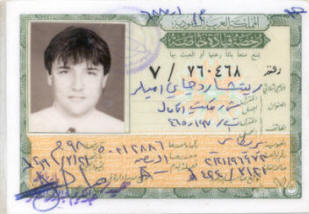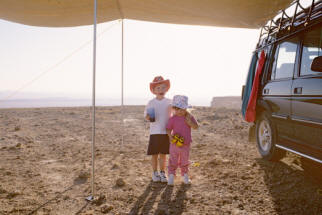 Blood, sweat and tears to get a Saudi driving licence..... .........so I can drive to places like this.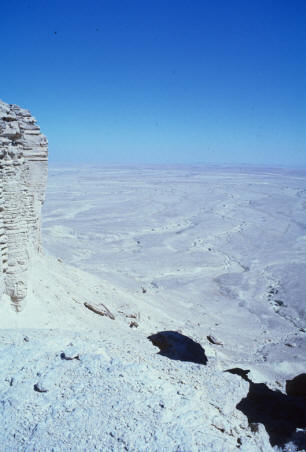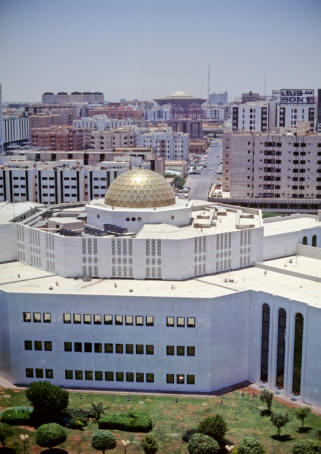 "End of The World", near Riyadh. Riyadh Islamic Library
Leisure outside the compound is confined to eating, shopping and desert trips. We find living in Riyadh much more restrictive than our time living in Jeddah – at least there we could go to private beach clubs and experience some of the best scuba diving in the world. Actually the desert trips are fantastic, with some truly spectacular scenery - block mountains, steep escarpments and deep orange sand dunes the size of mountains. Camping at night is awesome. The desert is free from city light pollution and the night sky so encrusted with the twinkle of billions upon billions of stars you can read a book by them, even in the absence of a moon. The milky way is clearly visible with the naked eye and looks as if somebody has smeared light across the sky with their thumb. When the moon is out it casts shadows and you can see colours. Lie on your back for 7 minutes staring at the night sky and you are virtually guaranteed to see a shooting star. It's a humbling and slightly psychedelic experience.
Sister #2/4 Gets Married - June 1998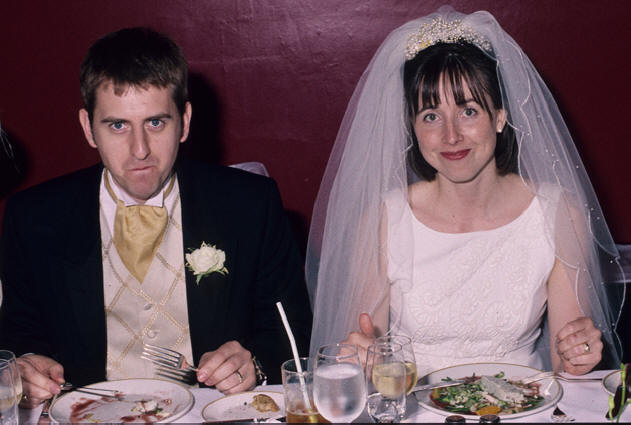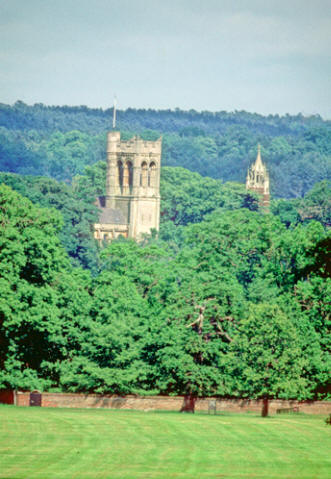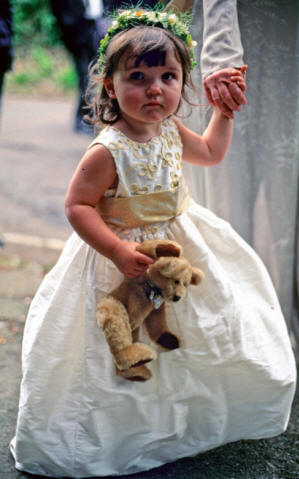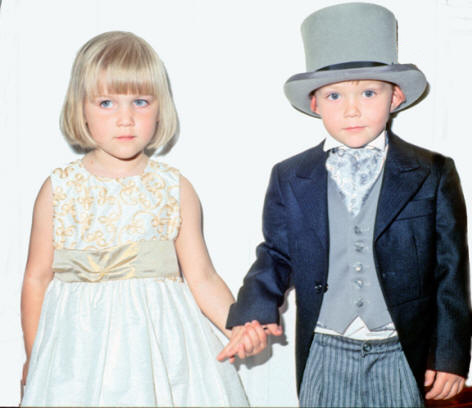 Page Boy Cousins
In June we went back to England to attend another memorable wedding, again at Woburn Abbey's Sculpture Gallery. Sister number two out of four has married a doctor and a thoroughly decent chap he is. He should fit in well - assuming the rest of my family can forgive him for being an Arsenal supporter.
Knowing the family are avid sports fans they booked their wedding, months in advance, on a Friday to avoid any conflicts. You can imagine our dismay when England were drawn against Columbia on this very day in the 1998 World Cup finals. The reception was punctuated with many updates on the score (England won 2-0).
Summer / Autumn 1998 - Amsterdam, London and Granada.
It is an interesting experience to accompany a group of Saudi customers to a place like Amsterdam. As the only Westerner in the party they clearly felt I should know my way around and that I should suggest places to visit. I was very keen on the Rijksmuseum but it was clear they wanted to visit the red light district, but nobody would admit it. In the end I visited the museum twice on my own, as nobody else was interested. It has some stunning oil paintings from my favourite period, including Vermeer, Rembrandt, van Dijk and De Hooch. Even the web site is a work of art. Again my Art Appreciation lessons from school surprised me by how many paintings I recognised. I also took the customers to the red light district at their own expense, which was excellent fun. It has many attractions which are recommended in the official tourist guides (only in Amsterdam....). Indeed some of the establishments were endorsed by the Amsterdam Tourist Authority. Unlike similar places in other cities this area was full of couples rather than seedy men in raincoats. We had a spectacular meal at the ancient Five Flies restaurant, where we entertained about 20 people and consumed one bottle of wine. Actually I consumed the one bottle of wine as the rest of the party were Muslim.
I returned to London in September to interview some candidates for an opening we had in Riyadh followed by a trip to Abha and then a superb week in Spain in November to visit one of our manufacturing plants. Some genius had the bright idea of placing it in Granada, which boasts the historic palace of Al Hamra (same name as our compound). Southern Spain was under Arab occupation for some 600 years so there is quite a legacy. The Al Hamra is very impressive and worth visiting Granada for this alone, although it also has many other medieval attractions to recommend it.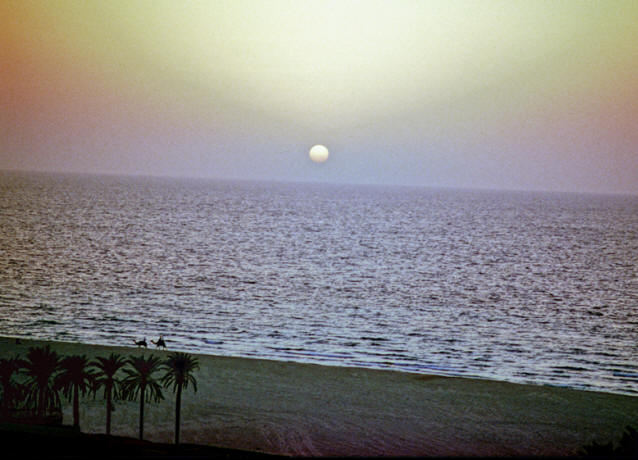 Hilton Beach Resort, Dubai
I still find the Saudi people to be very friendly, dignified and gentle. The Saudis we meet in the desert are particularly polite and welcoming and always happy to help when your Land Rover gets stuck in the sand or you need to borrow some engine oil or water. More often than not they are also happy to share their food and drink with a total stranger. I have always been impressed by a people who have maintained a civilised existence, for thousands of years, in one one the world's harshest climates. Despite this Saudi is still a difficult place for a Westerner to live because of the vastly different culture and fierce summer temperatures. I am lucky to have many business trips outside the Kingdom, but to help the family escape the hardships of life here it is necessary to make frequent trips to more hospitable Gulf States such as Bahrain and Dubai. Here we can relax with a glass of wine, visit the cinema and do some leisurely shopping without worrying about when the shops will next close for prayers. Everything in Saudi has to close five times a day for prayers and this is a constant irritation as shopping trips and meals in restaurants have to be planned carefully to fall between prayer times. Bahrain is about a five hour drive from Riyadh (including immigration and customs) and takes you across the King Fahad causeway. This is a 25 kilometre feat of Engineering which links Saudi Arabia to the island of Bahrain over the shallow waters of the Arabian Gulf. The Al Bander Resort in Bahrain is worth visiting. Apart from being able to get beer, wine and pork it also has one of the best fish restaurants on the island.
(This image is taken from another website)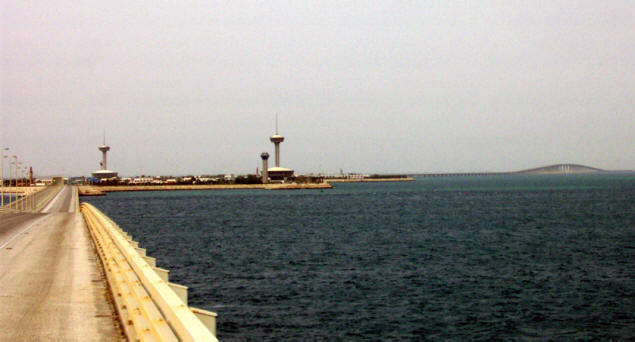 25Km King Fahad Causeway - Links Saudi Arabia to Bahrain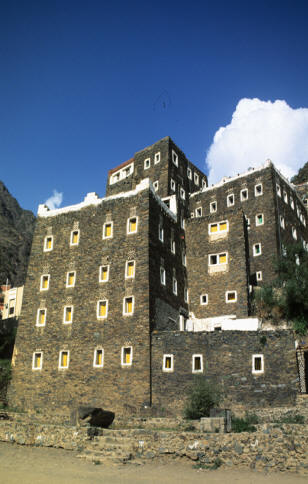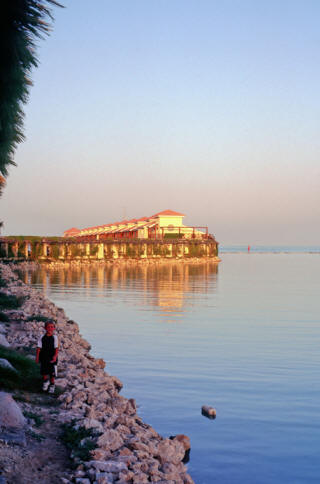 Abha, South West Saudi Arabia Al Bander Resort, Bahrain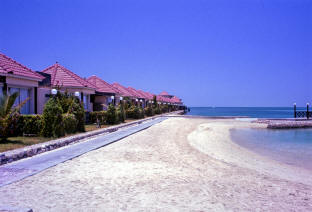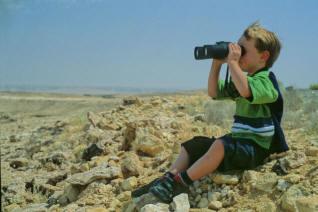 Al Bander Resort, Bahrain Edward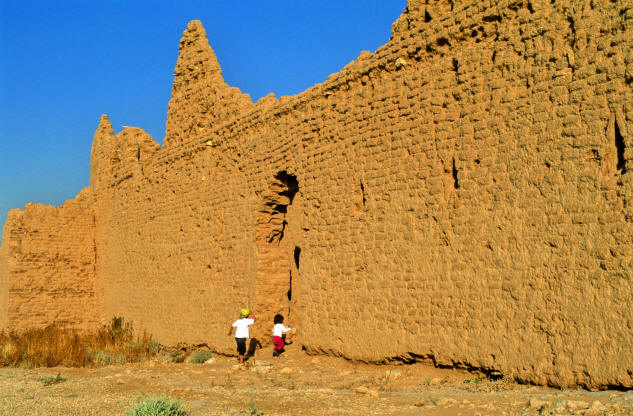 Dirriyah- Old Saudi Capital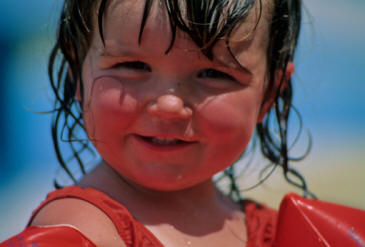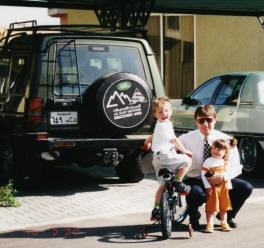 Verity - 1998 Before going to work...