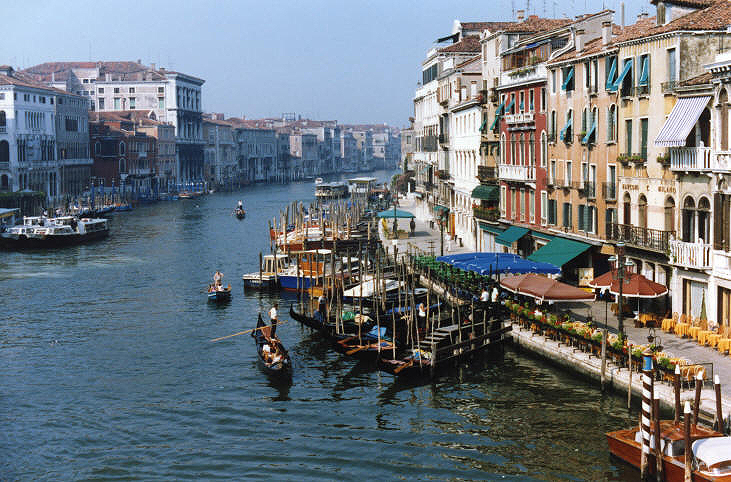 Venice, July 1990
Honeymoon Mediterranean Cruise - Summer 1990
The perfect holiday? Variety, and lots of it. Not rotting on a beach somewhere, but exploring new countries and cultures, tasting different foods and attitudes. Soaking up art and history as well as sun and sand. But this is a honeymoon. I'd much prefer to spend it with my new wife. I don't want to spend half of it packing and unpacking and then travelling to the next exciting venue. Answer: A cruise. See many countries but pack and unpack only once. Do all your travel whilst chatting in the restaurant sharing sumptuous meals, lounging in the bar sipping ice cold martinis, dancing in the discotheque until the small hours and in lying in bed.... Perfect for someone like me with the attention span of a five-year-old.
Venice, Italy
Any honeymoon should start in Italy....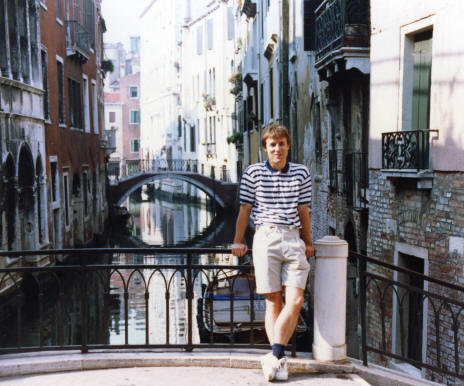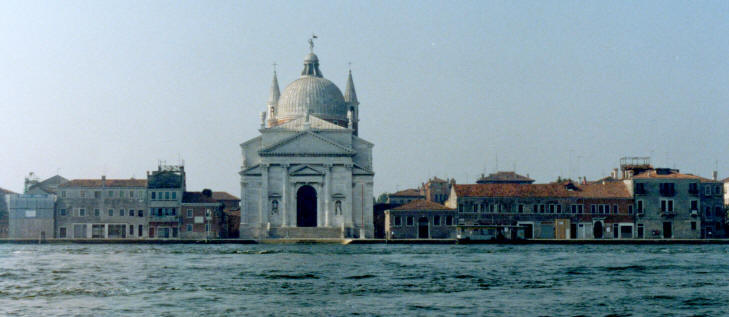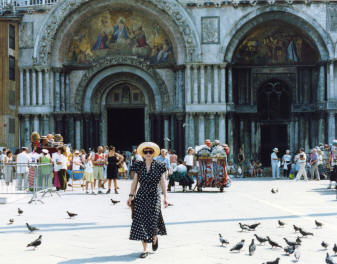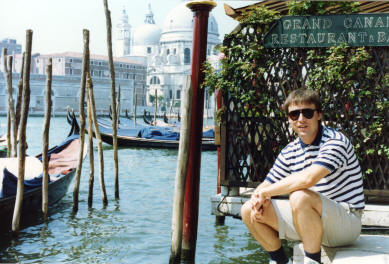 Venice
Dubrovnik, Yugoslavia
...before sailing across the Adriatic to the beautiful medieval town of Dubrovnik.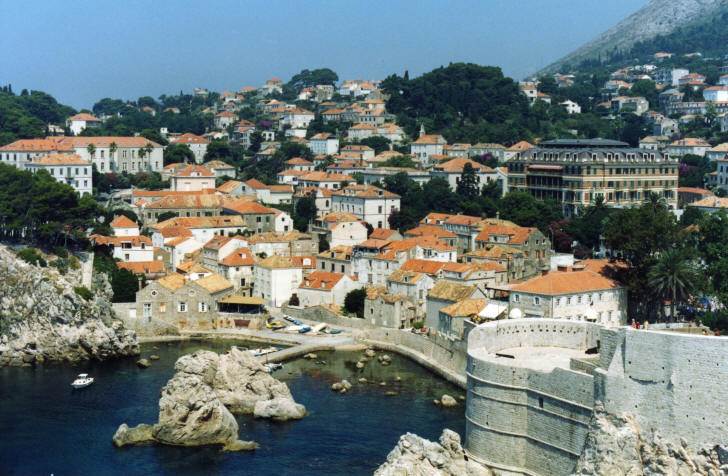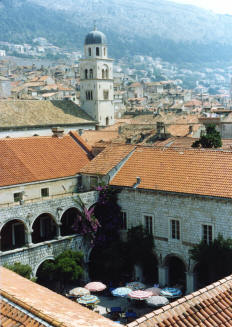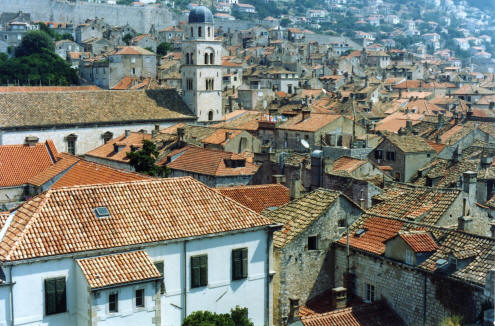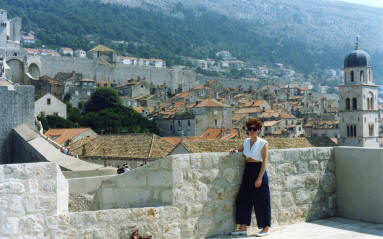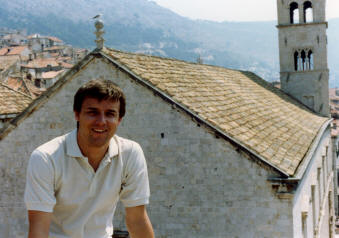 Dubrovnik, Yugoslavia
Heraklion
Then across the Ionian Sea and the Sea of Crete to Heraklion, the main town on the beautiful island of Crete.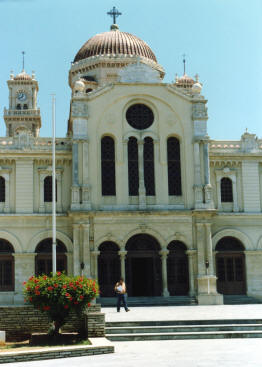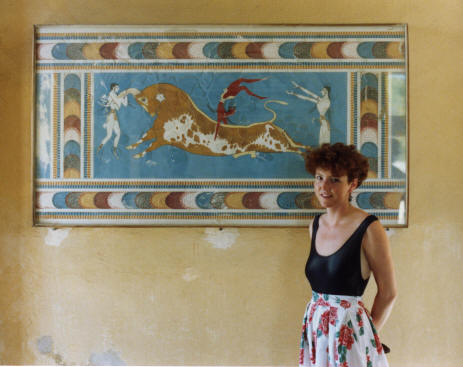 Heraklion Museum Copy of Toreador Fresco from Knossos (16th Century B.C.)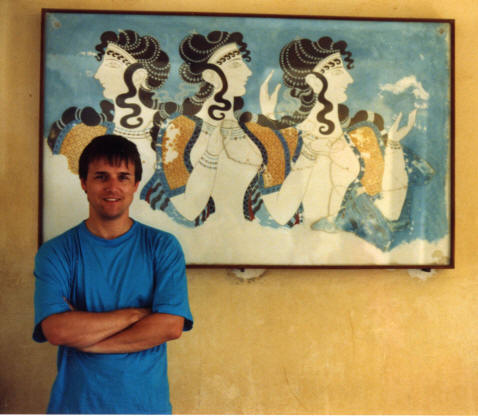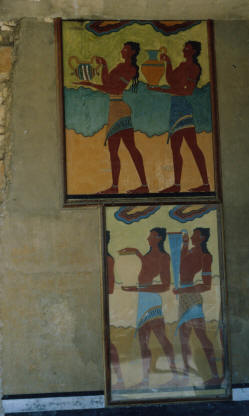 Knossos Frescos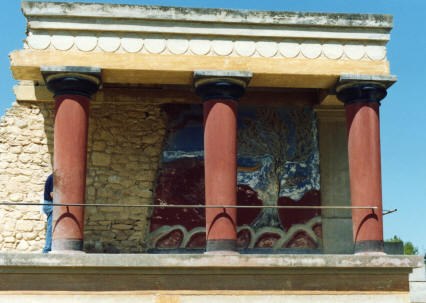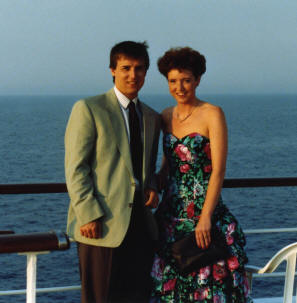 Knossos Frescos
Rhodes
Then to the Sun Gods own Aegean Island of Rhodes.....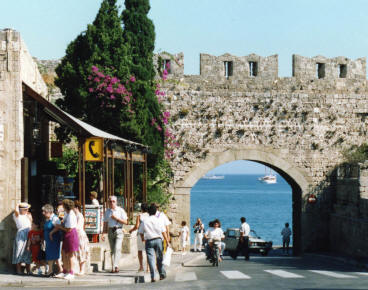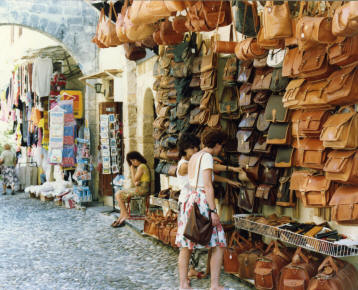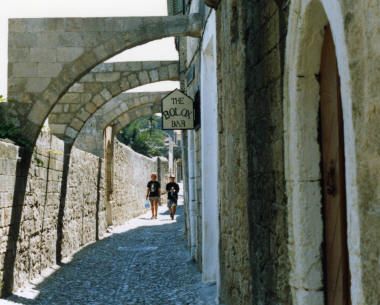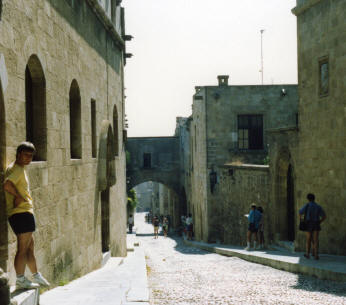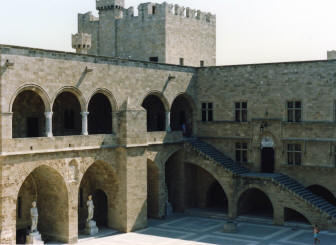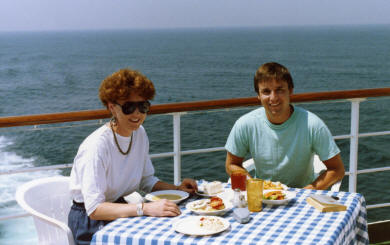 Alexandria, Egypt
..before crossing the Mediterranean to Egypt.

Alexandria
Great Pyramids - Giza
A hot day - over 100 degrees, which I am used to having previously lived in Saudi Arabia and Iraq, but Clair likened to being stabbed with hot daggers. The size of the stones used to make the Great Pyramids took us by surprise. Distant photographs make it look as if the pyramids are made out of bricks. Getting these great stones in place was an impressive technical feat. A visit to the Egyptian Museum in Cairo just left us wishing we had more time here. You could spend months exploring all the exhibits, but we managed the highlights, including Tutankhamen's gold tomb artefacts. We must go back one day.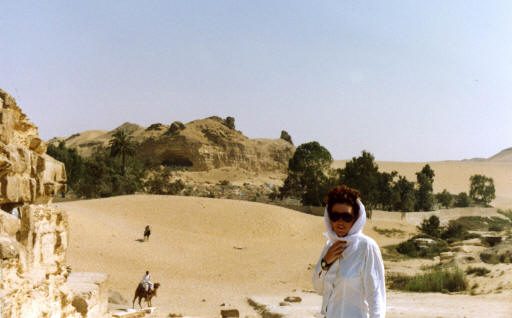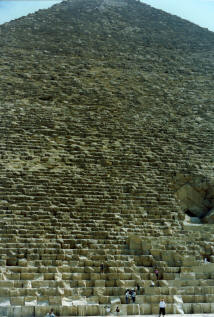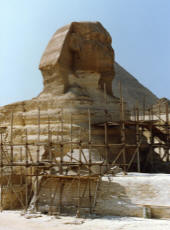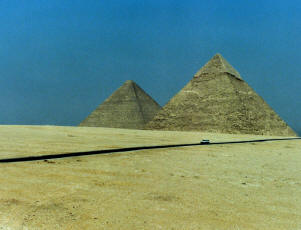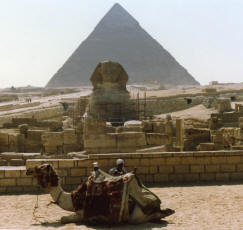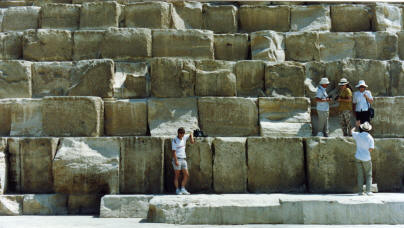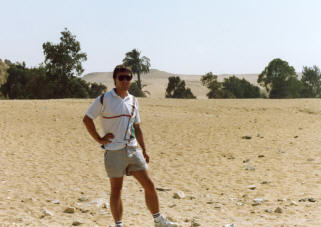 Great Pyramids, Giza
Kusadasi, Turkey
Close to the ruins of Ephesus is Kusadasi.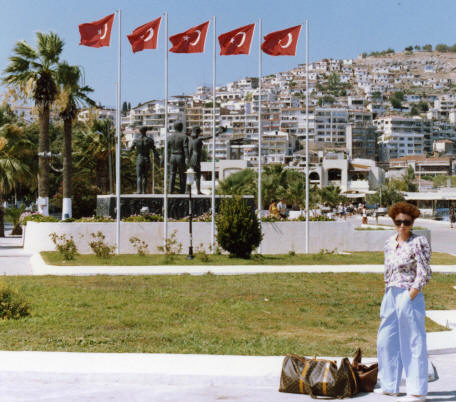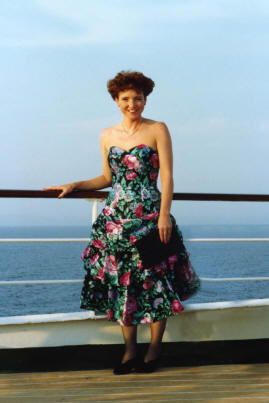 Buying Leather Goods - Kusadasi
Istanbul, Turkey
Sail across the Aegean Sea, through the Dardanelles and into the Sea of Marmara to moor in Istanbul. We visited the Blue Mosque, Topkapi Palace and the famous indoor Grand Bazaar.

Istanbul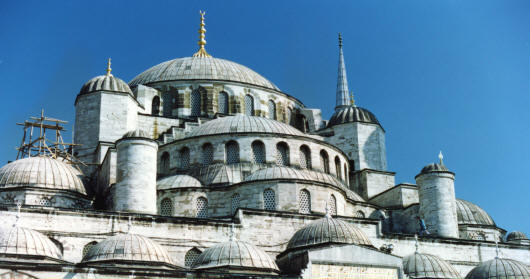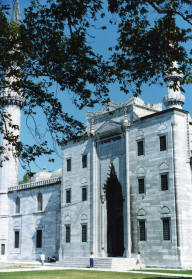 Blue Mosque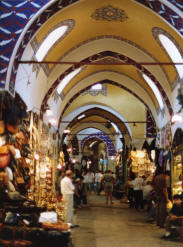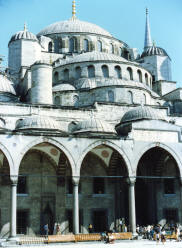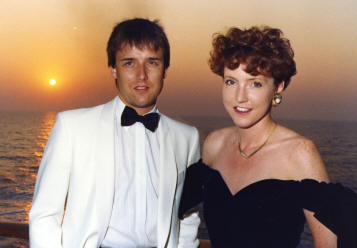 Grand Bazaar Blue Mosque Pre-dinner Walk on the Deck
Mykonos, Greece
Brief stays in Mykonos and Mytilene on Lesbos before ending in Athens.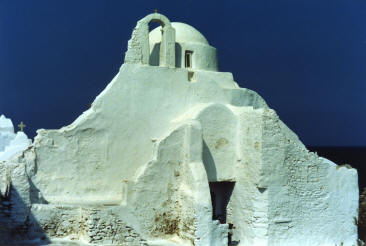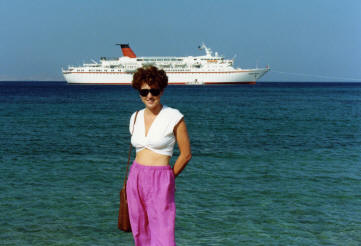 Mykonos Cunard Princess Moored in Mykonos
Food - and lots of it.
(Photo below is scanned from a postcard)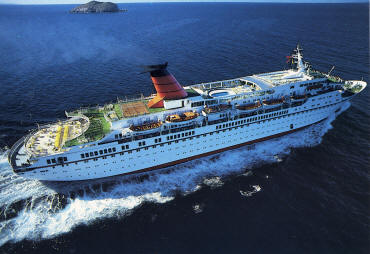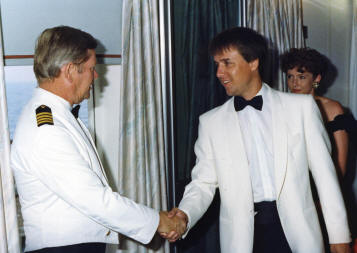 Postcard of Cunard Princess Captain's Dinner
Captain - You've only just got married haven't you?
Me - Yes. How did you know?
Captain - Your wife is supposed to shake hands first!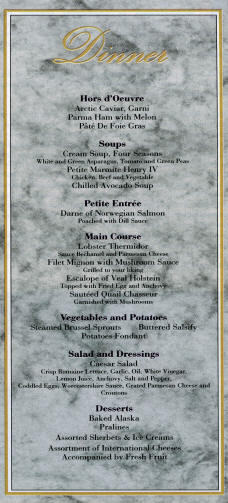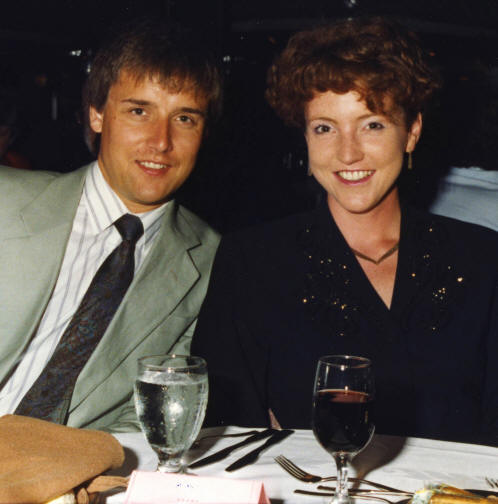 After discovering that we were going on a cruise a friend commented, "I hope you enjoy eating'. We do and he was right. The above menu was not exceptional. Breakfast had a number of sittings and merged with mid-morning bouillon and Danish pastries. Mid-morning piggery ran into the two lunch sittings and then full afternoon tea. Dinner was also served in two sittings and was usually around eight courses. You could then gorge yourself at the midnight "snack' which was actually a banquet sized buffet. Should you feel peckish in-between troughing all these courses you could still call room service for 'burger and chips or pizza, available 24 hours a day. All the food on the cruise was price inclusive. A glutton's paradise.
Athens, Greece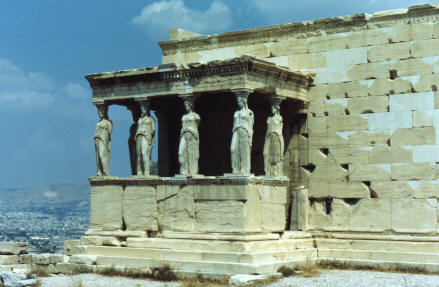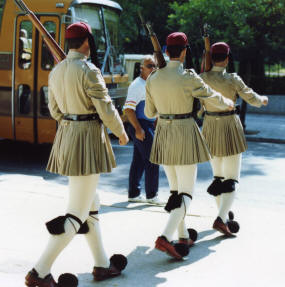 Athens