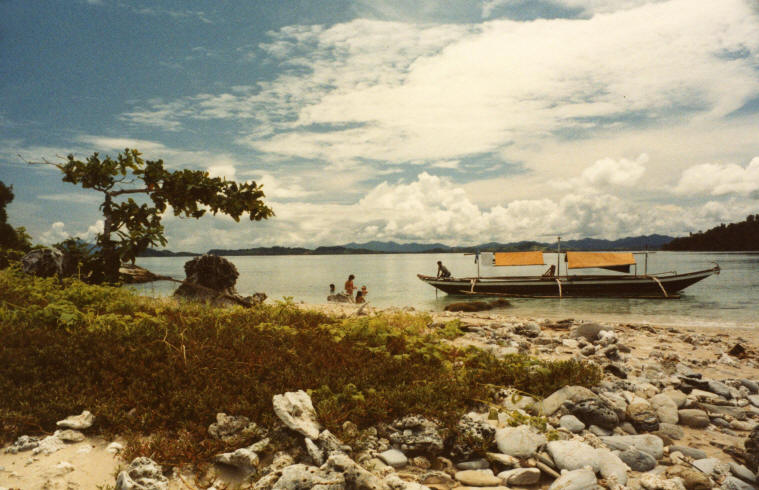 Palawan, Philippines 1983
Palawan, Philippines 1983
One of the great things about my Step Father's profession as an environmental consultant is that we got to travel to agriculturally undeveloped places. The island of Palawan in the Philippines was one such place. This was a cross between a tropical paradise (look at the pictures) and tropical nightmare (due to rampant malaria the average life-expectancy was just over 30). There was nothing here except illegal loggers, armed Islamic separatists and a penal colony. We were working on a project funded by European Union aid to save the local rainforest from deforestation, so we didn't expect the illegal loggers to welcome our presence. They were also armed and put security blocks around their encampments. To warn outsiders to keep out they would adorn their gates with decapitated monkey heads. The residents of the penal colony were free to wander the island and farm their own patches of land. They were at the end of very long prison sentences for rape and murder but were not considered a risk. In any case they were easy to spot as they covered themselves with home-made tattoos. They would suddenly appear out of the jungle holding numerous hand-crafted machetes with ebony handles beautifully inlaid with mother-of-pearl. They would try to sell them to us for extra cigarette money. The penal colonists turned out to be harmless and the malaria tablets seemed to work. The illegal loggers kept mostly to themselves so we had a wonderful time exploring local islands, eating the fantastic local sea food and making many friends.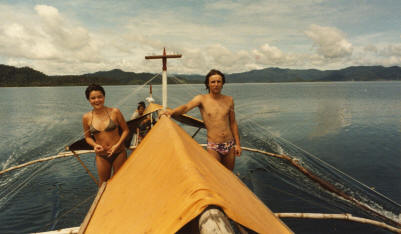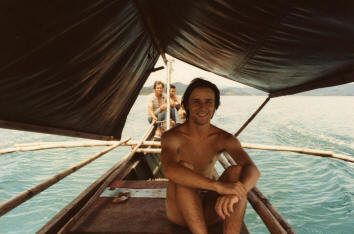 Boat ride to a deserted island....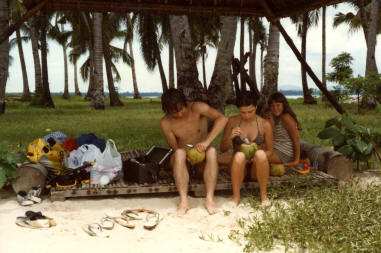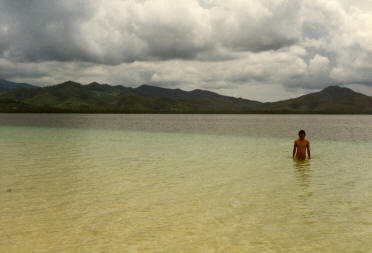 ....where we ate young coconut.... ....and swam in the tropical sea.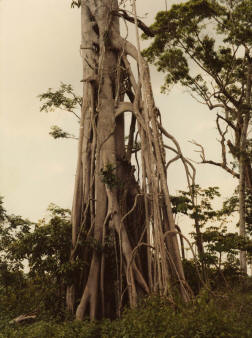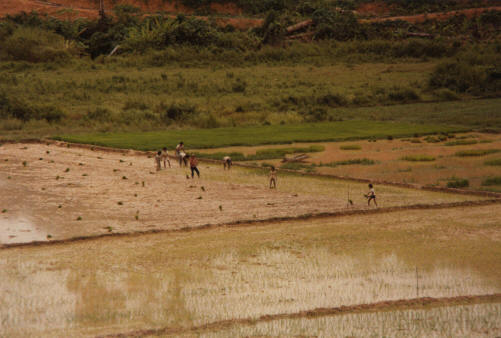 Local Tree Paddy Field
Work as a Hydrologist
I got a job on the project as a hydrologist working with a guy from Luton who had been there for a few months. We were given a driver and a Land Rover and the task of driving all over Palawan collecting data from evaporation pans, river depth gauges and taking flow measurements in crocodile infested rivers. The only tarmac road on the island finished just outside Puerto Princesa where it turned into a dirt track. This often got washed away or blocked by landslides and fallen trees. Getting around was hard and slow and often entailed leaving the track in order to find new routes to a grid reference. Often we were were staying away on long trips on "full expenses". You could live very well here for a dollar a day. A bottle of San Miguel was 15p (20 cents) and cigarettes even less. Perfect for two 21 year-old bachelors.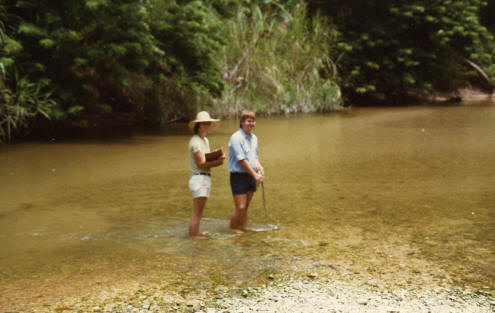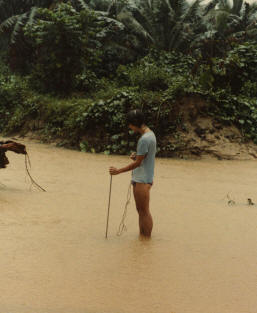 Work as a hydrologist, measuring water volume through a river with a flow meter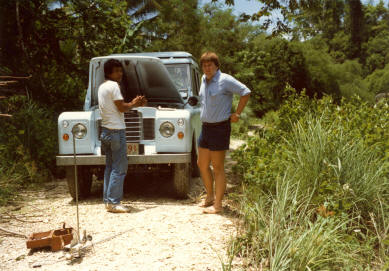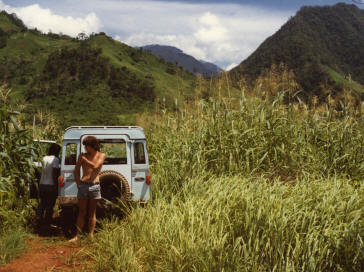 Travelling the length and breadth of Palawan.
Elsa's Guest House
When we were working the southern part of Palawan we would stay at Elsa's guest house which was snuggled on its own private tropical beach. She had no electricity or gas but plenty of clean running water. We would buy a huge block of ice before arriving and cool our beer in a cool box. A kerosene lamp would provide the light and Elsa would cook fabulous 7 course meals of local sea food, pork, chicken and vegetables on her wood burning stove. The bedrooms were open to the outside air with a rush roof. I would climb under my mosquito net and fall into an exhausted sleep whilst listening to the unremitting chirping of the cicada and the sea swooshing gently to the shore.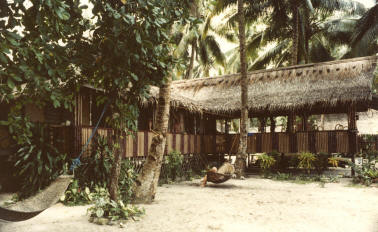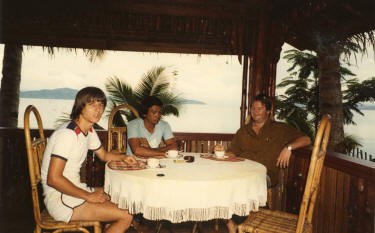 Elsa's Guest house, Port Barton. Fantastic seven course meals of fresh local produce......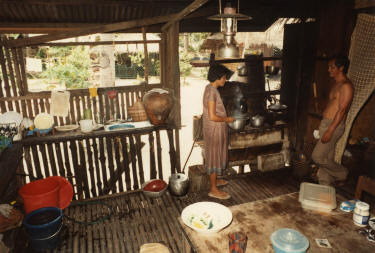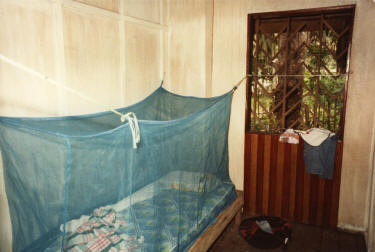 ...cooked on a wood burning stove Elsa's Guest house; basic but comfortable accommodation.
Local Life
It never got cold here and the only protection you needed was from the rain and the mosquitoes. Consequently the local housing could be quite basic but still effective.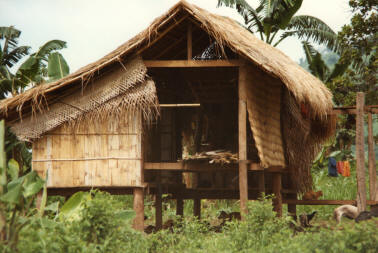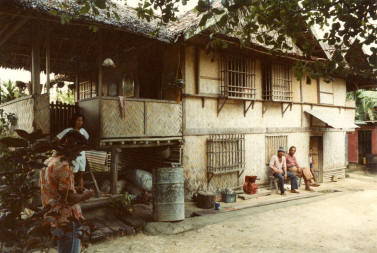 Local housing.
Local transport was either small bore motorcycles and taxis called Jeepneys. Carabao were often seen attached to ploughs or small carts.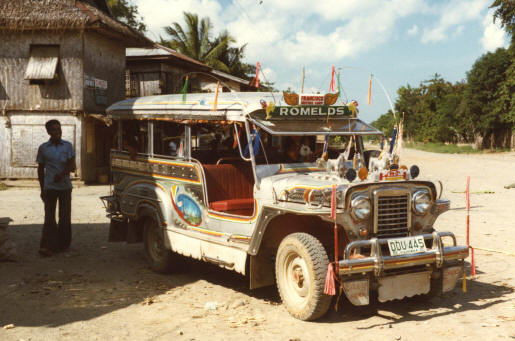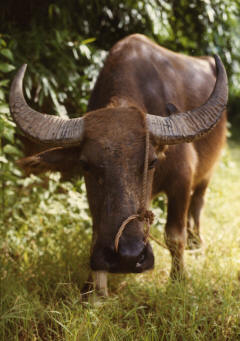 Local Transport. Jeepney. Carabao
Weekends
Weekends were spent boating to small deserted islands with my sisters and new friends.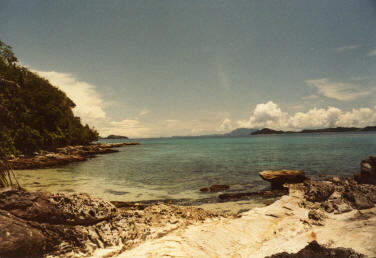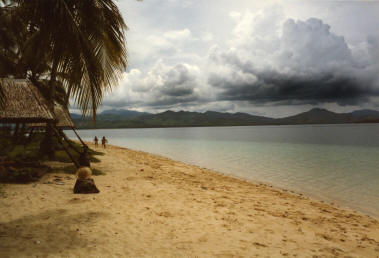 Deserted Tropical Islets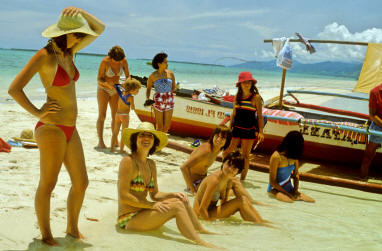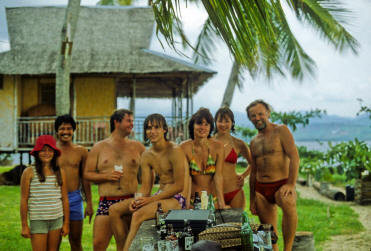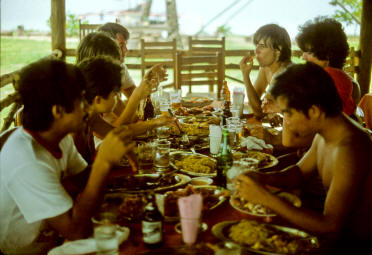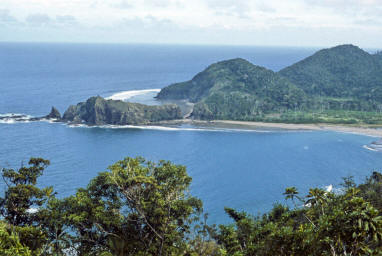 Family Day Trips, Palawan 1983
More Work
We wanted to view Palawan from the air. This would allow us to see the extent of deforestation and the amount of silt being washed into the rivers. There are few things more disconcerting than arriving at an airport to take your small, single engine aircraft into the air and seeing it in pieces on the runway. A hot and flustered pilot was hammering away at the engine with a wrench and assuring us we would be in the air in 30 minutes. We were, but when we got there we established he didn't have a full pilot's licence and wasn't allowed to navigate purely by instruments. This meant he had to fly below cloud cover to keep the road in sight.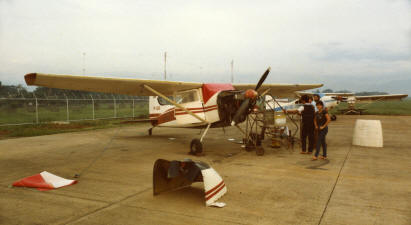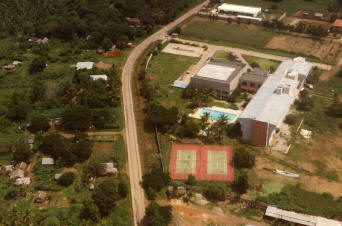 Our Aircraft in pieces on the runway. Rafols Hotel, Puerto Princesa, Palawan.
As certain rivers are infested with crocodiles we would draw lots to see who took the flow meter into the water and who stayed on the bank making notes.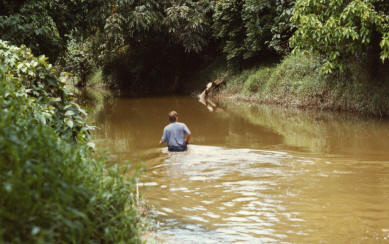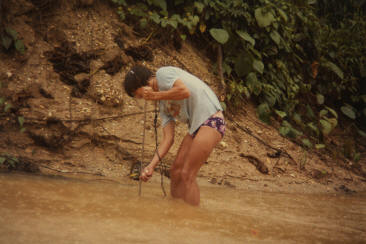 Watching for crocodiles Working in a tropical rainstorm
On one trip we met a small group of young men armed with M16 Armorlites. They turned out to be very friendly and insisted on showing us some of the local sights, including a nice view from a nearby mountaintop. They then showed off their skills by firing their rifles into the jungle below. I did wonder what, or who, might be down there but they seemed unconcerned. They had only one army uniform between them (jacket, shirt and trousers) and only two guns. We never established if they were the Philippine Army or local Islamic separatists but we never felt threatened.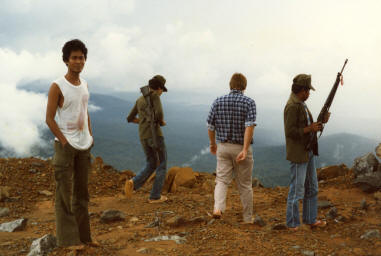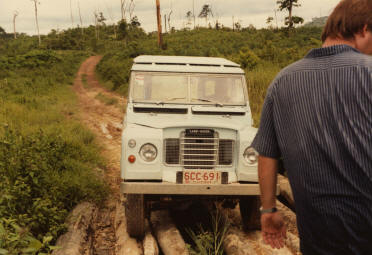 Islamic Separatists or Philippine Army? Typical track outside Puerto Princesa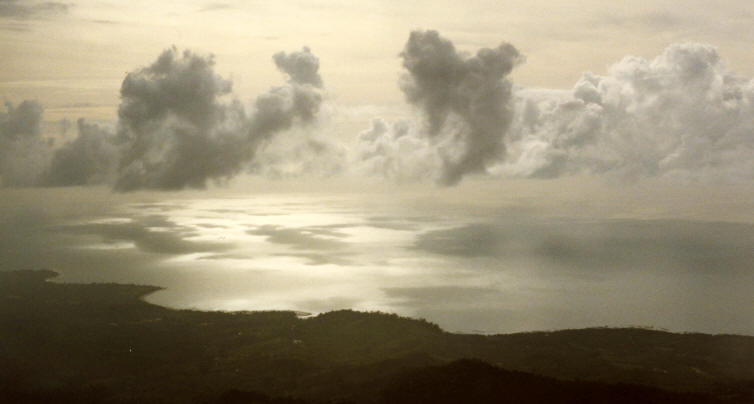 View from the Peak
Rafols Hotel, Puerto Princesa
I was lucky enough to be staying at the Rafols Hotel in Puerto Princesa for most of my stay. This was the only luxury hotel on the island with its own swimming pool, disco and frequent live music. Palawan was not yet a tourist spot and the hotel had so few guests that I doubt it made any money. Very often we were the only family staying there. The hotel had its own generator which meant we had constant power and air conditioning. The rest of the island had no electricity except Puerto Princesa, which only had electricity for a few hours each morning and evening - even then with constant "brown outs". Mr. Fillipe in the restaurant cooked us wonderful meals and I struck up a friendship with a lovely girl called Jo, a very bright student who was running the bar. She was half-Spanish and half-Filipina and spoke perfect English. She impressed me enormously by reading my copy of Tolkien's "Lord of the Rings" over a single weekend and commenting intelligently on its contents. She really enjoyed the book and repaid the favour by introducing me to Ayn Rand's "The Fountainhead".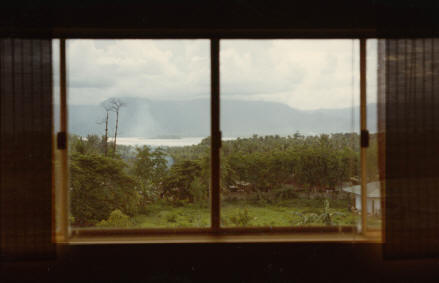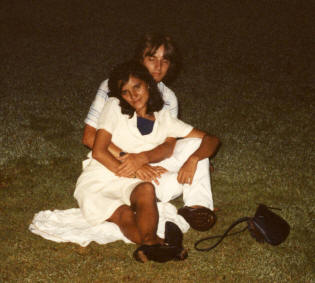 View from my bedroom at Rafols Hotel Jo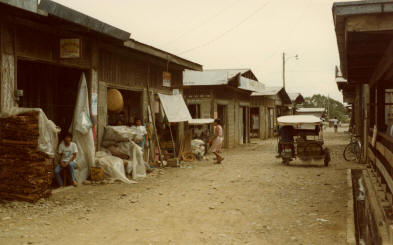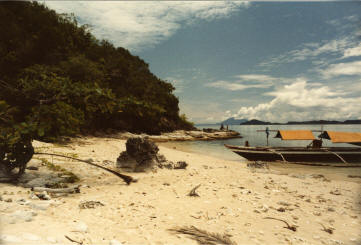 Local main street Local island