Treasury Building. Petra
The Dead Sea, Jordan, March 2018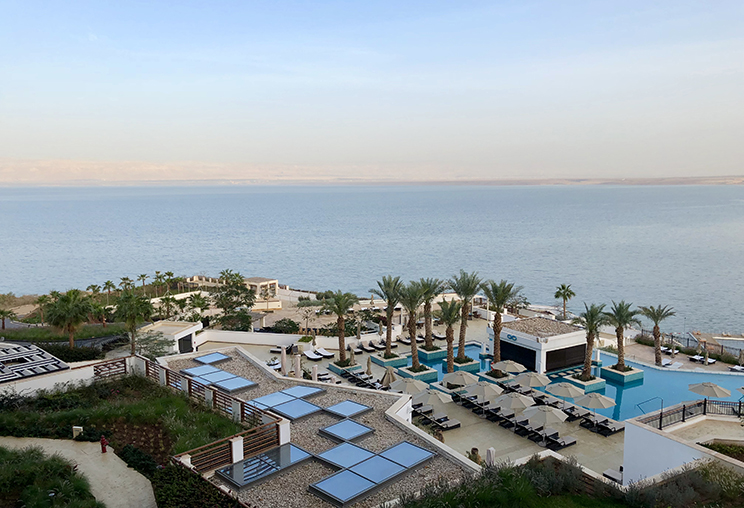 The Hilton Dead Sea Resort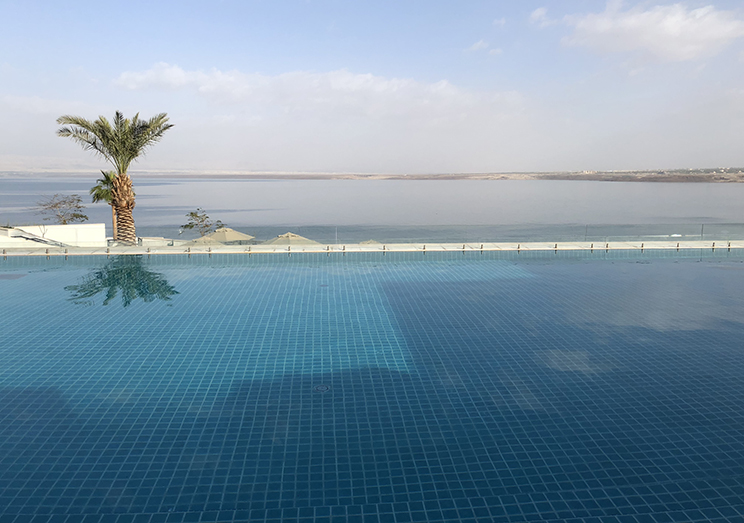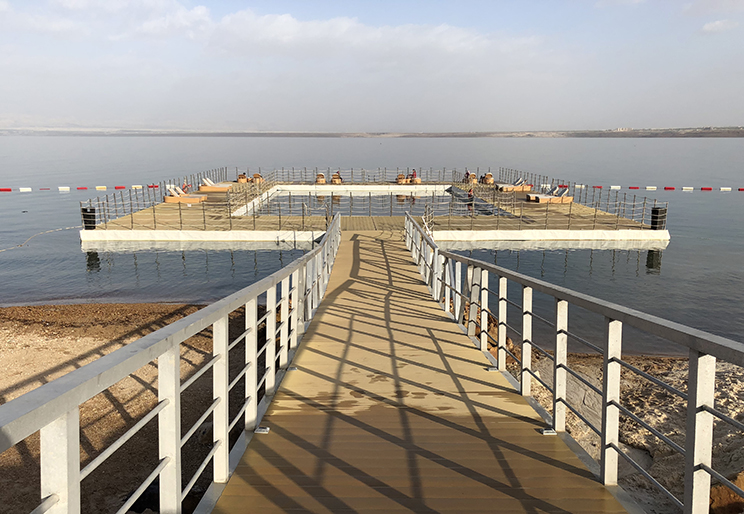 The Hilton Dead Sea Resort, Jordan. Israel in the background.
Jerash, Jordan (revisted), March 2018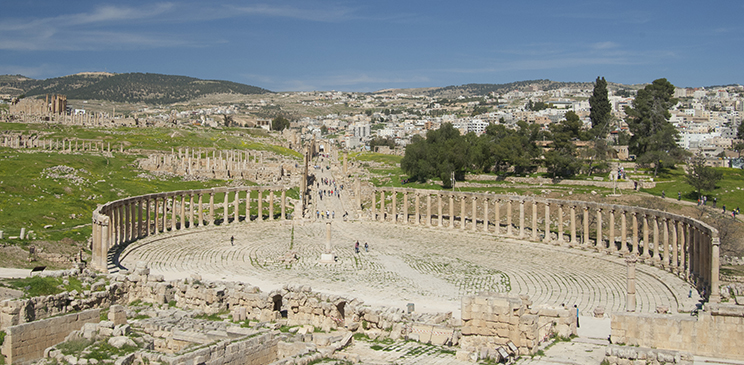 Jerash
We were fortunate enough to revisit Jerash again for the first time since 1996. Less than an hour from Amman and some of the best Roman ruins outside Ephesus.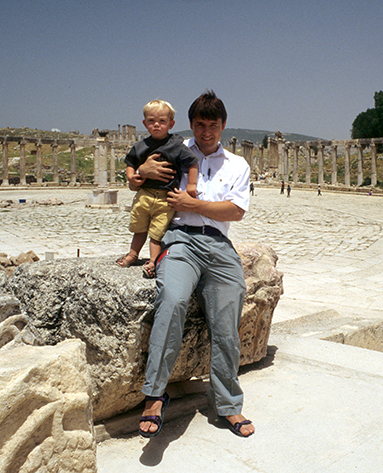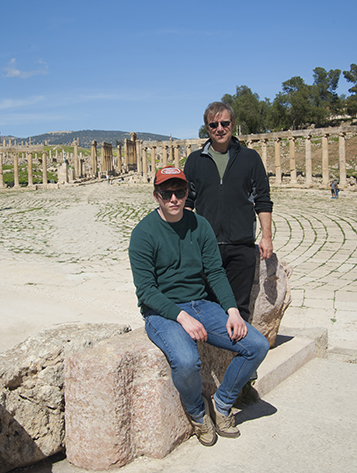 Edward and Me, 1996 Edward and Me, 2018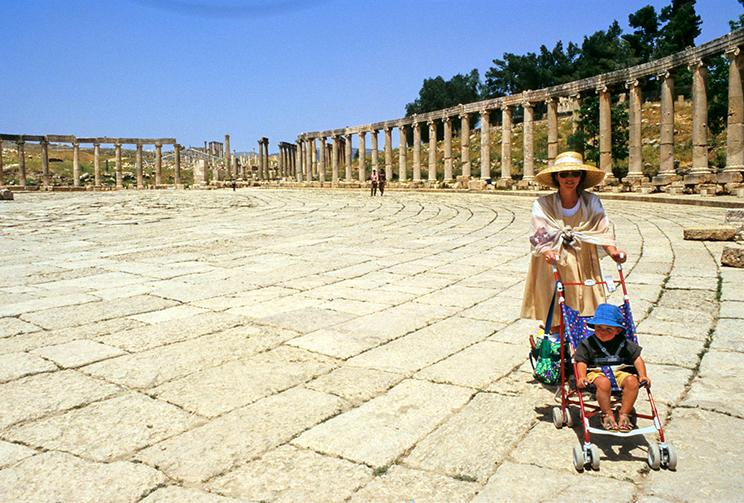 Clair and Edward 1996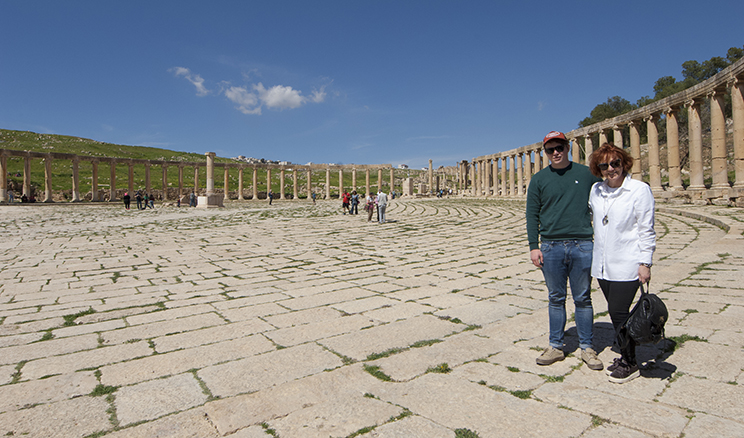 Clair and Edward 2018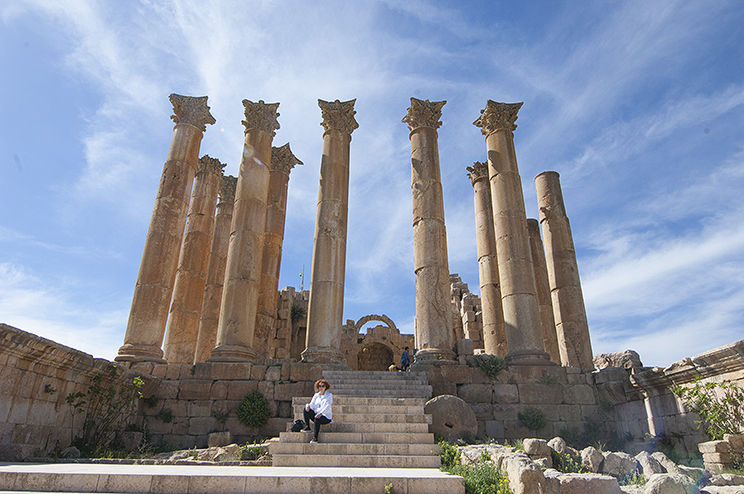 Jerash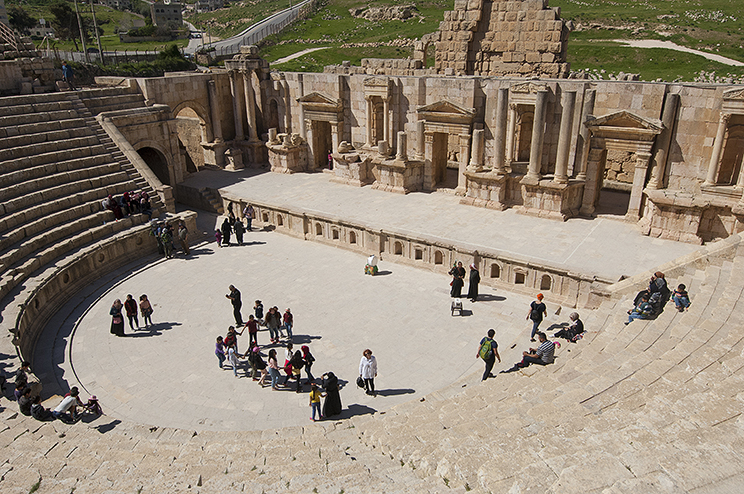 Jerash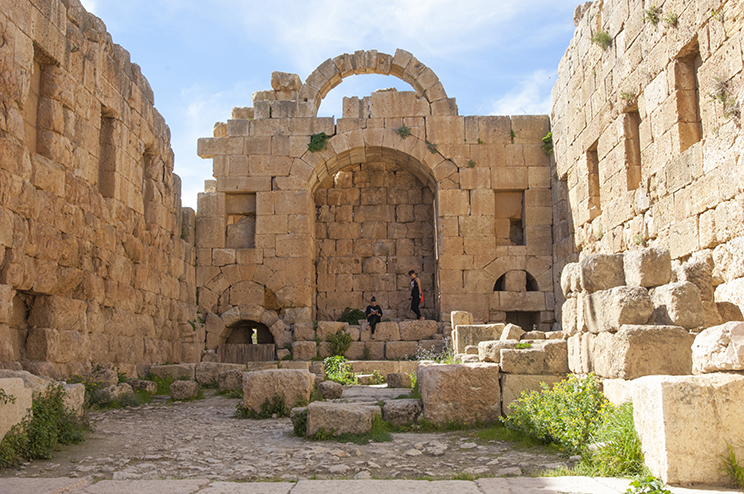 Jerash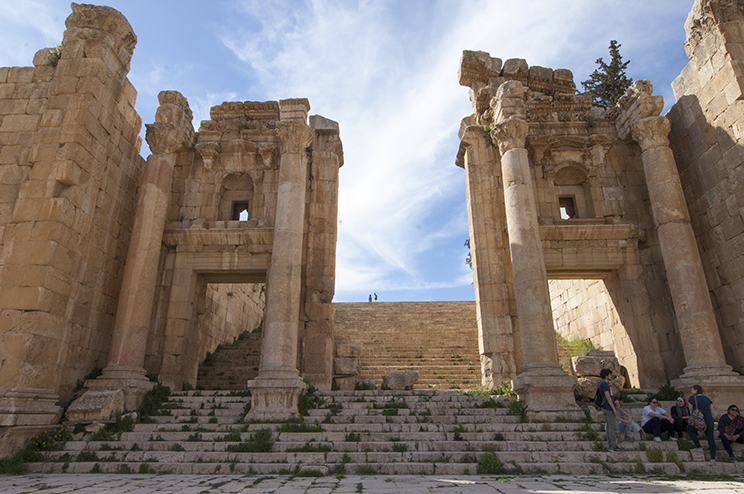 Jerash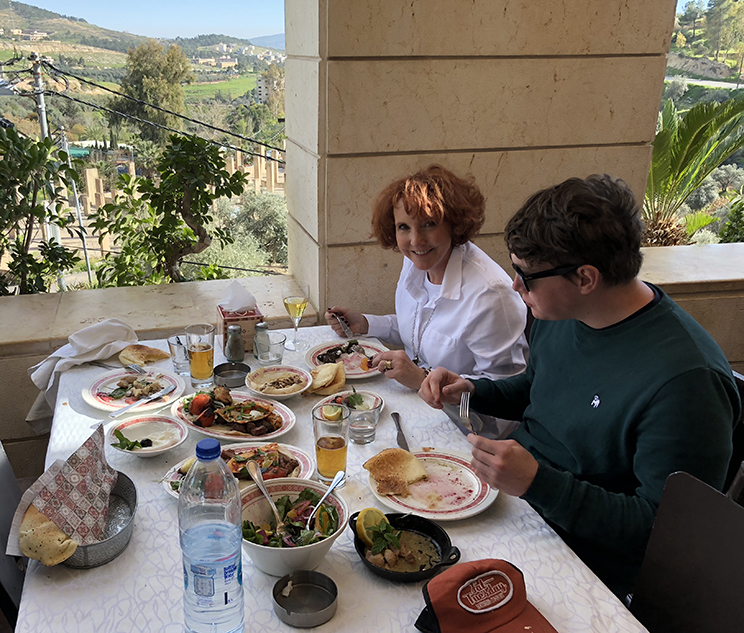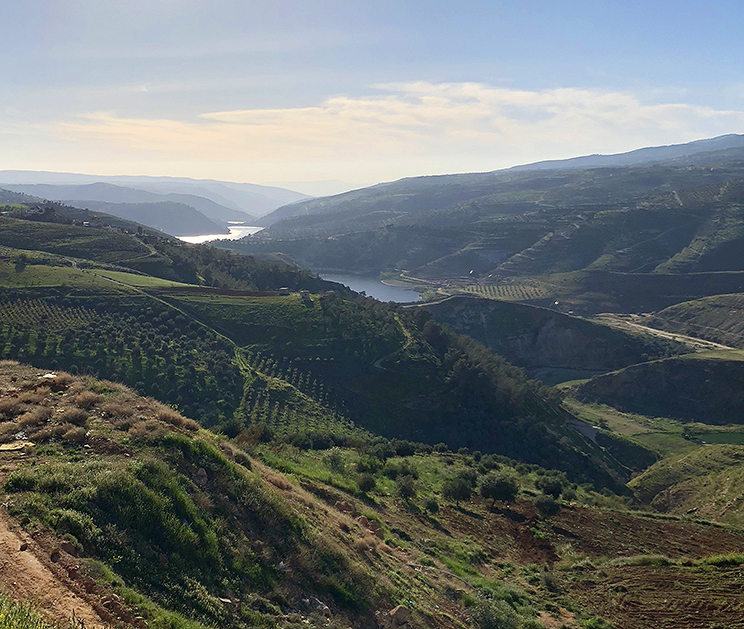 King Talal Dam, Jordan.
Madaba, Jordan, March 2018
"Go up unto....Mount Nebo, in Moab, across from Jericho, and view Canaan, the land I am giving the Israelites as their own possession. There on the mountain that you have climbed you will die." Deuteronomy 32:49-50
A short drive from Madaba is Mount Nebo, where many believe Moses was shown "the promised land" by God, shortly before he died. He is believed to be buried nearby, but his grave has not been found.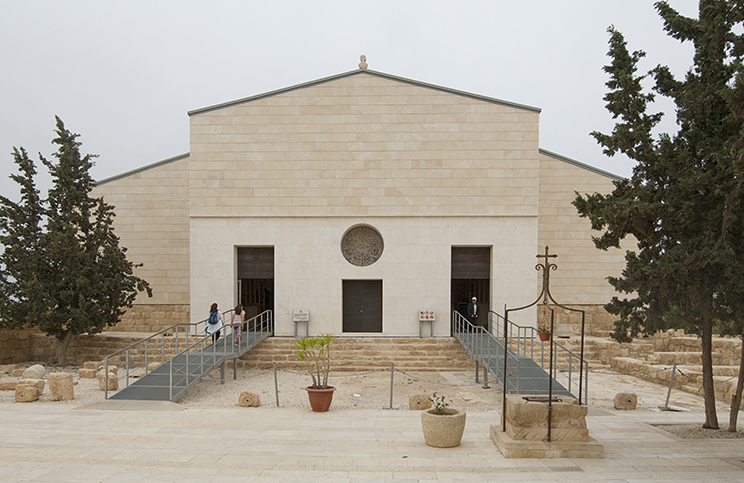 The Moses Memorial Church, Mount Nebo, Madaba.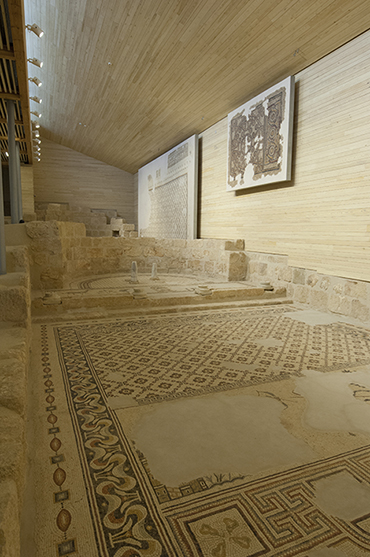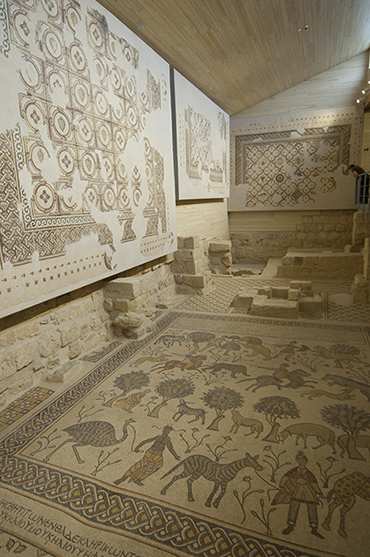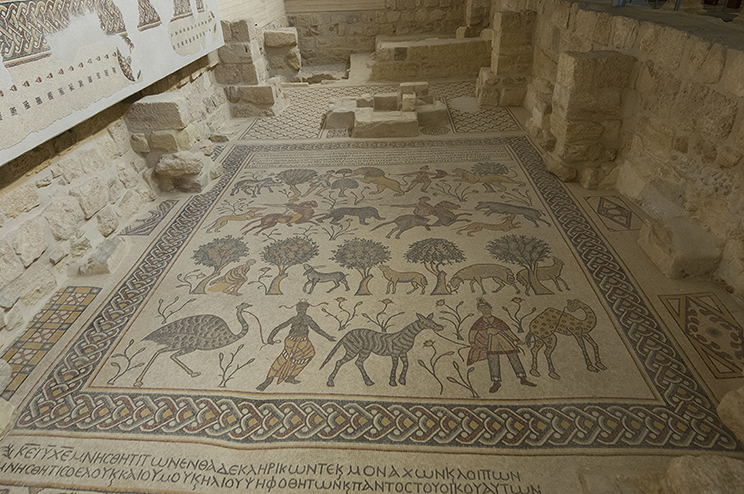 The Moses Memorial Church, Mount Nebo, Madaba, Jordan
The Moses Memorial Church (or basilica) is perched on top of Mount Nebo and houses mosaics from around AD 530. They are in amazing condition for their age. The main mosaic shows a hunting and herding scene depicting Zebu (a type of ox), lions, zebras, tigers, bears, an ostrich on a leash and a camel shaped giraffe.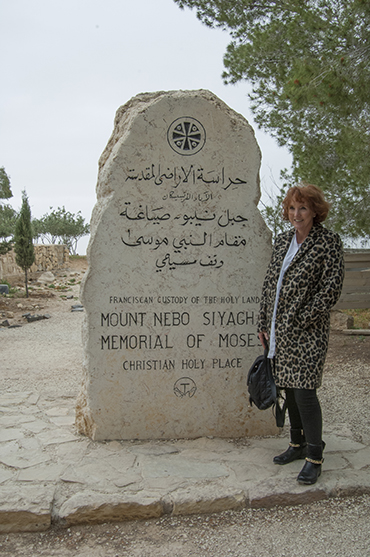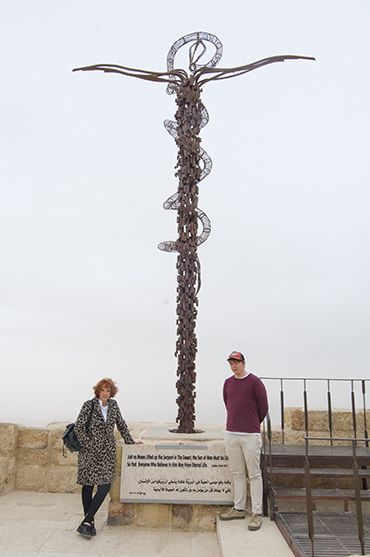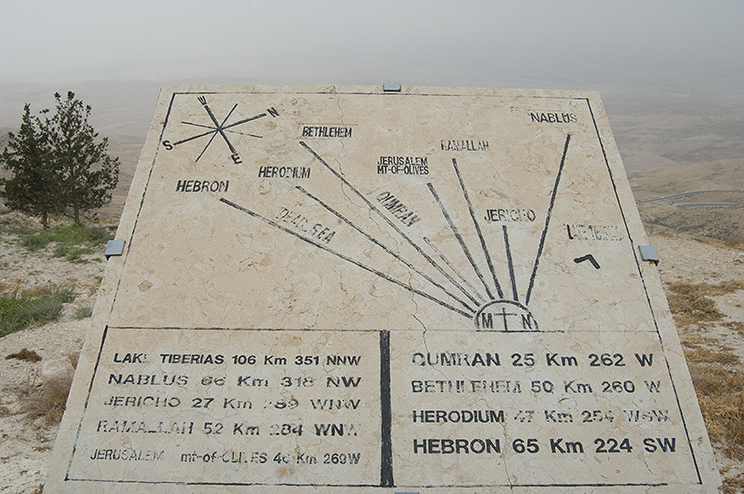 Mount Nebo, Madaba, Jordan
The view from the summit of Mount Nebo provides a panorama of the Holy Land and a more limited view of the River Jordan valley. The West Bank city of Jericho is usually visible from the summit, as is The Dead Sea and Jerusalem on a very clear day. Our view of the promised land was certainly moving and spectacular, but unfortunately too overcast to photograph well.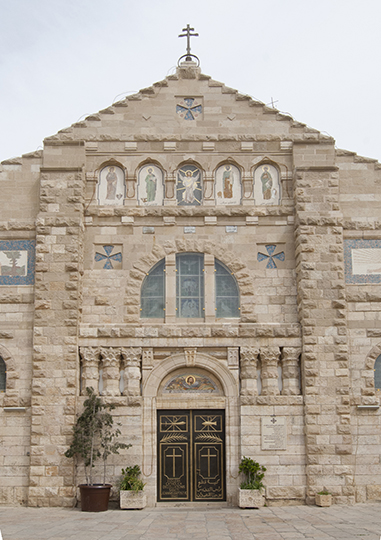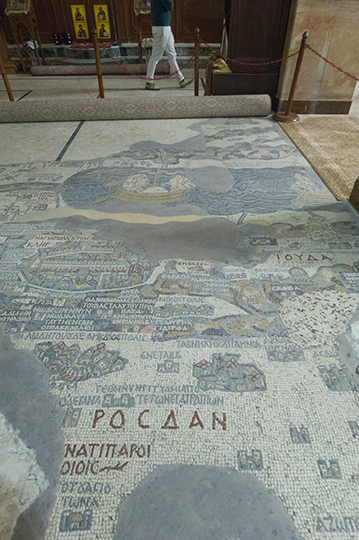 Shrine to John the Baptist, Madaba. AD 560 Mosaic, St. George's Church, Madaba.
The Shrine to John the Baptist in Madaba is built over an ancient vaulted basement that has become the Acropolis Museum and houses a functional 3,000 year old well from the Moabite era. There are also local photographs from the early 20th century and the belfry is accessible up steep stairs and ladders to give a panoramic view of Madaba.
St. George's Church in Madaba is a 19th Century Greek Orthodox Church built over the remnants of an old Byzantine Church. The builders discovered a wonderful mosaic map dating from AD 560 of the major biblical sites of the Middle East, from Egypt to Palestine.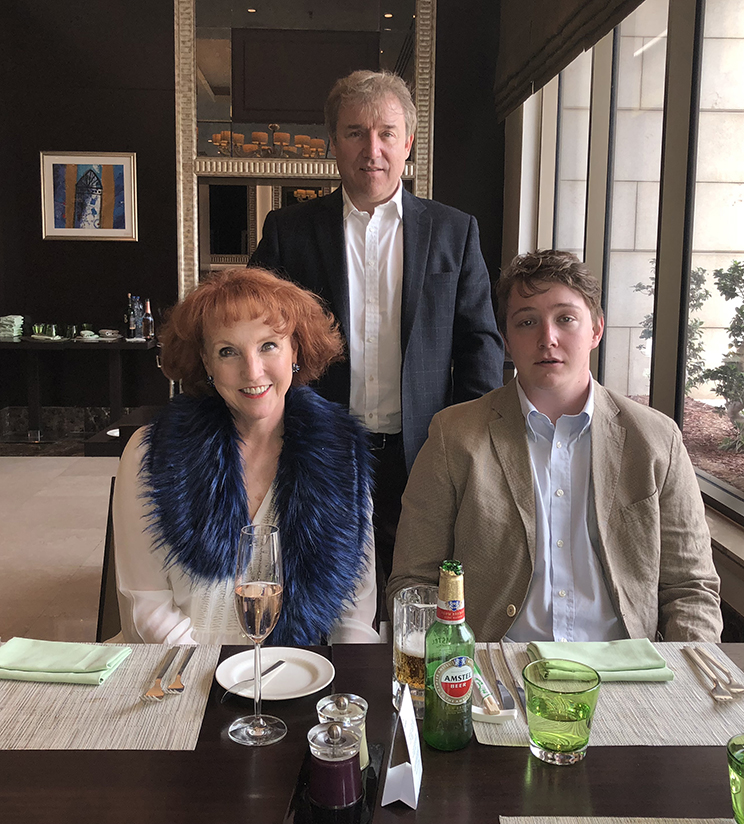 Another Birthday, Sheraton Hotel, Amman.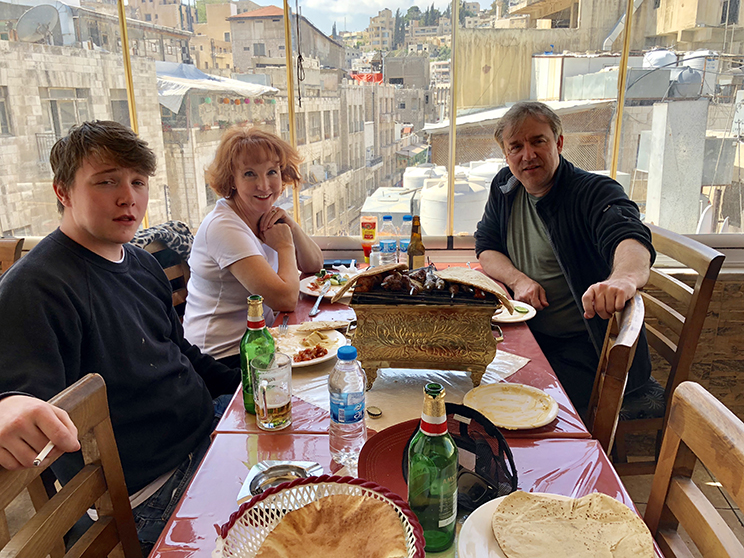 Algiers, May 2018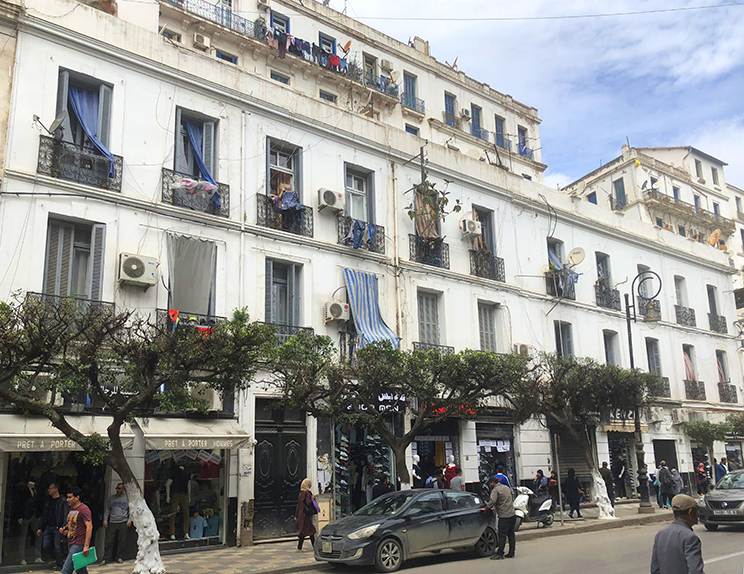 Algiers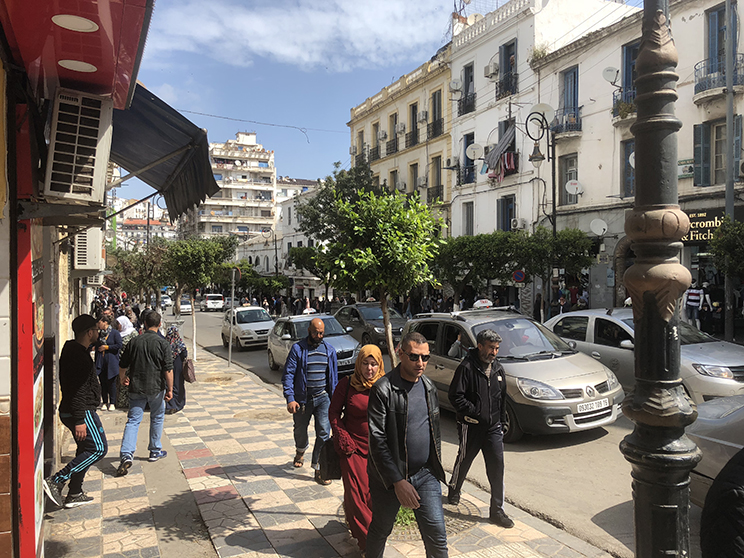 Algiers
My first trip to Algeria. I've managed the country before, but the security was too poor for an actual visit, so I met the managers in Casablanca. Security is much better and made an enjoyable business trip.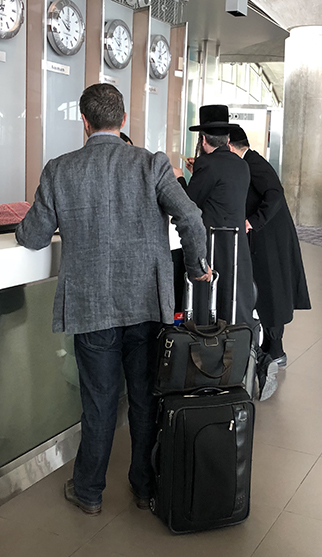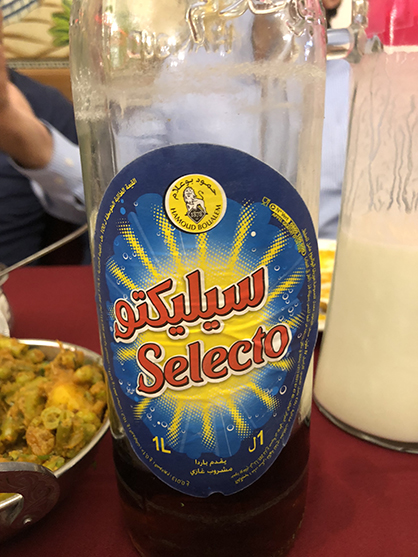 Amman Airport, Business Class Lounge Hamoud
Anybody notice anything unusual about the Royal Jordanian Business Class Lounge? A Jordanian stood next to me said it was "reassuring. We have to talk". The Algerians are very proud of their soft drink "Hamoud". It was very good, but turned out to be identical to an old English lled Dandelion and Burdock. It's interesting that we share this in common.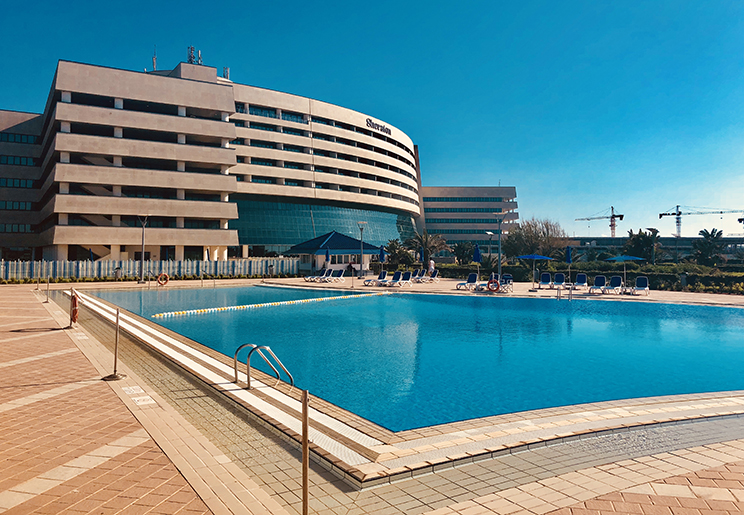 Sheraton Hotel, Algiers
The Sheraton Club de Pins Resort was very pleasant. The sun shone and the Mediterranean gleamed but it was apparently too cold for anybody to use the pool.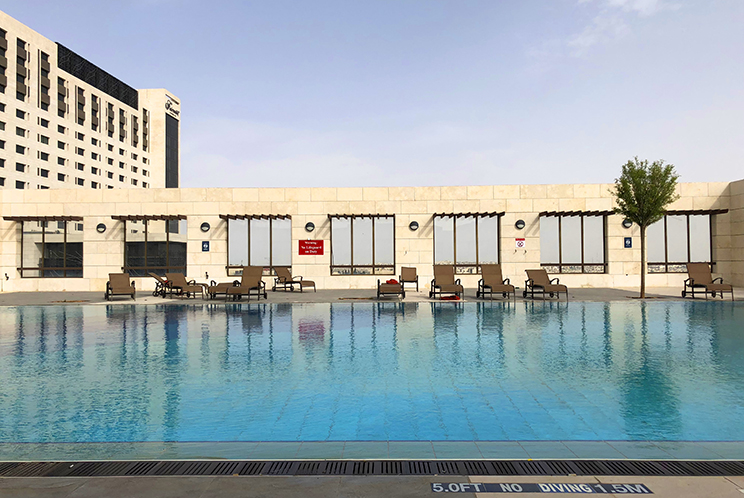 Sheraton Hotel, Amman
On retuning to Amman the pool at the Sheraton was equally cold and empty. Perfect water temperature for me but too chilly for anybody else it seems. We joined the health club and spa there, a short walk from our apartment.
Aqaba, May 2018
Ayla Golf Course, Aqaba
Movenpick Hotel, Aqaba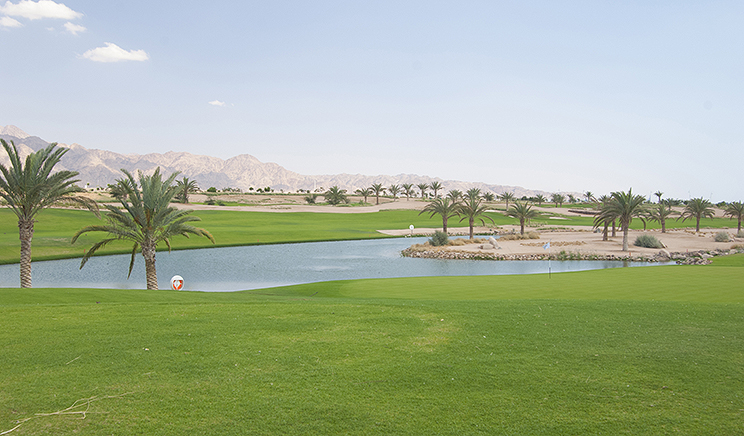 Ayla Golf Course, Aqaba
A short break in Aqaba to celebrate Clair's birthday. It gave her the chance to assess the only championship golf course it Jordan. It was as stunning as it was empty.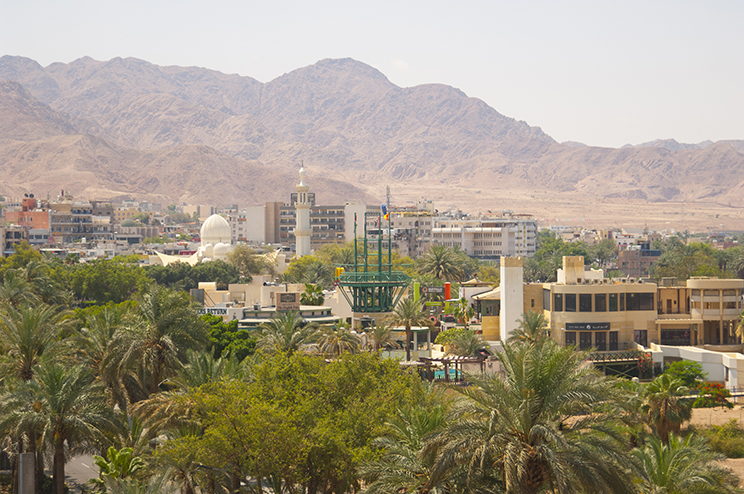 Aqaba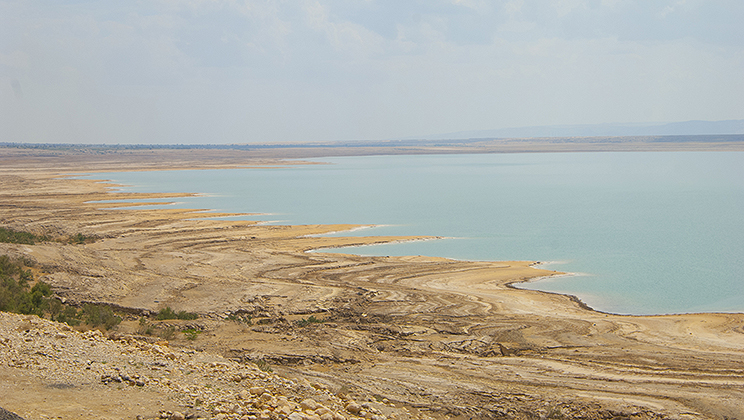 The (shrinking) Dead Sea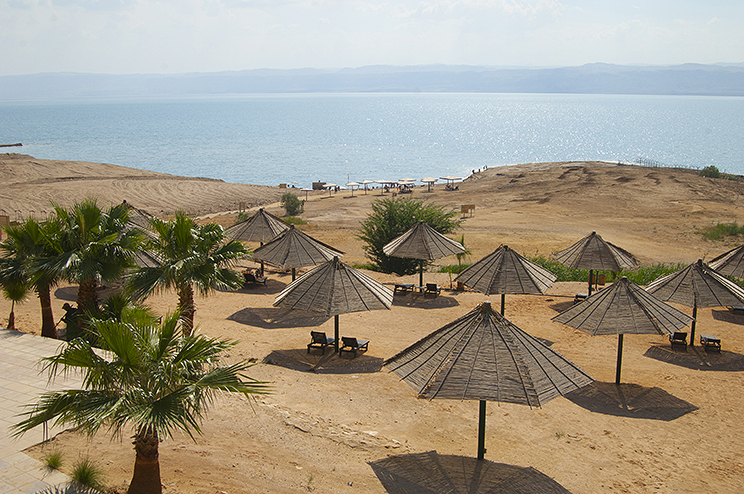 The Dead Sea Spa Hotel
The drive back to Amman along the Dead Sea shore line allowed us to stop for lunch at the Dead Sea Spa Hotel. For JD 20.000 they let you use their pool and beach facilities for the day.
Umm Qais, June 2018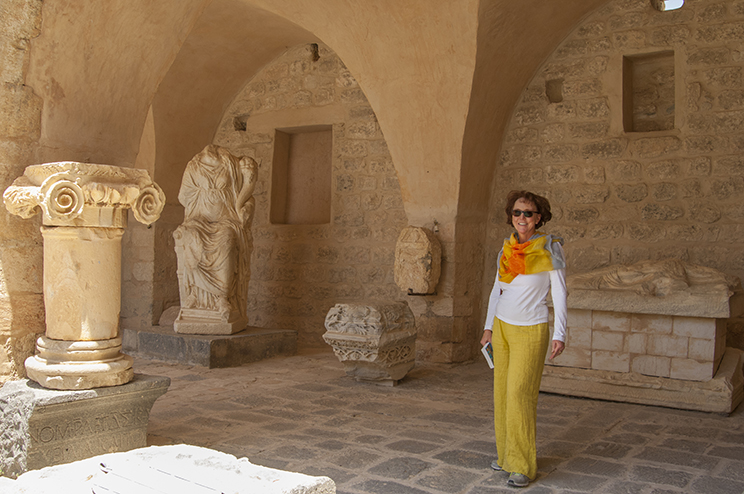 Umm Qais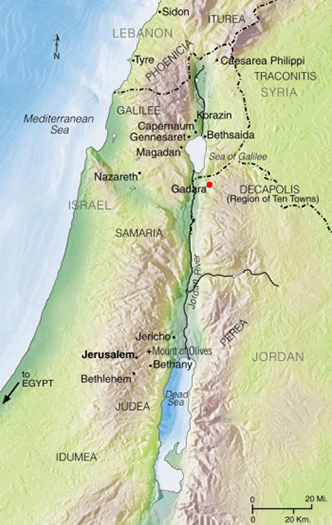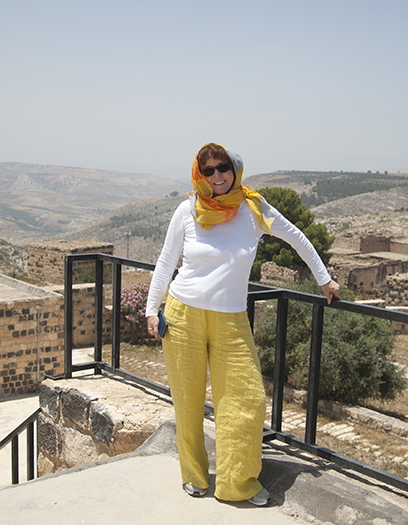 Umm Qais / Gadara
Umm Qais is located in north west Jordan, near the borders of Israel, Palestine and Syria. It contains the ruins of the Decapolis Roman city of Gadara. The ruins contain two amphitheatres (one of which sat 3,000 people), baths, fountains and a basilica. It is not nearly as impressive as Jerash but is compensated by fabulous views and is bordered by an abandoned Ottoman era village. It may also have been where the Bible claims that Jesus performed one of his miracles, transferring demons from two men into a herd of pigs.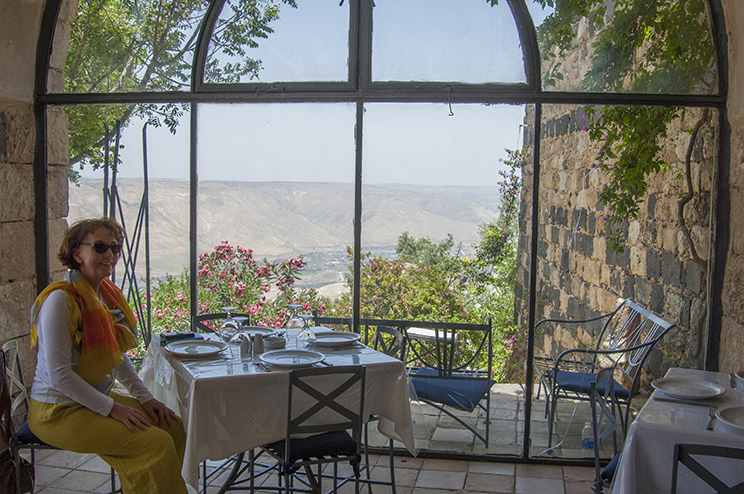 Umm Qais Resthouse
The Umm Qais Resthouse is found amongst the Roman ruins, in a converted Ottoman house and has fabulous views overlooking: The Sea of Galilee; Golan Heights; Jordan Valley; The Peaks of Lebanon; Israel; Palestine and Syria. It has an excellent reputation for serving high quality, local seasonal food, local wines and other alcoholic and soft drinks. We visited on a hot day during Ramadan and it was fully open and empty.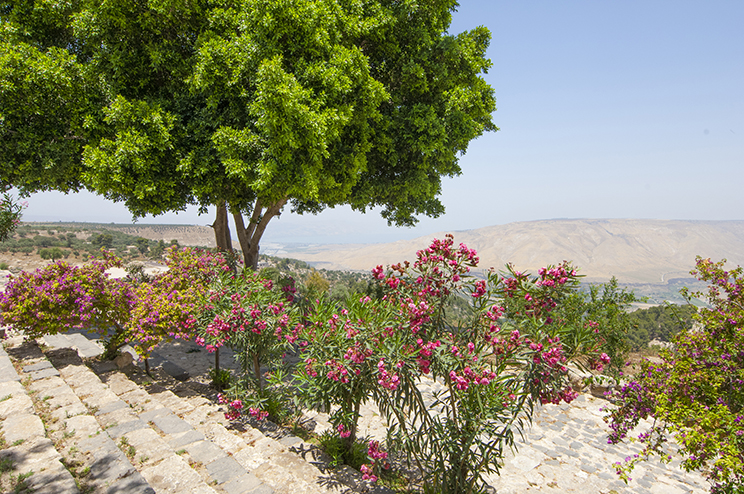 View from Umm Qais Resthouse - The Sea of Galilee can be seen under the tree in the middle of the image.
Petra, July 2018

Walk to Petra Site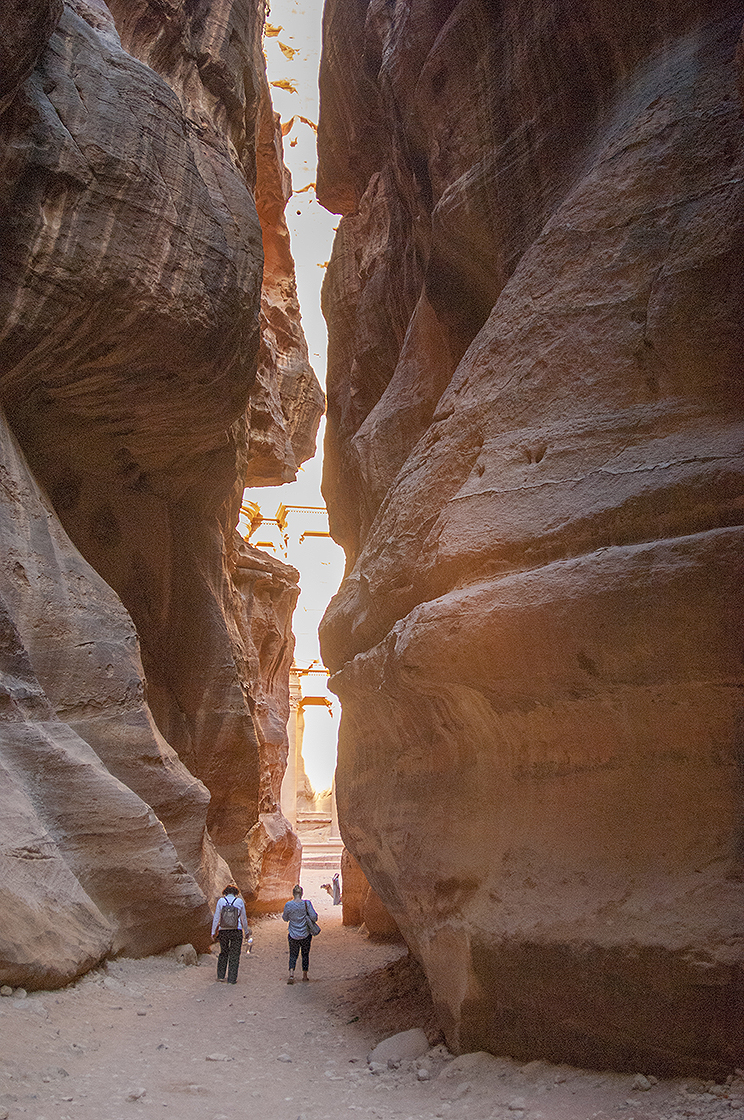 Entrance to Treasury Building, Petra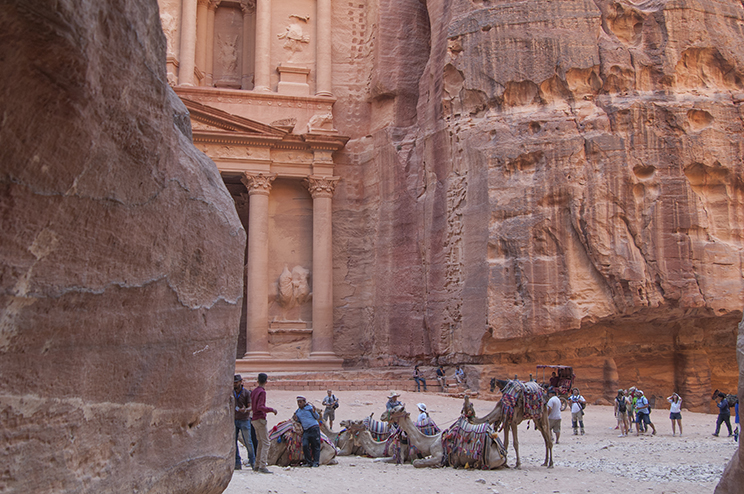 Petra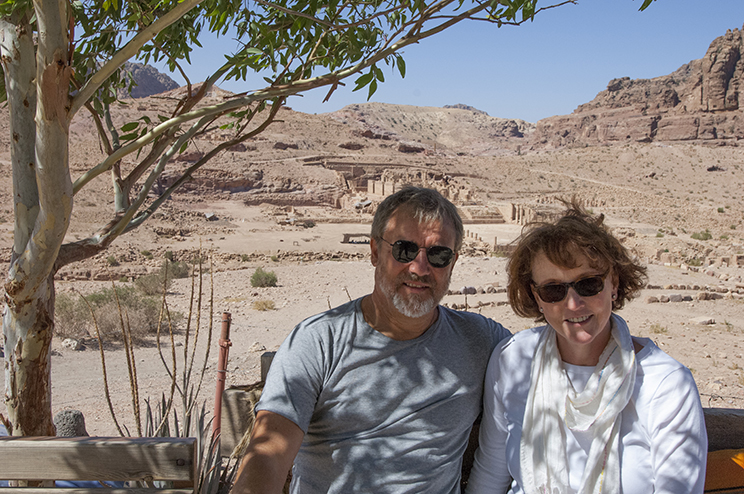 Petra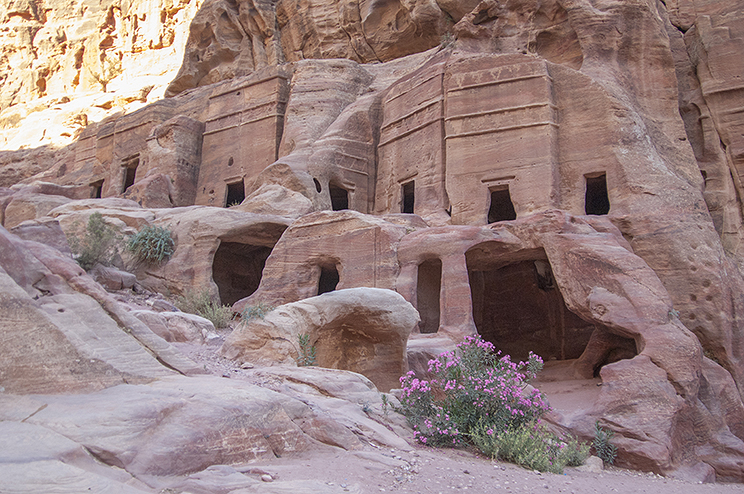 Petra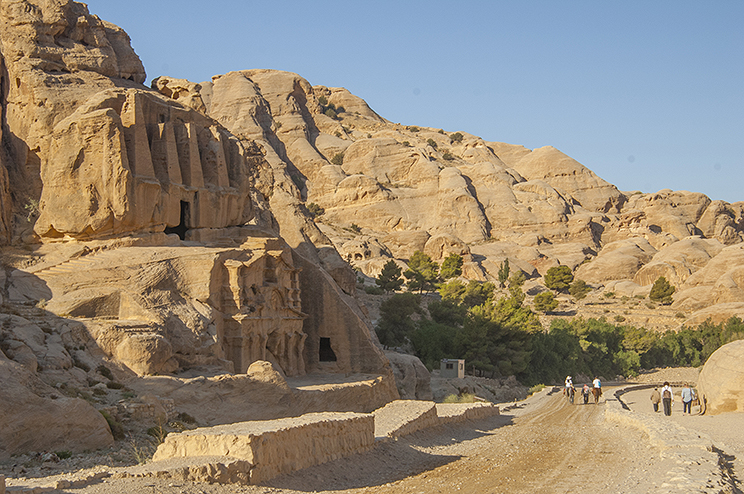 Petra
Wadi Rhum - July 2018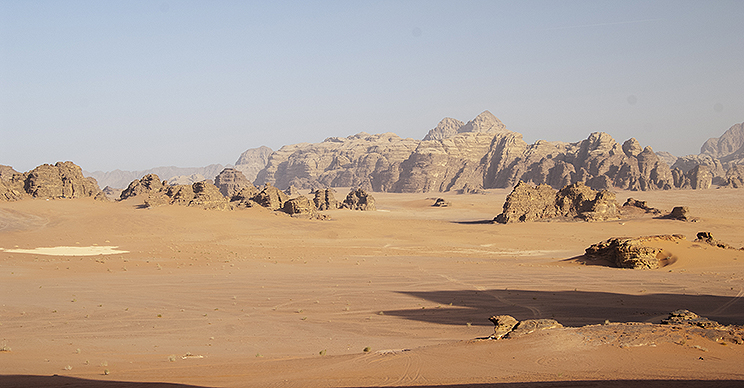 Wadi Rhum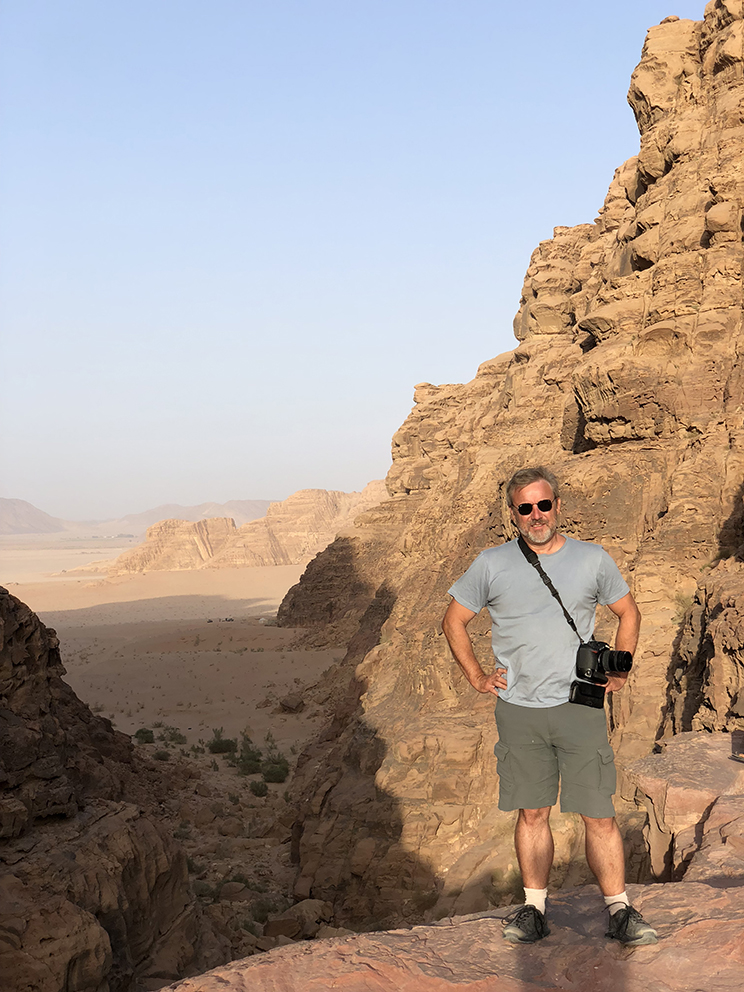 Wadi Rhum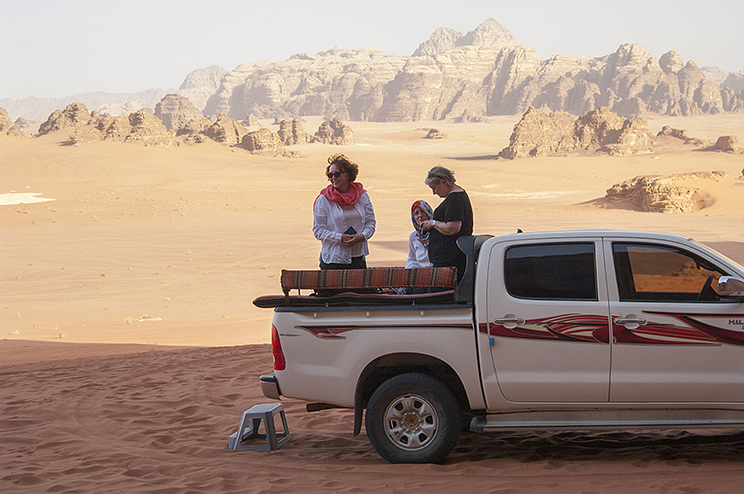 Wadi Rhum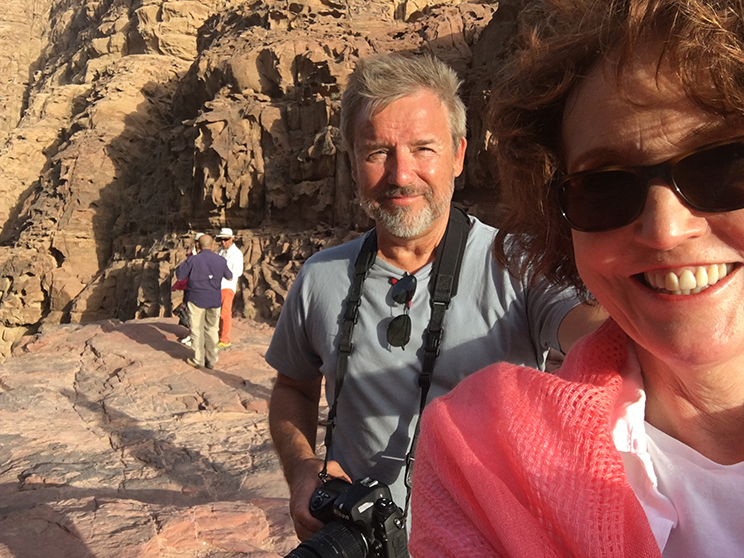 Wadi Rhum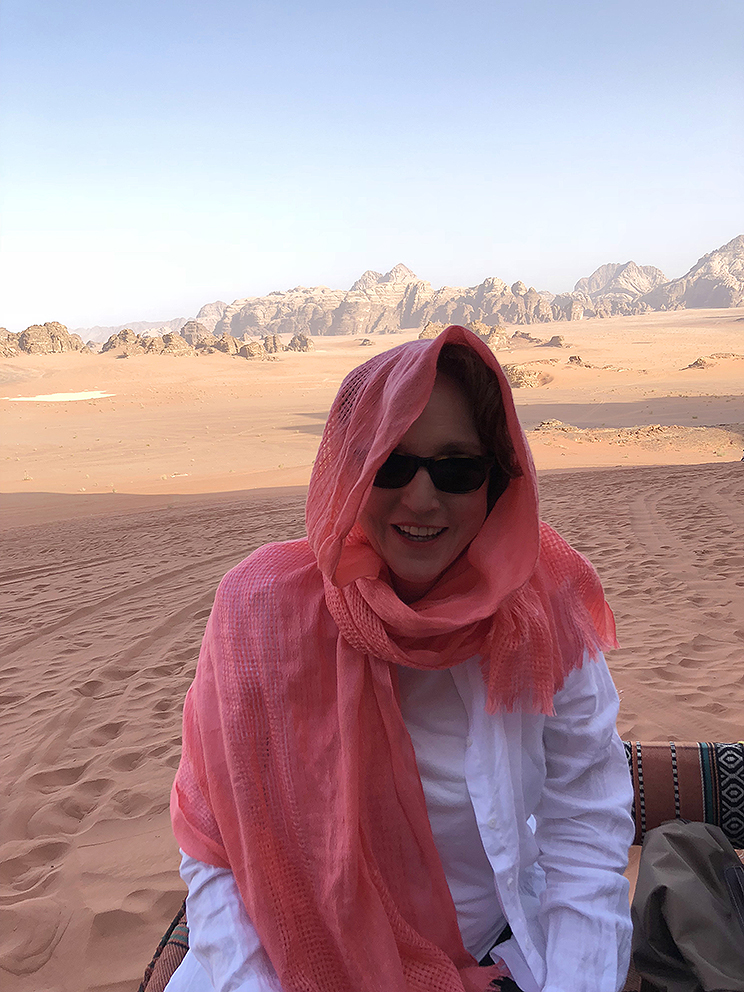 Wadi Rhum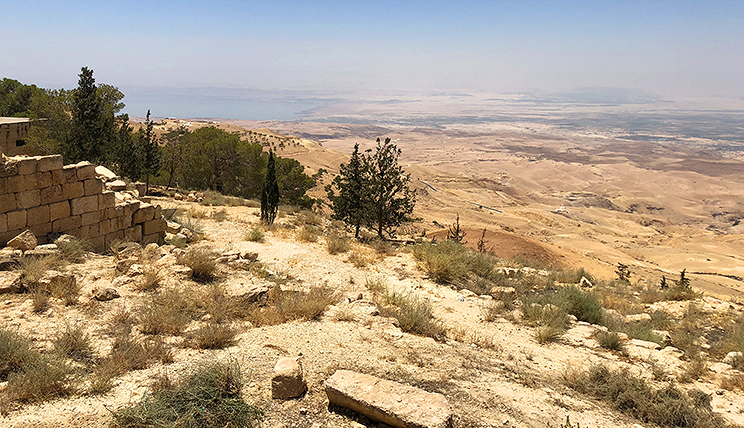 Road from Mount Nebo to Dead Sea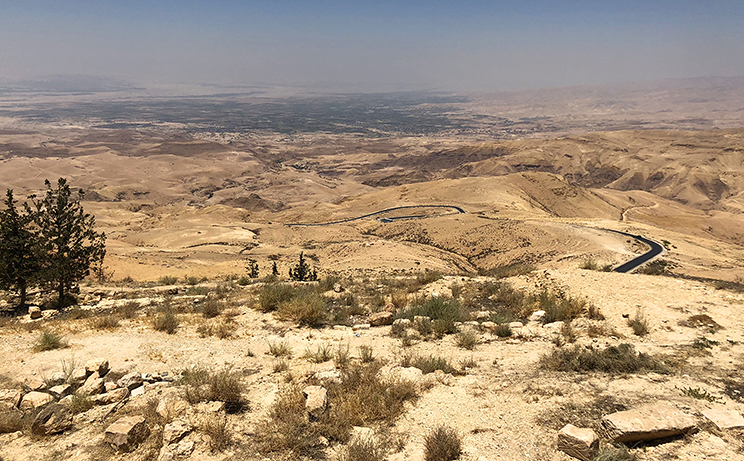 Road from Mount Nebo to Dead Sea
Dead Sea - July 2018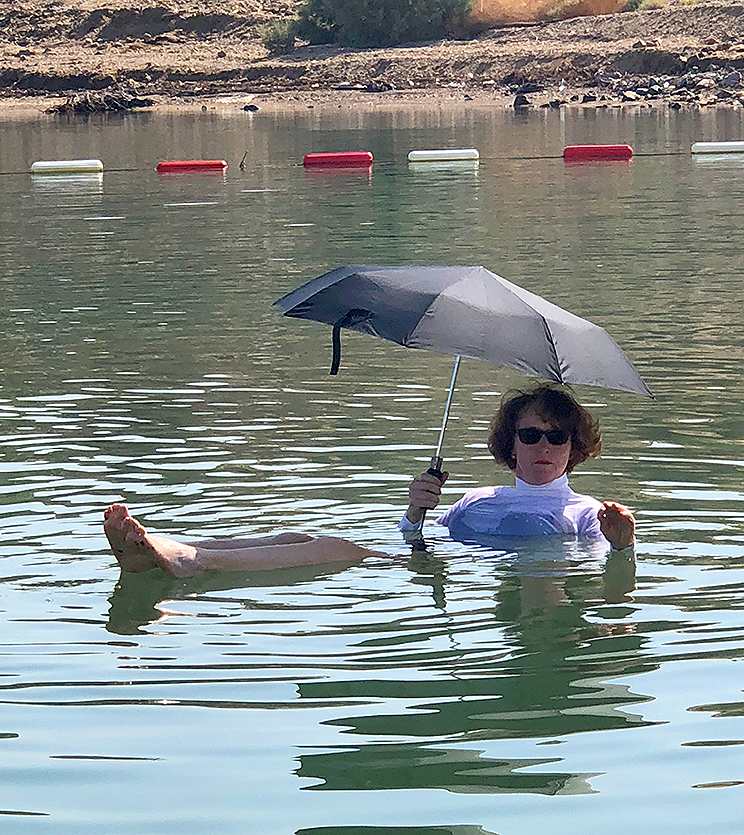 Clair in the Dead Sea
Jerash - July 2018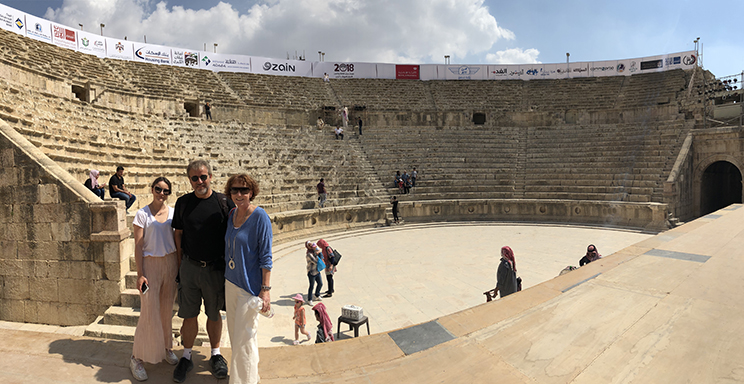 Jerash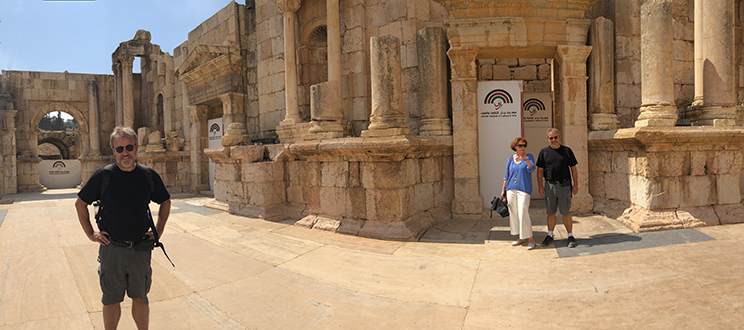 Jerash
Desert Castle Route, The Eastern Desert - July 2018
The Eastern Desert route in Jordan, towards the Iraqi border, is the harshest and least populated part of Jordan. Along this route are dotted early Islamic inns, hunting lodges (often referred to as "Desert Castles") and bath houses. For those wishing to explore this part of Jordan there is a dedicated route, which can easily be completed in a day.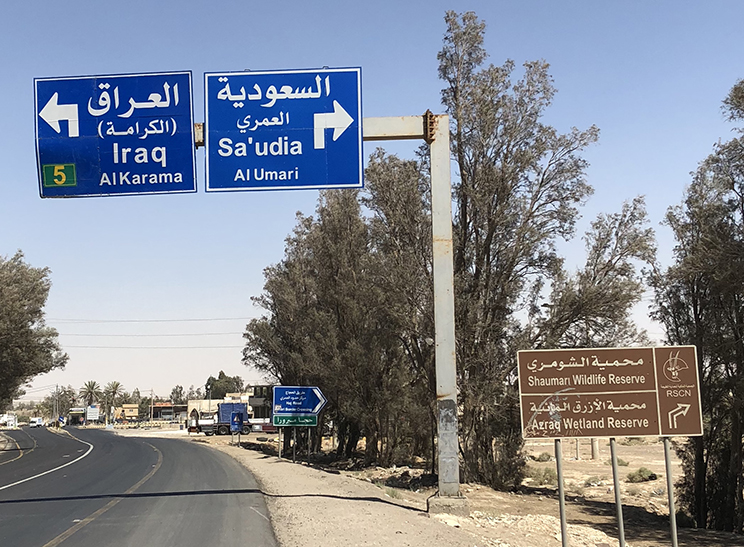 Desert Forts Route
Qasr Mushatta (Arabic for "winter palace") dates from 740 AD but was never finished. It is just beyond the north runway of Amman's main airport.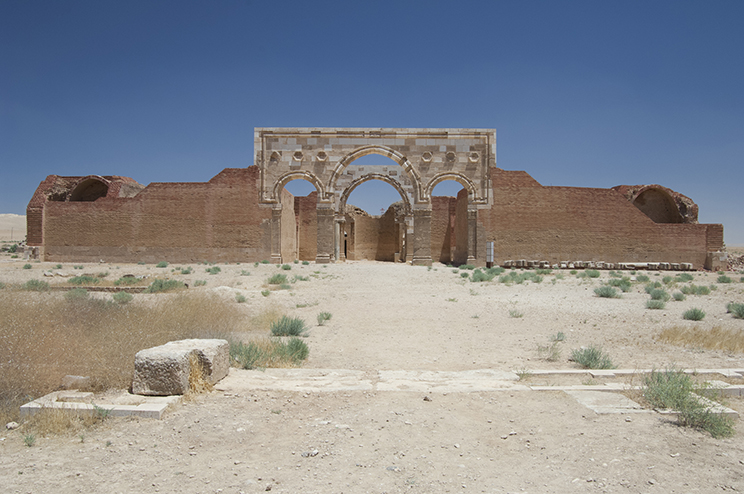 Qasr Mushatta
Qasr Hraneh looks like a desert castle but is probably a type of conference centre or possibly an Inn. It probably dates from the late 7th century.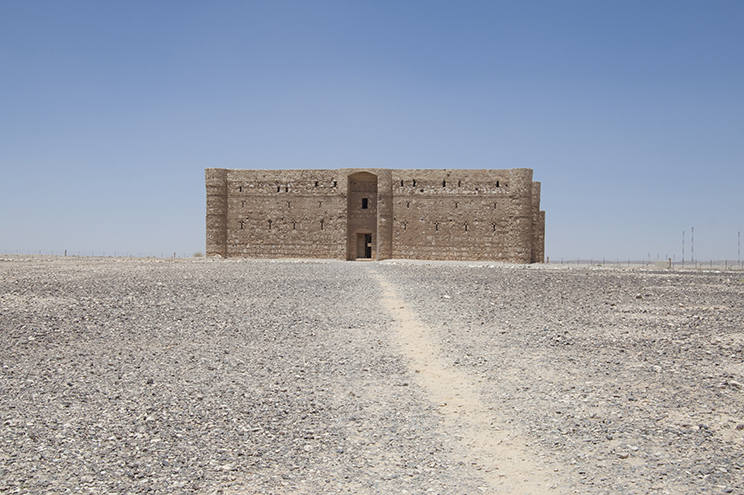 Qasr Hraneh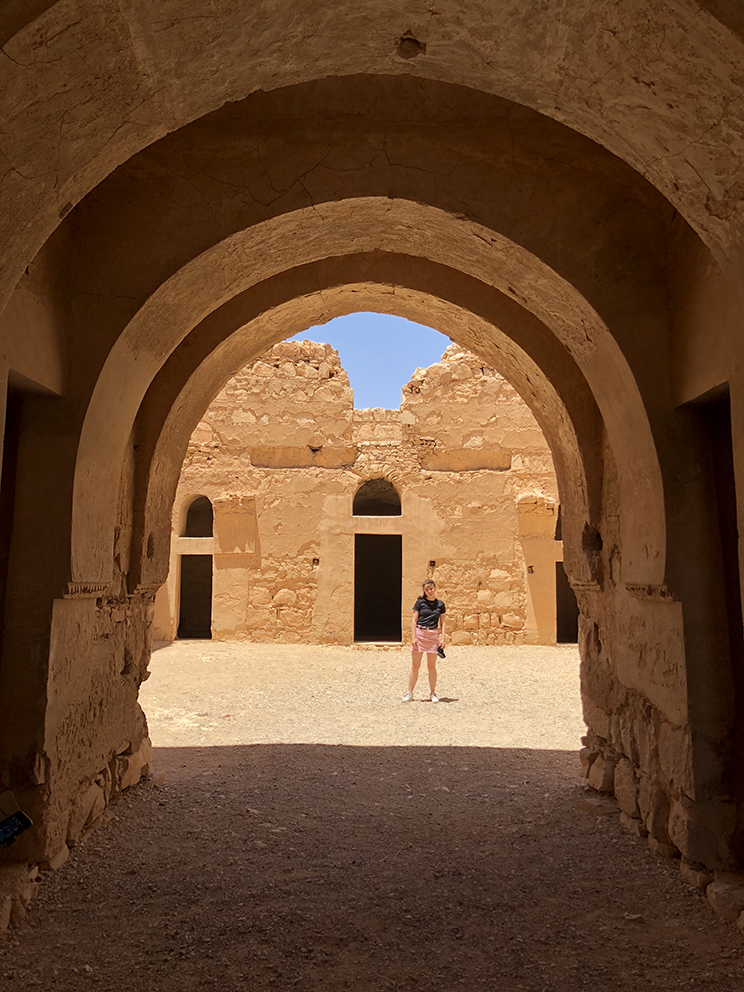 Qasr Hraneh
Qasr Amra was the highlight of the route. It is small and easy to miss from the road. It is a small bath house that made use of water in the nearby wadi. What has put it on UNESCO's World Heritage Site list are the frescos covering the entire interior. These include depictions naked men and women, which when built in early to mid 8th century, may have been considered unislamic. The first Islamic edict ordered the destruction of images and in some Islamic countries this remains the case. It is surprising that they have survived.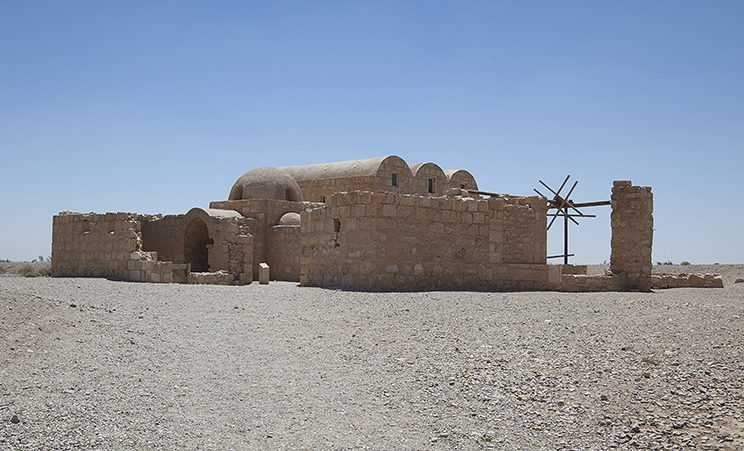 Qasr Amra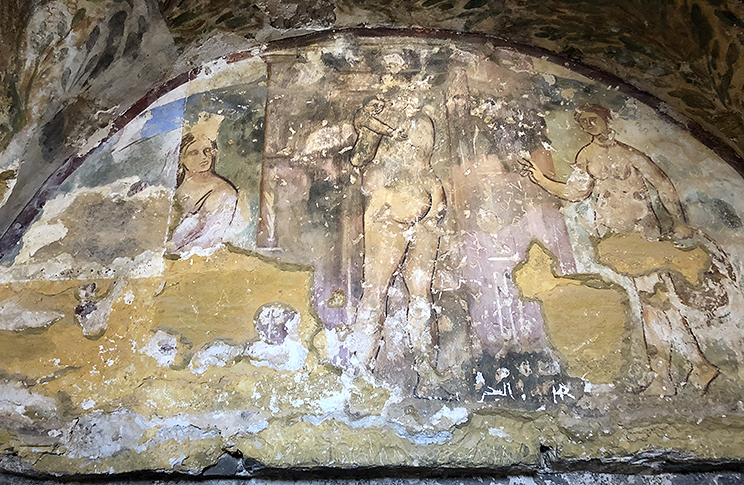 Qasr Amra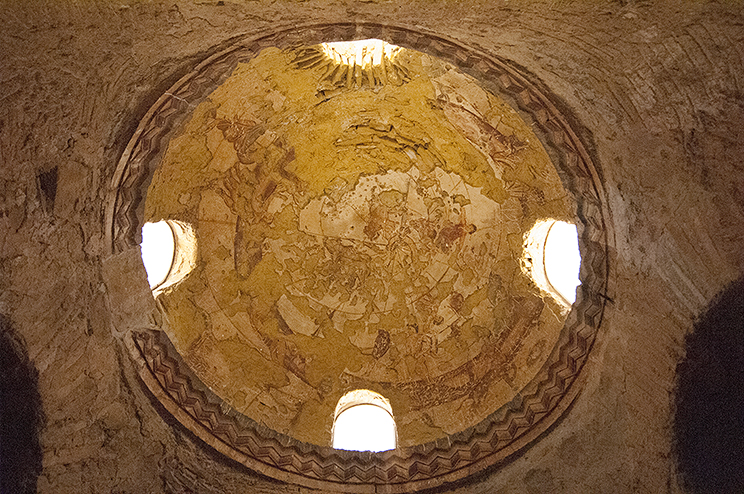 Qasr Amra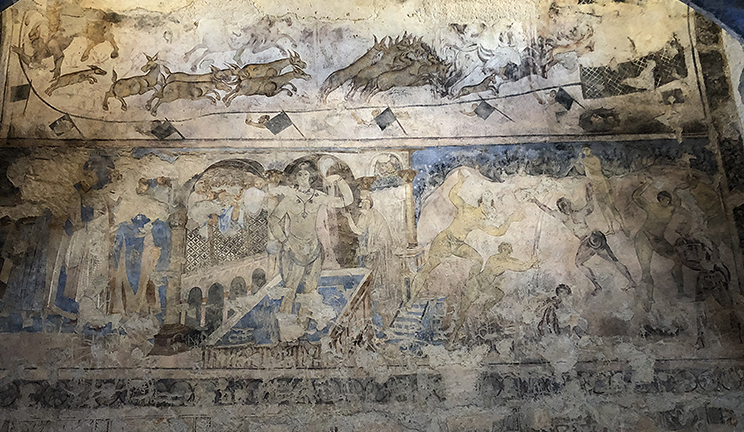 Qasr Amra
Qasr Azraq is the "Blue Fort" where T.E. Lawrence based his operations during the 1917-18 Arab Revolt.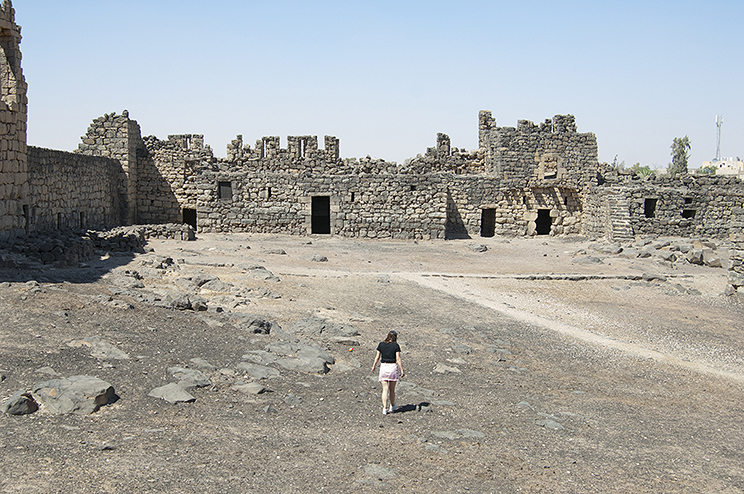 Qasr Azraq
Qasr Hallabat is perhaps the most elaborate fort on the route but there is little left. A Roman fort was built here in the 2nd century but much of what left was built in the 8th century.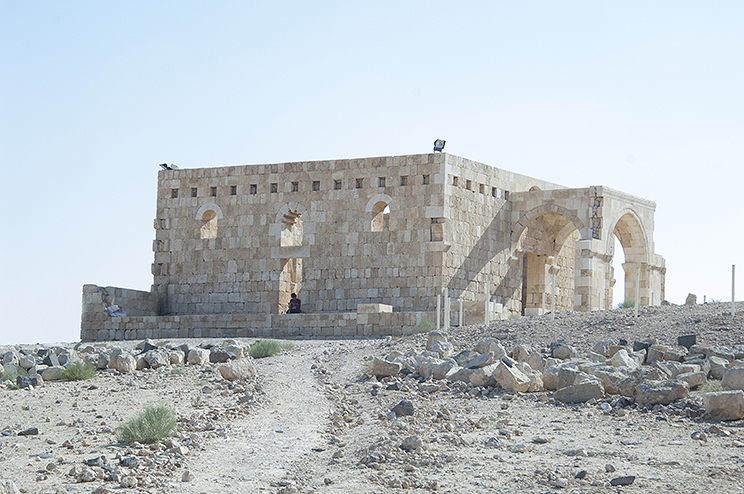 Qasr Hallabat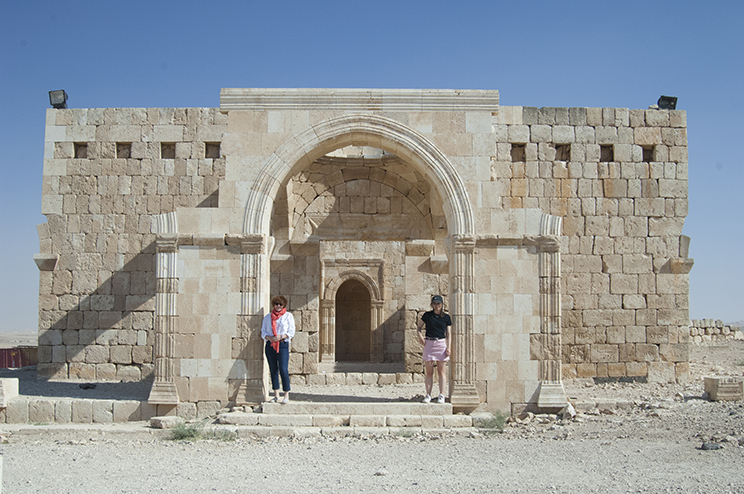 Qasr Hallabat
Dibeen - August 2018
Dibeen is just an hour north of Amman (near Jerash). It is variously described as an area of beautiful, cool, fragrant hills, covered with Allepo Pine and evergreen oak trees. It is home to 17 endangered species, including the Persian Squirrel.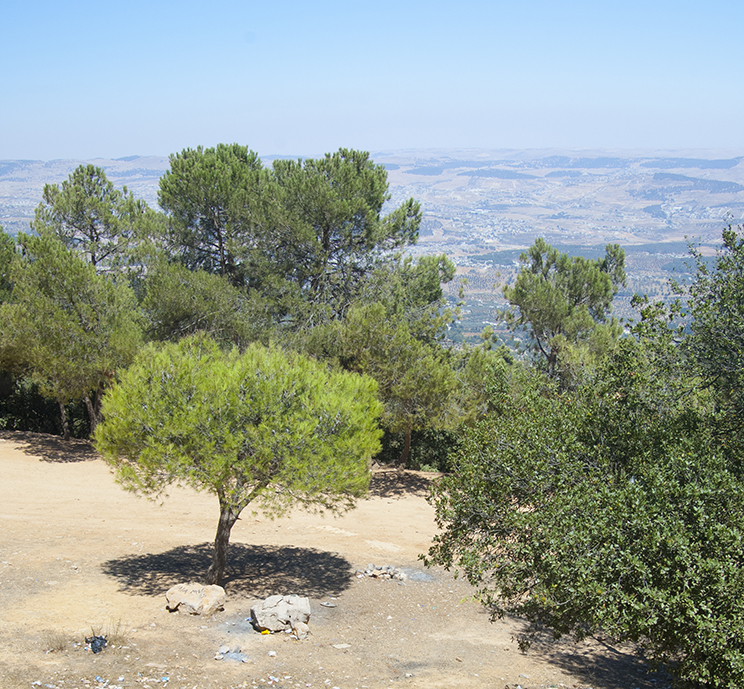 Dibeen - a good picnic site in the shade of a small tree with panoramic views...........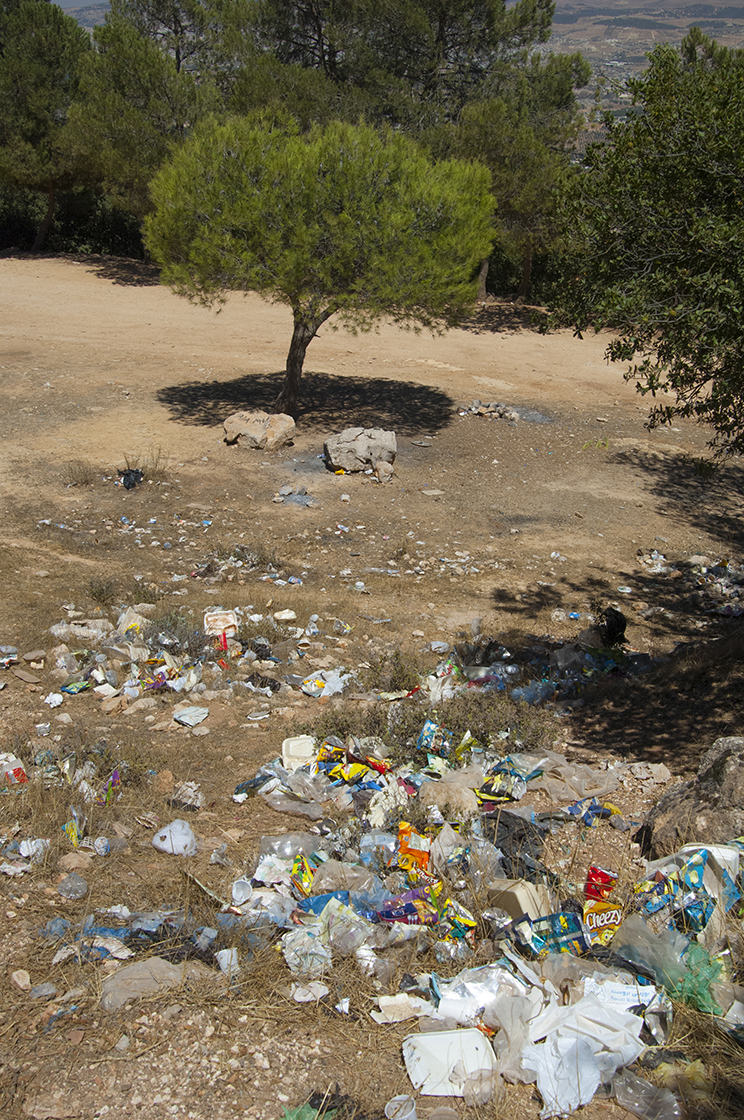 .....although the walk there is disappointing....
I was here in 1975 on holiday from Baghdad with my sisters and parents, when we stayed in an mountain lodge. I was also here for a pleasant picnic in 1996, when on holiday from Jeddah with Clair and Edward. On neither occasion can I remember being knee deep in litter.

Other areas of Dibeen were litter free
Littering is a problem in many areas around Dibeen, but Edward and I were able to find pleasant litter free spots to enjoy the cool mountain weather and beautiful scenery. It is worth further exploration for nature walks and picnics. But please take your litter home.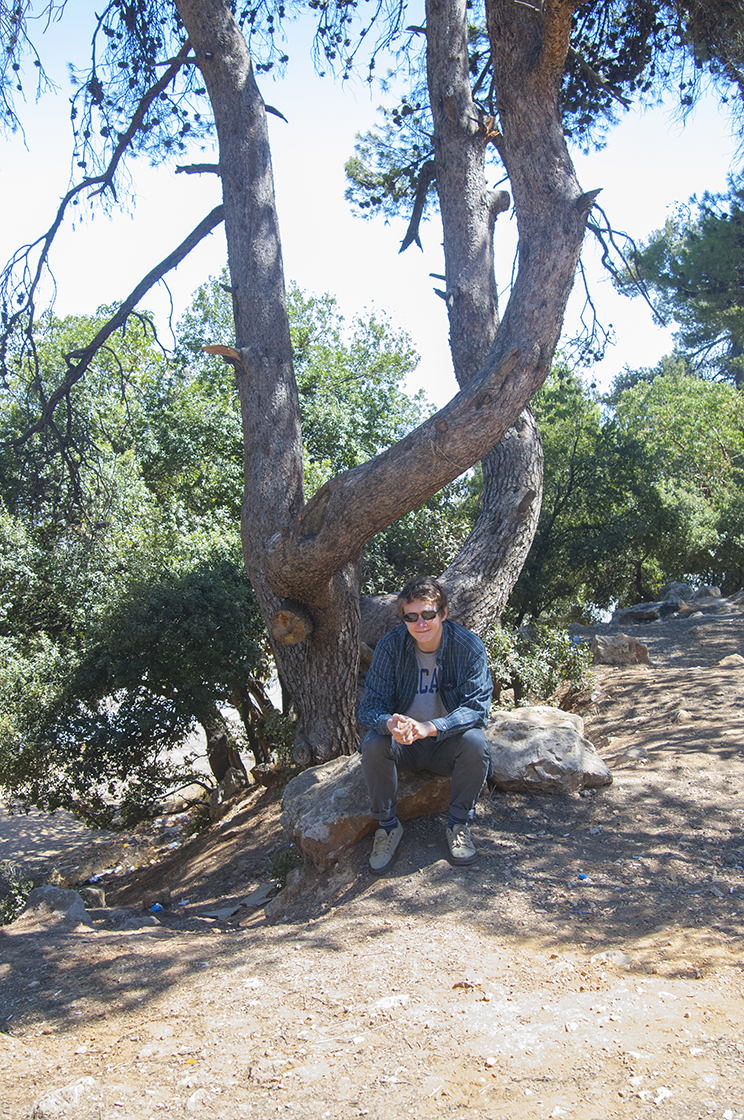 Dibeen
Ajloun Castle - August 2018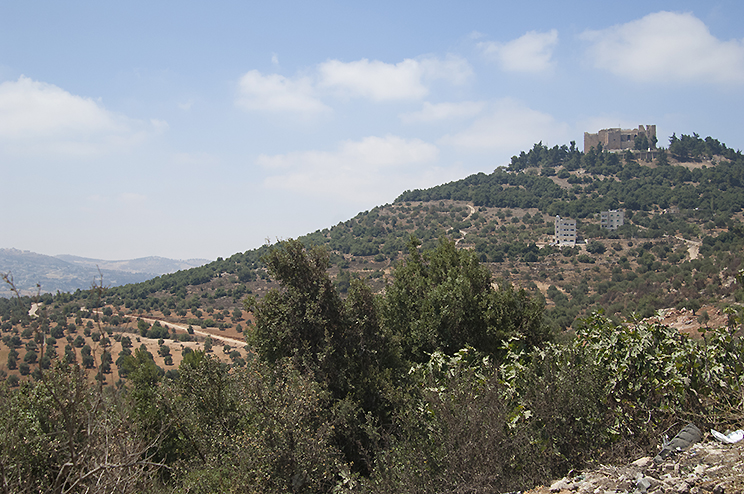 Ajloun Castle
Ajloun Castle was built in 1183 on the command of Salahuddin, as part of a major military tactic to prevent the expansion of Crusader territory in the region. The castle protected communication routes between Damascus and the south of Jordan and secured the safety of pilgrims and trade travelling to the Hijaz. It also protected nearby iron mines, necessary for making weapons. A new tower and gate was added after which it suffered damage from Mongol attacks. Restorations were done between 1259 and 1277.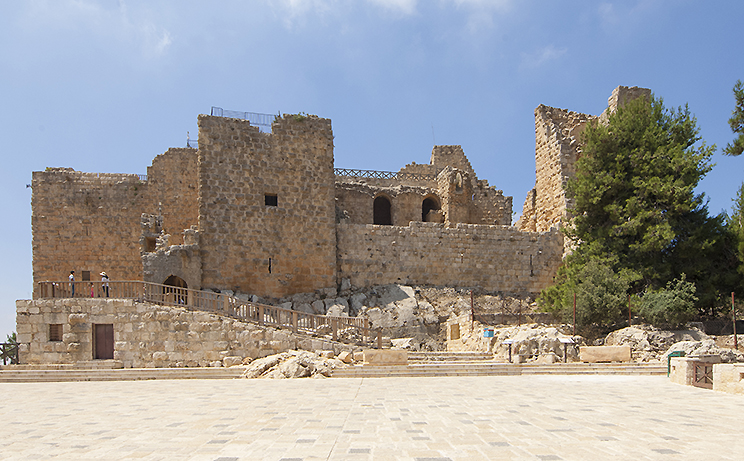 Ajloun Castle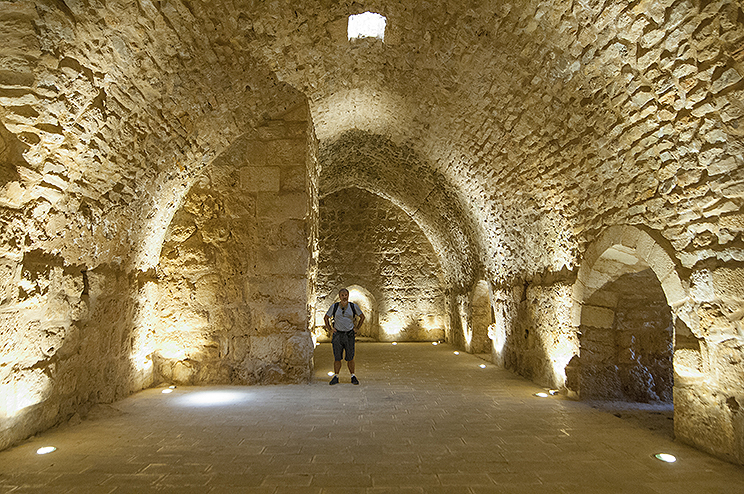 Ajloun Castle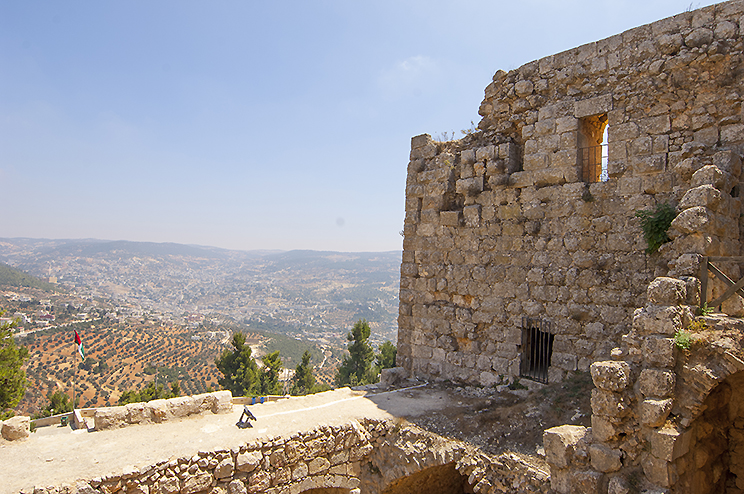 Ajloun Castle
It sits at over 3,000 feet elevation, so is cool even in summer and looks down over a green and cultivated valley. It is near Jerash and Dibeen and a number of good restaurants, making the three a good day trip.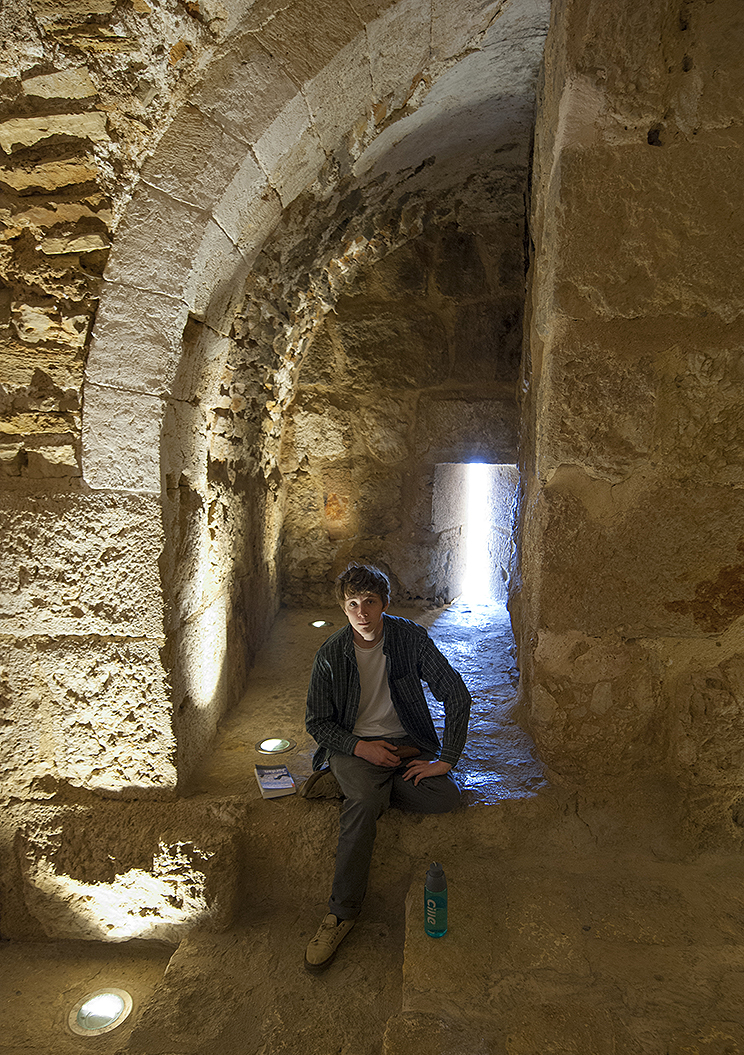 Edward at Ajloun Castle
Amman - August 2018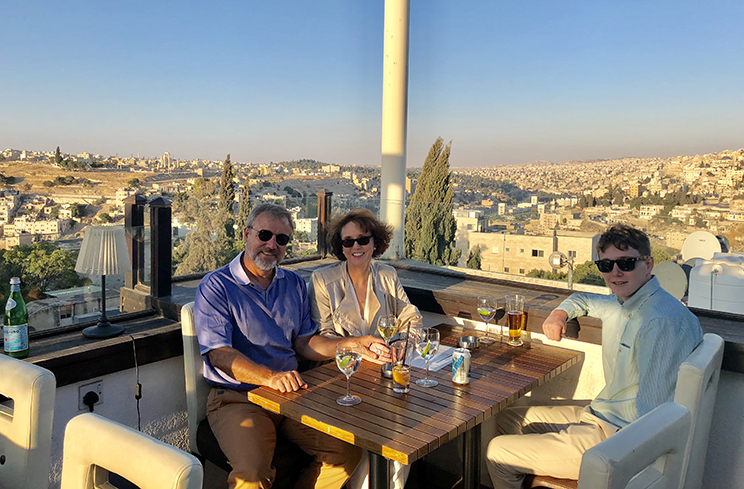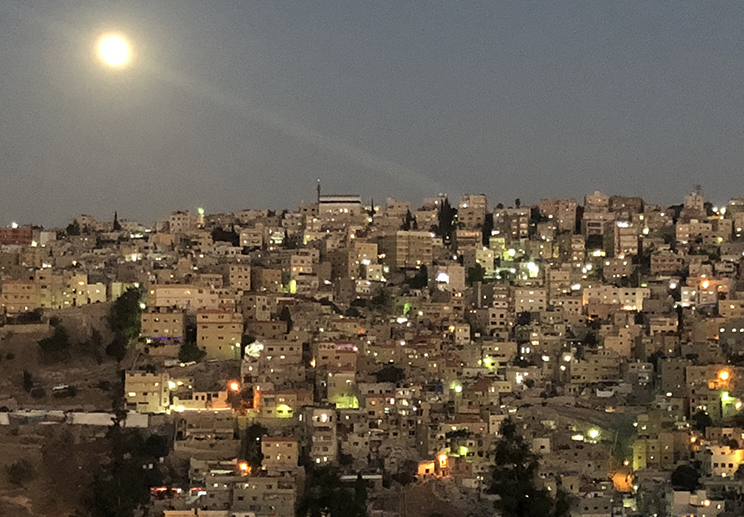 View from Cantaloupe Gastro Pub, Amman
Jordan, November 2018
Sister 3/4 visited us in Jordan with her family.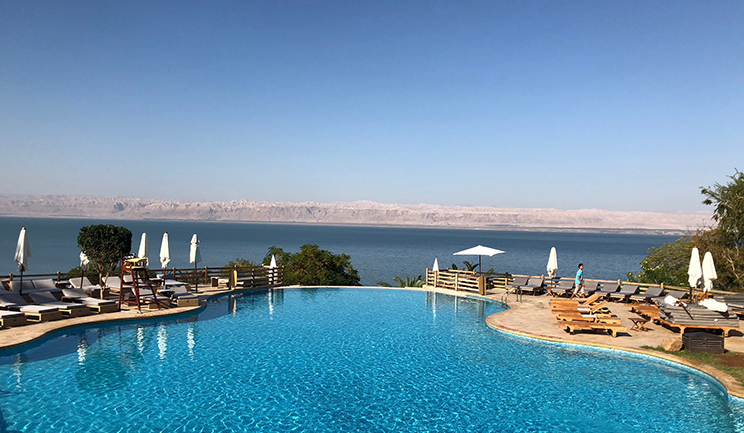 Dead Sea Marriott
Ajloun Castle Mint Tea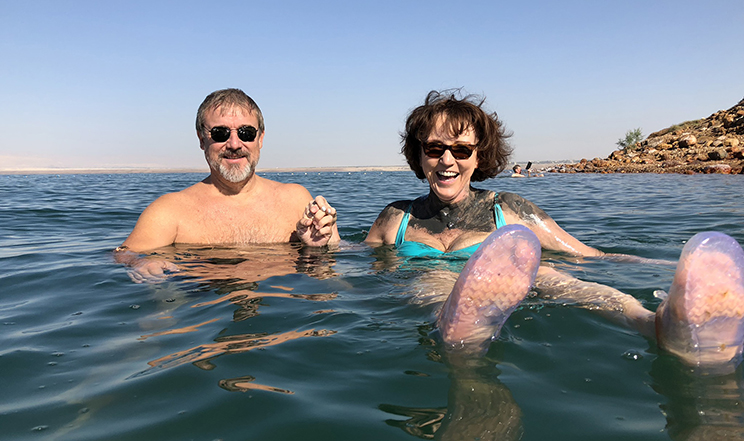 The Dead Sea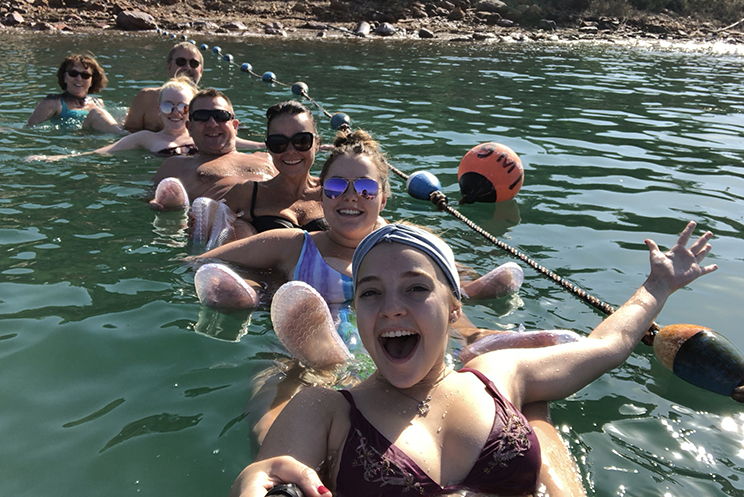 The Dead Sea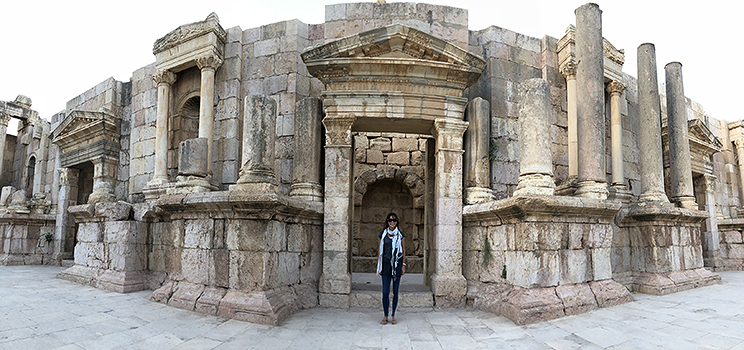 Jerash