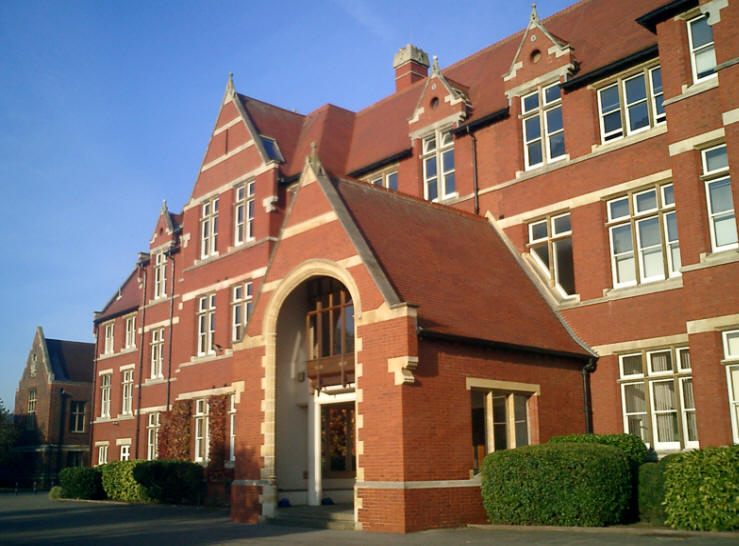 Bedford School Main Building
Bedford School
I started at my new boarding school in September 2005 and I've had brilliant fun so far. The lessons are more interesting than other schools I've been to - they are also more challenging and some of the other boys are really intelligent. Before I found the lessons a bit boring. History is my favourite subject at the moment and we've been studying the Tudors. We've had 3 Tudor days this term in History. They were good. The first one was very interactive. We made ink and were barber-surgeons and did alchemy as well. The barber-surgeons was fun because you handed out role cards with a different illness or torment such as a cut finger. You looked it up in a book and used the tools to do it on people. Someone came with a cut finger so I looked it up and it said that I had to cut it off because it could have an infection. So we used knives (not real ones) and pretended to cut them off. Also Legion XIIII came to the school. They are people who talk about the Roman army and life as a Roman soldier. They dressed up as standard bearers and legionaries. They showed us different weapons like the javelin and weapons the Gladiators used, such as tridents. They also gave us some real army orders in Latin which I am also studying along with French and German. In DT I'm making a quad bike shaped pen holder and in art class we are doing paintings in the style of Hockney.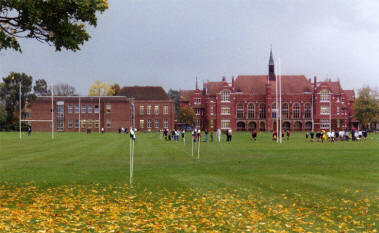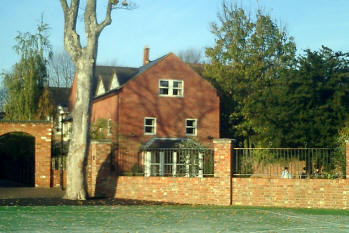 School Grounds Junior Boarding House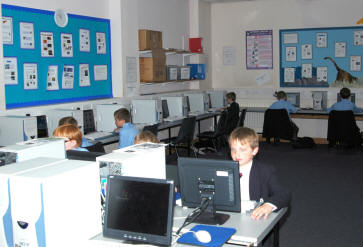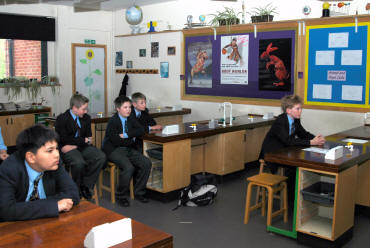 I.T. Science
We have a break at 10.15 and it lasts for 20 minutes. During that time I normally play cricket outside the D.T. block which has lots of columns you can use as wickets. I also play cricket at lunchtime when we have an hour break. There's also an Astroturf pitch that we can play on during break times and lunchtimes. Sometimes you get four games of football at the same time on the same pitch with four goalies in the same goal! It's very crowded.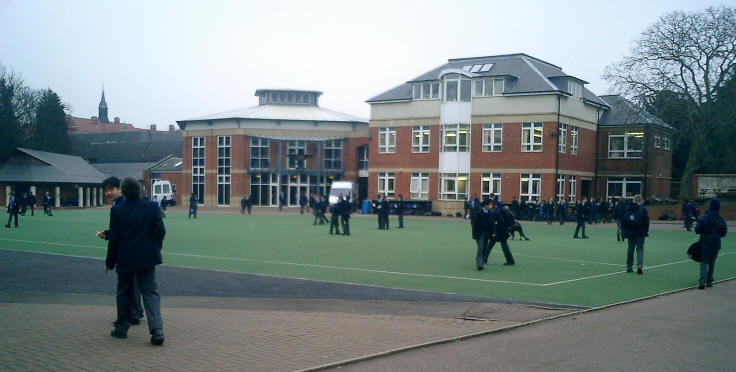 Break time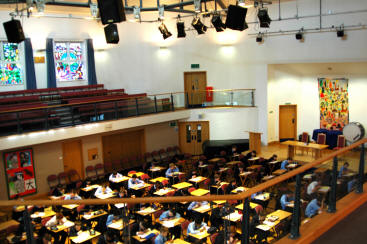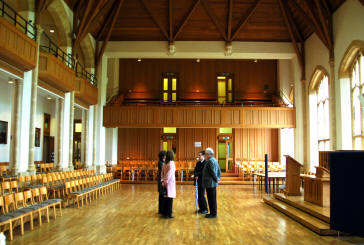 Prep School Hall Great Hall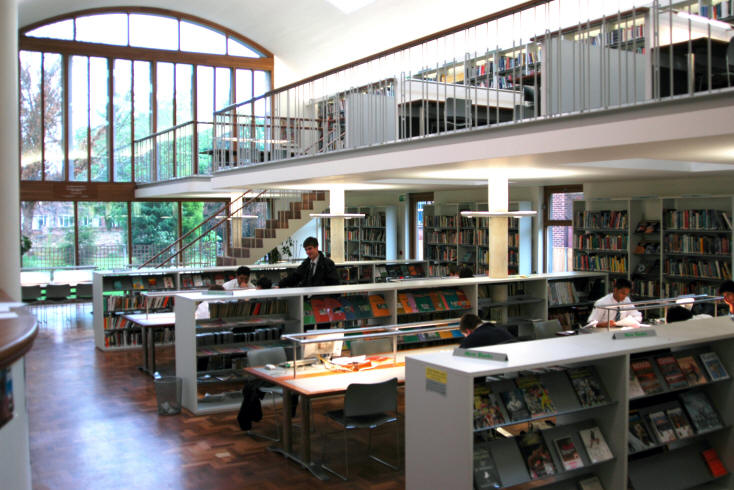 Library
Boarding
I think boarding is the best bit of all. I'm in the junior boarding house and there are about 30 boys. There's so much to do and everybody's really nice - especially the house staff. I like being with my friends all the time and I like there being more things to do - before I didn't have many people to play with.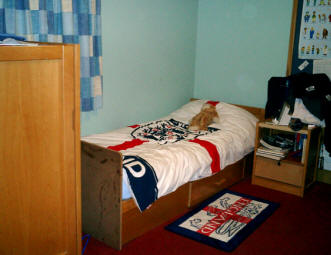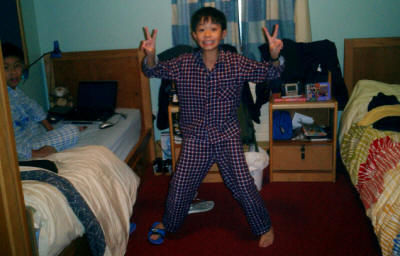 Dormitory - My Bed "Twickenham" Dormitory
The dormitories are named after English sports stadiums - Twickenham (my dorm), Silverstone, Wembley, Wimbledon and Lords (where the older boys stay). Each dormitory has 4 - 10 beds with shower rooms and toilets next door. We have our own board by our beds to put posters up and we have a daily routine of what we put down for washing each day - before school and after supper. We have Prep every week day between 4.10pm and 5.30pm but if we finish early we can read. We have a separate prep room with our own work station.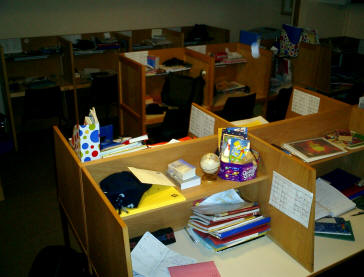 My Prep Desk (where I do my homework) Boarding House Lounge
After school on Mondays and Thursdays the boarders play football in the sports hall or can swim in the swimming pool. On Tuesdays we play cricket in the sports hall or go to the games room in the house. On Wednesdays and Fridays people who play musical instruments practice in the Prep School music school (Palmers). On Saturday weekly boarders go home after morning lessons and the boarders can go to town and buy things. We get £3 pocket money each week. On Saturday nights we watch a film or go into the games room. We also have duties at least 4 times a term, like cleaning the boot room, tidying the shed or games room.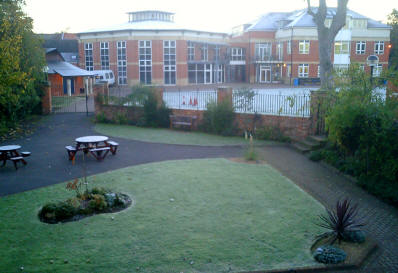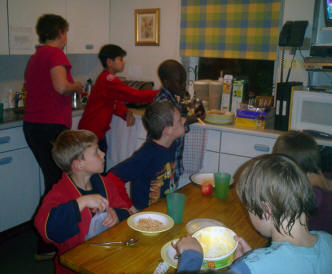 View of School from Dormitory Supper in Boarding House Kitchen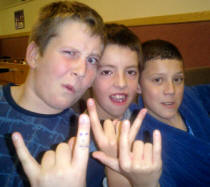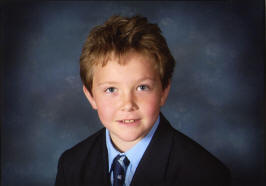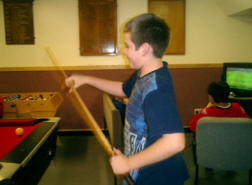 Friends Me in School Uniform House Common Room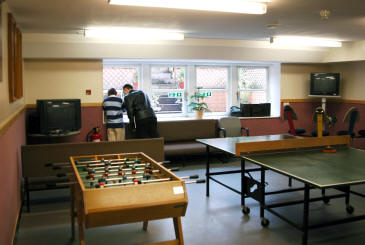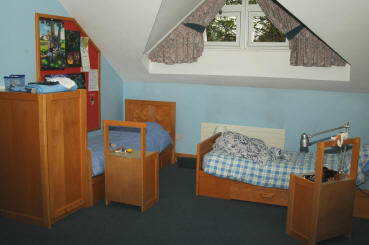 Common Room Wembley Dorm
People mostly spend time in the games room. There's pool, table football, table tennis, air hockey, 4 person Nintendo and a 6-person Playstation 2. The most popular game on Playstation at the moment is Rugby 2005. We also keep our tuck lockers in the games room. Except we are not allowed tuck before dinner or after supper. We also have a lounge with a plasma TV, computers linked to the school network and loads of board games.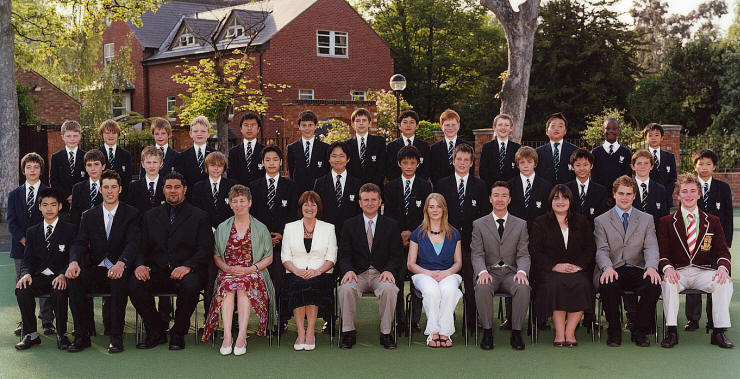 Serious House Photo 2006
Silly House Photo 2006
Food
We have our main meals in the school dining halls which are a short walk from the house. The food is really very good and there's lots of variety to choose form. There's the salad bar, hot counter, soup and Halal food. My favourite meal is the roast dinner on Sundays. We have supper every night in the boarding house kitchen which is usually cereals, soup, bread or fruit. There's always milk and orange juice available and sometimes milk shakes and blackcurrant juice.
We had two Christmas dinners this year - one with the school and the other with the boarding house. After the boarding house Christmas dinner we did a show. The Lord's boys did a Kung-fu Christmas dance and we all recited a poem. At the end we did the 12 days of Christmas with actions. Afterwards we went back to the boarding house and did Karaoke. I did We Are the Champions an everyone did Hey Jude. It was really good fun.
Sports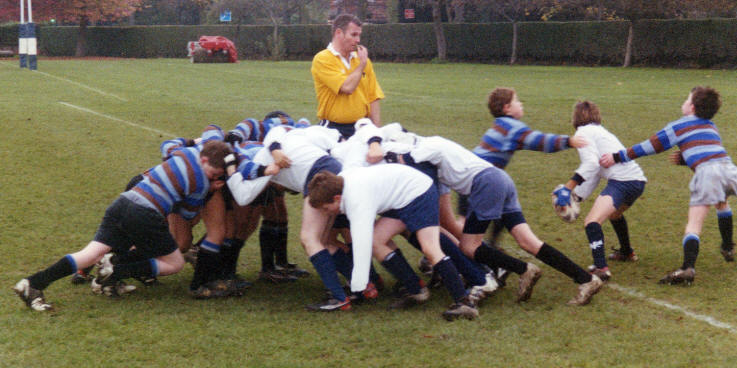 Me playing Rugby
I especially enjoy the sports, particularly the rugby because it's very active and it's good because you can tackle people! Rugby is the main sport for the winter term. We have training sessions on Mondays and matches on Wednesdays and sometimes on Saturday afternoon. If you are not in a school team you can do "Options" where you can choose from a range of sports (including football, cricket, fives, rowing, art or drama). I was in a rugby team after five weeks in Options and got promoted to the 6th XV and then the 5th XV. I normally play lock (second row). During the rugby term there's also house rugby between the four houses - Harpur, Whitbread, Bunyan and Howard (my house).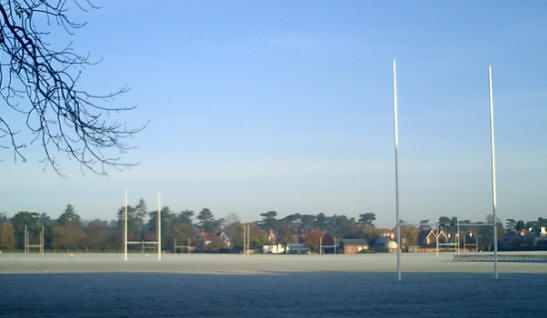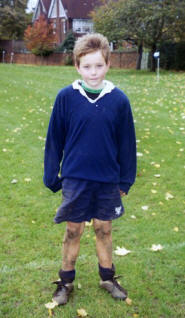 Frosty Rugby Pitch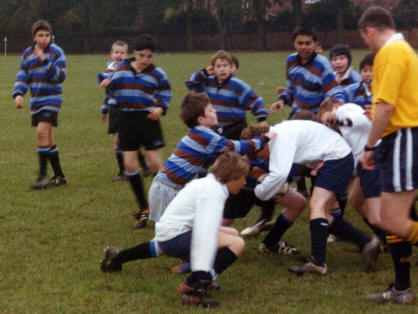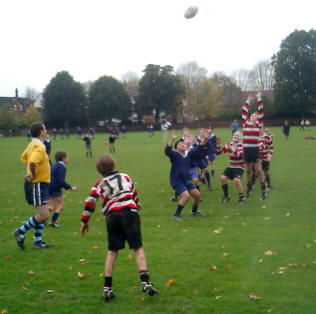 Me playing Rugby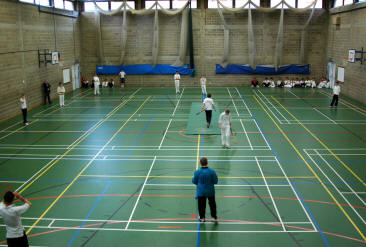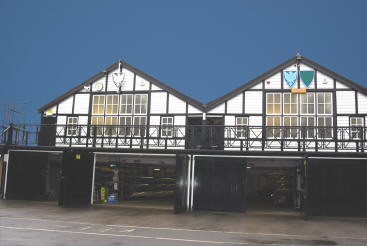 Sports Hall Boat House
In Spring term we play Hockey but I did options and I chose rugby and junior weight training. The main sport in the summer is cricket. This is the first time I've ever played cricket and I've got into the 3rd XI as the opening bowler. I've got a new Woodworm cricket bat which my uncle got signed by Freddie Flintoff and Kevin Pieterson.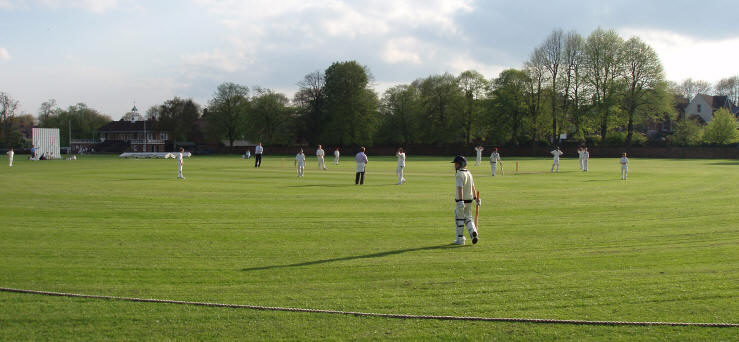 Me playing Cricket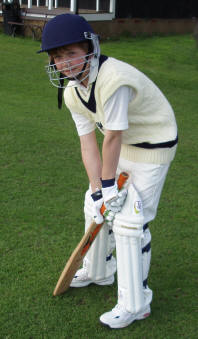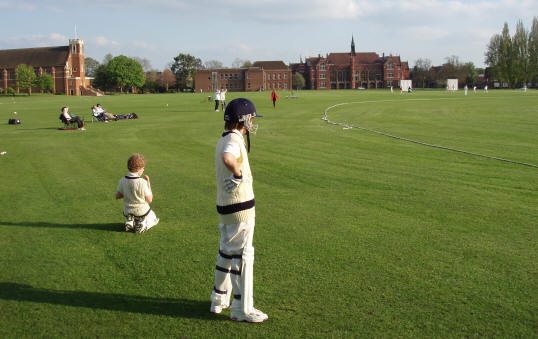 Me playing Cricket
Music
I have piano lessons in Palmers so I won't go to the new music school until I go to the upper school. The new music school was finished after half-term and there's been a lot of concerts there already. I went to the upper school house singing competition which was just like a football match because of all the noise and singing from the crowd during the intervals. I also took part in the Prep School singing competition and our house won overall but Bunyan won the part-song.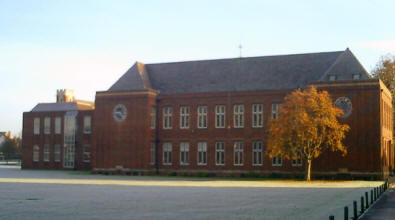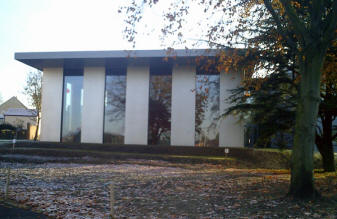 Science Block New Music School
Other Activities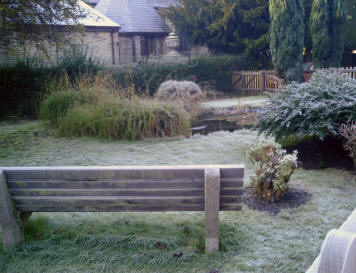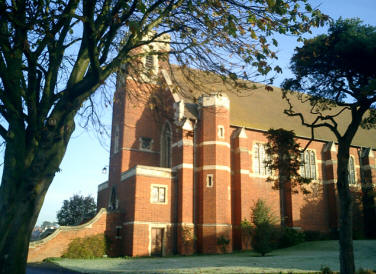 Palmers Pond School Chapel
On Sundays we have chapel and normally it lasts 45 minutes. Sometimes I go to my Grandparents instead. Inside the chapel they have repainted the ceiling so it looks like it was when the chapel was built.
The boarding house also has other activities. This term I got the chance to shoot a real rifle on the school shooting range and also we visited the school observatory, with its 16" computer controlled telescope. After that we visited the school's planetarium which was really interesting and they showed us different planets and constellations projected on the domed shaped roof. Later in the term we went to Cambridge University to watch them play rugby against Samoa. It was fun and I learned a lot about rucking skills by watching the Samoans. We also went to the cinema a few times to watch films like the new Harry Potter film and Narnia. The school theatre put on a production of "An Evening of Mild Amusement" which was acted by the teachers. All the boarders went to it. It was really fun watching the teachers make fools of themselves.
Trip to Malham, Yorkshire - June 2006
Every year the junior boarding house has a long weekend away. This year we stayed at a Youth Hostel in Malham, Yorkshire. It was a 5 hour journey to Yorkshire and on the way we stopped in Bradford and went round the National Museum of Photography, Film and Television. We saw an IMAX film about space and astronauts who went to the moon and a short documentary on the 1966 World Cup Final.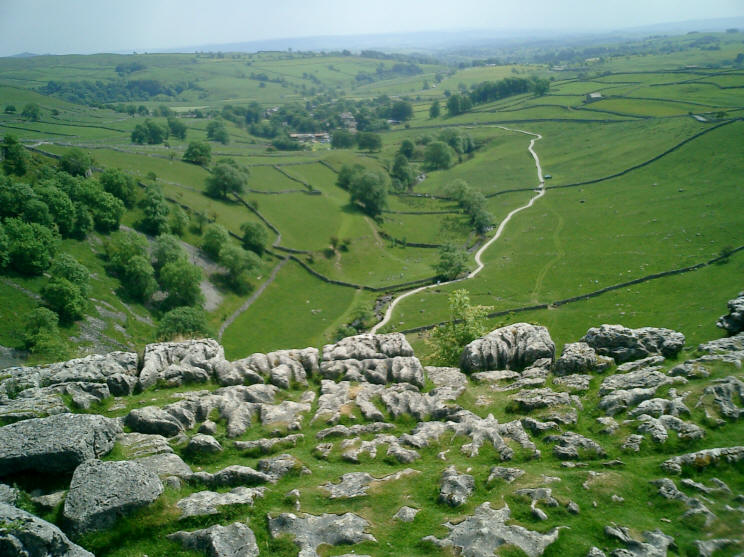 Yorkshire
On the first day we walked a 10 mile circuit of the Malham area, including Malham Tarn and Malham Cove. On the second day we went to a theme park called Lightwater Valley which was really fun. A friend and I went on the eagle's claw ride 4 times in a row. The eagle's claw is like the pirate ship that I went on in the States but a lot higher and scarier. Afterwards we went on the trauma tower which bounces up and down. Then I was sick in the forest.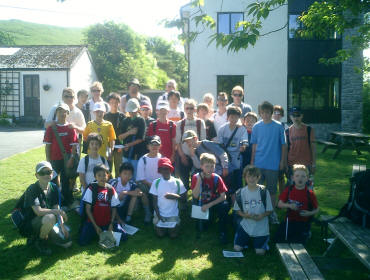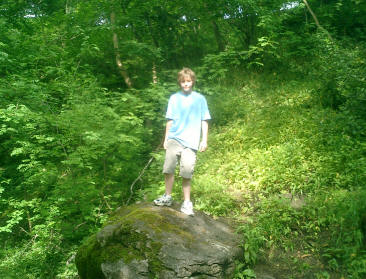 My boarding house outside our Youth Hostel Me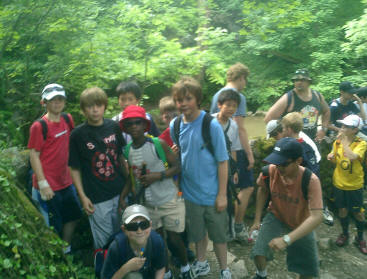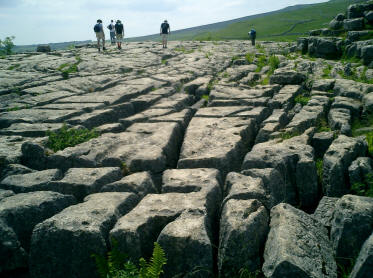 Hiking in the Yorkshire Dales Limestone Pavement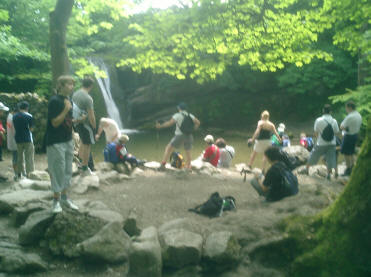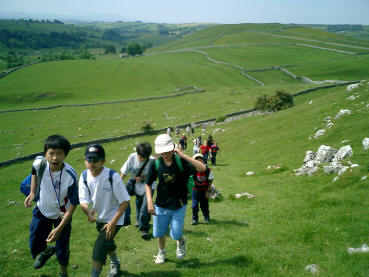 Drink break in the Yorkshire Dales Part of a ten mile walk in the Yorkshire Dales
On the way back from Malham we stopped at the White Scar Caves. We had a tour of the caves and saw lots of stalagmites on the cave floor and stalactites hanging from the ceiling. When we got back to the boarding house we were taken to McDonalds for a treat.